Besides games, we also love to puzzle. Jigsaw puzzles, logic puzzles and escape rooms are all played many times. In fact, we love everything playful in life. Escape Welt is an escape room centre in Leipzig, but apart from escape rooms they also make challenging puzzles and puzzle boxes made from (among other things) laser-cut wood. A few years ago, they started producing their first puzzle boxes and by now these challenging boxes are available almost worldwide in several languages.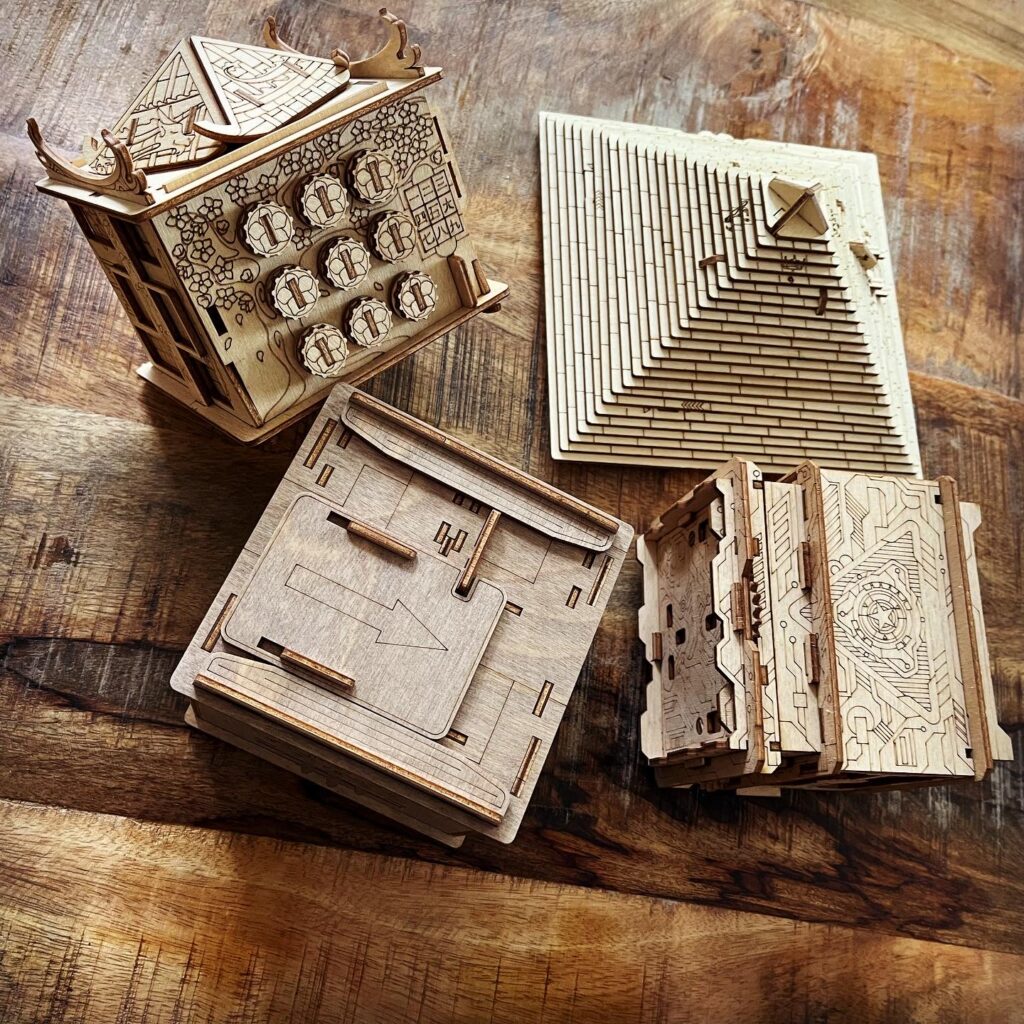 These wooden puzzle boxes can be compared to an escape room, but in a somewhat smaller size. Players have to solve various puzzles in order to crack and/or decipher the "locks" of the box. If you manage to open the box, you always discover a playful surprise. The boxes each have their own theme and story and all contain different and unique puzzles. The boxes contain mostly puzzles using logic, language, numbers/mathematics, spatial insight and even a bit of dexterity. By solving one part of the puzzle, you often unlock a new part. Slowly you can remove parts of the box until you unlock the whole box. You can solve the puzzle on your own, but of course you can also solve it together with a friend or loved one.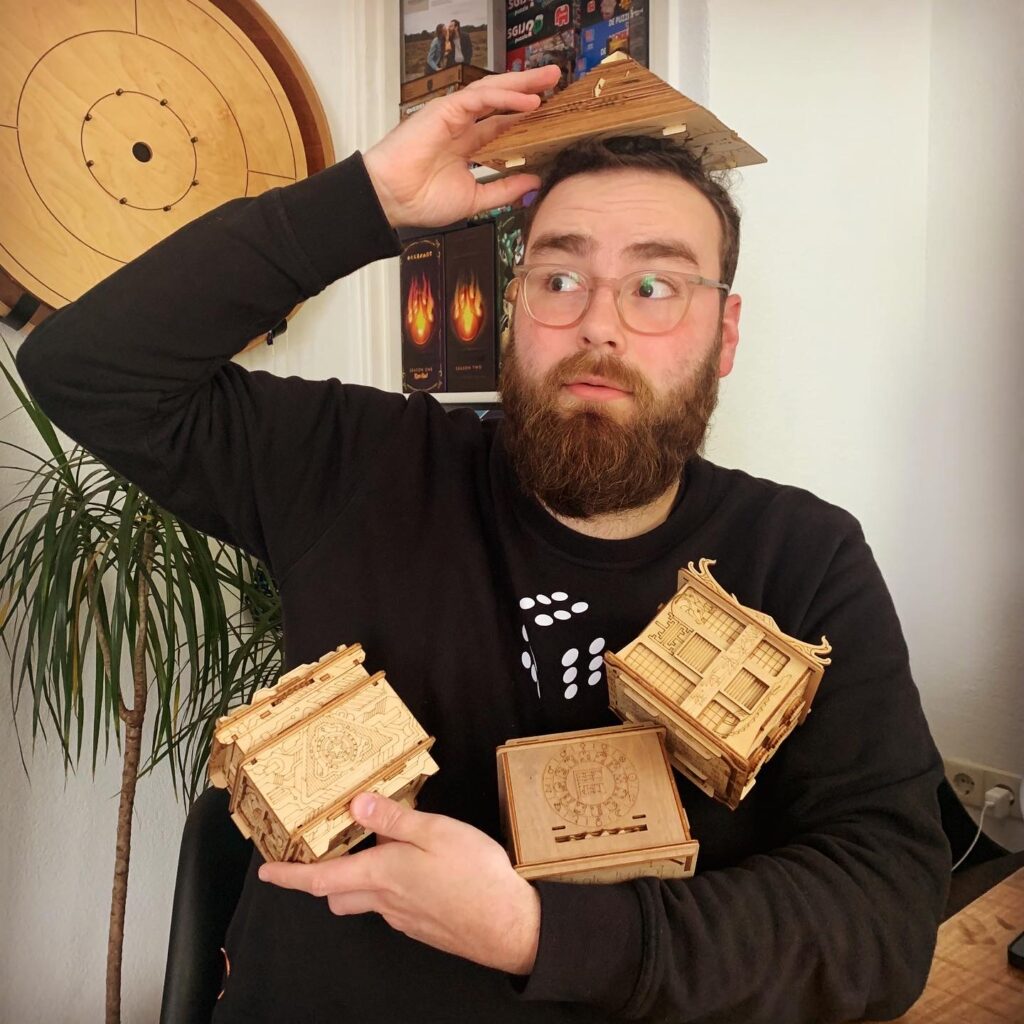 Apart from being a fun puzzle, the puzzle boxes from Escape Welt can also be used as a playful storage box for your darkest secrets or small valuables… And of course, after you have solved the puzzle yourself, you can give the puzzle to friends or other loved ones. Fill the box with a nice surprise or message and watch as the recipient fiddles with solving the puzzle and wonder at the surprise when you discover it!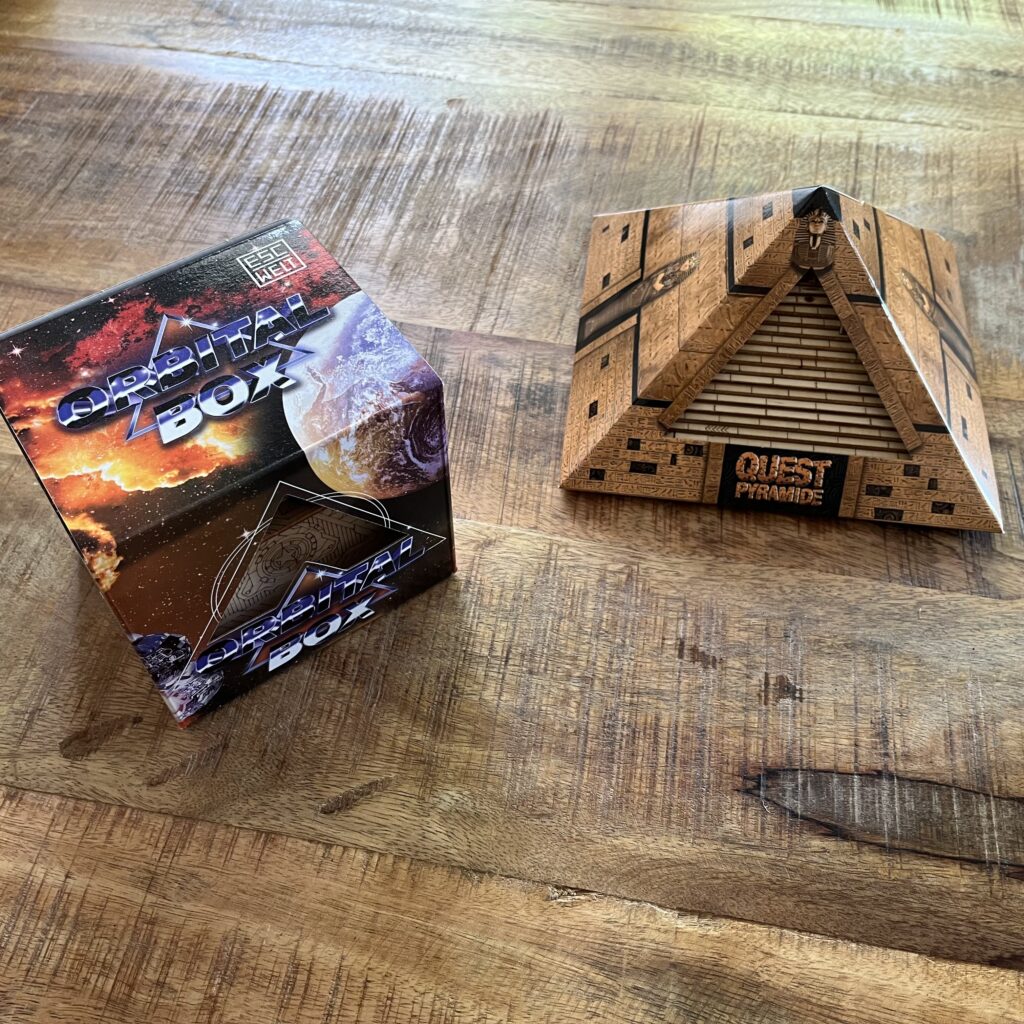 There are already several puzzle boxes available. Earlier, Escape Welt allowed me to test their Space Box puzzle, in which you try to help an alien cosmonaut. A special part of that box was a logic and dexterity puzzle in which you had to steer a marble in the right direction through the box. Escape Welt also allowed me to unravel centuries-old family secrets with House of the Dragon, which was a beautifully and thematically designed box.
The Orbital Box has a Sci-Fi theme, just like the Space Box. The Orbital Box is largely uses a number of logic puzzles in which the player must place or move and slide parts in the correct order. A big advantage of The Orbital Box is the spacious inside it reveals after you open it. More than enough space to hide/store several objects. The box also looks like a small treasure chest which is a plus.
Quest Pyramid looks very cool, because the puzzle is a wooden pyramid full of moving parts. Quest Pyramid is the perfect and thematic entry level because of its clear (but not overly clear-cut) puzzles. The sequence of puzzles is logical, which makes you less likely to get stuck.
All in all, the puzzles by Escape Welt provide sufficient puzzling fun and a unique gift.