Naast spellen houden wij ook ontzettend van puzzelen. Zowel legpuzzels, logicapuzzels en escape rooms worden veelvoudig gespeeld. Eigenlijk houden we van alle speelse dingen in het leven. Escape Welt is een escape room centrum in Leipzig, maar maakt naast escape rooms ook uitdagende puzzels en puzzeldozen gemaakt van (onder meer) lasergesneden hout. Een paar jaar geleden zijn ze begonnen met de productie van hun eerste puzzeldozen en inmiddels zijn deze uitdagende doosjes vrijwel wereldwijd verkrijgbaar in meerdere talen.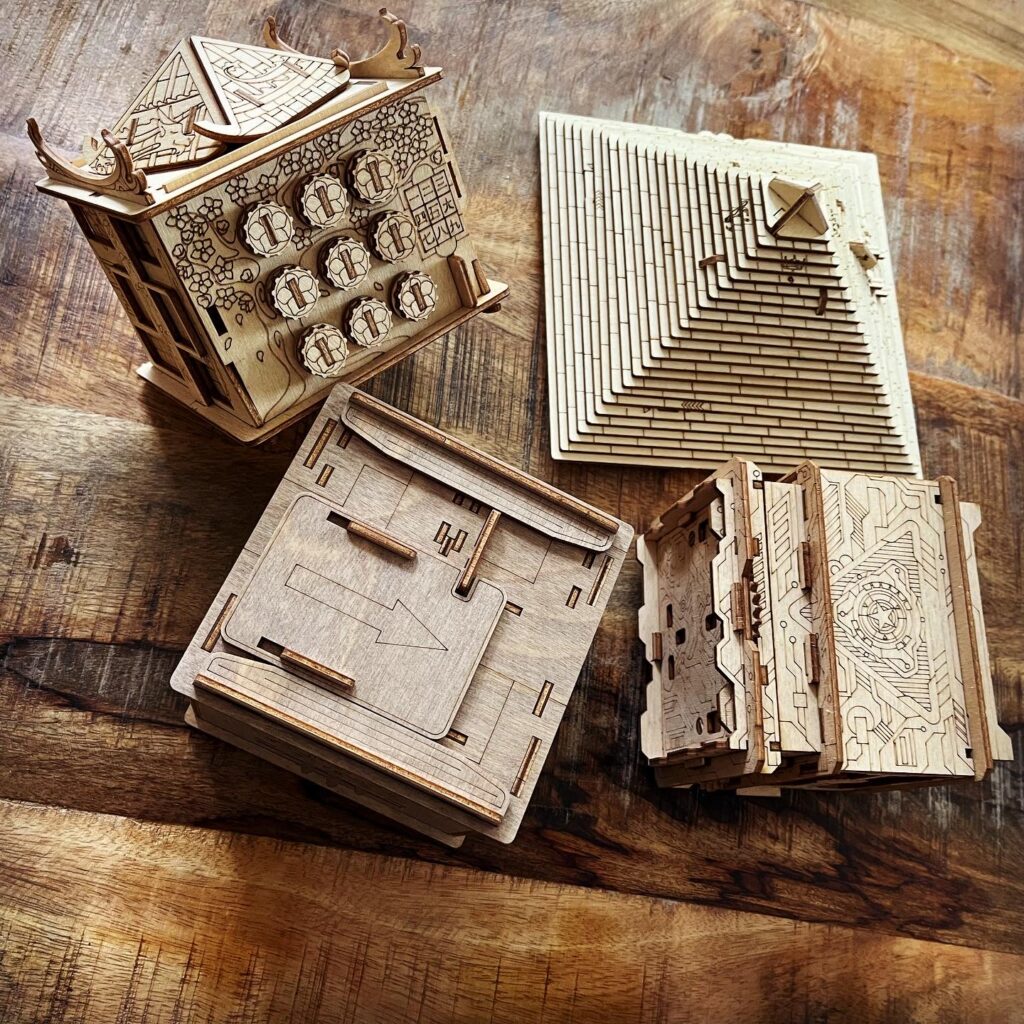 Deze houten puzzeldozen zijn te vergelijken met een escape room, maar dan in een handzaam formaat. Spelers dienen verschillende puzzels op te lossen om zo de "sloten" van de doos te kraken en/of te ontcijferen. Weet je doos te openen, dan ontdek je altijd een grappige verrassing. De dozen hebben ieder een eigen thema en verhaaltje en bevatten allemaal verschillende en unieke puzzels. De dozen bevatten veelal puzzels gericht op logica, taal, cijfers/wiskunde, ruimtelijk inzicht en zelfs een beetje behendigheid. Door steeds een deel van de puzzel op te lossen, speel je vaak een nieuw deel vrij. Langzaam verwijder je onderdelen van de doos totdat je de hele doos weet te ontgrendelen. De puzzel kun zelfstandig oplossen, maar natuurlijk ook gezamenlijk.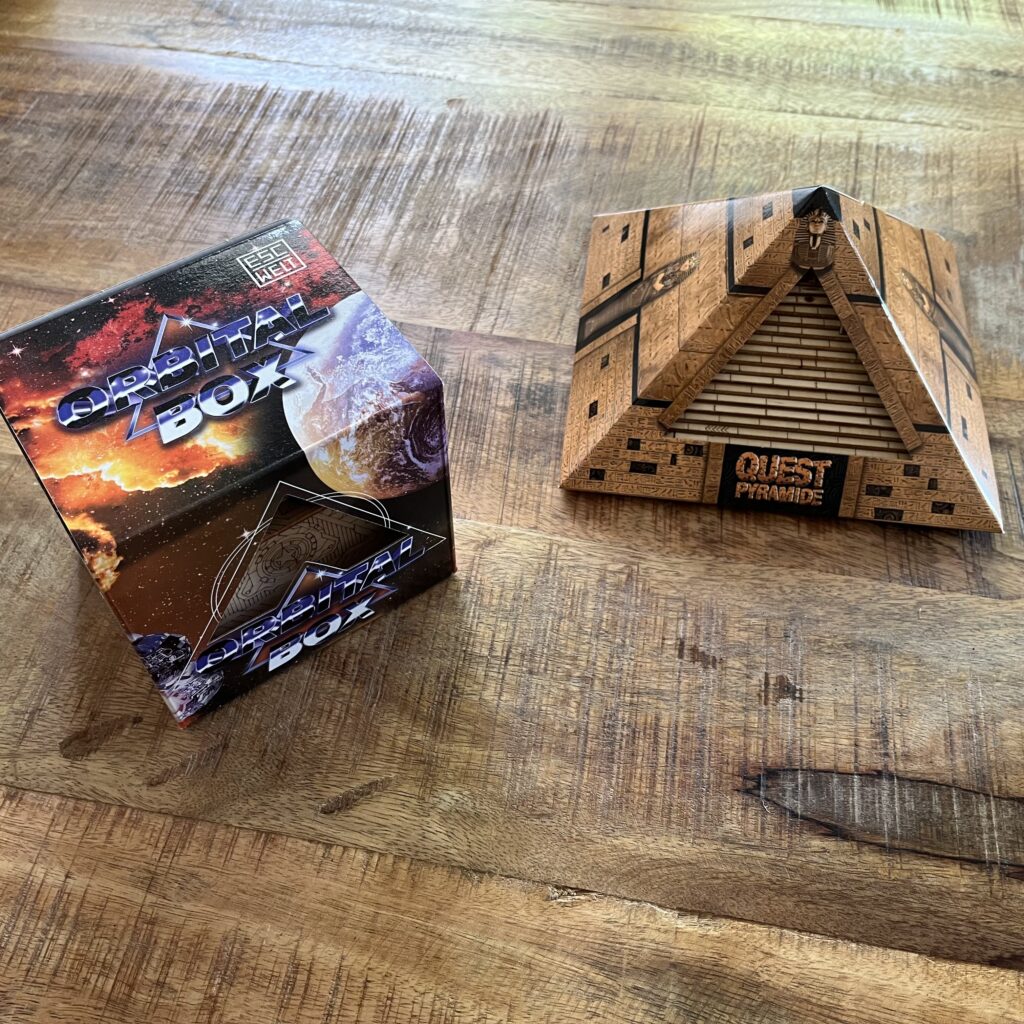 Naast dat het een leuke puzzel is, kun je de puzzeldozen van Escape Welt ook gebruiken als een leuke opbergdoos voor jouw donkerste geheimen of kleine waardevolle spulletjes… Daarnaast kun je, nadat je uiteraard eerst zelf de puzzel hebt opgelost, de puzzel aan vrienden of andere dierbaren doorgeven. Vul de doos met een leuke verrassing of boodschap en kijk terwijl de ontvanger stoeit met het oplossen van de puzzel en kijk uit naar de wonderlijke verbazing bij het ontdekken van jouw verrassing!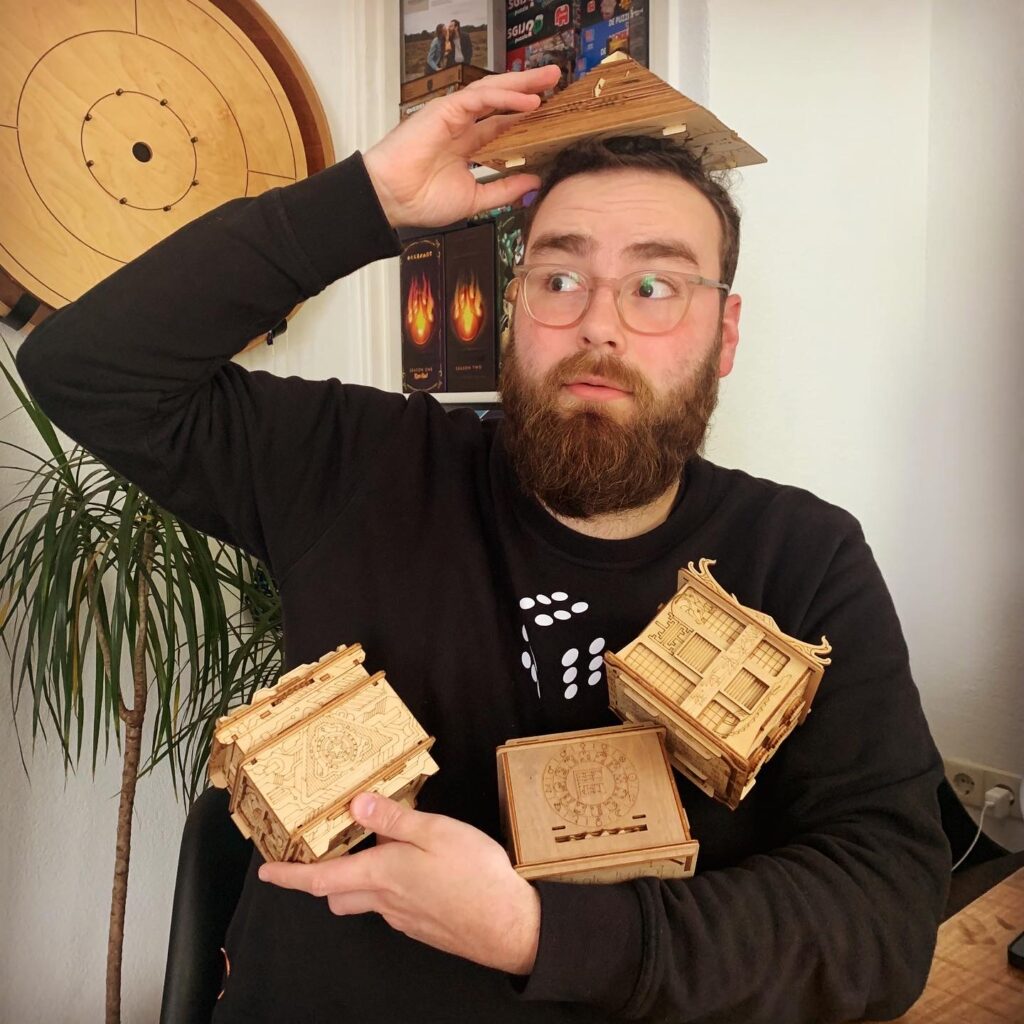 Inmiddels zijn er al verschillende puzzeldozen beschikbaar. Eerder mocht ik van Escape Welt bijvoorbeeld al hun Space Box puzzel testen, waarin je een alien cosmonaut probeert te helpen. Een bijzonder onderdeel van die doos was een logica- en behendigheidspuzzel waarbij je een knikker in juiste banen door de doos moest sturen. Tevens mocht ik van Escape Welt eeuwenoude familiegeheimen ontraadselen met House of the Dragon  Dit was een prachtig en thematisch vormgegeven doos.
The Orbital Box heeft net als de Space Box een een Sci-Fi thema. The Orbital Box staat grotendeels in het teken van een aantal logicapuzzels waarbij de speler onderdelen in de juiste volgorde moet plaatsen of verschuiven. Een groot voordeel aan The Orbital Box is de ruimte van de box nadat je deze hebt geopend. Meer dan genoeg ruimte om voorwerpen in te verstoppen. De doos ziet er ook uit als een klein schatkistje. 
Quest Pyramid ziet er enorm cool uit, want de puzzel is een houten pyramide vol bewegende onderdelen. Quest Pyramid is vanwege de duidelijke (maar niet overduidelijke) puzzels het perfecte en thematische instapmodel. De volgorde van puzzels is helder, waardoor je minder snel vastloopt.
Al met al voorzien de puzzels van Escape Welt voldoende puzzelplezier en een uniek geschenk.