2 spelers / 30 – 45 min. / 10+
De Renault FT, een Franse lichte tank, werd gebruikt door zowel Franse als Amerikaanse strijdkrachten om het tij te keren tijdens de laatste fasen van de Eerste Wereldoorlog. De FT kreeg de toepasselijke bijnaam "Overwinningstank" (Victory Tank) dankzij de essentiële rol tijdens de oorlogsinspanningen. Deze tank joeg angst aan bij de tegenstanders die vochten in de loopgraven aan het Westelijk Front. In Victory Tank is een van deze tanks spoorloos verdwenen… Twee vijandelijke legers vechten op een mistig slagveld om bunkers te veroveren en grondstoffen te bemachtigen, terwijl ze proberen de verdwenen tank te bemachtigen om hun eigen militaire kracht te vergroten. Welk leger zal zegevieren?
In dit snelle, lichte en tactische spel zullen twee commandanten proberen hun legers naar de overwinning te leiden gedurende een aantal ronden verdeeld over twee fasen. Tijdens de "Fog of War" fase trekt de actieve speler twee kaarten die aan het steeds groter wordende slagveld worden toegevoegd. Elke kaart toont doelen en bonussen die op het slagveld geplaatst moeten worden. De actieve speler mag één van deze kaarten houden en plaatsen terwijl hij de andere kaart aan zijn tegenstander aanbiedt, wat interessante keuzes en dilemma's oplevert voor de spelers tijdens het spel.
Tijdens de tweede fase, de "Commando" fase, zullen de spelers elk tot vijf acties ondernemen om hun letterlijke en figuurlijke positie in de strijd te beïnvloeden. Spelers verplaatsen hun soldaten, zetten nieuwe eenheden in op het slagveld en vallen hun tegenstander aan. Elke speler heeft een beperkt aantal commandokaarten die hij kan gebruiken om zijn acties, gevechtskracht of verdedigingskracht tijdens een aanval op te voeren. En vergeet niet dat ergens verborgen in de mist, een tank is achtergelaten. Het vinden, bedienen en vechten met deze tank aan je zijde kan je zomaar de overwinning bezorgen…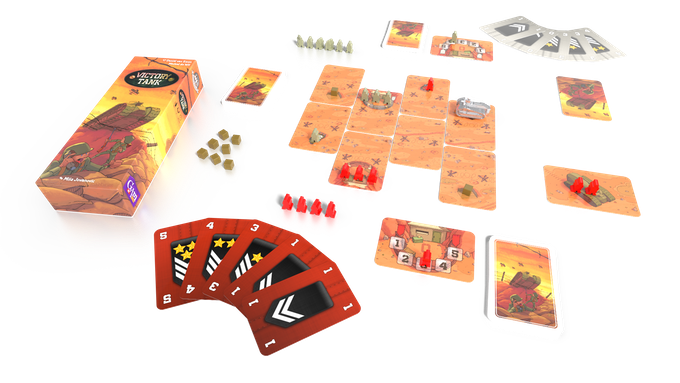 Victory Tank wordt uitgegeven door Gam'inBIZ en is ontworpen door Daniël van Essen en Michiel de Wit en geïllustreerd door Miša Jovanovic.
Dice Daniel heeft een bijdrage geleverd aan de totstandkoming en ontwikkeling van dit spel.