Yucatan is een provincie in Mexico met een rijke Maya-geschiedenis. Yu-Ca-Tan is de naam van een simpel en snel dobbelspel van Tuckers Fun Factory. Zoals de ondertitel luidt: wie heeft het meeste dubbelgeluk?
In Yu-Ca-Tan gaan spelers punten verdienen door in te zetten op een van de puntenkaarten en door 12 dobbelstenen te werpen. In het midden van tafel liggen 14 kaarten als taartpunten in een cirkel. Deze kaarten vertegenwoordigen manieren om punten te verzamelen met de dobbelstenen. Zo kan een speler punten verdienen door specifieke getallen, oneven of even getallen, kleuren of vormen te werpen.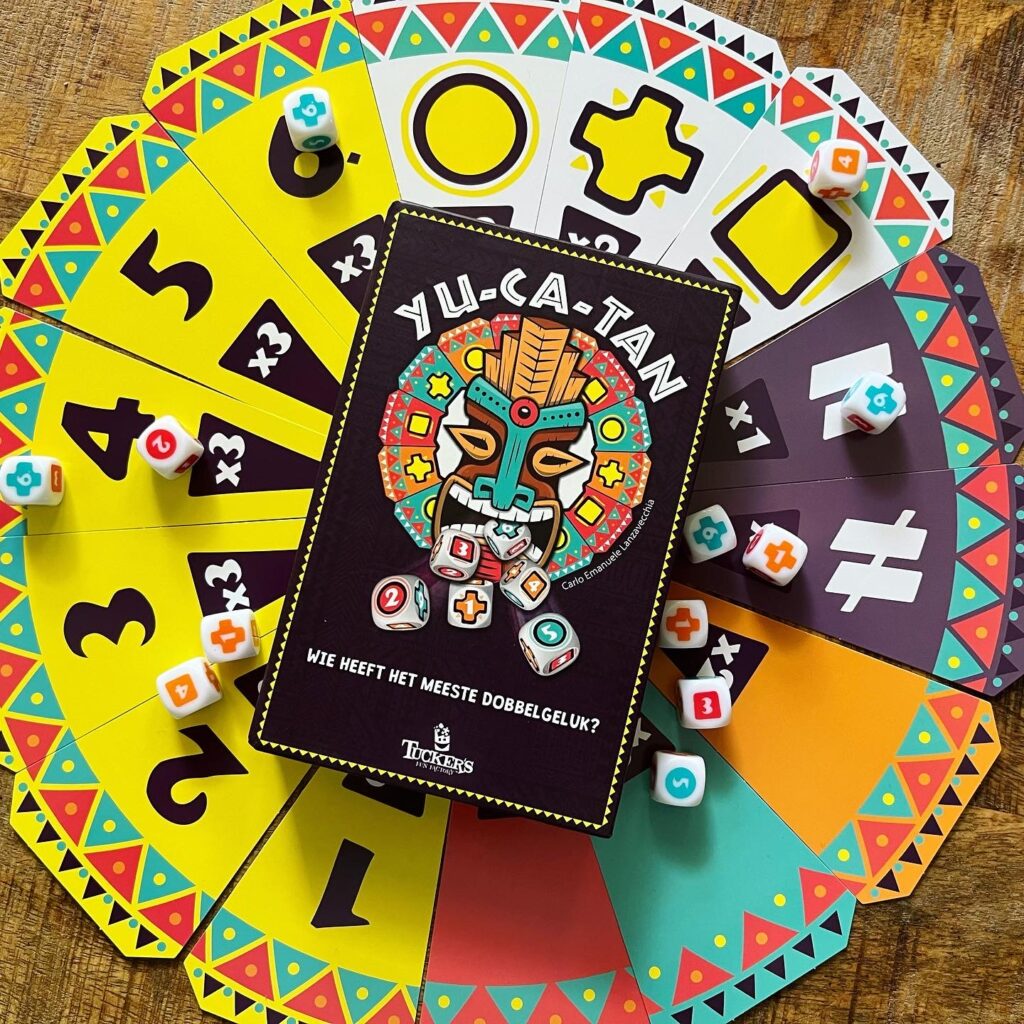 Aan het begin van de beurt kiest de actieve speler een van de taartpunten om te bepalen hoe deze speler deze worp mogelijk punten verdient. De 12 dobbelstenen worden geworpen en de dobbelstenen die voldoen aan de voorwaarde van de kaart, kan de speler apart leggen om punten te scoren. Kaarten leveren 1, 2 of 3 punten per dobbelsteen op. Nadat de speler heeft geworpen, kan de speler besluiten te stoppen of door te gaan met de overgebleven dobbelstenen. Als een speler stopt, worden de punten toegekend. Als een speler doorgaat, kiest deze speler een nieuwe taartpunt. Als een speler besluit door te gaan, maar bij een volgende worp niet aan de voorwaarde van de gekozen kaart voldoet, dan is deze speler af en krijgt deze speler nul punten.
Yu-Ca-Tan is een extreem eenvoudig dobbelspel dat vooral is gericht op geluk. Spelers proberen hun geluk te beproeven om zoveel mogelijk punten te verdienen. Neem je veel risico en ga je door of speel je veilig en stop je op tijd? Yu-Ca-Tan is hierdoor een simpel en snel spelletje om aan het einde van de avond te spelen.