De nachten worden korter en donkerder en tijdens volle maan worden deze grimmige nachten zelfs bloederig. In het dorp bevindt zich namelijk een weerwolf en misschien zelfs meerdere, maar niemand weet wie er in het geheim een vacht heeft. Iedereen is verdacht en wilt overleven. Gelukkig hoef je slechts een enkele nacht te overleven… Wie maakt Dageraad niet meer mee?
Iedereen kent het klassieke spel Weerwolven. Weerwolven is een super leuke en speelse groepsactiviteit. Het spel kent echter een aantal nadelen: 1. De meeste spelers zullen burger zijn (tenzij veel speciale rollen worden toegevoegd), 2. uitgeschakelde spelers spelen niet meer mee en dat is echt doodzonde, 3. je hebt altijd een hele grote groep nodig en 4. het spel kan langdradig zijn.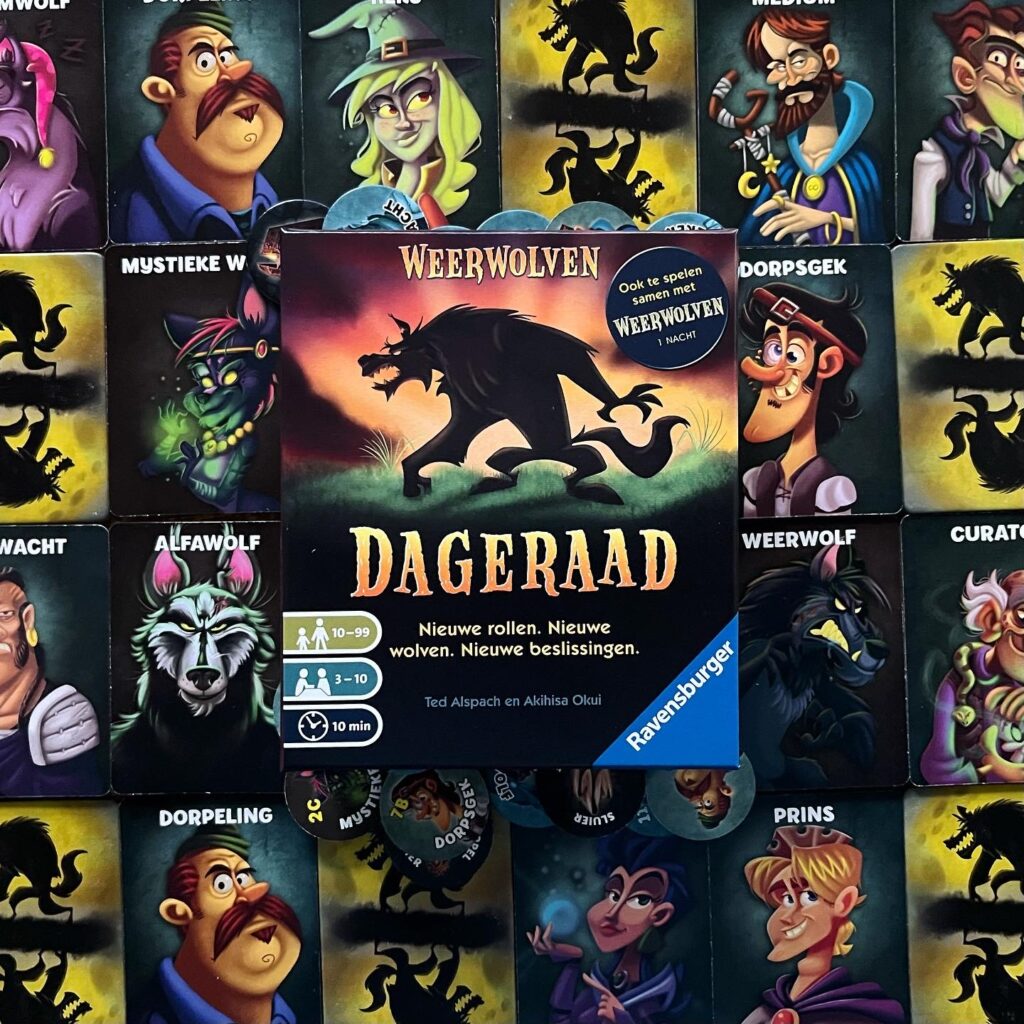 1 Nacht Weerwolven van Ravensburger neemt Weerwolven en lost al deze nadelen op. Dit vlotte spel duurt slechts een enkele nacht, bijna elke speler heeft een speciale rol en niemand hoeft vanaf de zijlijn toe te kijken. Na de nacht gaat een speler dood na een stemming door de groep. De weerwolven winnen als een burger sterft en er geen enkele weerwolf sterft. Burgers winnen zodra een weerwolf het leven laat. Speciale rollen zorgen er echter voor dat deze basisregels op hun kop worden gezet. Mogelijkerwijs win je op een hele unieke manier en ontstaan en verhalen die spelers elkaar nog lang na zullen vertellen.
Elke krijgt in het geheim een rol toebedeeld, vervolgens gaat iedereen "slapen" en worden in de nacht een aantal spelers wakker. Een aantal spelers zijn weerwolf en gaan in de nacht jagen op (veelal) onschuldige burgers. Andere spelers zijn mogelijk andere speciale rollen die ook roet in het eten van de weerwolven of andere burgers kunnen gooien. Dageraad biedt de nodige nieuwe variatie in de vorm van nieuwe personages. Hierdoor is het spel een stuk gevarieerder.
Weerwolven Dageraad is een losstaande uitbreiding op 1 Nacht Weerwolven. Dit spel kun je los spelen of in combinatie met het 'basisspel'. Weerwolven Dageraad bevat nieuwe karakters en regels en is eigenlijk onmisbaar als je het basisspel hebt of als je nog geen enkel versie hebt.