In Velonimo wordt een eenvoudig stapelspelletje met kaarten een tactisch steekspel, net zoals een wielerwedstrijd dat kan zijn. Wie wielrennen op televisie ziet, heeft vast wel eens gehoord van de termen kopgroep, peloton, d'r op en d'r over, demarreren en chasse patate. Welnu, in dit in het wielrenthema gegoten kaartspel, zou je dezelfde termen in het spel kunnen ontdekken.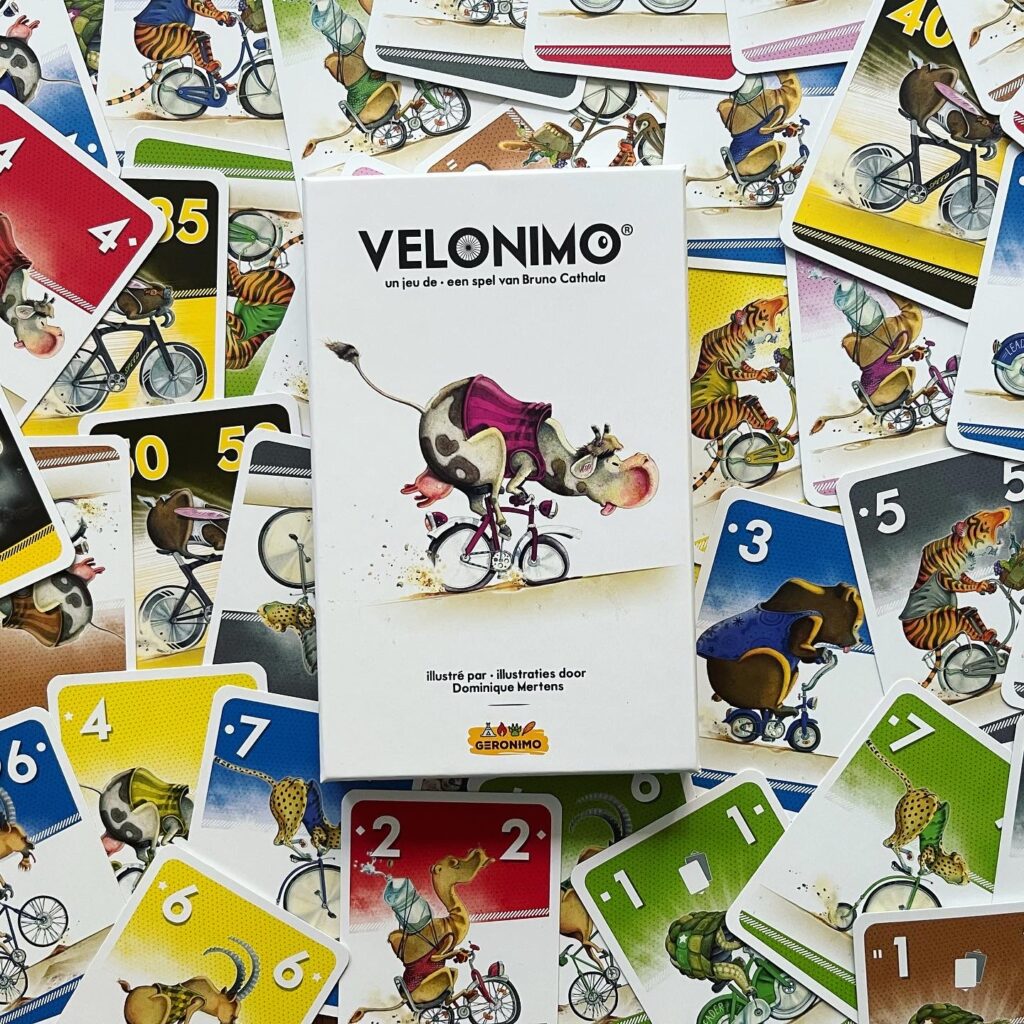 Het doel van het spel is om als eerste de kaarten op hand kwijt te raken. In vijf ronden of etappes zijn daarmee punten te verdienen en een bonus in de vorm van een trui-kaart in de volgende ronde. Wie aan het einde van de vijfde ronden de meeste punten heeft verzameld is de winnaar. De kaarten in de hand hebben een bepaalde waarde en een bepaalde kleur. Men kan een enkele kaart opgooien, die van aangegeven waarde is, en kaartcombinaties met dezelfde waarde of dezelfde kleur, die elk 10 punten waard zijn en de laagste waarde uit de combinatie.
In een ronde moet je de waarde van de kaarten die op tafel liggen overtroeven door slimme combinaties te maken van de kaarten op je hand. Door het kwijtraken van die kaarten ben je sneller aan het einde van de ronde en heb je meer kans om die ronde te winnen. Echter, net zoals je goed moet timen als je wilt demarreren in het wielrennen, kan je in dit spel ook kiezen om een hogere waarde op te gooien of tactisch te passen. Wanneer een speler past is deze nog niet uit de ronde, alleen als iedereen past is degene die als laatste opgooit de winnaar van de ronde. Met andere woorden: het moment wanneer je vanuit het peloton de overstap maakt naar de kopgroep is van belang, anders vind je jezelf terug in de chasse patate. Het kan verstandig zijn om een hoge combinatie vast te houden door te passen en pas nadat andere spelers kaarten hebben opgegooid, de combinatie op tafel te leggen.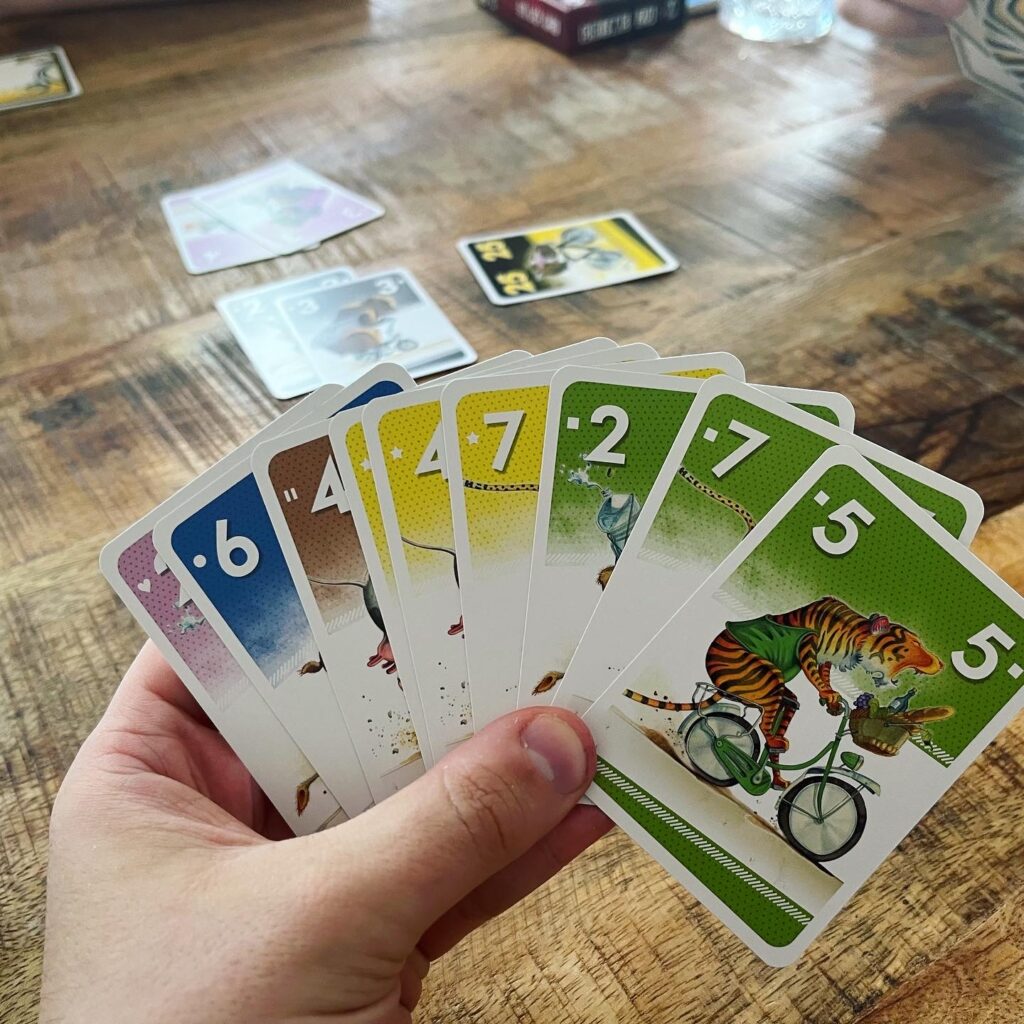 Velonimo is een leuk gezelschapsspelletje waarbij het thema goed is verwerkt in het spelmechanisme. Zowel het scoremechanisme als het tactische bepalen van het moment wanneer kaarten op te leggen, doen inderdaad denken aan elementen uit het wielrennen. Minpuntje is dat er weinig ruimte op het scoreblok is om de scores van de vijf ronden op te tellen. Daarentegen is het materiaal waarvan het spelletje is gemaakt is van goede kwaliteit en het doosje ziet er mooi uit.
Wat vinden de anderen:
"Velonimo voelt als een klassiek kaartspel met een vrolijk thema. Geen baanbrekende spelmechanismes, maar een leuke vlotte etappe voor tussendoor."

Daniel
"Velonimo is een lekker spelletje voor tussendoor: Makkelijk uit te leggen en te spelen, zonder dat het verveelt. Hoewel geluk zeker een element is in het spel, valt er alsnog genoeg bij te sturen en is het lezen van je tegenstander ook echt belangrijk"

Chris