Nederlands
Valknut, Oudnoors voor krijgersknoop, is een vikingsymbool met drie vervlochten driehoeken waarvan de oorsprong onbekend is. Het is tevens de naam van dit spel van @bruehgames, bekend van onder meer de DWAR7S reeks. Valknut is een asymmetrisch en abstract strategiespel geïnspireerd op klassieke Noorse mythologie. Beknot jij je tegenstanders of raak jijzelf in de knoop?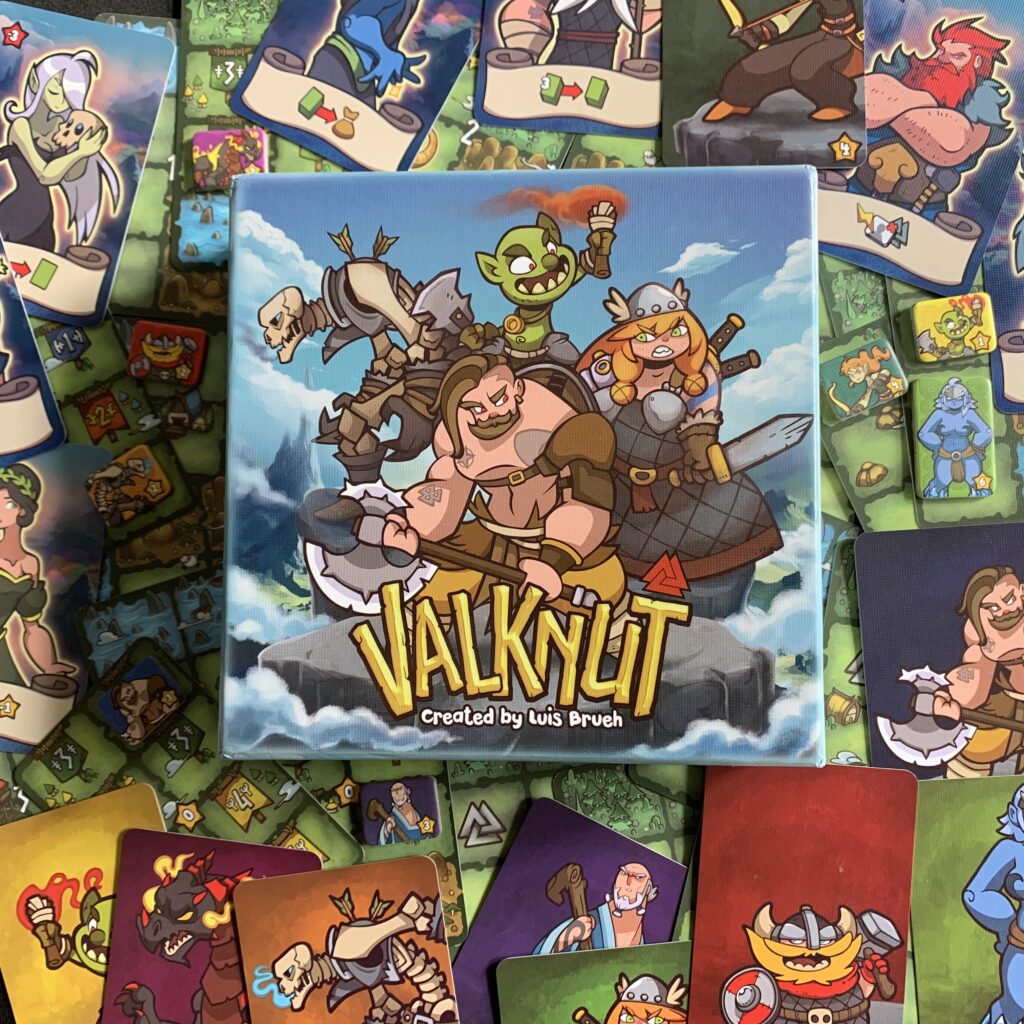 Aan het begin van het spel kiezen spelers met welk speelstukken zij willen spelen. Elk "leger" heeft unieke eigenschappen en hoeveelheid speelstukken. Iedere beurt speel je een terreinkaart om het speelveld te vergroten. Als er een Valknut symbool op de gespeelde kaart staat, mag je een nieuw speelstuk op het speelveld plaatsen. Daarna mag je je speelstukken net zoveel vakjes verplaatsen als het aangegeven nummer op de gespeelde kaart.
Naast inspiratie uit de Noorse mythologie, haalt Valknut ook inspiratie uit het klassieke bordspel dat de vikingen speelde: Hnefatafl. Hnefatafl is een spel dat lijkt op schaak waarvan de oorsprong (net als de Valknut) niet helemaal bekend is, maar waarvan varianten door Vikingen uit Scandinavië werden verspreid. Het oudste gevonden speelbord komt ongeveer uit het jaar 400 voor Christus.
In Hnefatafl kun je stukken van een tegenstander slaan door ze aan twee kanten in te sluiten met je eigen speelstukken. Dat is ook in Valknut het geval. Speel jij met je eigen speelstukken en het terrein (bergen, bos, water) een speelstuk van een tegenstander klem, dan wordt die speelstuk van het veld verwijderd. Heeft je tegenstander geen speelstukken meer op het veld, dan heb jij gewonnen. Zijn alle terreinkaarten op voordat alle speelstukken zijn verslagen? Dan wint de speler met de meeste punten op basis van overgebleven speelstukken.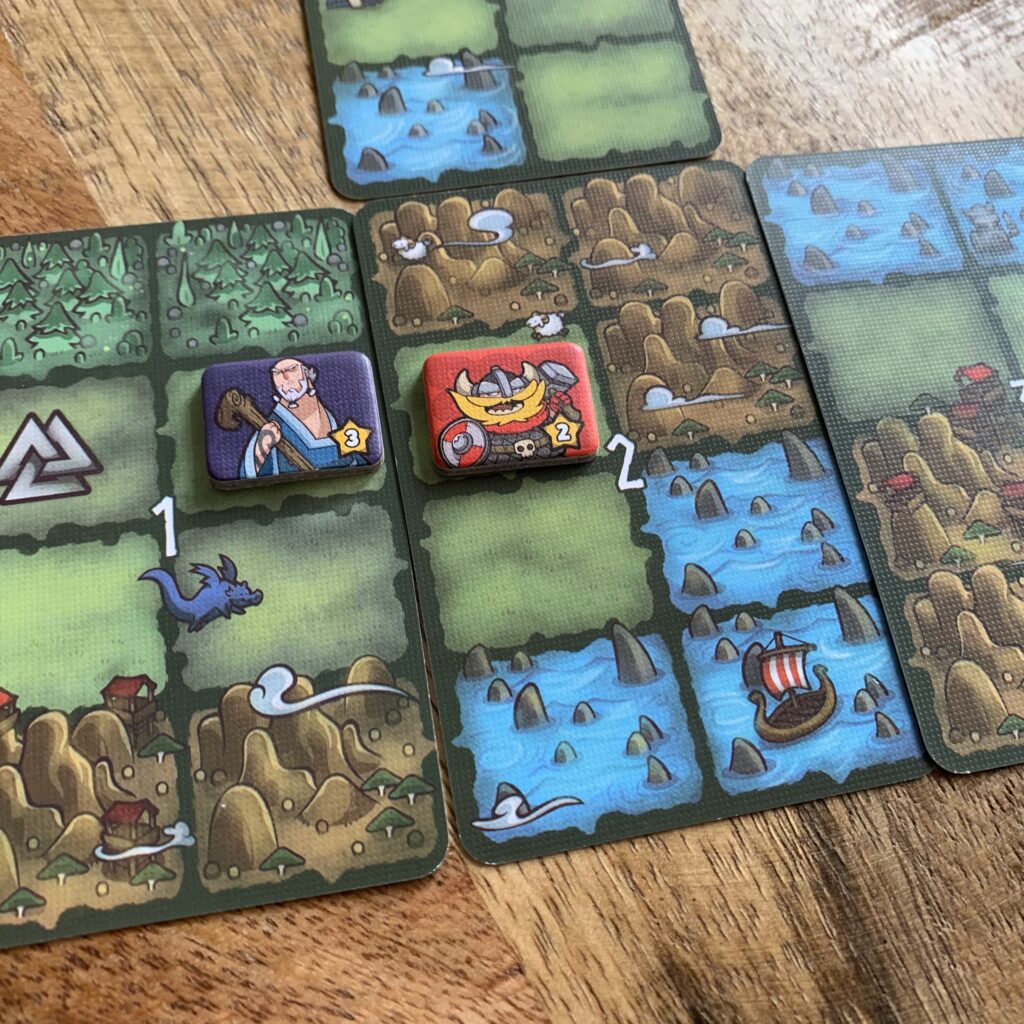 Valknut is een heerlijk kort, maar erg strategisch spel. De asymmetrie van de speelstukken zorgt voor veel variatie. Het spel is snel opgezet en vlot gespeeld. Een nieuwe favoriet voor tussendoor en op reis! Skål!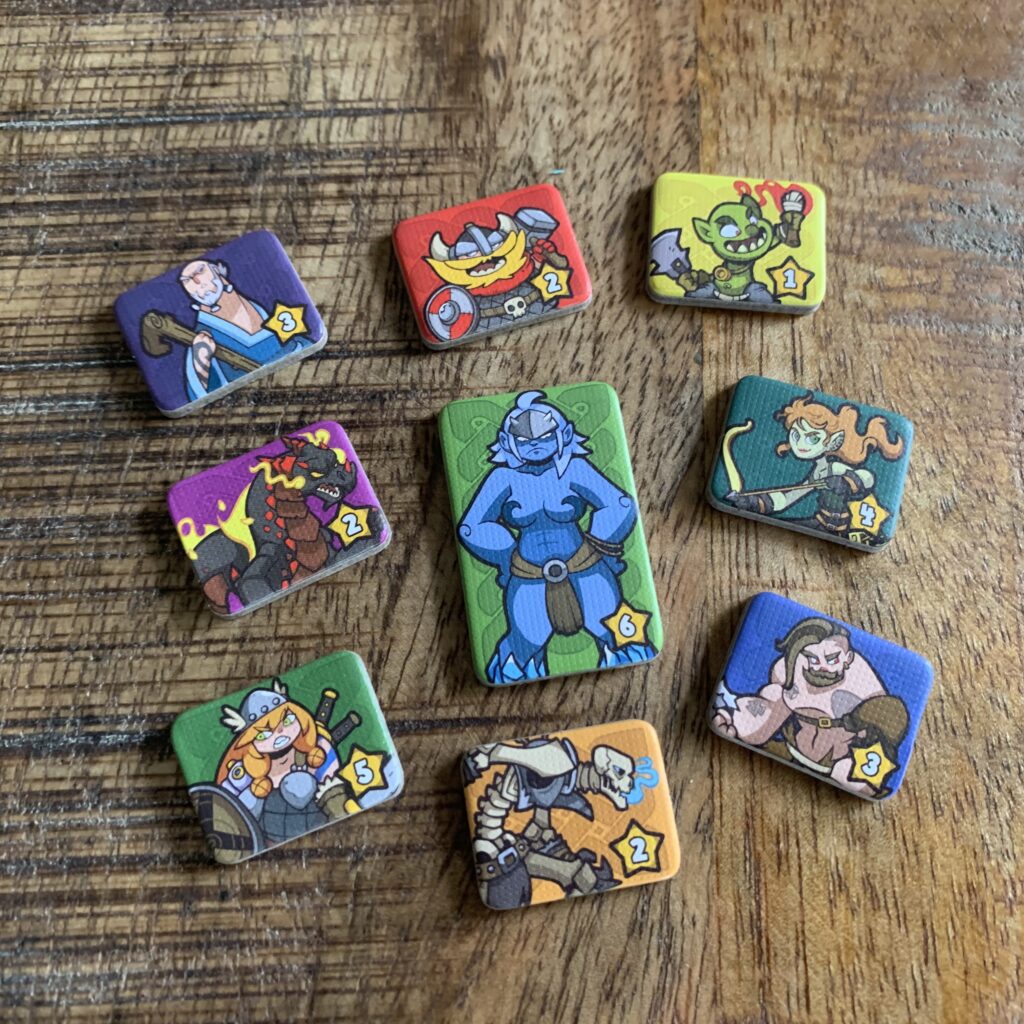 Vriendelijk ter beschikking gesteld door de maker.
ENGLISH
alknut, Norse for warrior knot, is a Viking symbol with three interwoven triangles whose origin is unknown. It is also the name of this game by @bruehgames, known for, among others, the DWAR7S series. Valknut is an asymmetric and abstract strategy game inspired by classical Norwegian mythology. Do you tie your opponents up or will you yourself get tangled up?
At the beginning of the game players choose which pieces they want to play with. Each "army" has unique abilities and amount of playing pieces. Each turn you play a terrain card to add to the playing field. If there is a Valknut symbol on the played card, you may place a new piece on the playing field. After that, you may move pieces as many squares as the indicated number on the played card.
In addition to inspiration from Norse mythology, Valknut also draws inspiration from the classic board game that the Vikings played: Hnefatafl. Hnefatafl is a game that resembles chess whose origin (like the Valknut) is not entirely known, but of which variants were spread by Vikings from Scandinavia. The oldest game board found dates from about the year 400 BC.
In Hnefatafl you can defeat opponent's pieces by enclosing them on two sides with your own playing pieces. This is also the case in Valknut. Entrap with your own playing pieces and the terrain (mountains, forest, water) a playing piece of an opponent, that piece will be removed from the field. If your opponent has no more pieces on the field, you have won. Are the terrain cards depleted before all pieces have been defeated? Then the player with the most points based on the remaining pieces, wins.
Valknut is a very short, but very strategic game. The asymmetry of the playing pieces creates a lot of variation. The game is fast and easy to play. A new favorite for in between and on a trip! Skål!
Kindly provided by the designer.