NEDERLANDS
Vier cijfers. Vier handelingen. 5, 2, 1, 1.
5211 is een kaartspel dat onnodig in een Azul-jasje is gestoken (spoilers: het heeft werkelijk niks met het tegelspel Azul te maken). De opzet van het spel is dodelijk simpel. De titel verraadt namelijk al de regels. Je pakt 5 kaarten. Elke speler speelt eerst 2 kaarten. Vervolgens speelt iedereen 1 kaart. Daarna speelt iedereen nog 1 kaart. Ronde afgelopen. Tijd om punten van die ronde te verzamelen. Zodra alle kaarten op zijn is het spel afgelopen en wint de speler met de meeste punten.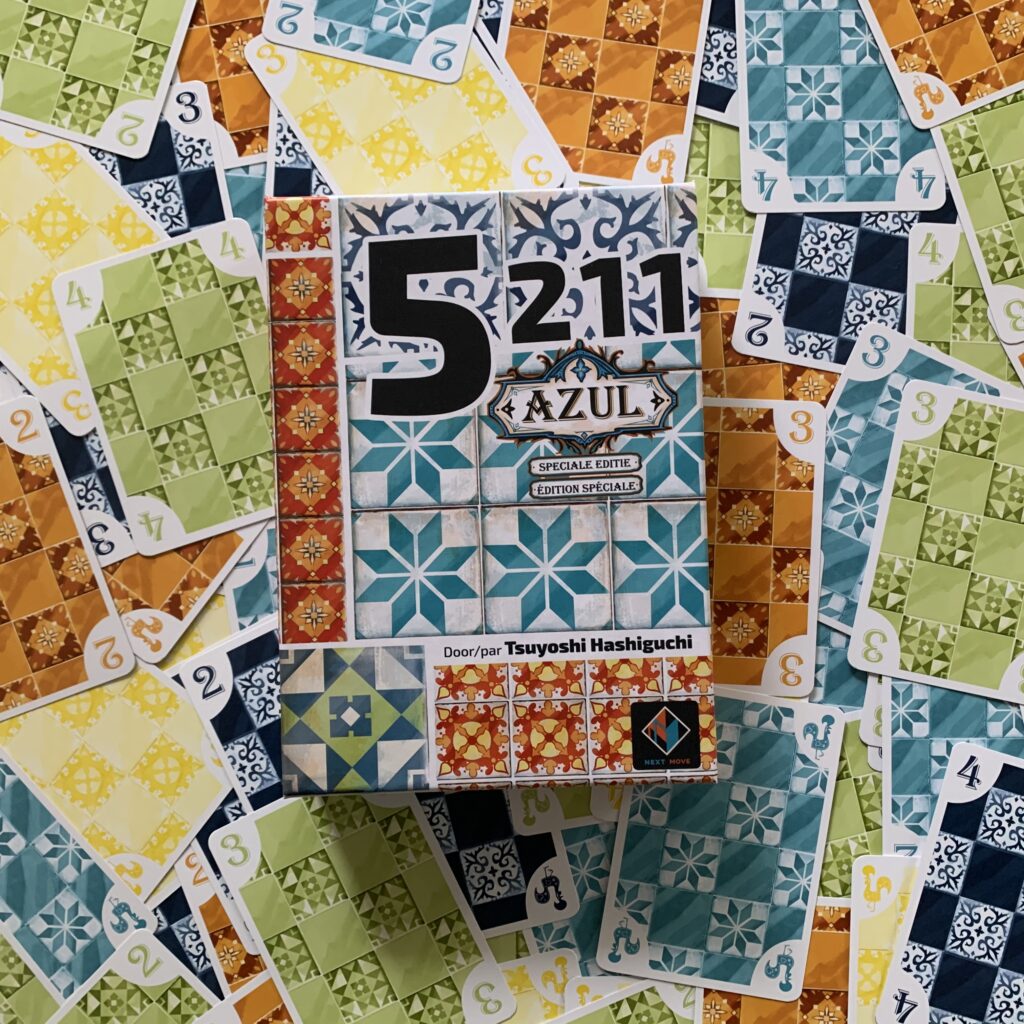 Ik vergeet nu echter wel te vertellen hoe je punten verdient! Het doel van 5211 is om te gokken/in te schatten welke kleur kaarten in een ronde de meerderheid zullen vormen. Spelers mogen aan het einde van een ronde de kaarten in de kleur van de meerderheid die zij voor zich hebben neergelegd, toevoegen aan hun puntenstapel. Komt een kleur te vaak voor, dan telt deze kleur niet meer mee. Ook kleuren met een gelijke stand tellen niet meer. Doordat elke ronde meerdere beurten heeft (2, 1, 1) kun je proberen de uitkomst te beïnvloeden. Wil je niet dat een tegenstander bepaalde kaarten toevoegt aan zijn of haar puntenstapel, dan moet je op sluwe wijze een kleur proberen te neutraliseren. Bluffen komt hier van pas!
5211 is een grappig spel voor tussendoor en is gemakkelijk uit te leggen aan nieuwe spelers met affiniteit voor vlotte kaartspellen! Niet extreem bijzonder en erg simpel, maar ook dat is af en toe lekker. 
ENGLISH
Four numbers. Four actions. 5, 2, 1, 1.
5211 is a card game that has been skinned in the Azul theme unnecessarily (spoilers: it really has nothing to do with the Azul tile laying puzzle game! Gasp!). The setup of the game is dead simple. The title already spoils all of the rules of this game. You take 5 cards. Each player first plays 2 cards. Then everyone plays 1 card. After that everyone again plays 1 card. Round ends. Time to collect points from that round. Once all cards have been played, the game ends and the player with the most points wins.
However, I forget to tell you how you earn points! The goal of 5211 is to gamble and/or decipher which color of cards will form the majority in a round. At the end of a round, players may add the cards in the color of the majority they have in front of them to their point pile. If the color of a majority is too common, this color will no longer count. Colors with a tie no longer count either. Because each round has several turns (2, 1, 1) you can try to influence the outcome. If you don't want an opponent to add certain cards to his or her scoring pile, you have to slyly try to neutralize a color. Bluffing skills come in handy here!
5211 is a funny game to play in-between and is easy to explain to new players with affinity for fast card games.