Ongeëvenaard, met een dergelijke titel schep je hoge verwachtingen, maar die maakt Unmatched: Gevecht der Legendes volledig waar!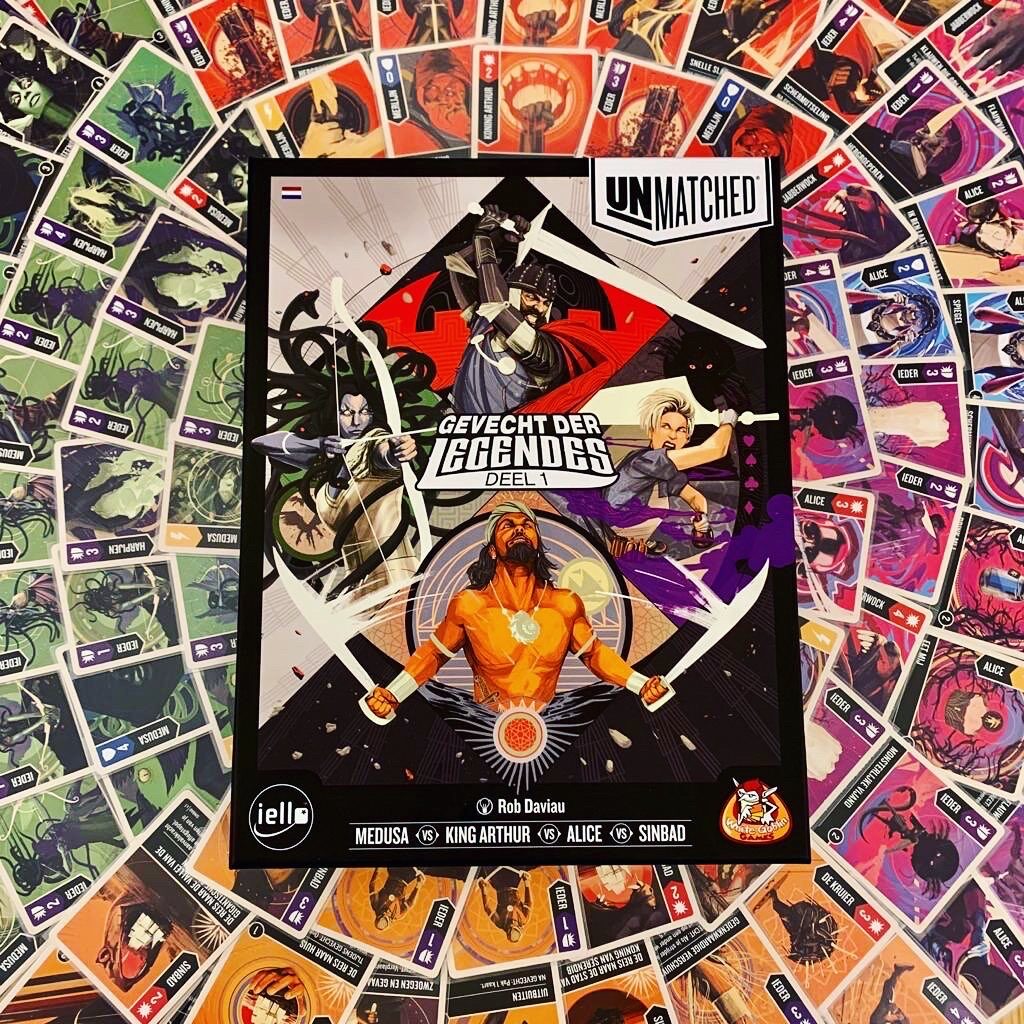 In Unmatched vecht je met een van de bijgeleverde helden (uitgebeeld door leuke miniaturen) en bijbehorende "sidekick(s)" tegen elkaar. Doormiddel van karakterkaarten en slimme moves moet je de andere held zien te verslaan. Het spel is erg simpel om te leren, maar uitdagend genoeg om verschillende tactieken toe te passen om de andere helden te slim af te zijn. Je kunt het met zijn tweeën (1vs1), drieën (in een free for all) of met zijn vieren spelen (2vs2). Tijdens een beurt kan je een kaart pakken en verplaatsen, aanvallen of een kaart spelen. Als je aanvalt, dan mag je een kaart gesloten neerleggen en legt de verdediger een eventuele verdedigingskaart gesloten neer. Hierna worden de kaarten opengelegd en het gevecht uitgevochten.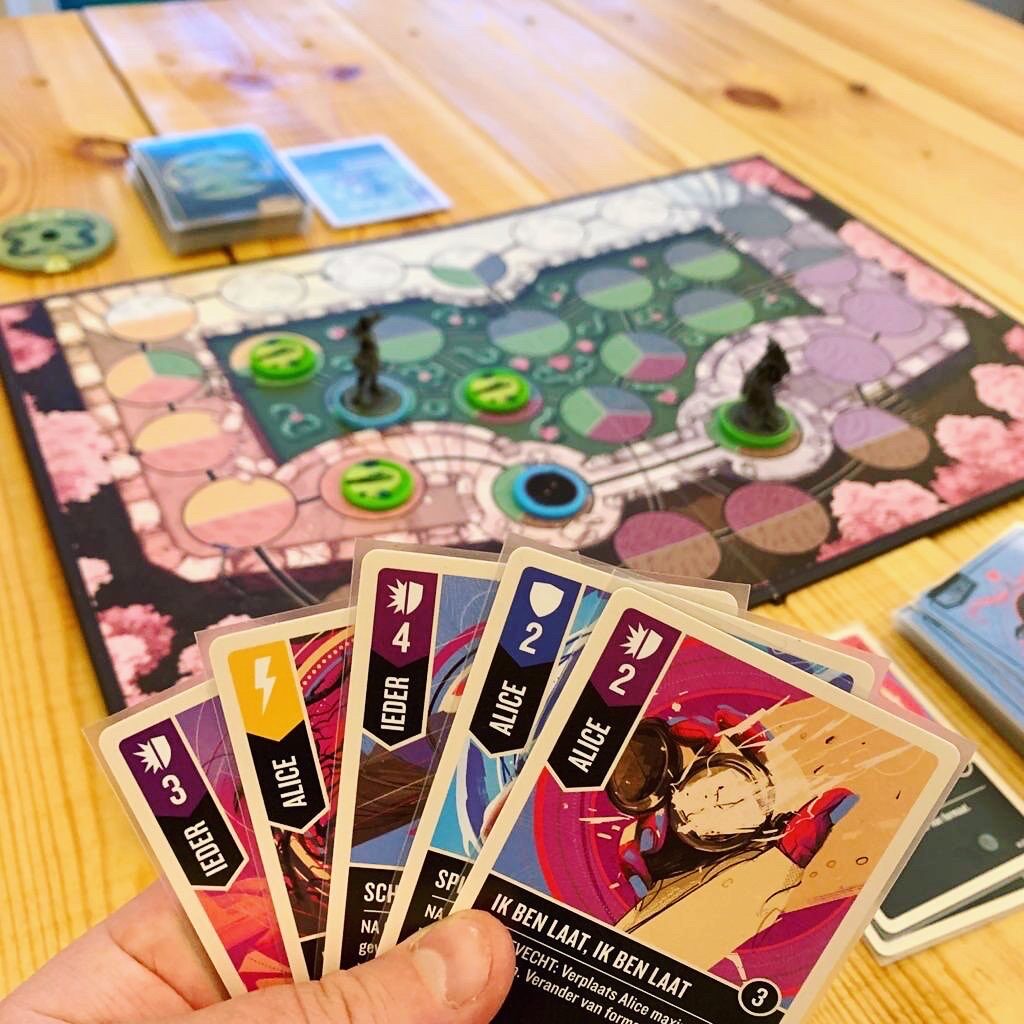 In deze (basis)set krijg je 4 helden tot je beschikking en een tweezijdig speelbord. In de sets die later ook bij White Goblin Verschijnen verschijnen, krijg je andere helden en speelborden (Daniel heeft ook al een paar Unmatched gerecenseerd op deze site). De sets zijn allemaal zelfstandig te spelen of je kan de sets mixen.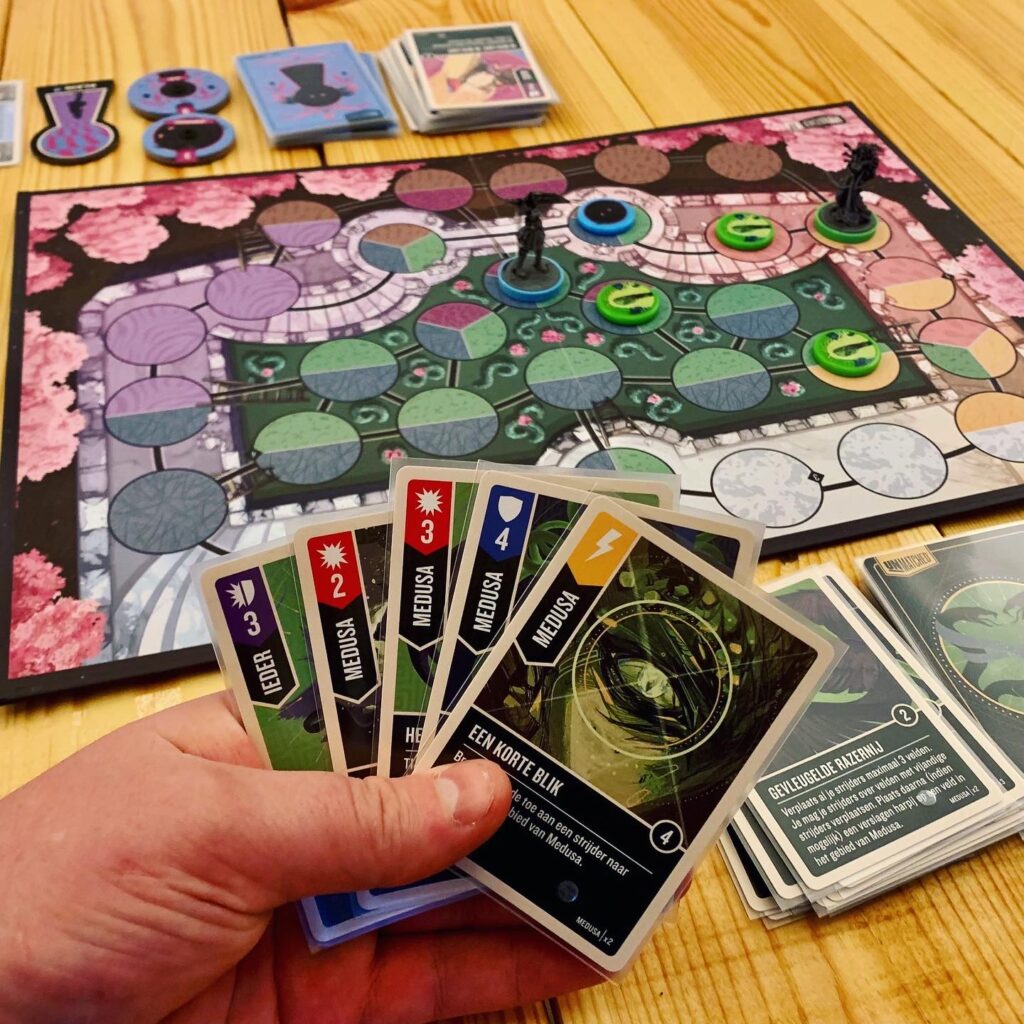 De helden in Unmatched hebben allemaal een andere speelstijl. Zo speel je erg flexibel met Alice (in Wonderland) en haar sidekick de Jabberwock. Je kan veranderen van klein naar groot formaat en weer terug dankzij haar kaarten. Hierdoor krijg je extra aanvalssterkte als je groot bent en extra verdedigingssterkte als je klein bent. Dit is een leuk mechanisme omdat je dit goed kan combineren met een aanvalsbeweging om wat extra kracht aan de aanval te geven. Grote problemen in een klein pakketje.
ls het complete ander uiterste heb je Koning Arthur, die heeft minder finesse en deelt harde rake klappen uit met zijn sterke aanvalskaarten. Als speciale kracht kan hij altijd een extra aanvalskaart toevoegen aan zijn aanvallen. Zijn sidekick Merlijn bekijkt het gevecht liever van een afstand en is tevens ook erg goed in het ontsnappen na een gevecht. Een leuke twist biedt de held Medusa, die elke keer als zij haar beurt start in de buurt van een vijand krijgt deze schade. Medusa deelt daarnaast grof geweld uit met haar sterke aanvallen en ze heeft maar liefst drie sidekicks: de Harpijen. Die Harpijen zijn dan wel heel zwak, maar kunnen toch erg belangrijk zijn op het juiste moment. Als hekkensluiter hebben we Sinbad, voor mij de meest onbekende held. Hij kan zich makkelijker verplaatsen nadat er meer kaarten van hem al zijn gespeeld.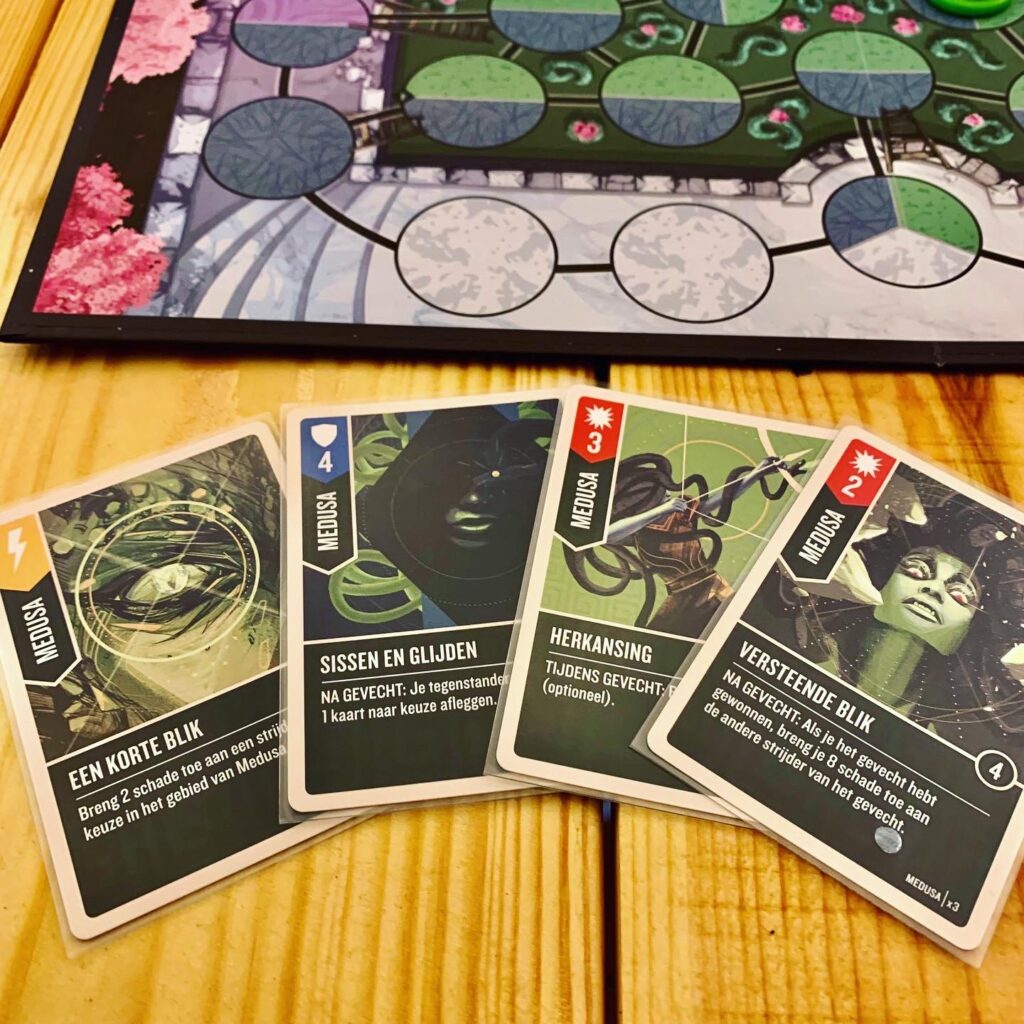 Unmatched is erg tactisch spel met veel afwisseling door de uitbreidingsmogelijkheden. Het spelmechanisme zorgt voor lekkere korte gevechten 1op1. De potjes duren maximaal 30 minuten. En zijn erg gevarieerd. Maar als je het niet alleen de strijd durft aan te gaan zijn er ook variaties voor meer spelers, die dan weer andere tactische beslissingen teweegbrengt die je (soms) samen moet oplossen.Voor mij zeker ongeëvenaard leuk!