Kastelen zijn kolossaal, episch en vol geschiedenis. Wie kent niet de fictieve kastelen zoals Camelot, Greyskull of Hyrule, of echte kastelen zoals het Muiderslot, Newark Castle of Kasteeltje Hattem (het kleinste kasteel van Nederland)? Bouwkundige hoogstandjes die eenieder kan bewonderden. Wat nu als je een abstracte puzzel maakt, waarbij je een "realistisch" kasteel mag bouwen? SmartGames bedient uwe hoogheid op hun wenken met het spel Tower Stacks. Blaas jij hoog van de toren of stort jouw plaggenhut in elkaar?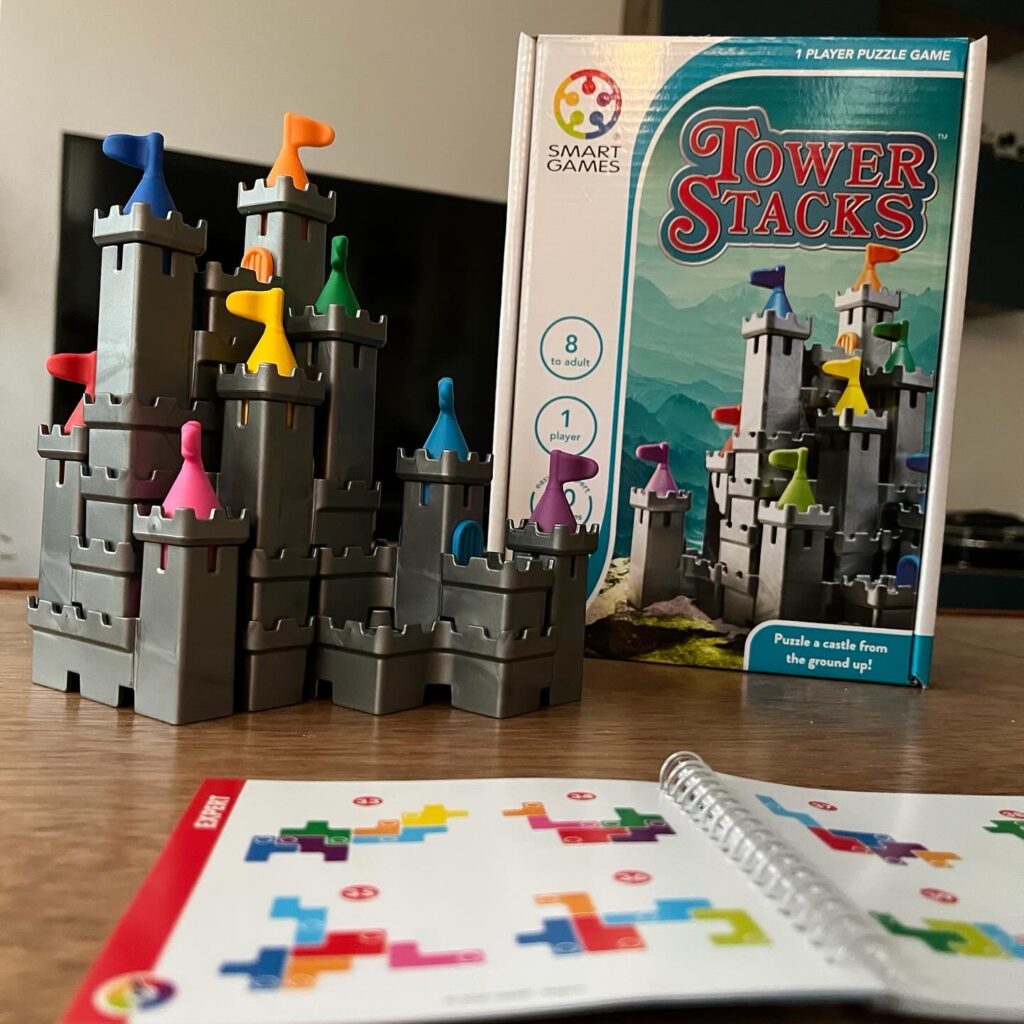 Tower Stacks is eenvoudig uit te leggen. Je hebt verschillende driedimensionale puzzelstukjes in verschillende vormen, waarbij ieder puzzelstukje kasteelmuren bevat en één kasteeltoren met vlag. Iedere puzzelvariant (met verschillende moeilijkheidsgraden) begint met een fundament, dat bestaat uit vooraf bepaalde puzzelstukjes. Vervolgens is het aan jou om letterlijk de hoogte in te bouwen. Maar let op: hoewel je meerdere verdieping kunt aanbrengen, mag geen enkel stukje deels uitsteken (zoals het kasteel van Dracula in de Castlevania games). Hoe hoger je gaat, hoe minder oppervlakte je hebt om te bouwen.
De eerste twee moeilijkheidsgraden van Tower Stacks (Starter en Junior) zijn heel kindvriendelijk, omdat relatief meer puzzelstukjes in het begin worden klaargelegd en een aantal stukken niet meedoen. Volwassen bouwkundigen raad ik aan om te beginnen met Expert.
Enkele dagen geleden hebben wij het puzzelspel Perplex van SmartGames gespeeld – én gerecenseerd. Bij dat abstracte puzzelspel was het de bedoeling om driedimensionale stukjes in een zeshoekig vlak te plaatsen. Hoe moeilijker de gekozen puzzel, hoe minder stukjes al worden geplaatst voordat je begint. In Tower Stacks wordt op dezelfde manier de moeilijkheid ingesteld. Waarbij wij vonden dat Perplex je verleidt om te "bruteforcen", is dat bij Tower Stacks juist niet het geval. Doordat Tower Stacks een leuk thema heeft (middeleeuwse kastelen) en gameplay die bij het thema past (de puzzel moet je driedimensionaal leggen en bouwkundig mogelijk zijn), nodigt het spel je uit om goed na te denken over hoe jij je droomkasteel in elkaar zet.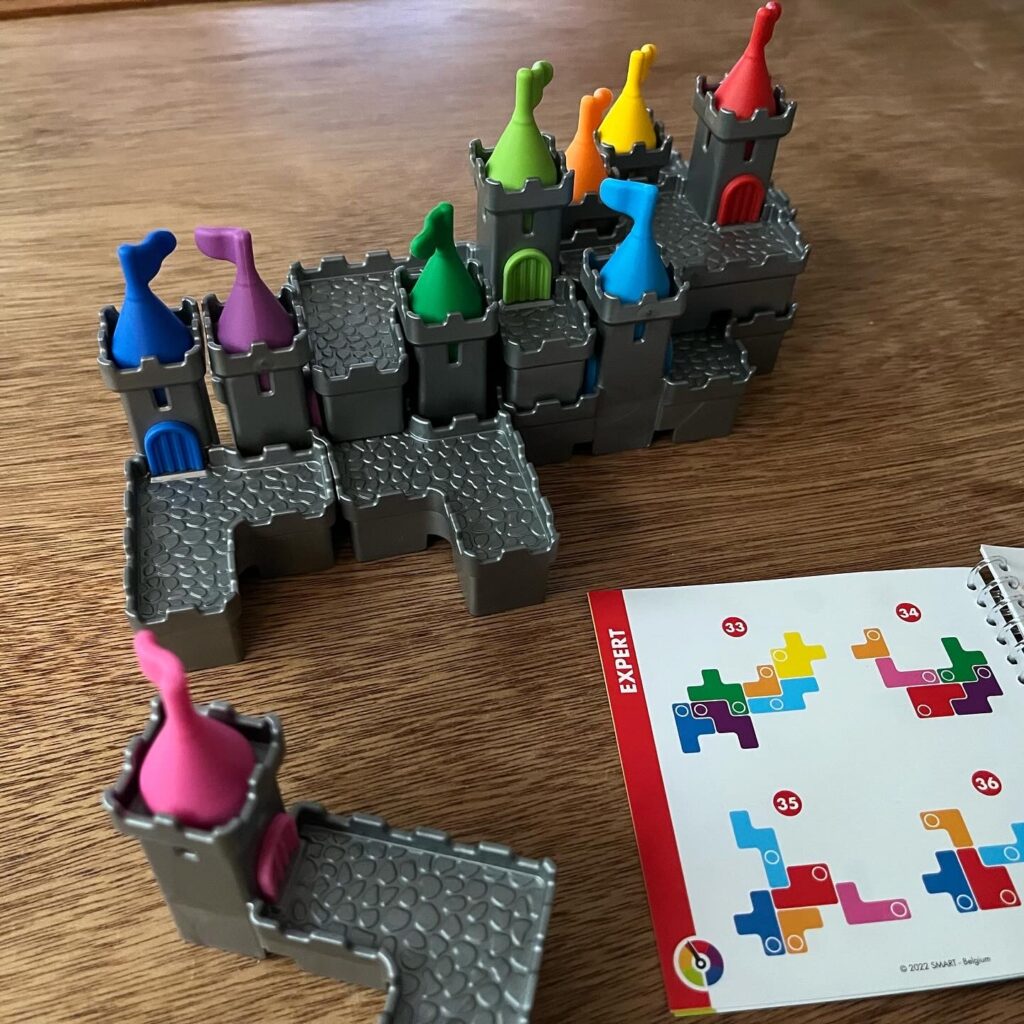 Met de recensie van Tower Stacks komt mijn drieluik (ook ook Cats & Boxes en IQ Perplex onderdeel van zijn) aan SmartGames recensies tot een einde. Wat mij betreft is Tower Stacks de leukste van deze drie, vanwege het leuke thema en de prikkel om driedimensionale kastelenpuzzels te leggen – leuk voor jong én oud! Mocht je Tower Stacks al hebben uitgespeeld, overweeg dan Cats in Boxes vanwege de kittige puzzelstukjes (maar houd rekening dat het spel iets "rommeliger" speelt). Mocht abstractie je voorkeur hebben, ga dan voor Perplex.
Een leuk puzzeluurtje komt "vastgoed" met Tower Stacks, een abstracte puzzel met royaal thema. Driewerf hoezee!