SmartGames is van alle markten thuis. Naast het kittige puzzelspel Cats in Boxes, met een sterk thema, geeft zij ook abstracte puzzelspellen uit. Eén daarvan is Perplex – sta versteld van de 120 uitdagingen om een zeshoek te vullen met gekleurde stukjes. Puzzel jij de hexagon bij elkaar, of vervlieg jij in verstandsverbijstering?
Perplex bevat verschillende plastic blokjes die op ten minste 120 manieren kunnen worden gecombineerd in een zeshoek. De moeilijkheidsgraad bepaalt hoeveel stukken er al vooraf klaar worden gezet in de zeshoek. De truc van dit spel is dat iedere stukje driedimensionale vormen bevat, maar wel allemaal tweedimensionaal moeten worden gelegd. Daardoor moet je bij ieder stukje goed nadenken hoe je het kan en zou moeten neerleggen.
In tegenstelling tot Tower Stacks of Cats in Boxes, van dezelfde uitgever, is hier het thema non-existent. Het is een echte abstracte puzzel met verschillende vormpjes. Dit betekent dat het spel alle kracht moet halen uit het puzzelmechanisme. Dat mechanisme is goed uitgedacht – dat zie je ook aan de eindeloze mogelijkheden. Maar als je het een aantal keer hebt gespeeld, dan heb je de trucje wellicht sneller door. Vervolgens is het heel verleidelijk om iedere puzzel van dit spel te "bruteforcen": combinaties blijven proberen totdat je er een keer komt. Leg het dus vooral op tafel om af en toe te spelen.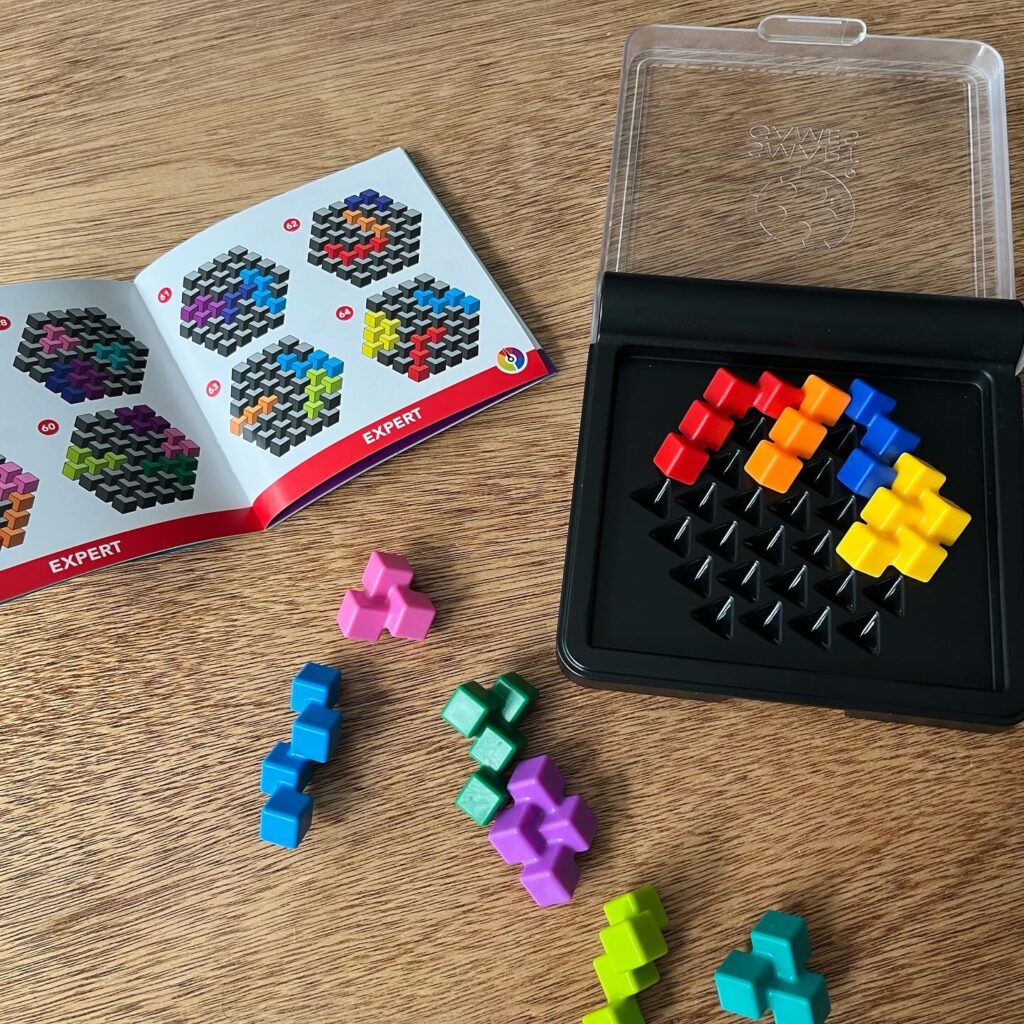 De starter en junior moeilijkheidsgraden zijn ideaal voor kinderen. De expert moeilijkheidsgraad is een goed beginpunt voor volwassenen. Perplex is een leuk abstract puzzelspel en prikkelt je ruimtelijk inzicht. Met andere woorden: het doet je perplex staan… voor een puzzelmomentje.