Let's get ready to rumble and stumble, want deze mechs (grote robotpakken) bewegen zich op bijzondere wijze voort. In Tiny Epic Mechs, van Gamelyn Games, strijden spelers met grof geschut en metalen mechs in gladiatoriale arena voor eer en glorie! Ben jij een ware Mecha-Master, of toch eerder een roestige gonk-droid rijp voor de schroothoop?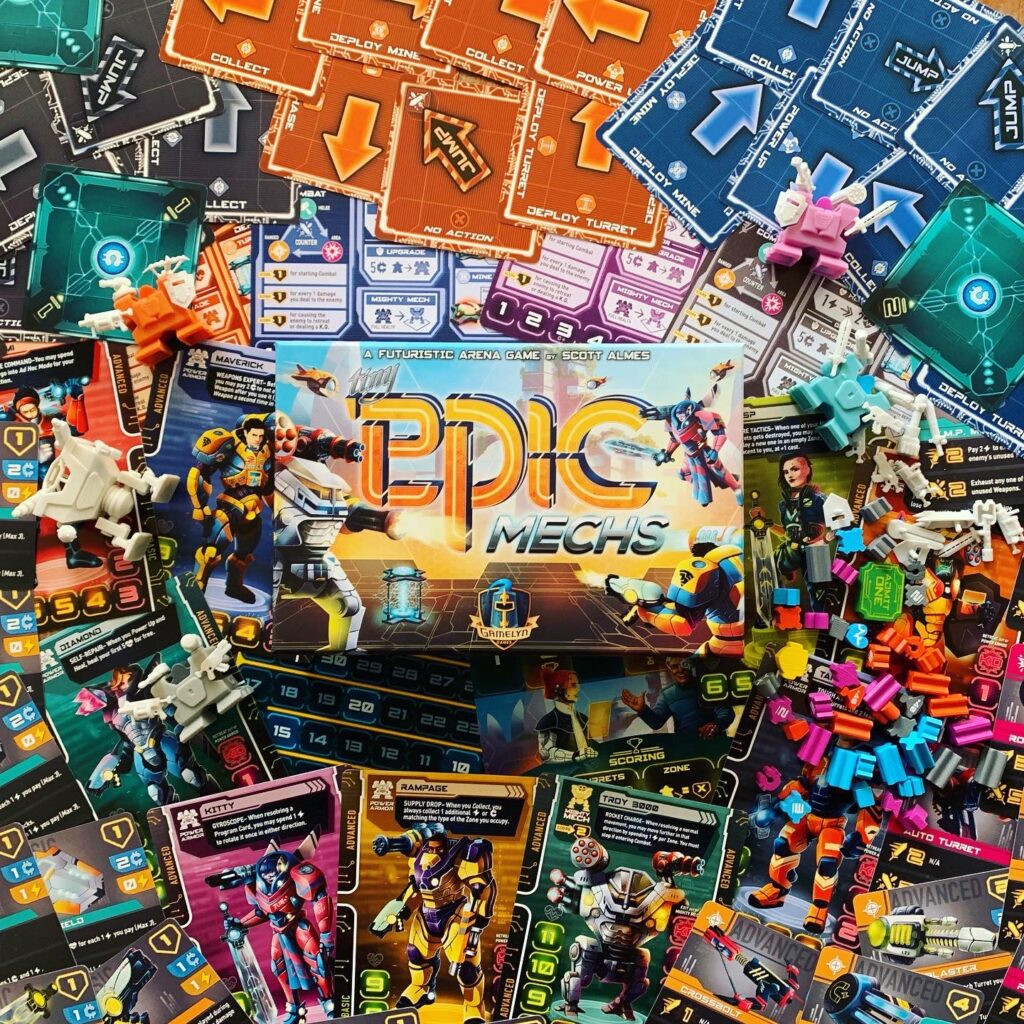 Tiny Epic Mechs is een spel waarbij spelers iedere ronde hun acties vooruit moeten plannen. Zij moeten de beweging van hun personage of mech vooruitplannen en daarbij vier acties inplannen. Acties zijn veelzijdig: plaatsen van mijnen of turrets, kopen van wapens, upgraden of springen en vechten. Spelers strijden om controle van het strijdtoneel. Door mijnen en turrets te plaatsen krijgen zij controle over gebieden (en kunnen zij andere spelers op slinkse wijze schade toedienen) en met wapens en upgrades worden de spelers sterker, waardoor zij in gevechten wel een schijn van kans maken. Vervolgens strijd je tegen elkaar en probeer je controle te kijken over de grote mech suit in het midden van je bord. Die is immers nog groter en sterker dan je eigen mech suit. Geen kaiju's in dit spel, maar de pakken liegen er niet om!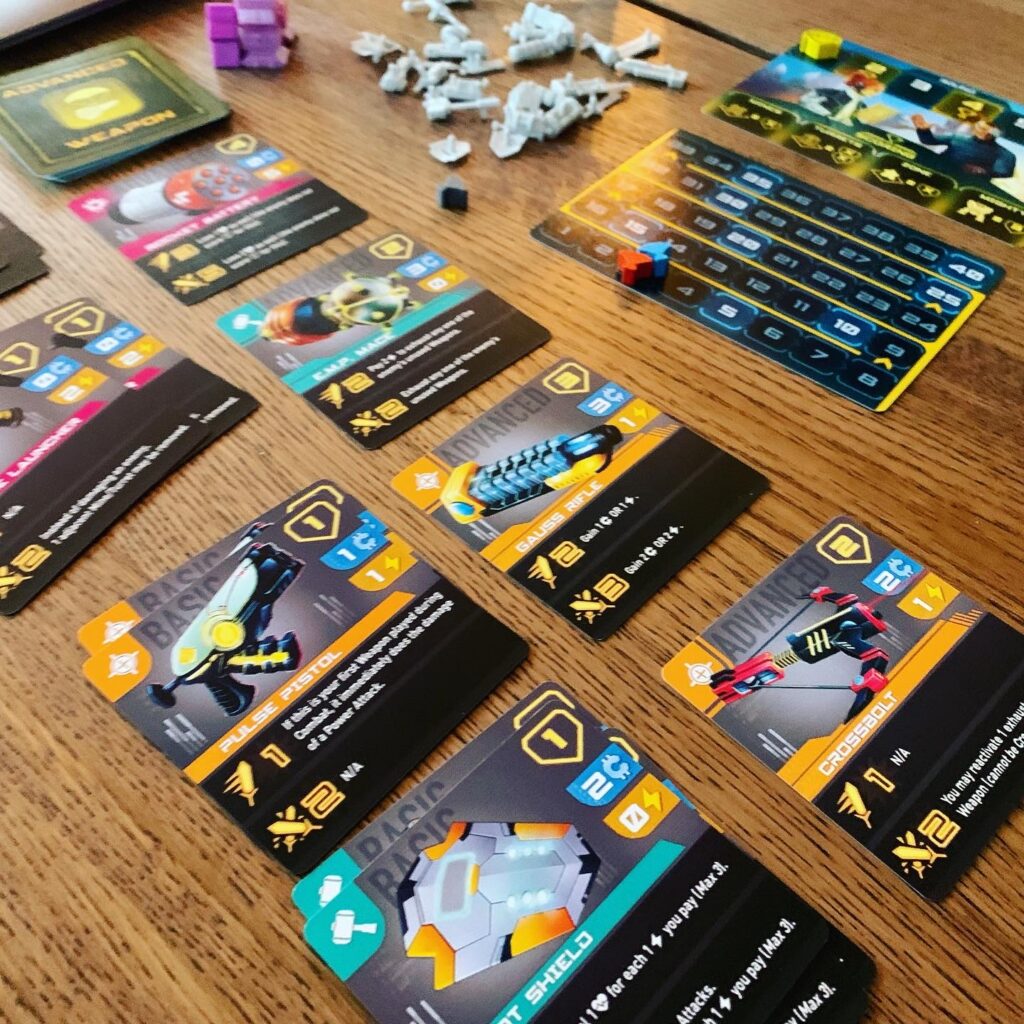 Als je op een gebied komt waar al een andere speler staat, gaan jullie knokken 'real steel' stijl. Voor de eerste aanval krijg je een punt en elke schade die je toedient levert wederom punten en hoger plaatsje in de ranglijsten op. Zodra een aanval heeft plaatsgevonden, mag een andere speler counteren met een ander wapen. Ieder wapen kan maar een enkele keer tijdens een gevecht worden ingezet. Elk wapen is tevens ingedeeld in een bepaalde categorie, waardoor sommige wapens meer schade toedienen aan bepaalde soorten wapens. Een soort steen, papier, schaar stijl. Val bijvoorbeeld een kanon aan met je verborgen zwaard voor extra damage net als in de eerste Pacific Rim.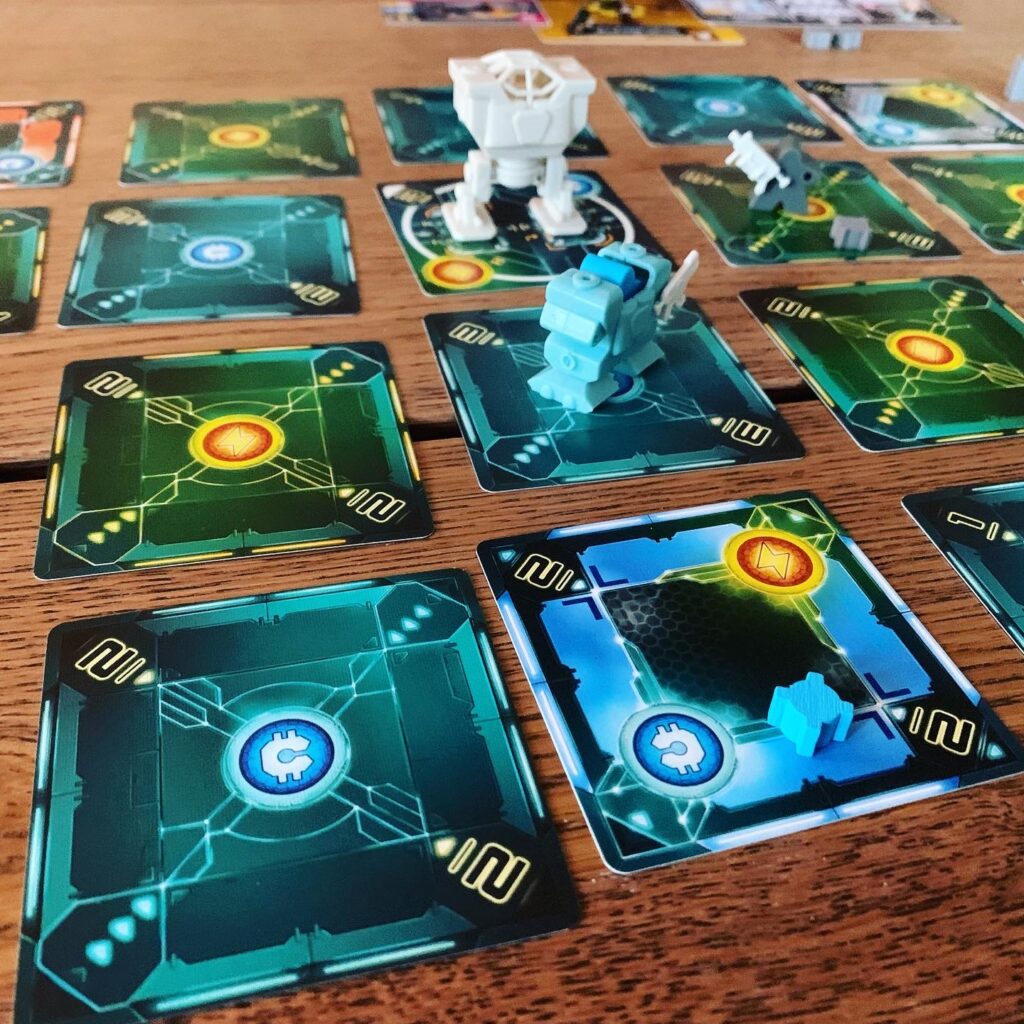 Het gave aan Tiny Epic Mechs zijn de Tiny Epic mini's die erbij zitten. Pak je meeple, voer je upgrade uit en stap in je mech suit. Koop wapens en bevestig ze aan je meeple of mech. De wapen mini's matchen met de artwork op de kaarten. Zo verandert je kale meeple op een gegeven moment een in waar mechanisch beukbeest met handkanonnen, laserguns en gloeiende zwaarden.
Agressiviteit en tactisch vooruitplannen loont in dit spel. Meet je krachten met je tegenspelers, kick some ass and chew bubble gum, en stel het gevaarlijkste mech suit samen. Vergeet niet om gebiedjes te beheersen door het plaatsen van schadelijke mijnen en turrets. Hoe meer je knokt, hoe meer punten je kunt krijgen. Maar overspeel niet je hand, want een ejector seat zal je afstraffen.
Tiny Epic Mechs: hell, it's about time!