Post-industriële fantasiën beleven kun je op je spelcomputer naar keuze. Denk aan videogames zoals Animal Crossing en Stardew Valley. Stardew Valley is een videogame waarbij je je leven als verloren loonslaaf vaarwel zegt en intrekt in het landelijke boerderijtje van je overleden Opa in de regio Stardew Valley. In de game kun je de boerderij uitbouwen, gewassen verbouwen, dieren houden, vissen, in het bos zoeken naar seizoensproducten, of in de mijn op zoek naar grondstoffen, schatten en edelstenen. Daarnaast kun je ook nog de lokale dorpsgenoten helpen en (al dan niet) romantische relaties met ze opbouwen. Niets moet, alles mag! Dat klinkt te mooi om waar te zijn, nietwaar?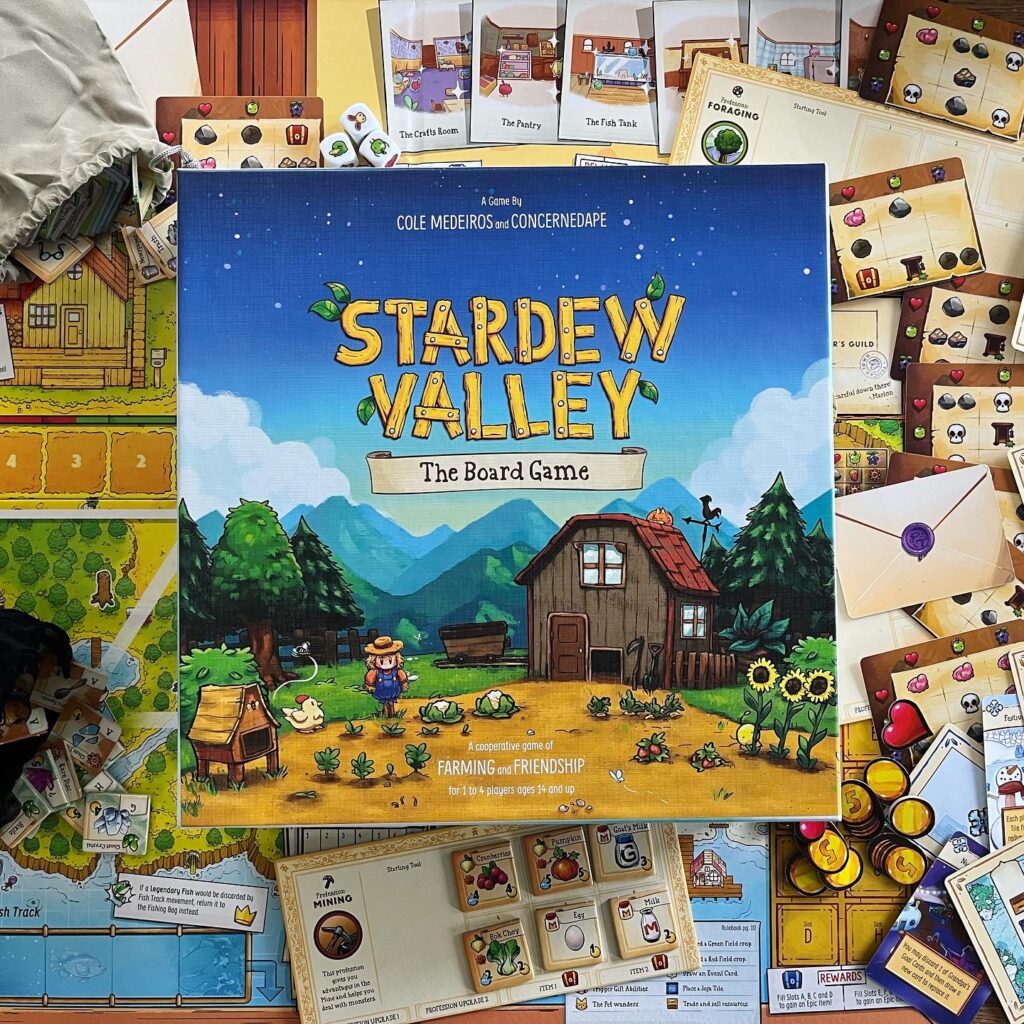 Deze millennial-droom kun je nu ook waarmaken in de bordspelversie van Stardew Valley – een coöperatief spel vol landbouw en vriendschappen van Cole Medeiros en ConcernedApe. Is het bordspel een gevatte idyllische weergave van de originele game, of kun je toch maar beter terug naar je flexplek en systeemplafond?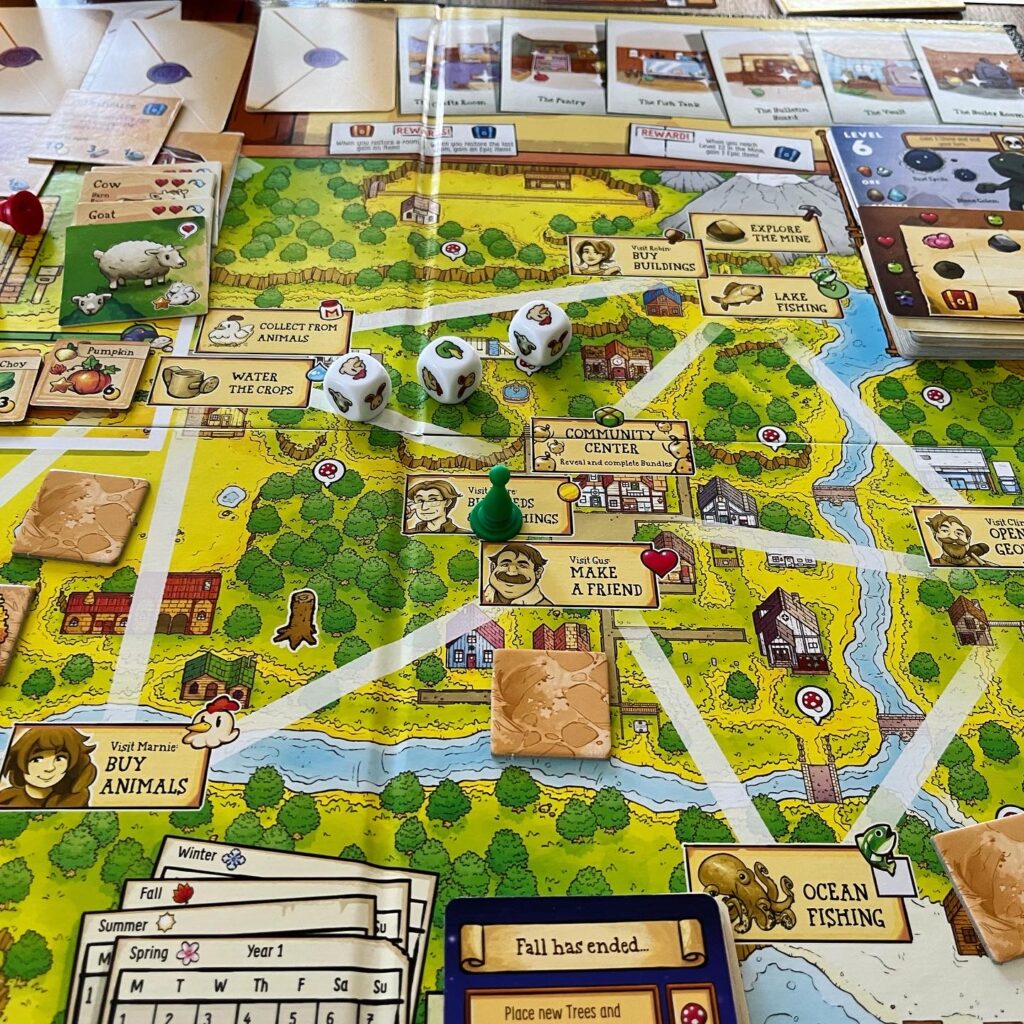 De videogame Stardew Valley is ontworpen en geprogrammeerd door één persoon en zit tjokvol spelelementen. Zoals opgesomd, kun je zowaar alles doen wat je rurale ecologische hartje begeert. Met enthousiasme kan ik je vertellen dat het bordspel al deze spelelementen verbluffend goed heeft vertaald, zowaar alle videogame onderdelen bevat, een uitdagend element van samenwerken toevoegt, en een grote liefdesbrief is naar de videogame. Om dan gelijk met de trekker in huis te vallen: dit bordspel duurt een flinke middag, maar is de tijd dubbel en dwars waard. Dus trek je kaplaarzen en je beste tuinbroek aan, here we go!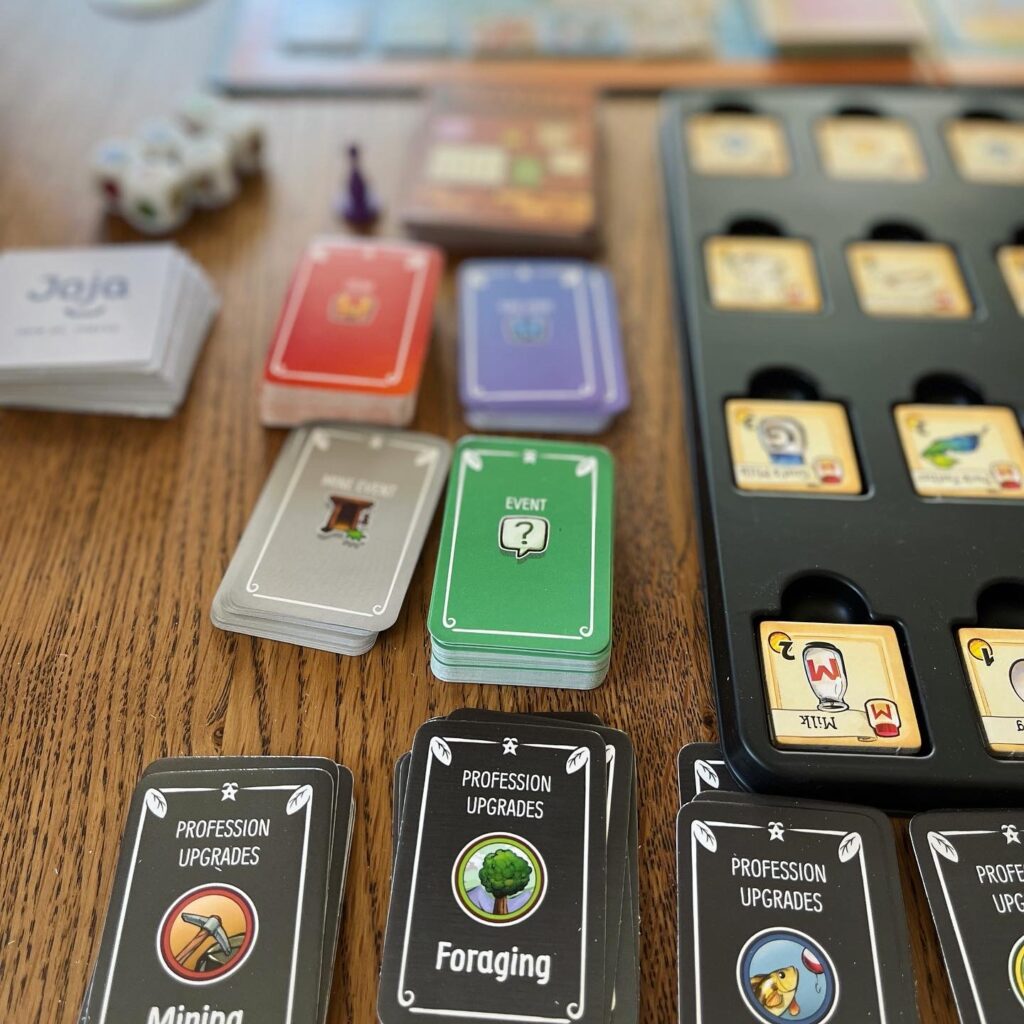 In Stardew Valley kiest iedere speler een specialisatie: farming, foraging, fishing of mining. Ieder speler kiest ook een bijpassend voorwerp, zoals een gieter of een pikhouweel, die gedurende het spel kan worden verbeterd. Iedereen start op de boerderij en reist gaandeweg over het bord, dat veel locaties en personages bevat uit de videogame. Je kunt daar dan op verschillende plekken vissen, zaden kopen, dieren aanschaffen, vrienden maken, de mijn in, noem het maar op! Ieder onderdeel kent een eigen minigame waarbij je dus nuttige voorwerpen of geld kunt verdienen. Die zaken kun je dan weer gebruiken om de doelen van je opa (linksboven op het bord) en de doelen van het gemeenschapshuis (rechtsboven op het bord) te voltooien. Die doelen moeten namelijk voor het einde van het vierde (en laatste) seizoen zijn voltooid, om het spel te winnen. Ieder seizoen wordt weergeven in de vorm van een stapel seizoensgebonden kaarten (inclusief feestdagen!), die vol met opdrachten staan. Soms wordt een 'Joja' kaart gespeeld, vernoemd naar een fictieve supermarktketen die graag in het dorp wil vestigen.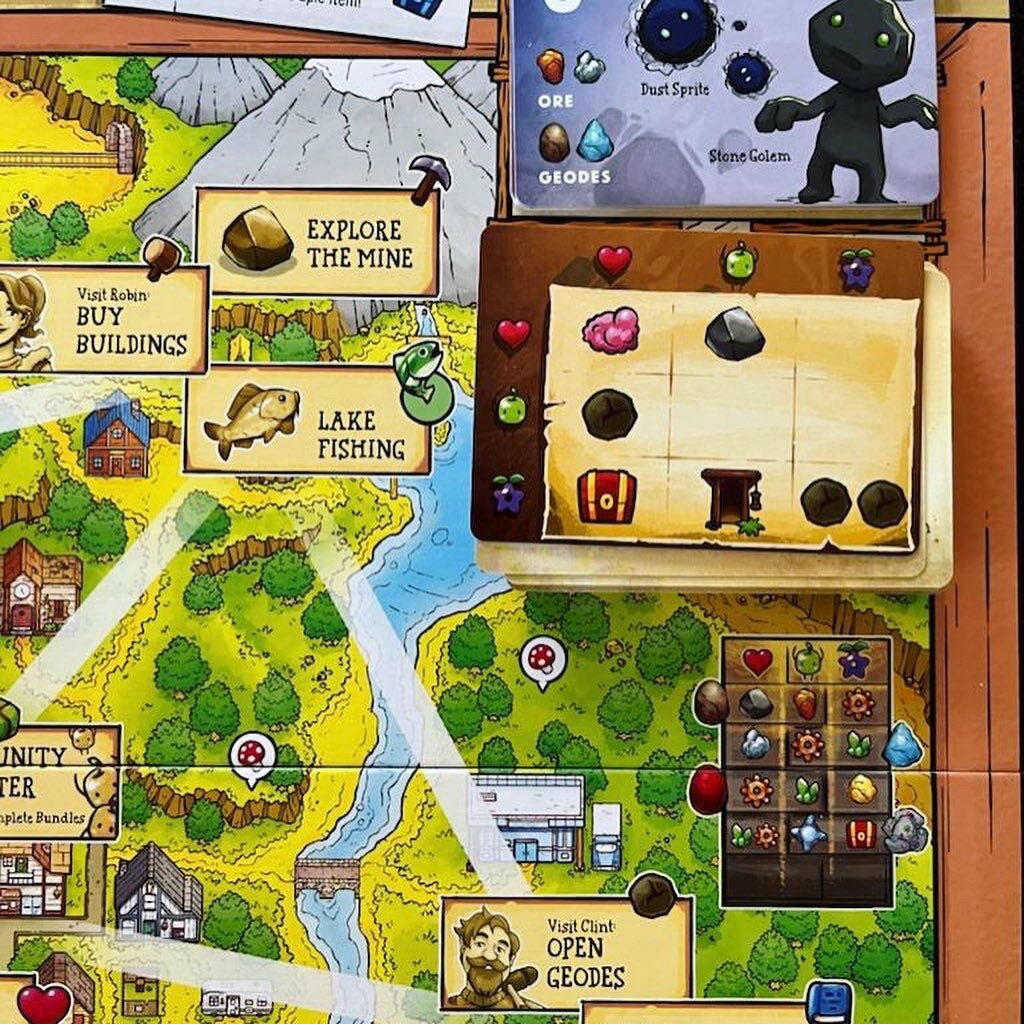 Aanvankelijk lijkt de opzet van het spelbord en de spelregels best veel te zijn, maar na een oefenrondje kom je erachter dat het spel verrassend vlot speelt. Het spel geeft een ontspannen gevoel, en met de gamegetrouwe maar meer geanimeerde illustraties is het spel ook een lust voor het oog. Het spel speelt het beste met vier spelers, en doordat je met elkaar regelmatig overlegt voelt het spel niet aan alsof je steeds veel moet wachten. Ik verhuis dan ook heel erg graag naar Stardew Valley, geef mij die schoffel maar!