Disney Sorcerer's Arena is an action-packed RPG game for mobile phones and tablets in which players can summon Disney and Pixar characters with collectible cards to fight for them on the battlefield in an unending quest to become legendary! Players who wish to detox from staring at a screen and play digital games can replay these epic battles in Disney Sorcerer's Arena: Epic Alliances, a board game by The OP based on the aforementioned video game. Which one of you will become legendary?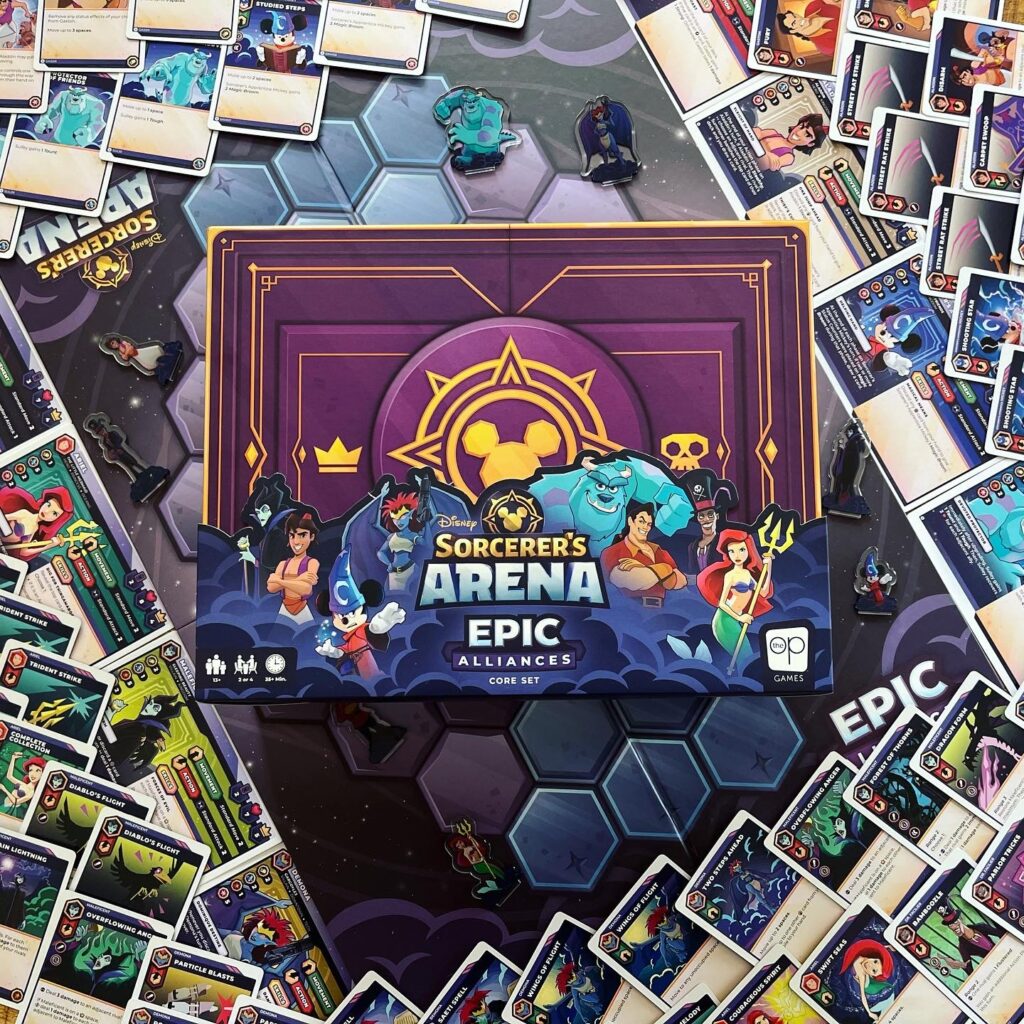 Disney Sorcerer's Arena: Epic Alliances is a skirmish game system where players assemble a small army of different Disney and/or Pixar characters. There is a core set available which is necessary to start playing. The core set already contains a wide and varied selection of characters, but several expansion sets have been announced so that in the future everyone can play with their favourite Disney and/or Pixar characters. My favourite characters from the core set? Obviously, the very magical and musical Sorcerer's Apprentice Mickey (from Fantasia) and everyone's favourite tragic hero Gaston (from Beauty and the Beast). At the time of writing this review, the first expansion set Turning the Tide has just been released, in which the three nautical natural talents Stitch (from Lilo), Moana (better known in Europe under her the name Vaiana) and lover of lockers Davy Jones (from Pirates of the Caribbean) appear as new challengers.
The title of the game, Disney Sorcerer's Arena: Epic Alliances, is a mouthful, and the game itself is chock full of content and, despite its theme, quite a complex game. At the start of the game, each player chooses three characters. Then players secretly select the order in which they wish to deploy these characters. The player that chose a character with the lowest initiative value starts the first round with that character. Each character has a unique deck of cards. Players combine all cards of their characters into a personal draw pile. Each player has a hand of card and the amount of cards and hand limit depends on the chosen characters.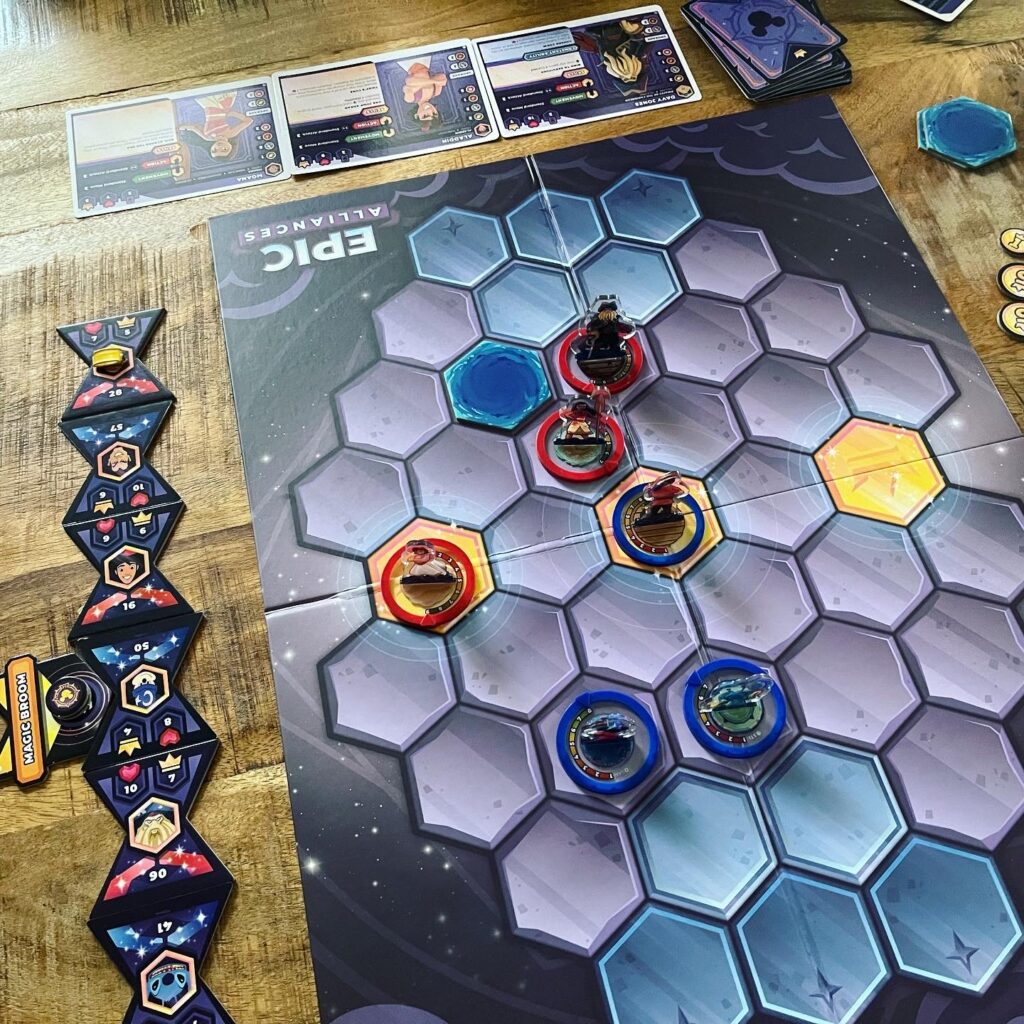 During a round the characters are activated in turn. When a player activates a character, this player goes through several phases. The player might earn points because the character is on a point space, the player may experience effects of status effects that that character received during the game and the player performs actions. During a turn, a player can move a character, attack and/or activate a special ability. Cards can be used for special move actions, special attacks or to improve regular attacks or move actions. In addition, discarded cards can be banished from the game to upgrade characters.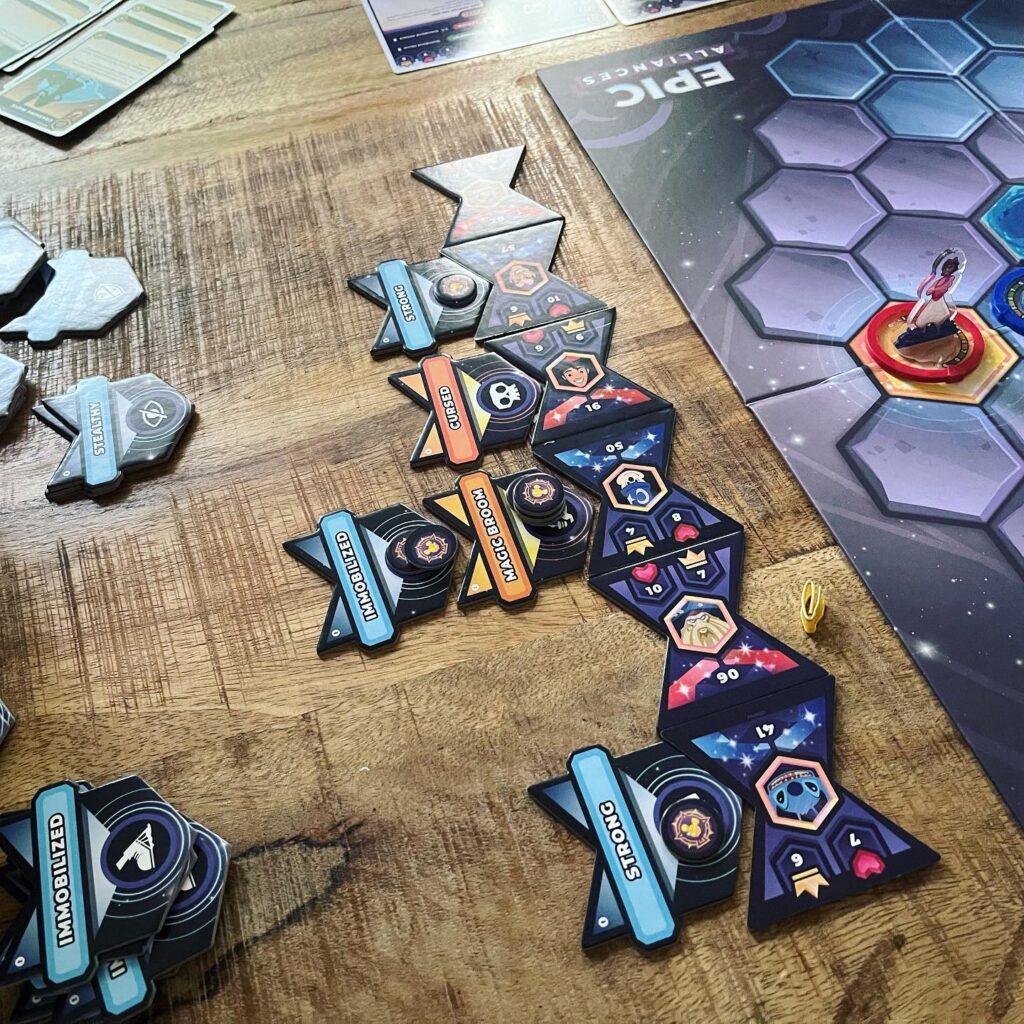 By defeating characters or conquering certain spaces on the game board, players can earn points. As soon as a player reaches 20 points or if a draw pile runs empty, the round is completed and the player with the most points wins the game!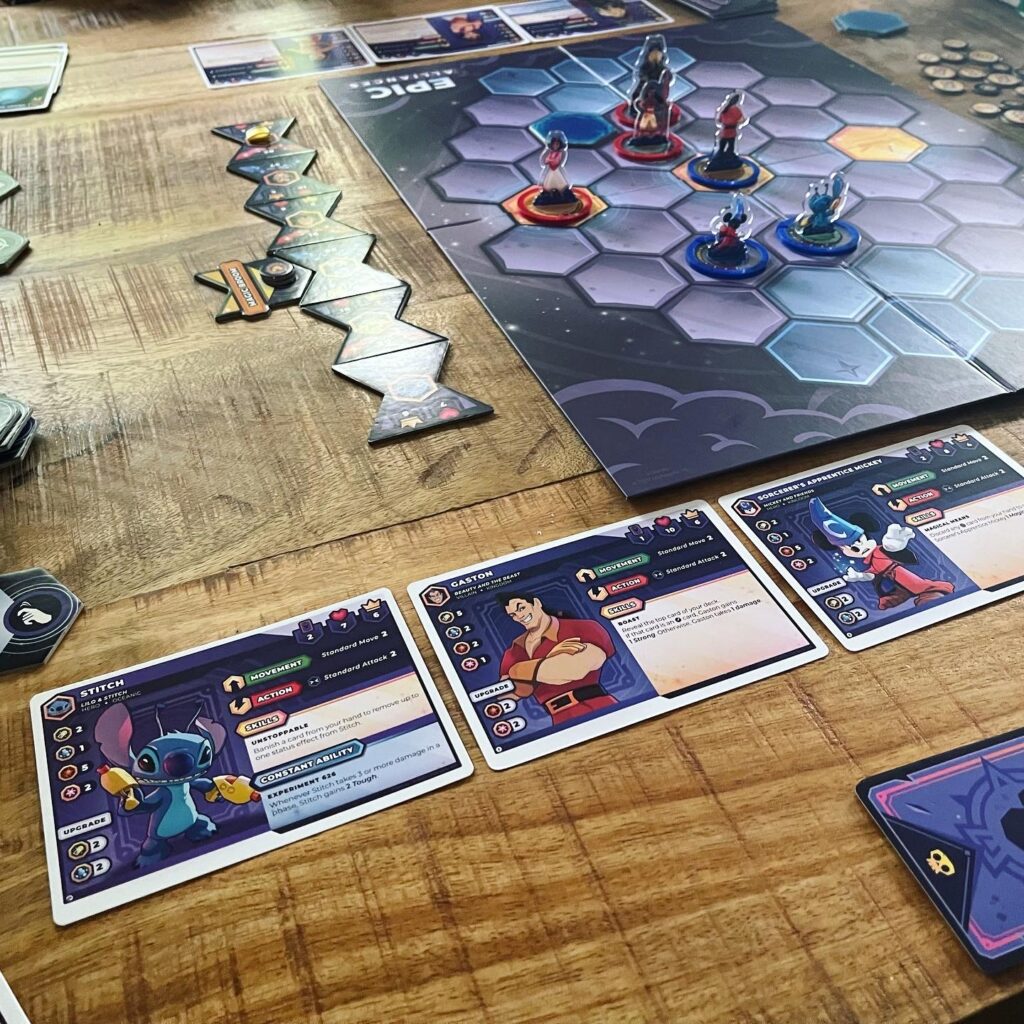 Disney Sorcerer's Arena: Epic Alliances is a game with a lot of variation and relatively more complexity compared to other Disney games. Less experienced players, however, have the opportunity to learn the game in stages. The rulebook consists of four chapters in which new players learn the game as they go. Each chapter introduces new game elements. I am personally a big fan of learning by playing, but as a frequent player I would have liked to have seen a complete set of rules for the entire game. Because of the different chapters, it was sometimes less clear if you don't wish to follow the order of chapters. Furthermore, the game is fairly quick to learn and also to set up. You can compare Disney Sorcerer's Arena: Epic Alliances with, for example, Unmatched or even Godtear. In these games, players also deploy unique characters during asymmetrical gameplay. Part of the appeal of this is obviously due to the theme, and fortunately this is supported by a varied and extensive game!