Do you know how to achieve Pole Position through correct cornering, stress resistance and sufficient spatial insight?
Smart Games makes various games, puzzles and also puzzle games. Consider, for example, the IQ series where players try to put the colourful pieces in the right places based on a booklet filled with different challenges. Besides these abstract puzzles, Smart Games also makes thematic puzzles for young and old. For example, think of a puzzle in which squirrels have to bury nuts and the player has to help the squirrels by moving the playing pieces in the right order. There is also a puzzle with cats that have to go into boxes. Do you like cars and racing? Smart Games has recently released the puzzle game Pole Position for the puzzling racing lover.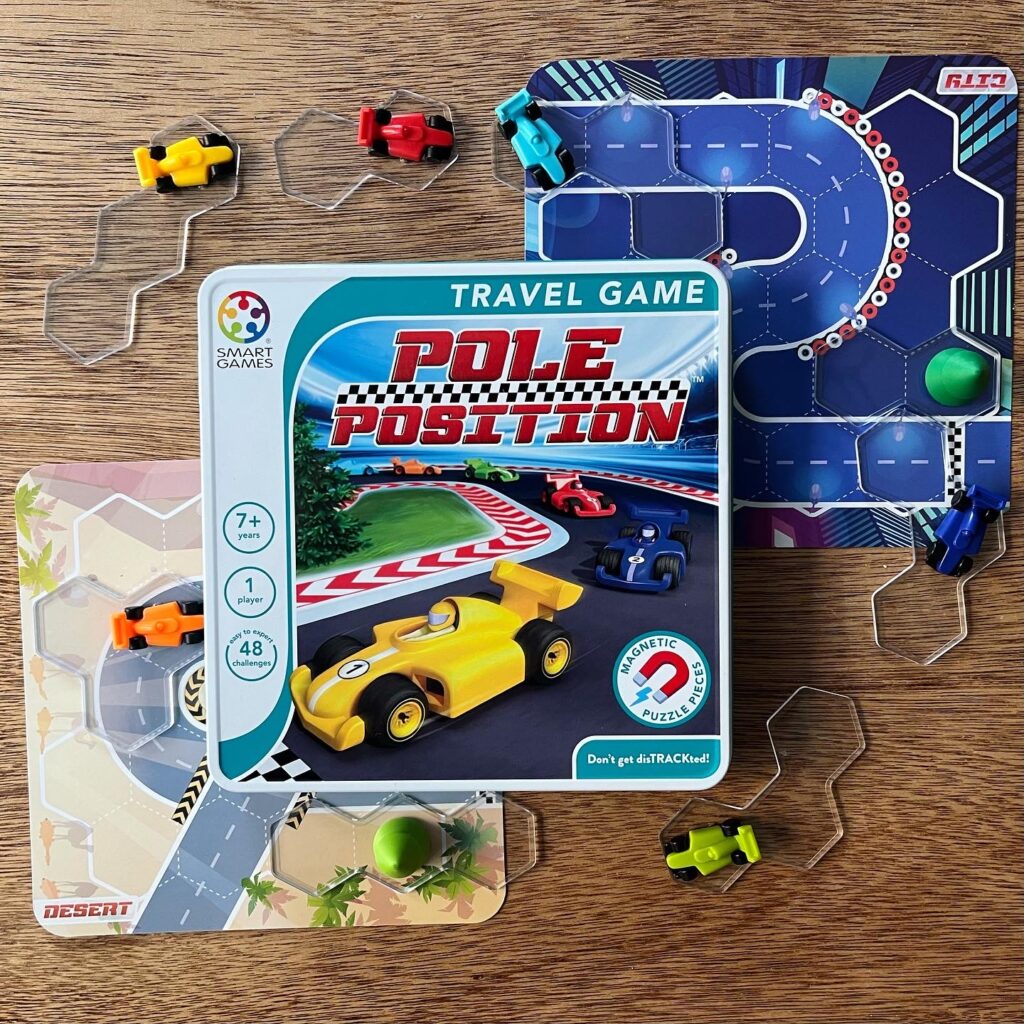 Get in your car and pedal to the metal! Not so fast! This is not a race but a puzzle, but the racing order is very important. Pole Position is a travel game/puzzle in a tin box and contains magnetic parts, so everything stays neatly in place even if you're playing with your parents in the back seat as you race over 100 along a bumpy French country road to get to the campsite on time. Pole Position contains 48 different tasks, with players trying to figure out the correct placement/positions of the magnetic racing cars. Who will achieve Pole Position?
Besides the cars and the magnetic box, Pole Position also contains a set of trees and various racing tracks, 2 of which are printed on the box and 4 tracks are printed on two double-sided sheets. So the cars and trees are magnetic and stand on plastic feet made up of several transparent hexagons. How do you solve a puzzle? You need to place all the cars and trees on the playing field. The booklet gives different tasks with a starting position for the individual task. Place the puzzle pieces on the playing field initially as indicated in the assignment. Racing cars should always be on the track. Trees should always be next to the race track. You can always find the order of the racing cars at the bottom of the task, but not all the different coloured cars are always indicated here. Sometimes you also know where to place a tree or car, but by no means always how to place it exactly.
Pole Position is a very fun brainteaser for in between and on holidays.