NEDERLANDS
De tijd dringt in Pendulum. Pendulum combineert het klassiek rustig en nadenkende worker placement met de hectiek van een real-time spel waarbij spelers tegelijker tijd aan zet zijn. Klinkt Pendulum als een klok of is het spel niet bij de tijd?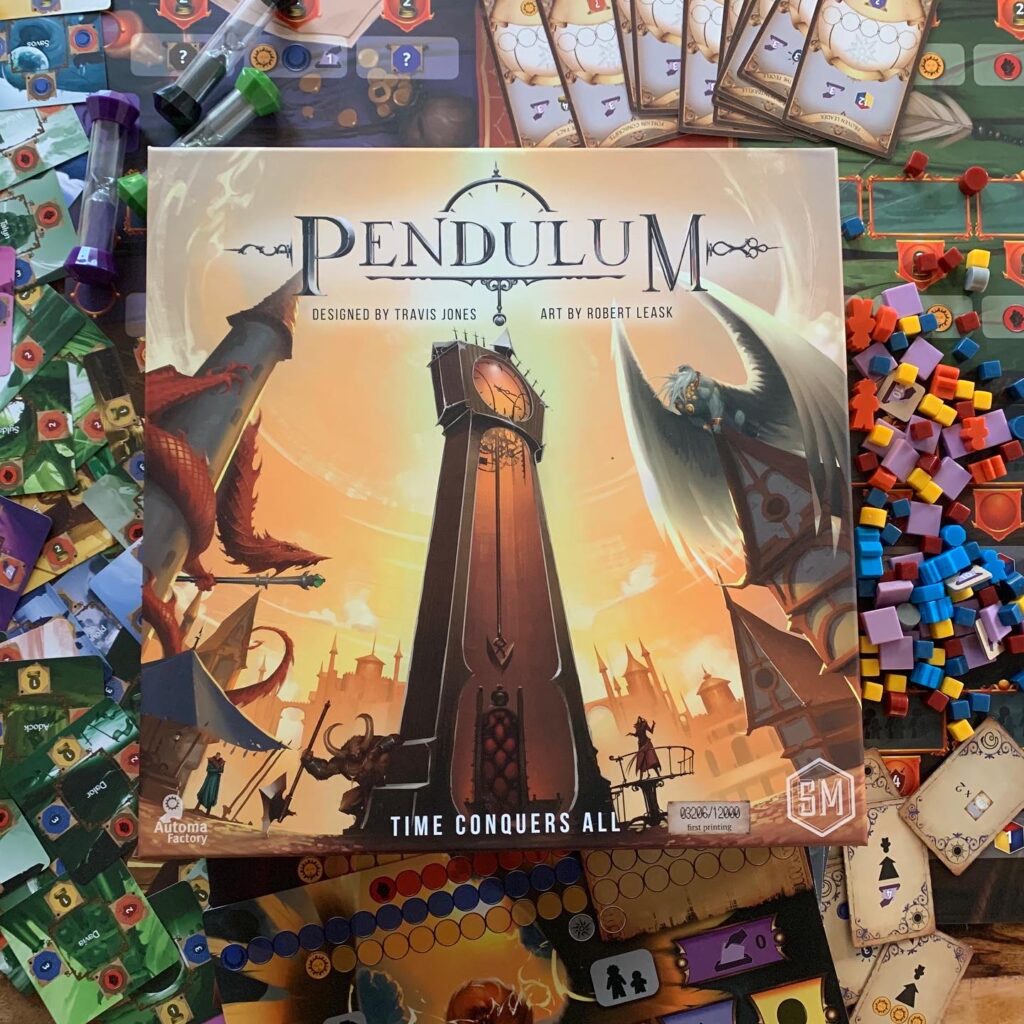 Pendulum neemt worker placement en voegt hier het element tijd aan toe. Door grondstoffen te verzamelen, kun je acties in gang zetten en punten verzamelen. Pendulum is hierin niet anders. Je plaatst jouw werkers om acties te ondernemen en grondstoffen (geld, cultuur, militaire macht en stemmen) te verzamelen. Tijd is echter de belangrijkste grondstof in Pendulum. Op het speelbord staan drie zandlopers (variërend in duur) die kunnen worden verplaatst zodra ze leeg zijn. De locaties van de zandlopers bepalen waar spelers hun werkers kunnen plaatsen en wegnemen en wanneer de werkers acties kunnen uitvoeren.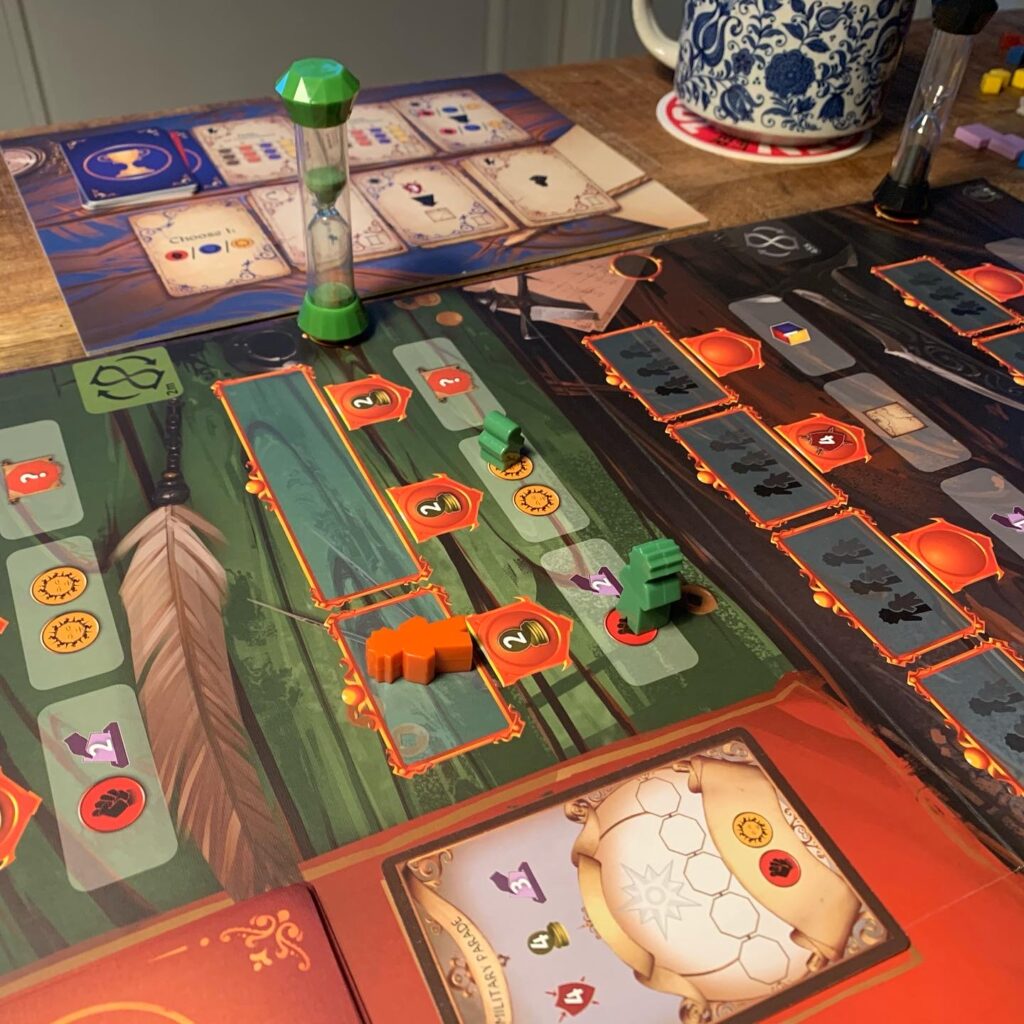 Spelers spelen het spel tegelijk. Dit zorgt uiteraard voor voldoende hectiek en spelers lopen elkaar snel (bewust) in de weg. Net als bij de veel andere worker placement-spellen kun je acties van andere spelers blokkeren. Let goed op je tegenstanders, maar niet teveel, want voor je weet, vergeet jij jouw werkers te verplaatsen en kun je bepaalde acties niet meer verrichten! Argh! Tijd is op… Je moet dus snel denken (de tijd uitkopen) en niet alleen omdat Pendulum real-time is…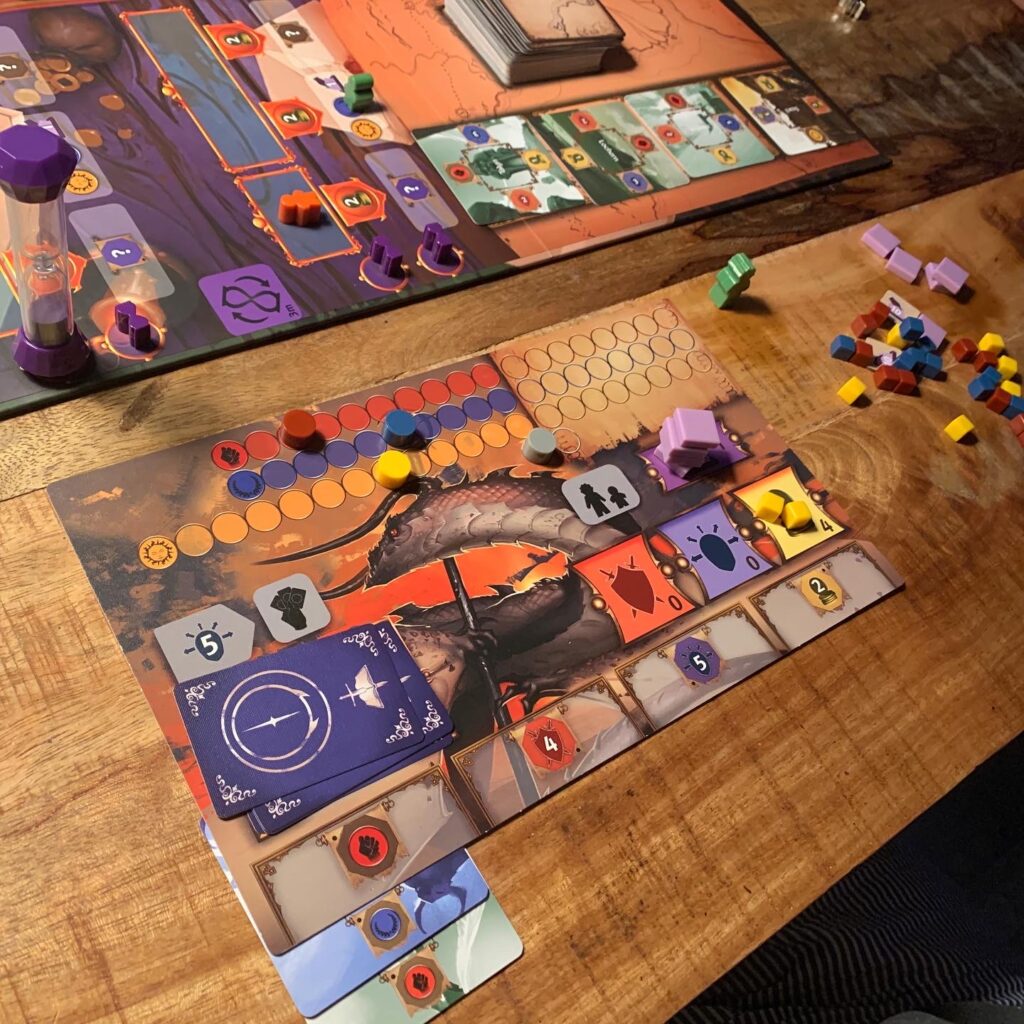 Zoals het klokje thuis tikt, tikt het nergens. Dat geldt uiteraard ook voor bordspellen. Niet voor niets is Monopoly wereldwijd het meest verkochte spel. Mensen spelen graag bekendere spelconcepten en real-time bordspellen zijn voor veel spelers een klokslag te ver. Oordeel niet voor de tijd. Ik hou enorm van real-time spellen en ik geniet dan ook enorm van Pendulum: de hectiek en tactiek geven mij een onvergetelijke spelervaring. In Pendulum staat jouw brein constant aan omdat je telkens jouw tactiek moet heroverwegen. Heerlijk. Aangezien iedereen tegelijkertijd speelt, is er ook geen enkel moment van verveling. Spreekt de hectiek je aan? Probeer het dan vooral een keer uit, want tijd baart rozen.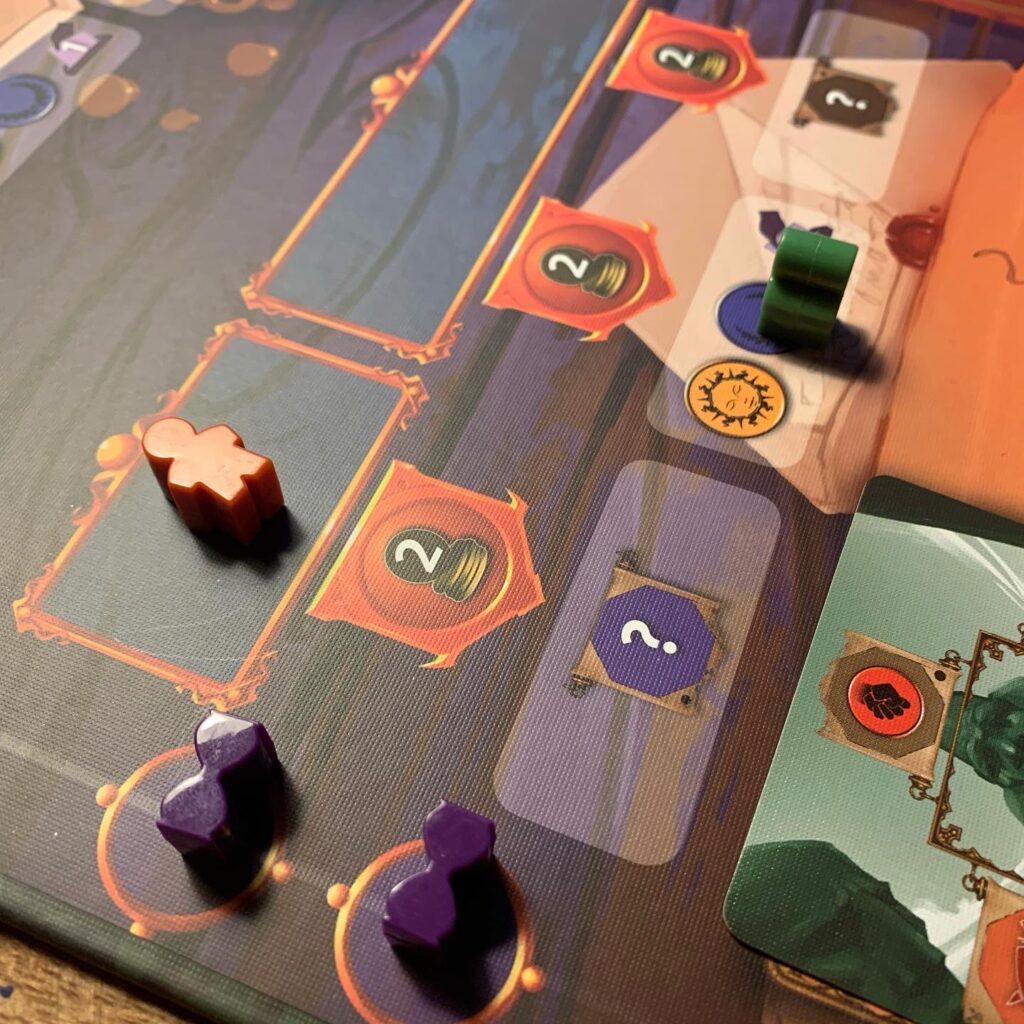 ENGLISH
Time is running out in this new board game published by @jameystegmaier. Pendulum combines the classically slow paced and 'thinky' worker placement genre with the frenzy of a real-time game where players are playing concurrently. Is Pendulum worth your time? I guess only time will tell…
Worker placement games usually consist of placing workers on a board to gather resources. By collecting certain resources, you can initiate actions and collect points. Pendulum is no different. You place your workers to take actions and collect resources (money, culture, military power and votes).However, time is the most important resource in Pendulum. On the game board there are three hourglasses (varying in duration) are placed that can be moved as soon as their time has run out. The location of the hourglass determines whether players can place and remove their workers and when the workers can perform certain actions.
Players play the game concurrently. This causes a frenzy and players quickly (deliberately) get in each other's way. As with many other worker placement-games you can also block other players from performing certain actions. Pay close attention to your opponents but don't pay too much attention to others, because before you know it, you forget to move your workers and you can't perform certain actions! Argh! Time is up… Think fast in Pendulum and not just because it's real-time…
There is a saying in Dutch: Like the clock ticks at home, it ticks nowhere. People tend to like familiar things. The same goes for board games, of course. Monopoly is the most sold game worldwide for a reason. People like to play known game concepts and real-time board games are a stroke of the clock too far for many players. I love real-time games and really enjoy Pendulum: the hectics and tactics already gave me an unforgettable gaming experience. In Pendulum, your brain is constantly on because you have to rethink your tactics every time. I love it. Since everyone plays at the same time, there is no downtime. Does this frenzy appeal to you? Then give it a try, because it is definitely worth your time.