NEDERLANDS
Er is een fabel dat Marco Polo spaghetti van China naar Italië zou hebben gebracht. Als kind was ik hem hier heel dankbaar voor, maar niets bleek minder waar. Het was een marketingtruc om in de VS meer pasta te verkopen… In het spel Marco Polo (uitgegeven door @999games ) treed je in de voetsporen van de ontdekkingsreiziger en handel je op de zijderoute (geen spaghetti helaas). 999 Games heeft nu Marco Polo II uitgebracht, het spel waar het ontdekken en handelen in de tweede versnelling gaat.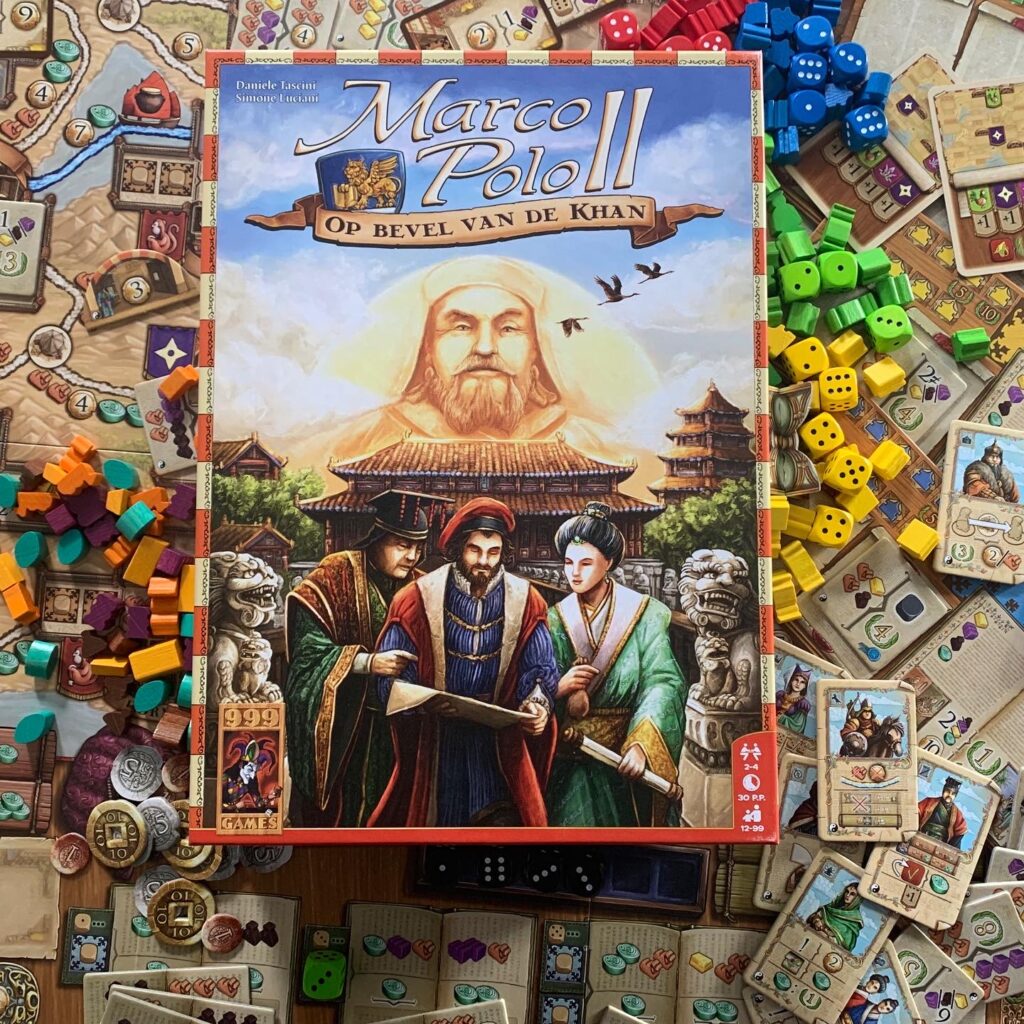 Het spel is geen uitbreiding en je hoeft Marco Polo niet gespeeld te hebben om deel II te spelen. Je kan Marco Polo II misschien beter als een variatie op het eerdere spel beschouwen. Het uitgangspunt en spelelementen zijn hetzelfde, maar met voldoende veranderingen.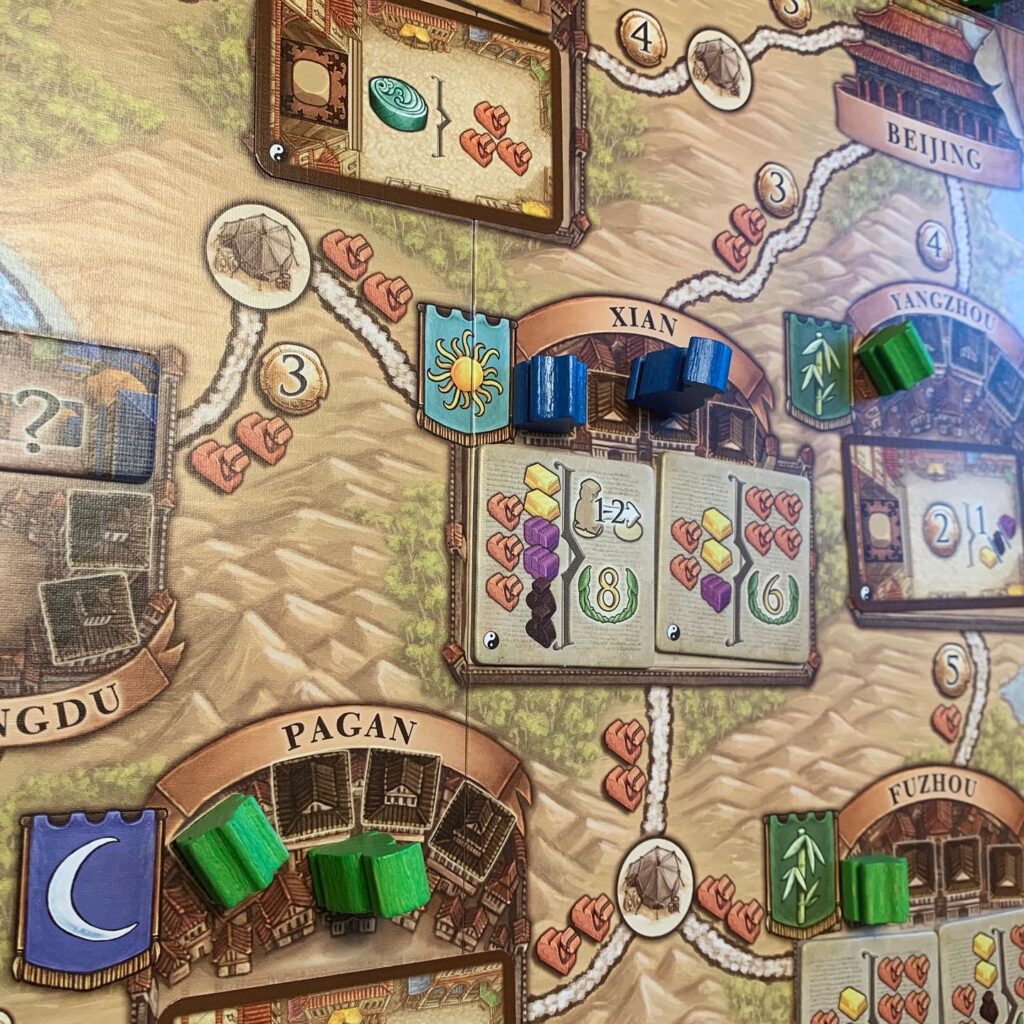 In Marco Polo II gebruiken de spelers iedere beurt hun geworpen dobbelstenen om verschillende acties uit te voeren. Met de dobbelstenen kunnen ze goederen, geld of kamelen krijgen (die ze vervolgens moeten betalen om weer andere acties te kunnen verrichten). Verder kunnen de spelers reizen, lid worden van gildes en handelscontracten sluiten. Dit alles om nog meer goederen en ook punten te verzamelen. Je hebt iedere ronde maar een beperkt aantal acties en je bent soms ook gebonden aan jouw dubbelworp. Je moet dus goed nadenken om de beste routes te spelen. De speler met de meeste punten na 5 rondes wint het spel.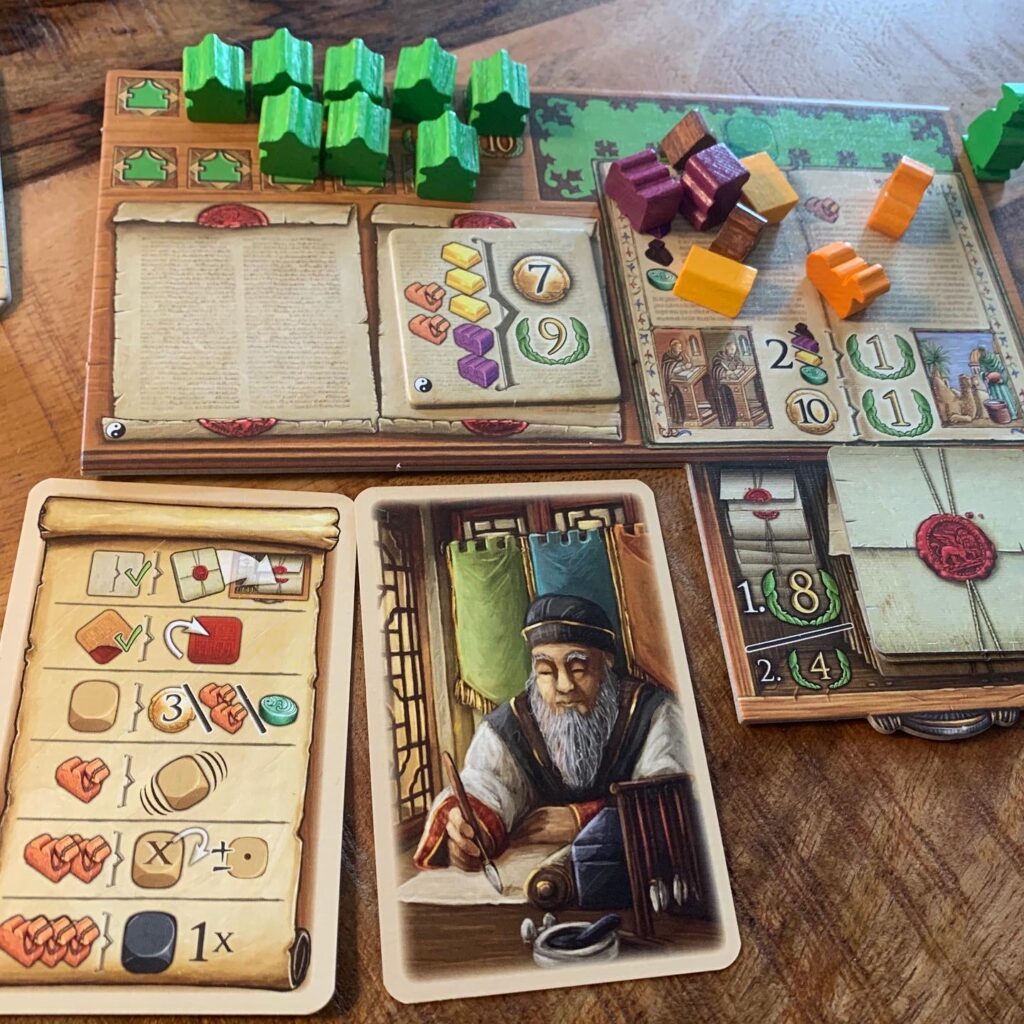 Het thema 'handelen' bij spellen spreekt mij persoonlijk niet aan, maar de fijne gameplay heeft mij erg goed verrast. Marco Polo II doet mij denken aan de hoogtij/opkomst van het moderne eurogame genre met spellen als El Grande. Spellen met een simpele opzet, maar met extreem veel keuzes en daardoor qua denkwerk erg complex. Als je Marco Polo II wilt winnen, zul je goed moeten plannen. Ik hoef Marco niet te bedanken voor de spaghetti, maar wel voor dit spel.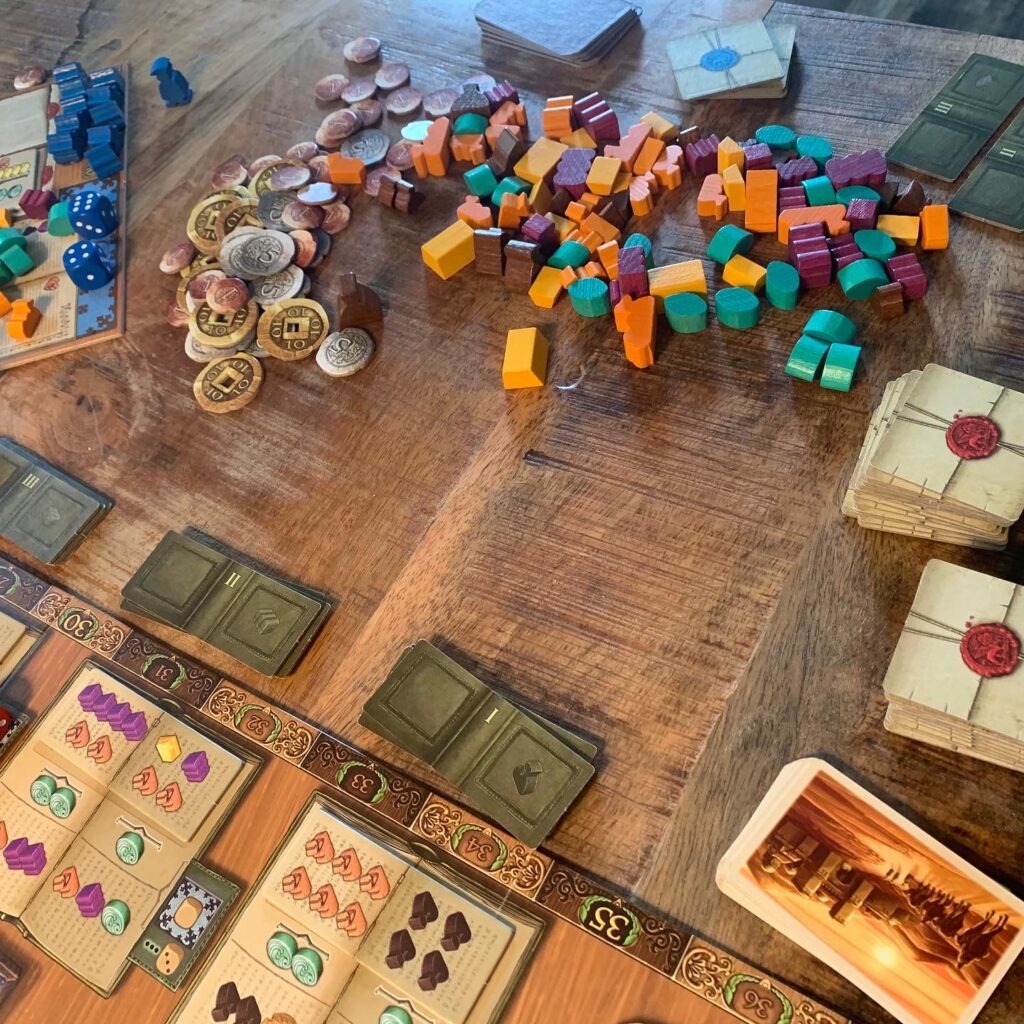 999 Games ben ik ook dankbaar voor het beschikbaar stellen van een recensie-exemplaar.
ENGLISH
A tall tale exists detailing that Marco Polo would have brought pasta from China to Italy. As a child I was very grateful to him for giving us pasta, but nothing could be further from the truth. It was a marketing trick to sell more pasta in the US… In the game Marco Polo you follow in the footsteps of the explorer and trade on the silk route (no pasta unfortunately). Recently Marco Polo II was released: a game where discovering and trading goes into second gear.

However, the game is not an expansion and you don't need to have played Marco Polo to play part II. You might want to consider Marco Polo II as a variation on the earlier game. The gameplay is similar, but with sufficient changes. In Marco Polo II, players use their rolled dice to perform different actions. With their dice they can get goods, money or camels (which they then have to pay to perform other actions). Players can also travel, join guilds and conclude trade contracts. They do this to collect even more goods and points.

You only have a limited number of actions you can perform each round and sometimes you are tied to the result of your dice throw. So you have to think carefully to plan the best route of your action. The player with the most points after 5 rounds wins the game.

Trading as a theme in games does not appeal to me personally but the fine gameplay has surprised me very much. Marco Polo II reminds me of the boom/rise of the modern eurogame genre with games like El Grande. Games with a simple set-up, but with an extreme amount of difficult choices and therefore very complex. If you want to win Marco Polo II, you have to plan well. I don't have to thank Marco for the spaghetti, but I do want to thank him for this game.