NEDERLANDS
Geen review van Dice Daniel? Dat is @eenswatsanders! Een tijdje terug zag ik op YouTube een filmpje over rivaliserende mierenkolonies die elkaar gewelddadig te aanvielen. Dat was best heftig (en dodelijk!)… daarbij ik moest ook denken aan één van mijn favoriete kaartspelletjes voor thuis of op vakantie: Gubs van @WhiteGoblinGames. Hoewel een stuk minder gewelddadig, gaan de guitige Gubs (Bugs, what is in a name?) ook aardig tekeer!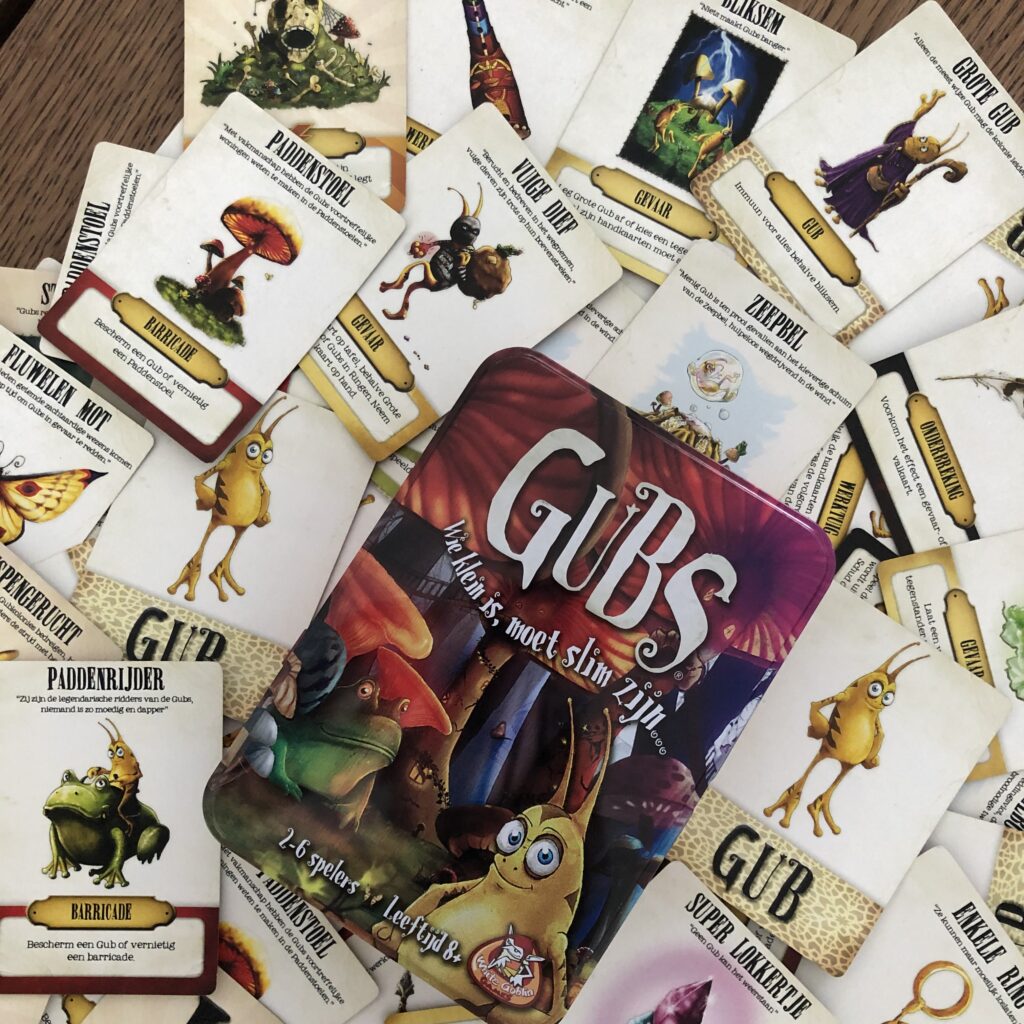 Bij Gubs is het je doel om de sterkste Gubs-kolonie te bouwen. Je start met één kaart van een Gub op tafel, en vervolgens pak je iedere beurt een kaart van de trekstapel. In de trekstapel zitten meer Gubs, beschermende kaarten en actiekaarten.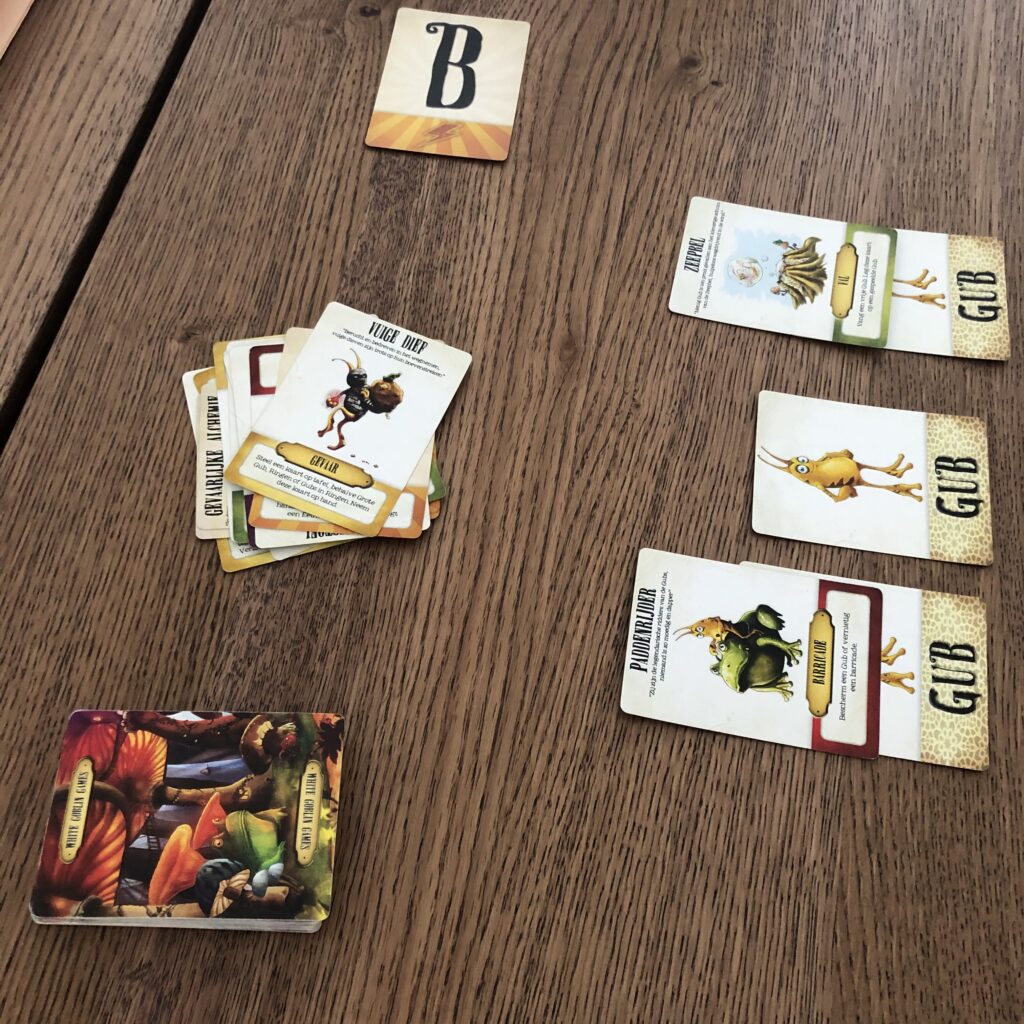 Door Gub-kaarten te spelen, kun je je Gubs-kolonie laten groeien. Met beschermende kaarten, kun je je Gubs beveiligen. Je legt bijvoorbeeld een beschermende paddestoel op de Gub, of laat een beschermende vlinder los. Met wat geluk kom je zelfs Grote Gub tegen (geen rode muts voor dit heerschap). Ook kun je de sterke paddenrijders aan de zijde van je Gub schuiven. Met de actiekaarten kun je jezelf versterken of je tegenstander verzwakken. Zo kun je bijvoorbeeld onbeschermde Gubs van je tegenstanders pikken door 'lokkertjes' te spelen, een keverplaag op ze af te sturen, Gubs vangen in ringen of zeepbellen, of als een ware Gubs-vanger op je blokfluit te fluiten. Maar pas op voor de automatische pestkaarten zoals de wespenplaag!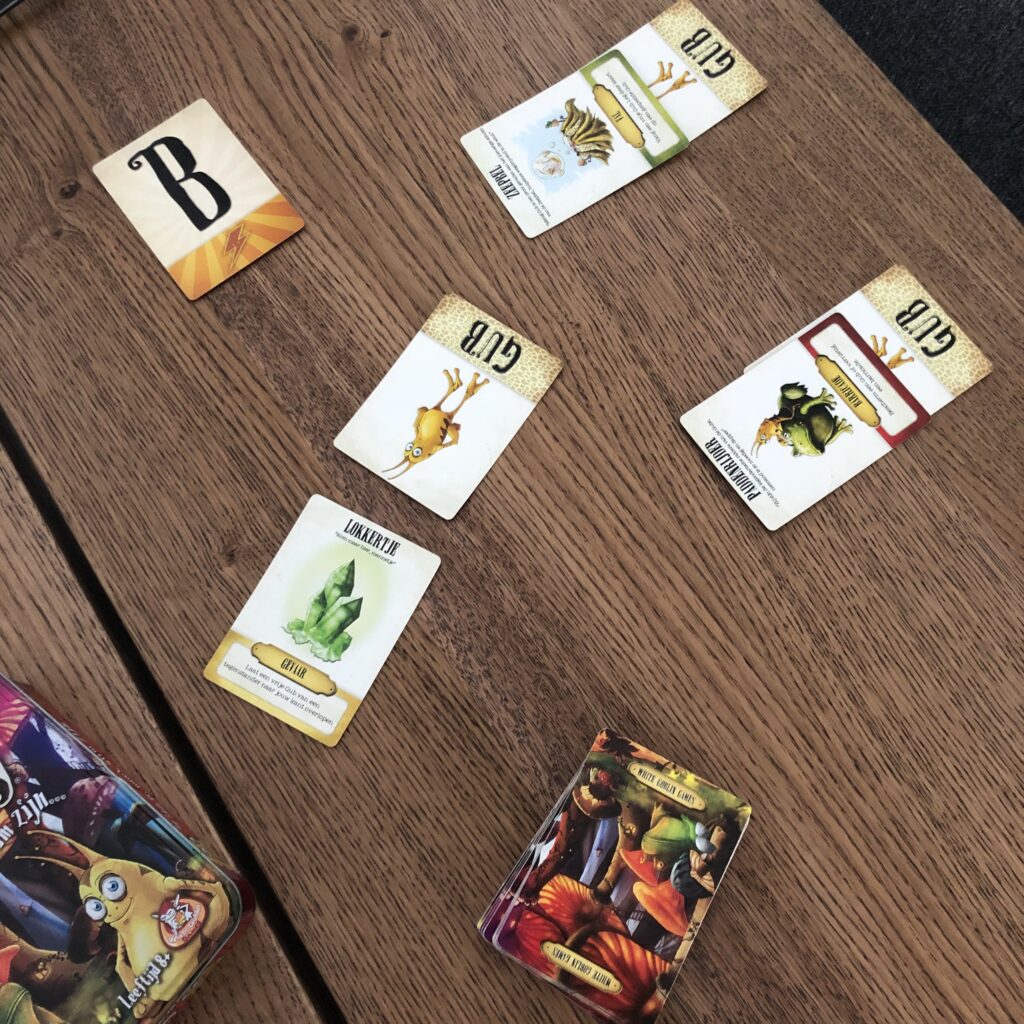 Het spel eindigt zodra de drie letters G-U-B zijn getrokken. Degene met de grootste Gubs-kolonie wint en overheerst alle andere kolonies!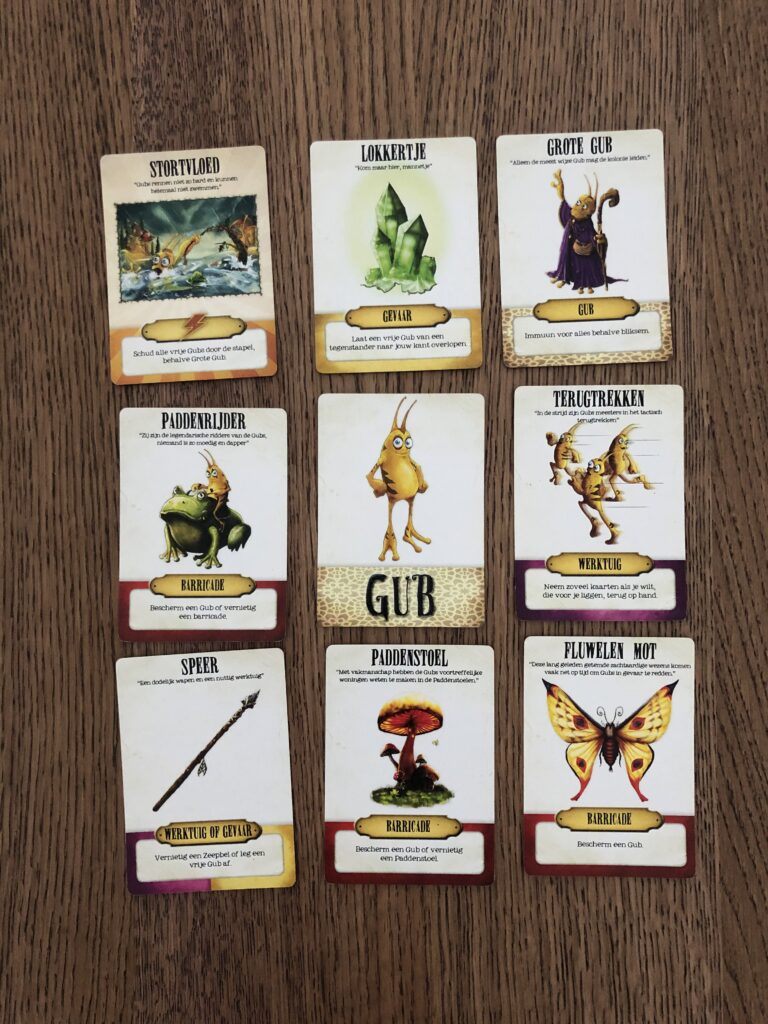 Gubs is een makkelijk, leuk en grappig spelletje voor thuis of op vakantie. Het is een combinatie van geluk en tactiek. Soms moet je de juiste actiekaarten hebben om acties van je tegenstander onschadelijk te maken. In andere situaties kun je juist tactisch nadenken over welke Gubs je steelt en beschermt. Pluspunt: in tegenstelling tot de mierenkolonies, overleef jij een spelletje Gubs gegarandeerd… totdat je tegenstander jou treft met een bliksemkaart!
ENGLISH
A while ago, I watched a YouTube video about rivaling ant colonies who conquered each other violently. That was pretty intense (and deadly!)… it made me think of one of my favorite card games for at home or on holiday: Gubs of @WhiteGoblinGames. It may be less violent, but the cheeky Gubs (Bugs, what is in a name?) go wild!

Playing Gubs it is your task to build the strongest Gubs colony. You start with one Gub card and every turn you draw another card from the deck. The deck contains additional Gubs, protective cards and actions.

By playing Gubs cards, you can grow your colony. With protective cards, you can secure your Gubs. For example, you place a mushroom barricade or butterfly on top of one of your Gubs. With some luck you may meet the Great Gub (although without a red smurf-like hat!). By playing Toad Riders you provide strong protection. With action cards you can strengthen your colony or weaken your opponent. For example, you can steal opponent's Gubs by playing lures, send insect plagues, catch Gubs in rings or bubbles, or play the flute as a true Gubs catcher of Hamelin. Watch out for automatic disaster cards like a wasp plague!

The game ends as soon as the letters G-U-B have been drawn. The player with the biggest Gubs colony wins and rules over all other colonies!

Gubs is an easy, enjoyable and funny game for at home or on holiday. It combines luck and tactics. Sometimes you require the right actions to defuse moves by opponents. In other situations you may think strategically about which Gubs you steal or protect. Moreover, compared to ant colony wars, you will survive Gubs guaranteed… until you opponent strikes you with a thunder card!