NEDERLANDS
Speelde jij vroeger ook Rollercoaster Tycoon? Het klassieke computerspel waarbij je attracties, giftshops en burgertenten in jouw eigen pretpark kon plaatsen? Het doel van het spel: zoveel mogelijk bezoekers tevreden houden. Jouw doel: de gaafste achtbaan bouwen of je bezoekers opsluiten. In Meeple Land van @blueorangegames(gedistribueerd door @geronimogames) mag jij net als voornoemde computerspel een pretpark bouwen. Maak jij een geniaal pretpark of wil Gast 1097 liever naar huis?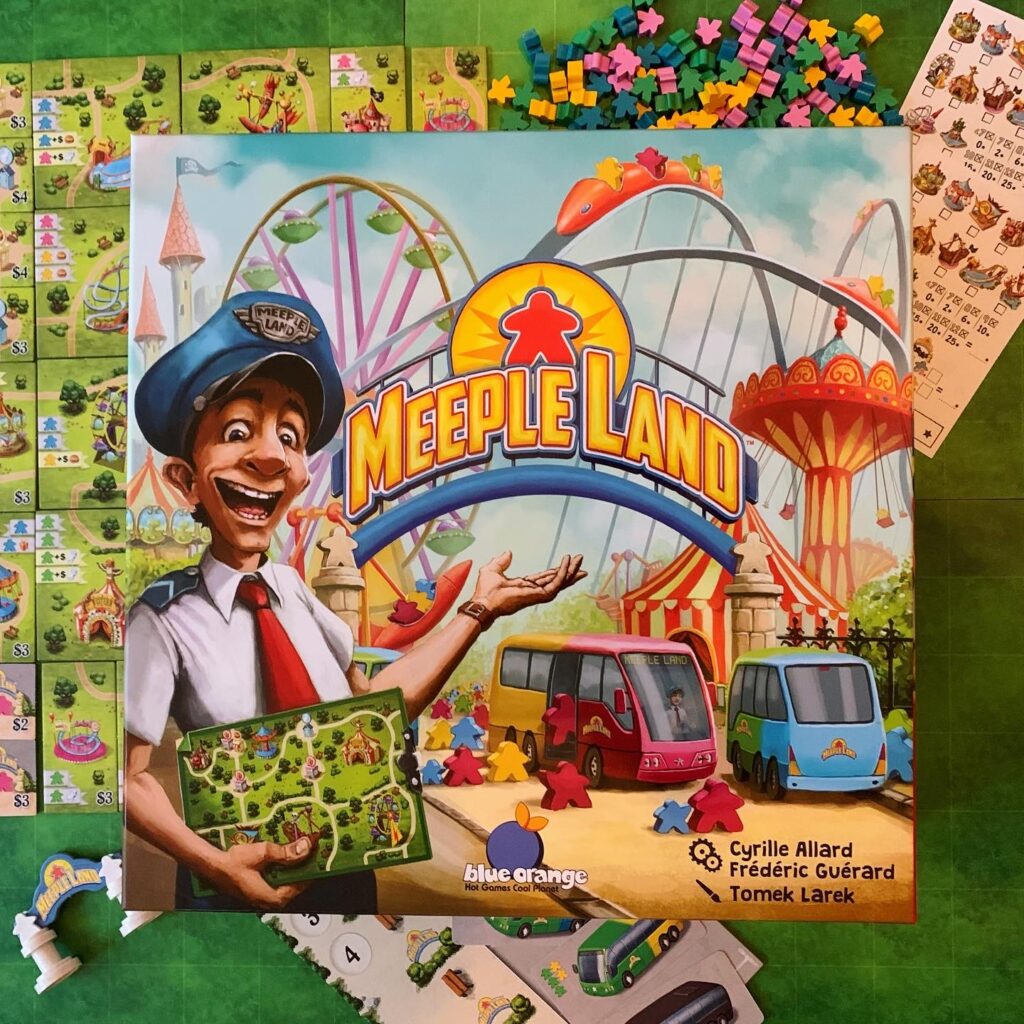 In Meeple Land proberen spelers in vier rondes het leukste pretpark te bouwen om zoveel mogelijk (goed)betalende bezoekers aan te trekken. Iedere ronde mogen spelers om de beurt een actie uitvoeren. Tijdens hun beurt kunnen spelers attracties of services (giftshops, toiletten en eettentjes) kopen, hun parkoppervlakte uitbreiden of advertenties plaatsen.
Door het plaatsen van attracties kun je meer bezoekers in je park kwijt en zo meer punten verdienen. Door zoveel mogelijk verschillende soorten attracties te bouwen, kun je extra punten krijgen. Let met het plaatsen wel goed op! Paden van attracties en services moeten op elkaar aansluiten. Doodlopende paden leveren aan het einde van het spel minpunten op en door het plaatsen van services naast specifieke attracties kun je meer bezoekers in je park kwijt. Sommige bezoekers moeten namelijk vaak naar het toilet of geven graag hun geld uit aan souvenirs.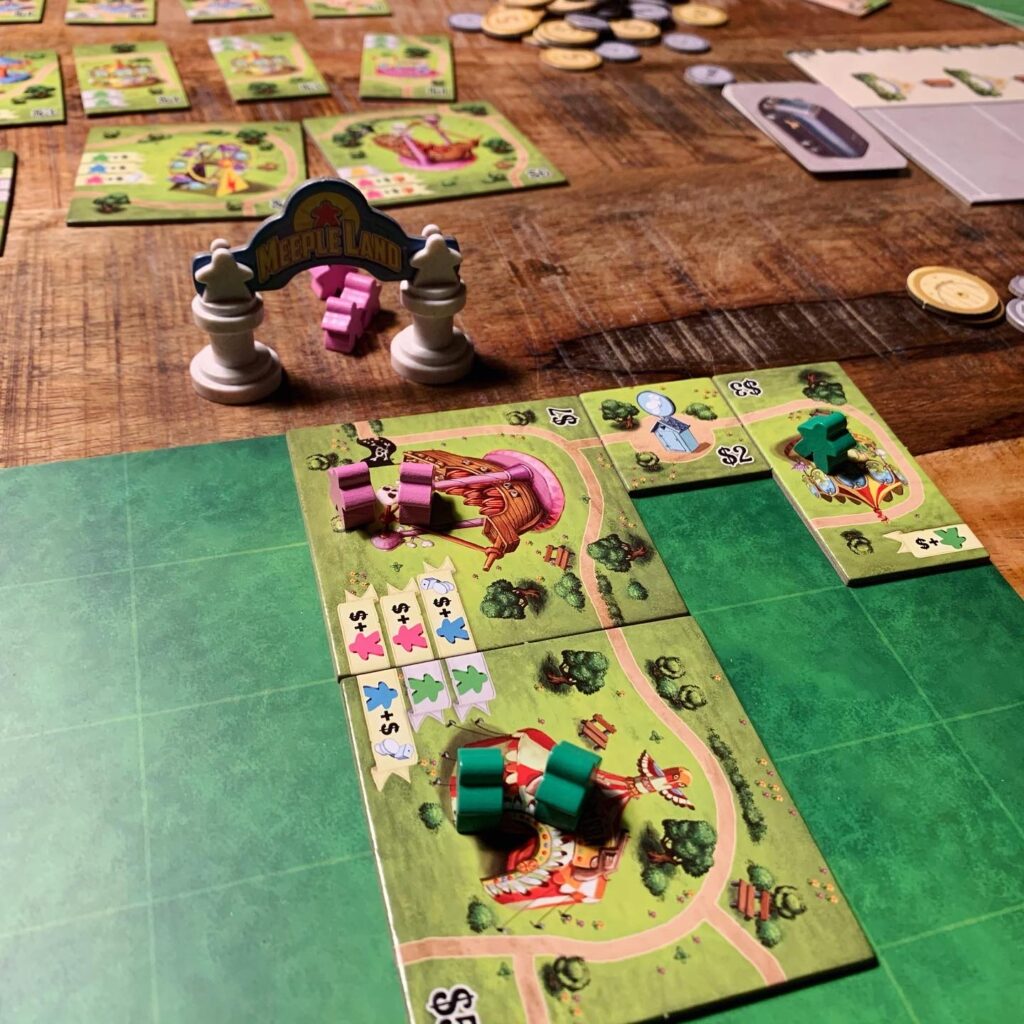 Met advertenties kun je extra bezoekers naar je park lokken. Aan het einde van een ronde (nadat alle spelers gepast hebben) mogen spelers bussen met bezoekers naar hun park sturen – te beginnen met de speler die als eerste gepast heeft. Kun je aan het einde van het spel bezoekers niet kwijt? Ook dan krijg je minpunten.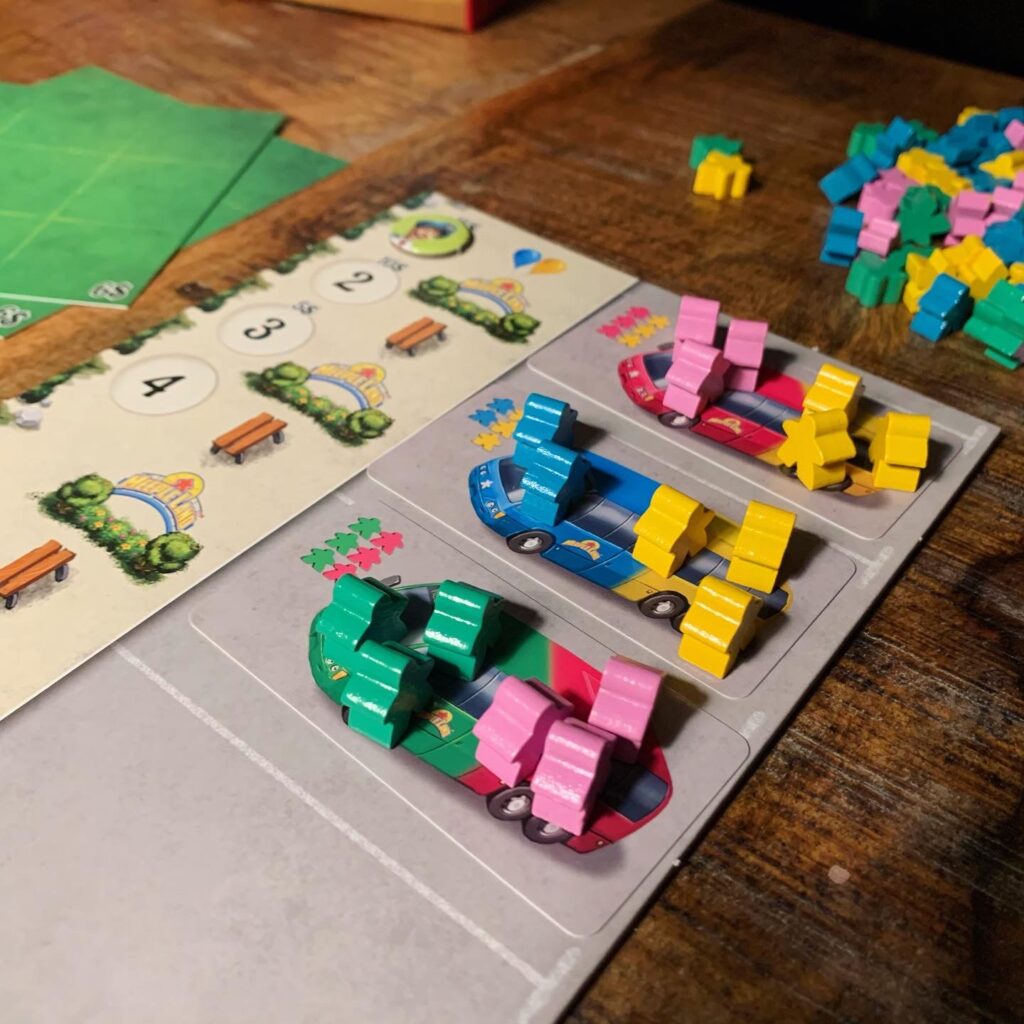 Meeple Land is een heerlijk vlot en simpel puzzelspel. Het thema is uitnodigend en het spelmechanisme is toegankelijk waardoor spelers snel kunnen puzzelen. Meer dan voldoende pret(park) in Meeple Land!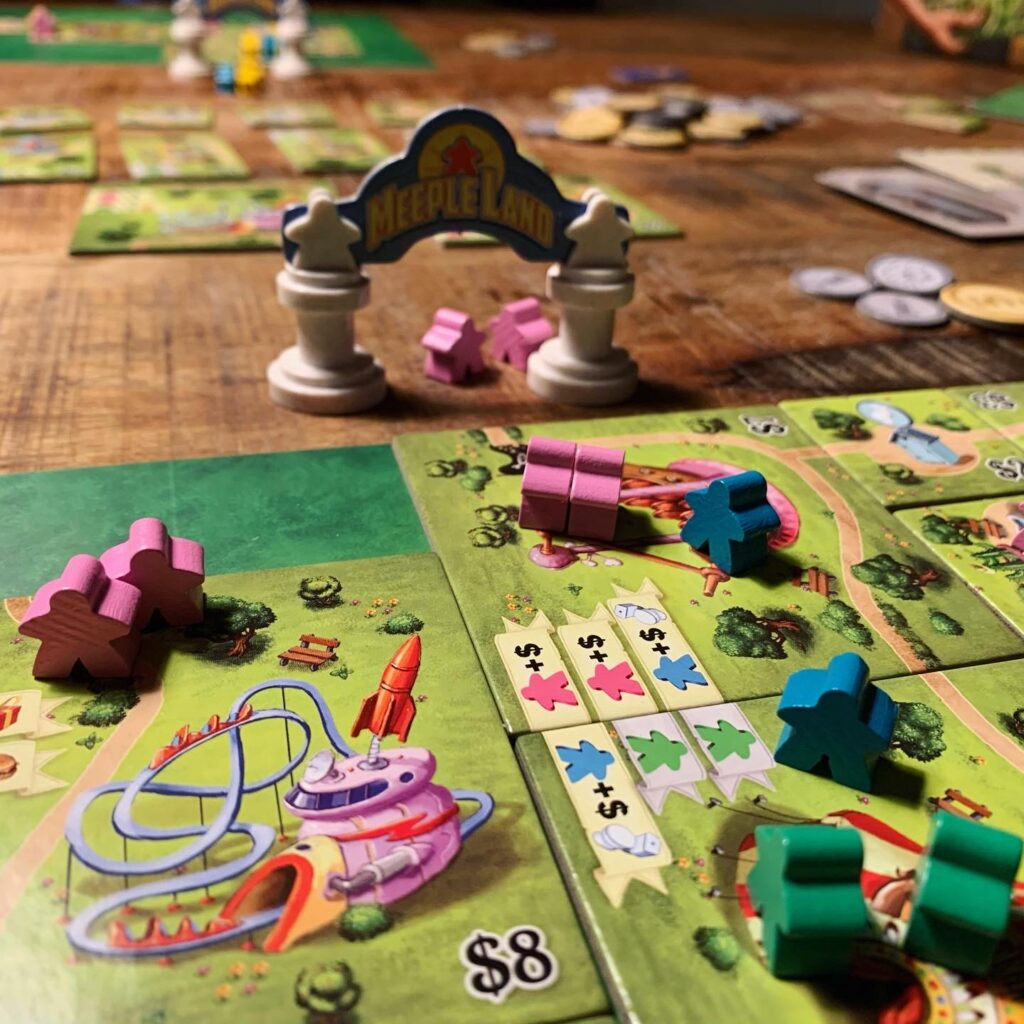 Vriendelijk ter beschikking gesteld door @geronimogames. 
ENGLISH
Did you also play Rollercoaster Tycoon when you were younger? The classic computer game where you place attractions, gift shops and hamburger joints in your own amusement park? The goal of the game: keep as many visitors happy as possible. Your goal: build the coolest roller coaster or lock up your visitors. In Meeple Land by @blueorangegames (distributed by @geronimogames) you build an amusement park just like the above mentioned computer game. Are you creating a genius amusement park or would Guest 1097 prefer to go home?

In Meeple Land, players try to build the best amusement park in four rounds in order to attract as many (good) paying visitors as possible. Each round, players take turns to perform an action. During their turn, players can buy attractions or services (gift shops, toilets and food stalls), expand their park area or buy advertisements. 

By placing rides, you can host more visitors in your park and earn more points. By building as many different types of attractions as possible, you can score extra points. Be careful when placing your rides! Attraction paths and services must be connected to each other. Dead end paths give you penalty points at the end of the game and by placing services next to specific attractions you can host more visitors in your park. Some visitors often have to go to the toilet or like to spend their savings on souvenirs. 

With advertisements you can attract extra visitors to your park. At the end of a round (after all players have passed) players are allowed to send busses with visitors to their park – starting with the player who passed first. Can't get rid of visitors at the end of the game? You will earn minus points.

Meeple Land is a wonderfully streamlined and simple puzzle game. The theme is inviting and the game mechanisms are very accessible, allowing players to puzzle quickly. More than enough amusement (park) in Meeple Land!

Review copy kindly made available by @geronimogames.