Claim jij de meeste volgelingen en facties om zo jezelf als koning te kunnen benoemen in Claim van @whitegoblingames? Claim is een slagenspel voor twee spelers dat in twee fases wordt gespeeld. In de eerste fase proberen spelers slagen te winnen om zo volgelingen (kaarten) te bemachtigen om in de tweede fase in te zetten. In de tweede fase spelen de spelers vervolgens voor de winst. Wederom levert elke slag kaarten op. In Claim heeft elke factie speciale eigenschappen. De speler die aan het einde van het spel de meeste facties voor zich heeft geclaimd, wint het spel!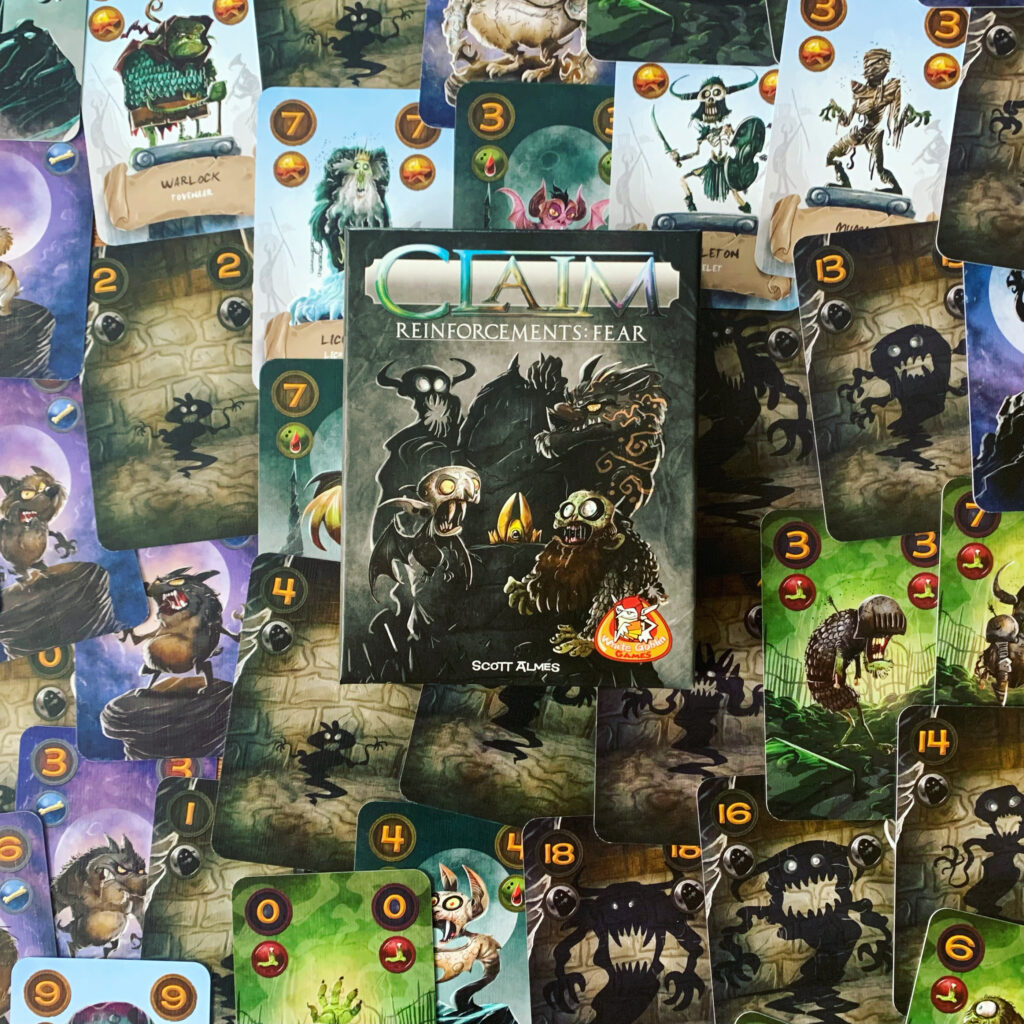 In de uitbreiding Claim Reinforcements: Fear trotseren de spelers hun duisterste angsten: vampiers, schaduwen en weerwolven. Ook de ondoden komen opnieuw tot leven en een nieuwe vorm van zombies wordt geïntroduceerd. Vampiers bijten andere kaarten en als je in fase 2 een slag wint met een vampier mag je een kaart van een andere factie als vampier beschouwen. Schaduwen zijn mysterieus en van de 20 beschikbare kaarten worden er slechts 10 in het spel gebruikt. Treed jij tijdens een slag uit de schaduw van de andere speler? Of doe jij het in je broek van angst? Als het volle maan is wint de weerwolf met de hoogste waarde de slag en anders wint de weerwolf met de laagste waarde. Als een weerwolf een slag wint, treedt er een nieuwe maan aan. Als je in Fase 1 een slag met een zombie speelt, mag je de andere kaart alvast in je scorestapel plaatsen. Een beetje het tegenovergestelde van de zombie uit het basisspel!
Naast nieuwe facties voegt Fear ook nieuwe helden toe. Wees niet bang en voeg deze unieke wezens toe aan het spel voor hun speciale eigenschappen.
Net als de andere Claim uitbreidingen geeft Fear meer variatie. Fear is wederom een welkome toevoeging aan mijn Claim collectie. Alle facties brengen interessante nieuwe eigenschappen en tactieken met zich mee. Ik vrees deze uitbreiding dus zeker niet!
Vriendelijke te beschikking gesteld door de uitgever. 
ENGLISH
Will you claim the most followers and factions in order to be named king in Claim by @whitegoblingames? Claim is a two-player, two-phase trick taking game. In the first phase players try to win tricks in order to get followers (cards) to use in the second phase. In the second phase the players then play to win. Again, each trick yields cards. In Claim every faction has special characteristics. The player who has claimed the most factions at the end of the game, wins the game!

In the expansion Claim Reinforcements: Fear players face their darkest fears: vampires, shadows and werewolves. The undead also come back to life and a new form of zombies is introduced. Vampires bite other cards, and if you win a battle with a vampire in phase 2, you may consider a card from another faction to be a vampire. Shadows are mysterious and of the 20 available cards, only 10 are used in the game. Do you step out of the other player's shadow during a battle? Or do you pee in your pants due to fear? When the moon is full, the werewolf with the highest value wins the battle and otherwise the werewolf with the lowest value wins. If a werewolf wins a battle, a new moon will appear. If you play a battle with a zombie in Phase 1, you may place the other card in your score pile. Kinda opposite from the zombies in the base game!

Besides new factions, Fear also adds new heroes. Don't be afraid and add these unique creatures to the game for their special abilities.

Just like the other Claim expansions, Fear gives the game more variety. Fear is again a welcome addition to my Claim collection. All factions bring interesting new features and tactics. So I'm not afraid of this expansion!

Kindly provided by the publisher.