NL: Heb jij ook alle 327 Marvel films inmiddels 3 keer gekeken? Heb jij WandaVision en Agents of Shield helemaal uit en het internet volgespamt met fantheorieën? Heb jij ook alle mogelijke obscure stripboeken uit het zilveren tijdperk van Marvel gelezen? Zelfs dat ene stripboek waar de Hulk wordt verbannen van de aarde om vervolgens de heerser van een planeet te worden en terug te keren naar de aarde om wraak te nemen op een geheim genootschap? Of dat ene stripboek waar Iron Man wordt wordt bezeten door een kwaadaardige ruimtebacterie en veranderd in Iron-Venom? Dan heb je vast nog ergens een gaatje in je drukke bestaan om zelf in de rol van een superheld te kruipen. En niet zomaar superhelden, maar chibi (schattige) versies van ieders favoriete Avengers! Kruip in de huid van Black Widow, Ant-Man, Captain Marvel of een van je andere favorieten en versla Red Skull, Ultron, Taskmaster en mogelijk meer in Marvel United!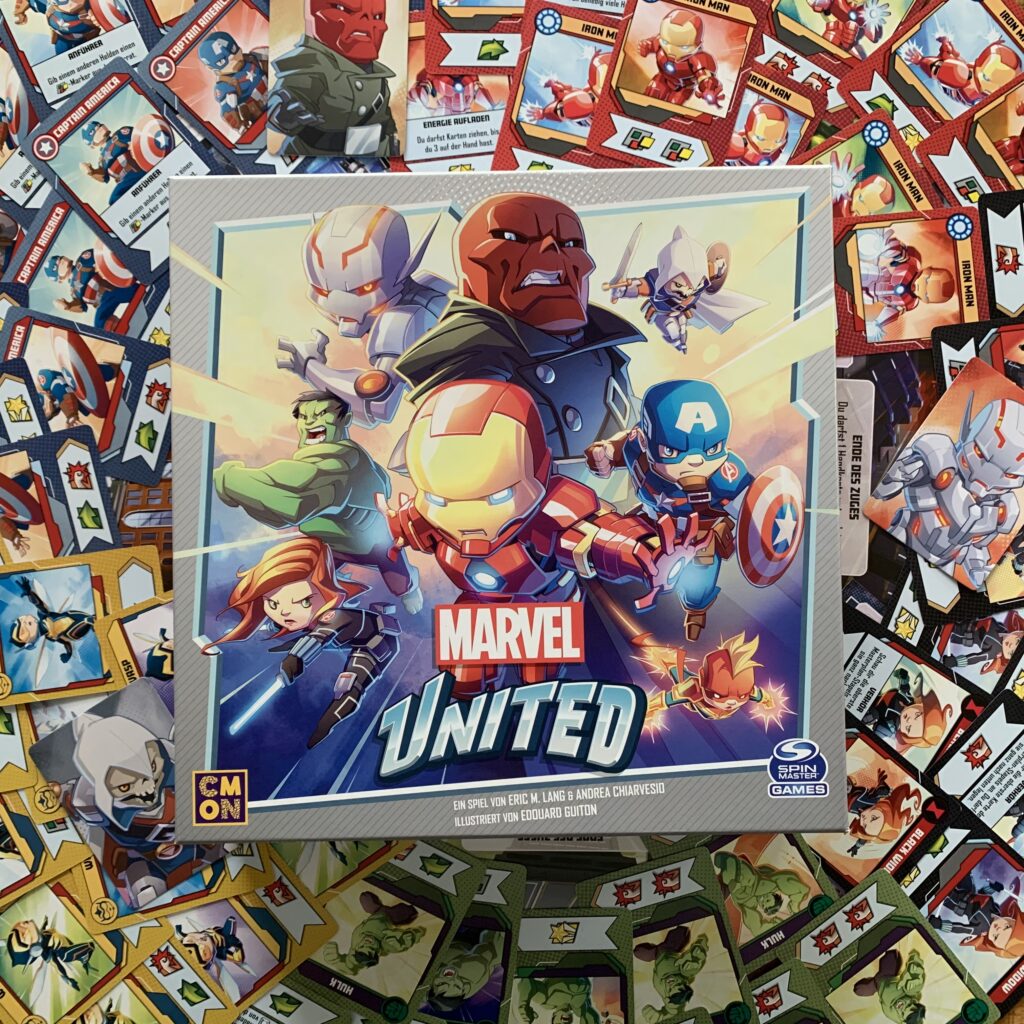 Marvel United is een simpel maar spannend coöperatief spel dat je ook in je eentje kan spelen. United we stand, divided we fall, maar er is ruimte voor zogeheten vigilantes die zelfstandig te werk willen gaan. Kies aan het begin van het spel een superschurk uit met bijbehorende regels. Leg locaties van de stad klaar (een stad die ongetwijfeld tijdens de films volledig in gruzelementen wordt gevochten) en kies jullie favoriete helden om mee te spelen.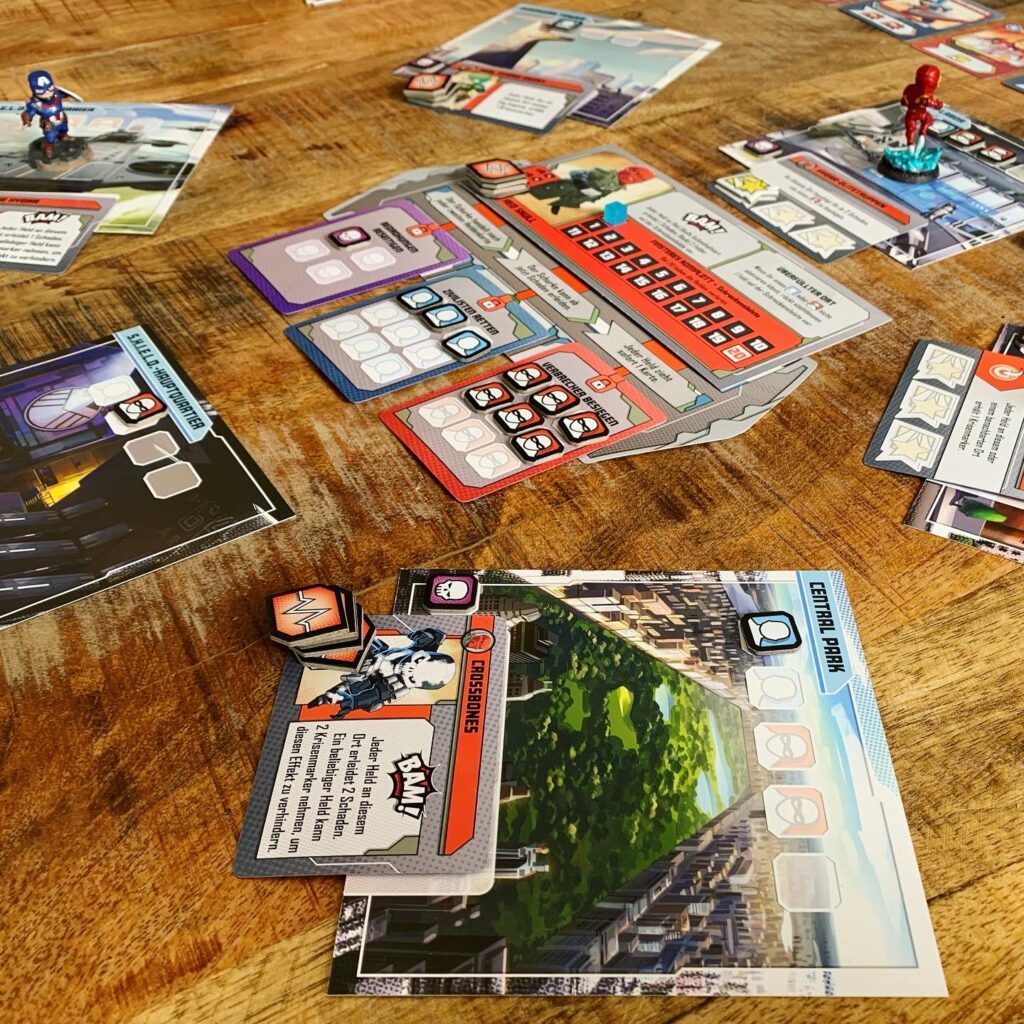 Iedere beurt speel je een kaart uit je hand. Een gespeelde kaart leg je aan de "verhaallijn" aan. Vervolgens mag je de acties uitvoeren die corresponderen met de symbolen op de zojuist door jou gespeelde kaart en ook de vorige kaart uit de verhaallijn. Met acties kun je boeven, handlangers en superschurken klappen, hulpeloze burgers redden en jezelf uiteraard verplaatsen door de stad. Voordat je de superschurk kan aanvallen, moeten jullie eerst een tweetal missies voltooien door burgers te redden, boeven te stompen of bedreigingen te stoppen. Pas op want de superschurk zit niet stil en heeft snode plannen. Eens in de zoveel tijd valt de superschurk aan. Bam! Indien je schade krijgt, moet je kaarten uit je hand nemen en als dit niet lukt ga je K.O. Kan een speler geen kaarten meer trekken of heeft de schurk zijn of haar snode plannen voltooid, dan is het spel verloren. Kun je de schurk helemaal bont en blauw achterlaten? Dan heb je gewonnen!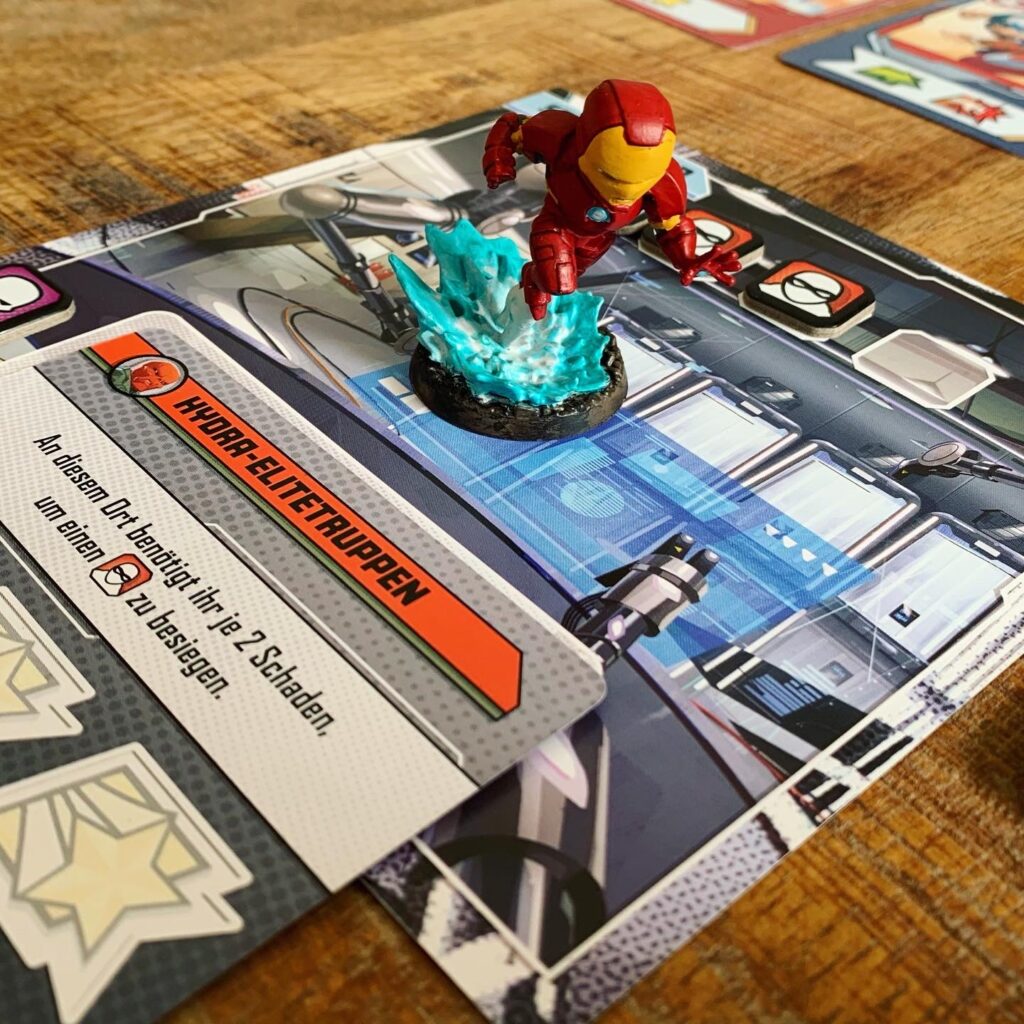 Marvel United is een grappig en simpele coöperatieve puzzel die je ook goed met jongere spelers kan spelen.  Het spel is ook vermakelijk voor oudere spelers door de verschillende superschurken (ook van de vele uitbreidingen) en aan uitdagingskaarten die je kan toevoegen om het spel uitdagender te maken. Perfectly balanced, as all things should be. De vele helden en schurken zorgen ook voor voldoende variatie. Avengers, assemble!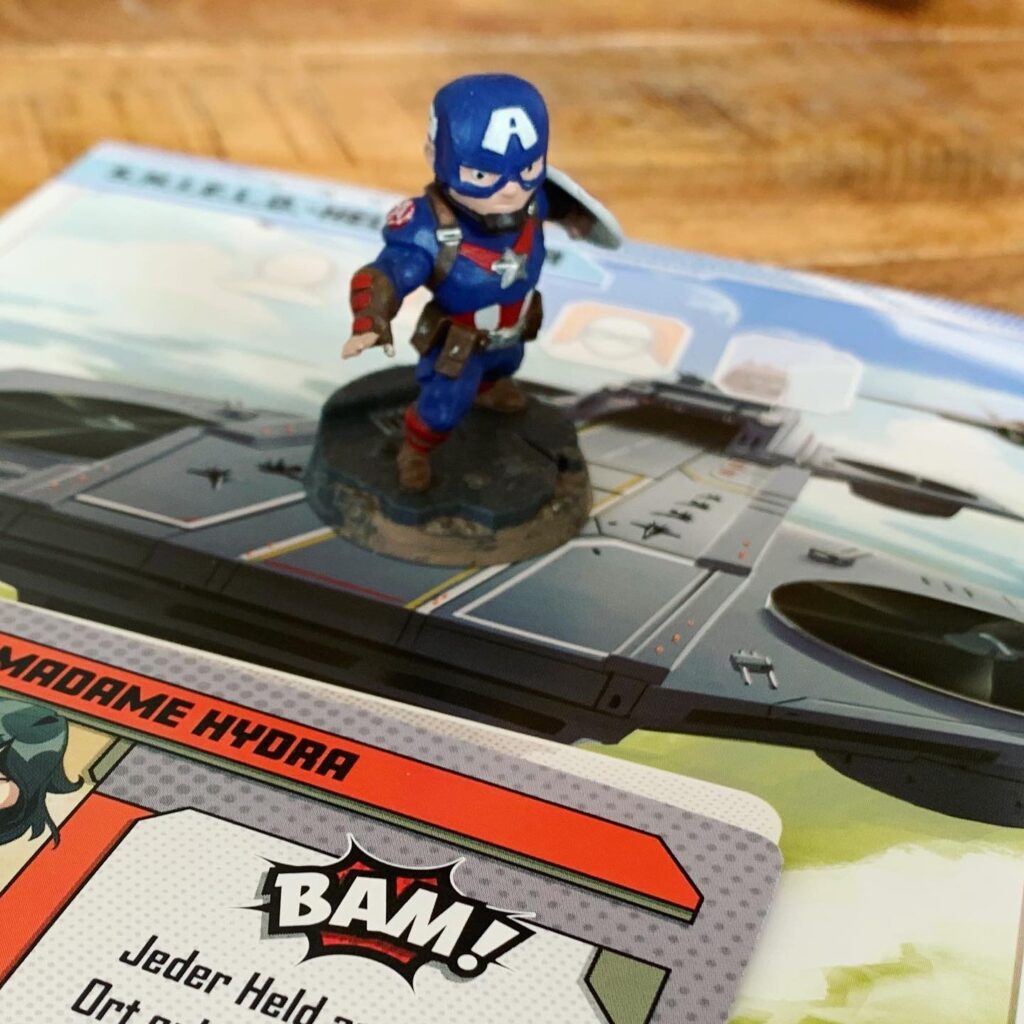 EN: Have you watched all 327 Marvel movies 3 times by now? Have you finished WandaVision and Agents of Shield and spammed the internet with fantasy theories? Have you also read every possible obscure comic book from Marvel's silver age? Even that one comic book where the Hulk is exiled from Earth only to become the ruler of a planet and return to Earth to take revenge on a secret society? Or that one comic book where Iron Man is possessed by an evil space bacteria and transformed into Iron-Venom? Then you probably have the time somewhere in your busy existence to slip into the role of a superhero yourself. And not just any superheroes, but chibi (cute) versions of everyone's favorite Avengers! Take on the role of Black Widow, Ant-Man, Captain Marvel or one of your other favorites and defeat Red Skull, Ultron, Taskmaster and possibly more in Marvel United!
Marvel United is a simple yet exciting cooperative game that you can also play on your own. United we stand, divided we fall, but there is room for so-called vigilantes who want to act independently. At the beginning of the game, choose a supervillain with corresponding rules. Lay out locations of the city (a city that will undoubtedly be completely fought to smithereens during the movies) and choose your favorite heroes to play with.
Each turn you play a card from your hand. A played card you put on the "story line". Then you may perform the actions corresponding to the symbols on the card you just played and also the previous card from the story line. Actions allow you to slap villains, henchmen and supervillains, rescue helpless citizens and, of course, move yourself around the city. Before you can attack the supervillain, you must first complete two missions by rescuing citizens, punching villains or stopping threats. Beware because the supervillain is not sitting still and has nefarious plans. Once in a while, the supervillain attacks. Bam! If you receive damage, you must take cards from your hand and if this fails, you go K.O. Can a player draw no more cards or the villain has completed his or her nefarious plans, then the game is lost. Can you leave the villain completely black and blue? Then you've won!
Marvel United is a funny and simple cooperative puzzle that you can also play well with younger players. The game is also entertaining for older players because of the different supervillains (also from the many expansions) and challenge cards you can add to make the game more challenging. Perfectly balanced, as all things should be. The many heroes and villains also provide plenty of variety. Avengers, assemble!