NL: Spellen met woordgrappen en aardappels? Daar lust ik wel puree van! In Hot Potato!, van Jolly Dutch, proberen spelers alle mogelijke gevaren van een aardappel te lijf te gaan. Ongedierte, schimmel, een chefkok, schilmesjes en uiteraard een slechte prijs per kilo dankzij het gevaarlijke supermarktwezen! Oké, die laatste heb ik wellicht verzonnen, maar spelers gaan met hun frietjesleger een patatje oorlog aan met allerlei gevaren. Heb jij de het meeste geluk of presteer je snackbarslecht?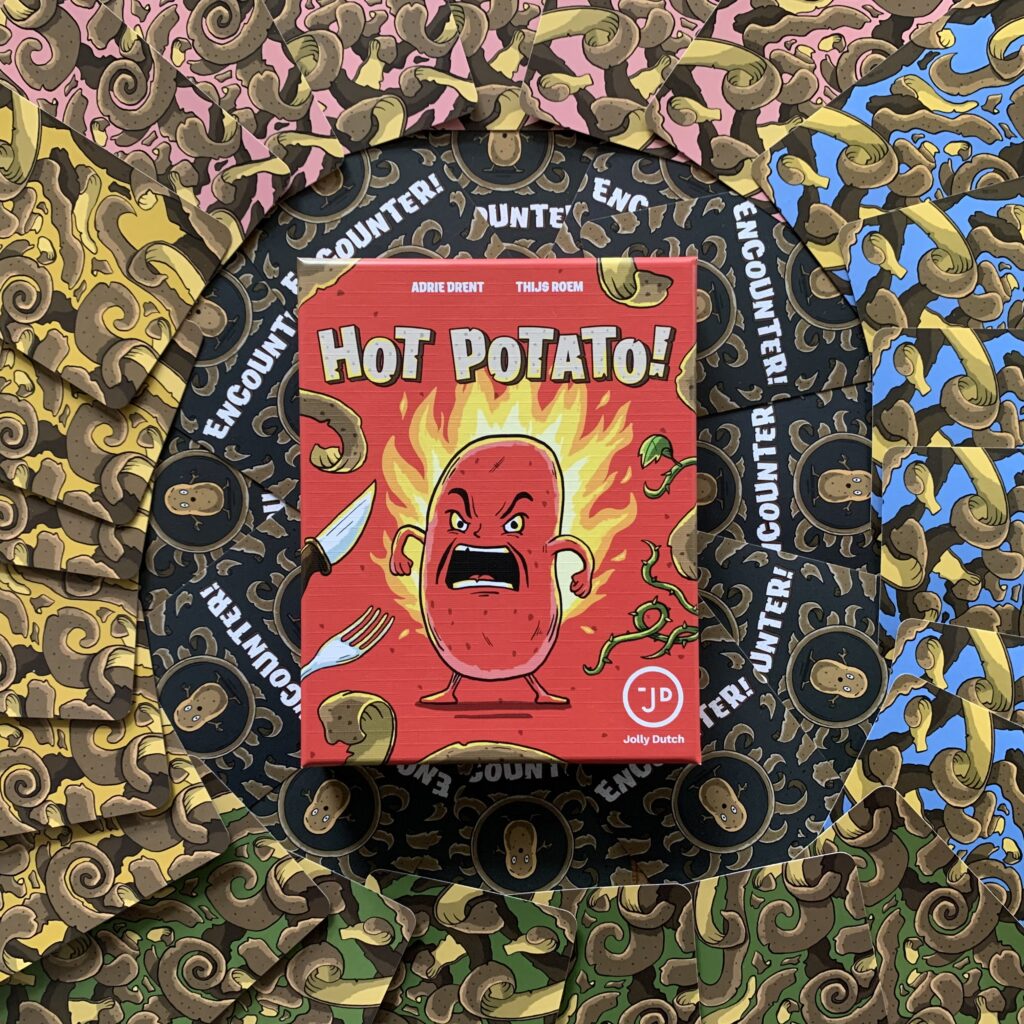 Iedere speler krijgt een hand met kartoffelkaarten met daarop aardappels met symbolen en speciale krachten. Elke ronde speelt iedere speler gesloten een van deze krokante aardappelkroketjes en daarna wordt er een zogeheten encounter kaart getrokken. Op de encounter kaart staat een gevaar en verschillende symbolen in aflopende volgorde die corresponderen met de aardappelkaarten. Diegene die de beste pieper in het heetst van de strijd gooit, wint een punt. Welke pieper is het beste? Dat hangt af van de volgorde van de symbolen op de encounter kaart.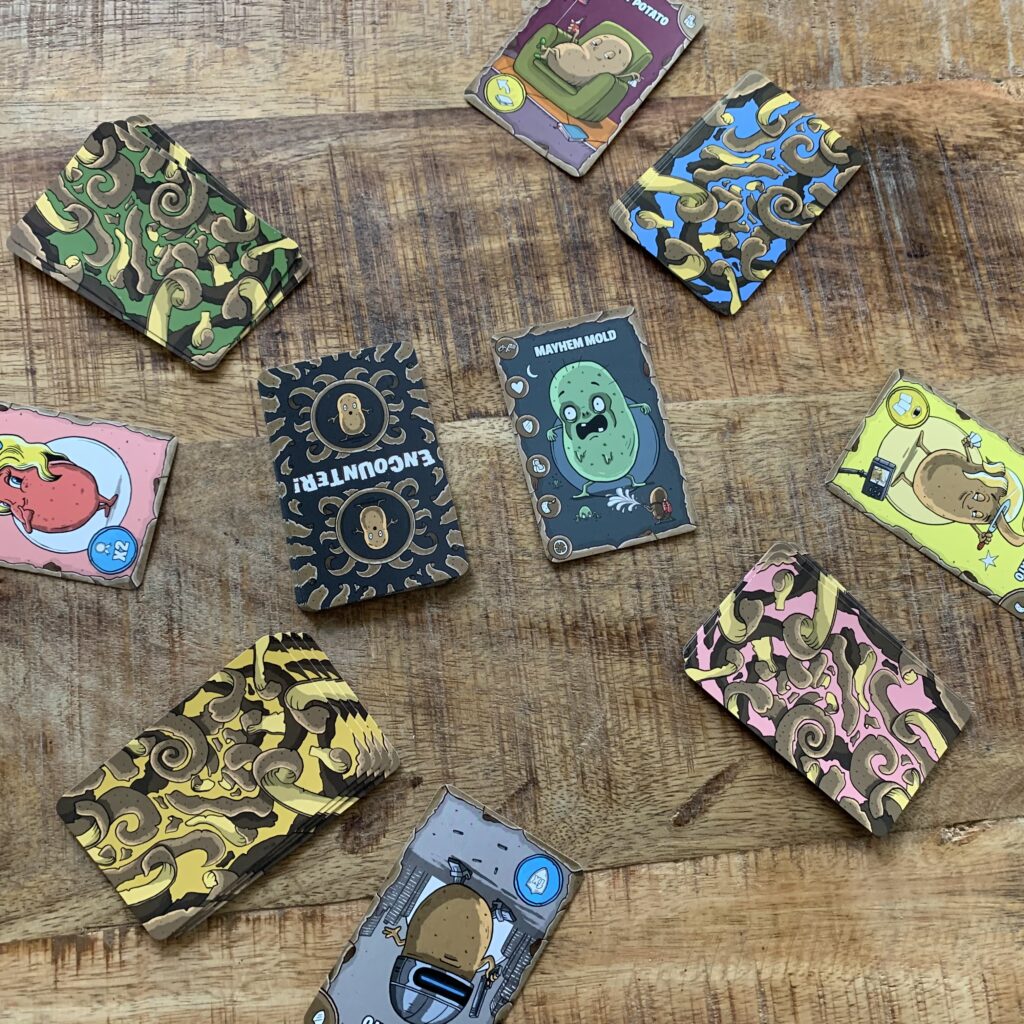 Heb jij deze ronde niet de beste kaart gespeeld? Wees niet getreurd: het leven is namelijk net een frietje, je moet het namelijk zelf speciaal maken. Elke aardappel bezit een speciale gave die je activeert als je niet de beste pieper speelde deze ronde. Met deze speciale krachten kun je bijvoorbeeld reeds geschilde – uh gespeelde – kaarten terugwinnen of in een volgende ronde mogelijke meer punten verdienen. Met Rambotato kun je de tegenstanders opzadelen met de titulaire "Hot Potato" waardoor je geen krachten meer kunt gebruiken. Geef deze hete aardappel vooral door aan je medespelers of bescherm jezelf met Robotato. De speler die als eerste 10 punten heeft, wint het spel!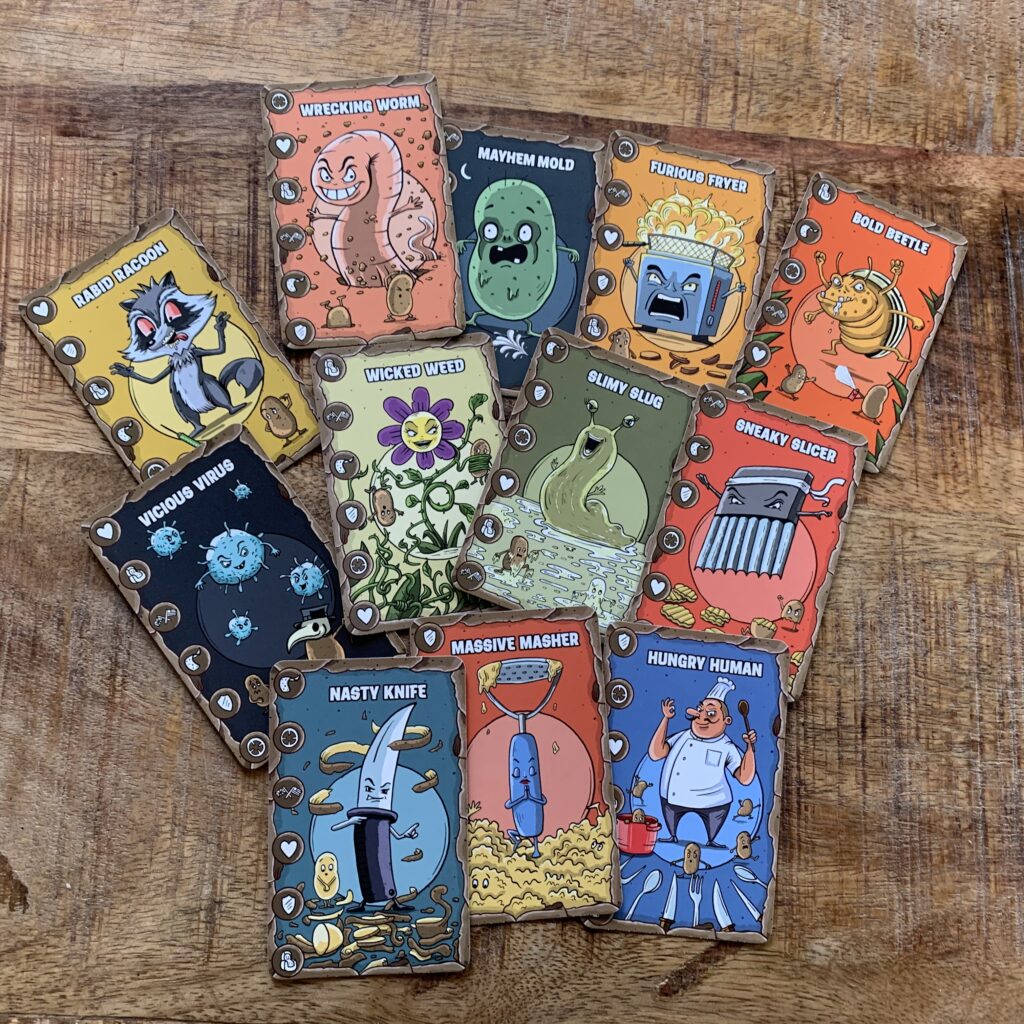 Hot Potato! is een vermakelijke snack. Het is een kort spelletje dat vooral op geluk is gebaseerd. Goed als tussendoortje tijdens een zetmelige avond met vrienden samen met een lekker biertje, een puntzak patat en een flinke pot ambachtelijke mayonaise!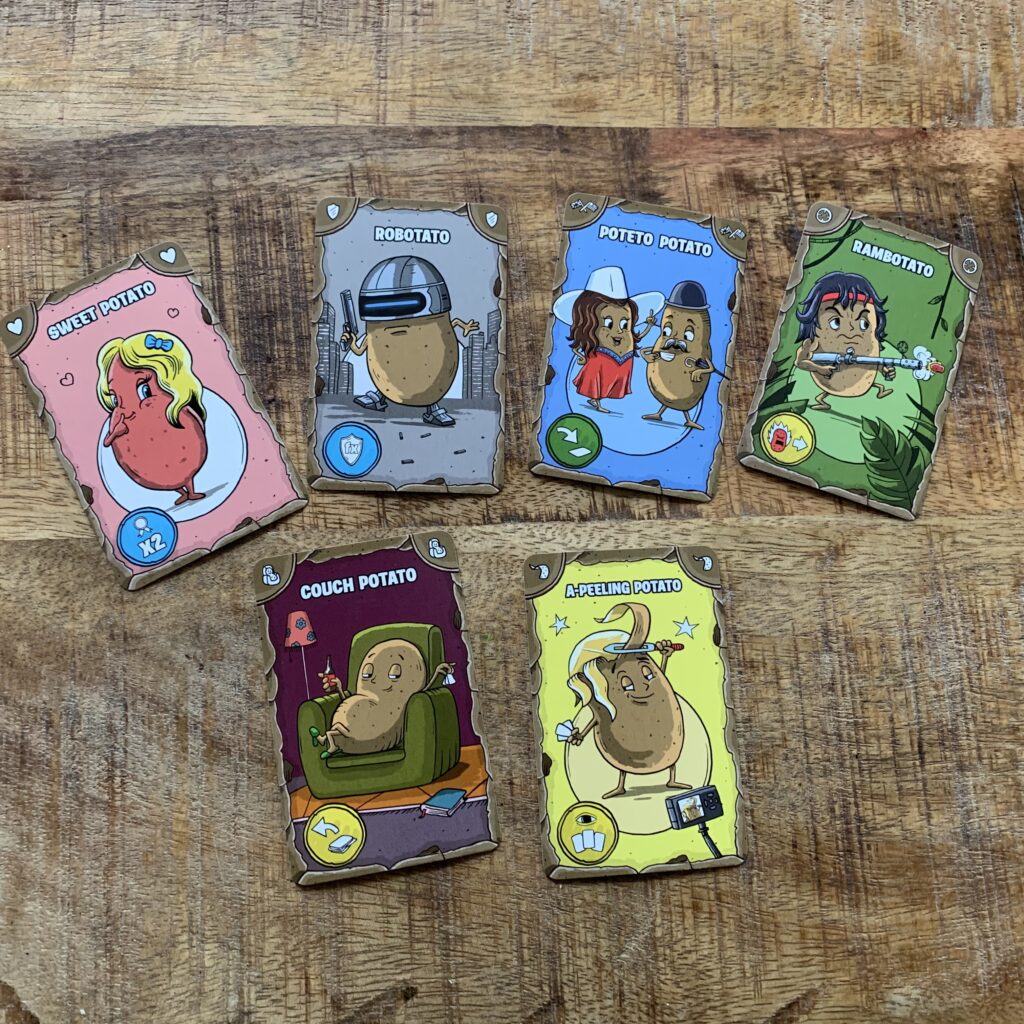 EN: Apeeling games with puns and potatoes? That's (s)mashing! In Hot Potato!, by Jolly Dutch, players try to deal with all possible dangers of a potato. Pests, mould, a chef, peeling knives and of course a poor price per kilo thanks to the dangerous supermarket system! OK, I may have made that last one up, but players will be fighting a potato war with their army of fries and all sorts of dangers. Will you have the most luck or will you lower the snack bar?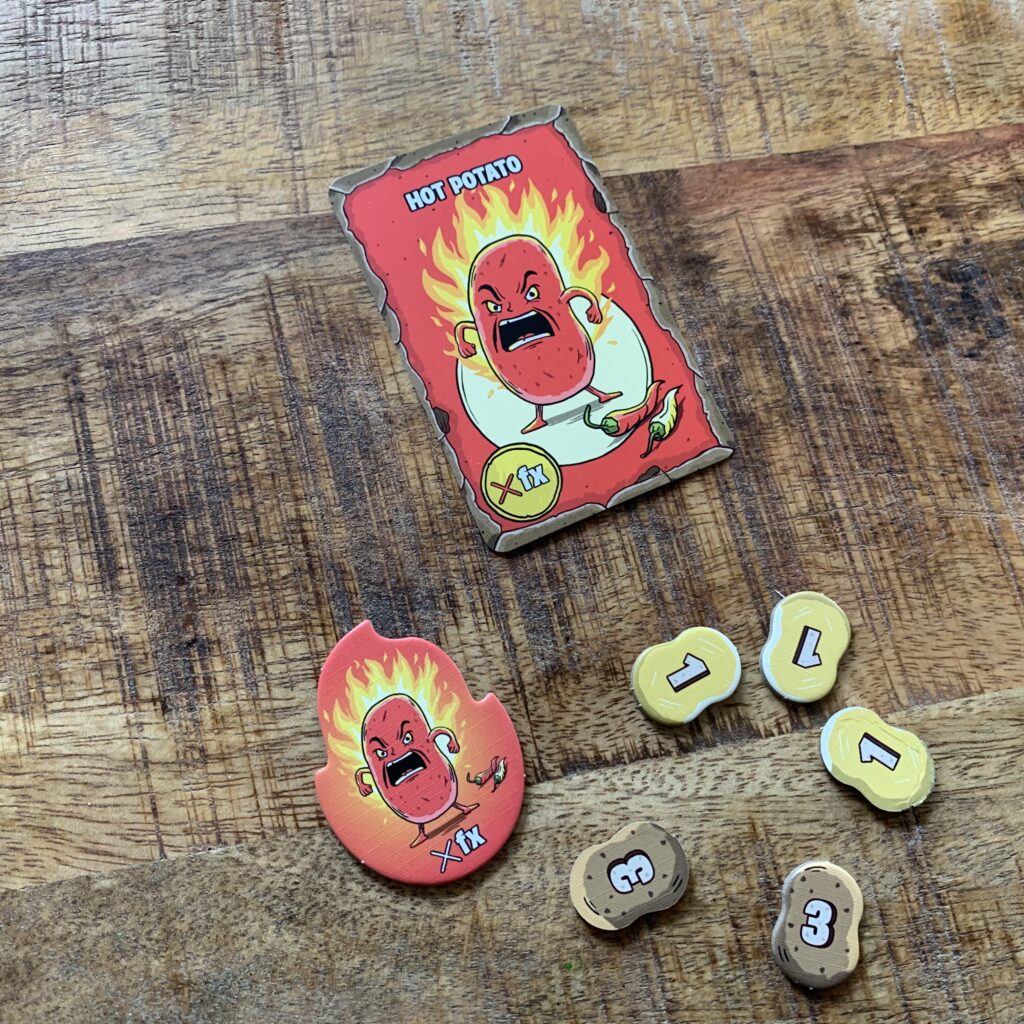 Each player receives a hand of chip cards depicting potatoes with symbols and special powers. Each round, each player plays one of these crispy potato croquettes and then a so-called encounter card is drawn. The encounter card shows a hazard and various symbols in descending order that correspond to the potato cards. The player who throws the best potato in the heat of the moment wins a point. Which tatty is the best? That depends on the order of the symbols on the encounter card. After a round, another encounter card is drawn. Out of the frying pan and into the fire!
Didn't play the best card this round? Don't worry: each potato possesses a special ability that you activate if you didn't play the best squeaky yellow boy this round. With these special powers, you can, for example, win back already peeled – uh played – cards or earn more points in the next round. With Rambotato, you can saddle your opponents with the titular "Hot Potato", which prevents you from using your powers. Don't burn yourself and pass this hot potato on to your fellow players or protect yourself with Robotato. The player who gets 10 points first wins the game!
Hot Potato! is an entertaining snack. It is a short game based mainly on luck. Good as a snack during a corn(y)starchy evening with friends, together with a nice beer, a bag of crisps and a large dollop of truffle mayonnaise!