NEDERLANDS
Pas op voor de hondsdolheid, na het lezen van alle woordgrappen over honden ridders in deze review! Ik zet mijn beste pootje voor, maar Knights of the Hound Table overtreft mij. Dit snelle drafting, deck-builder spel voor twee spelers of vier voeters zit namelijk vol hondsdolle woordgrappen.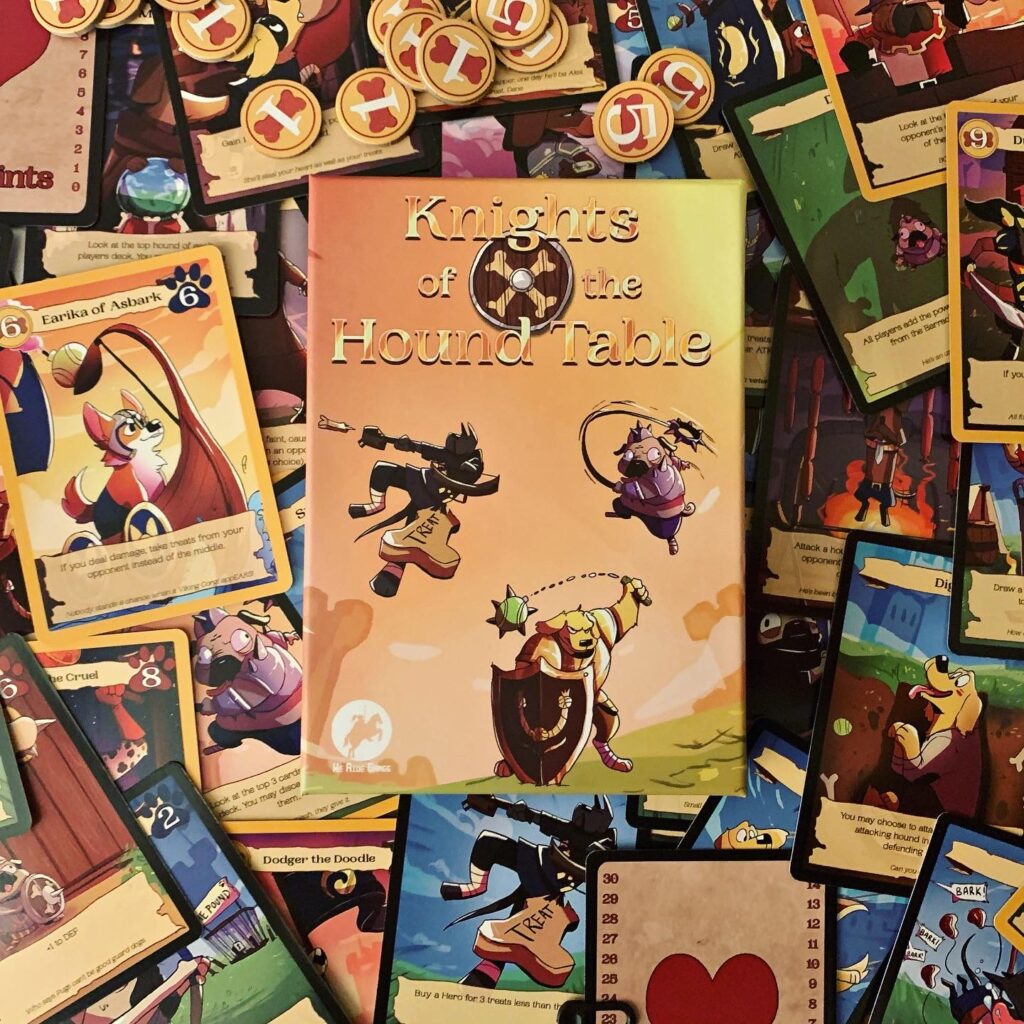 Aan het begin van het spel worden er in vier rondes telkens 6 kaarten open neer gelegd. Spelers kiezen om de beurt uit deze kaarten met loyale viervoeters. Zo vormt iedere speler een deck met 12 kaarten. In dit spel zijn niet enkel honden "man's best friend", maar ook je stapel kaarten. Met je stapel kaarten ga je namelijk de strijd aan met je tegenstander. Elke hondenkaart heeft een speciale eigenschap en een krachtwaarde. Woof woof! Spelers trekken iedere ronde 3 kaarten en spelen tevens deze 3 kaarten. Een kaart spelen ze om aan te vallen, een kaart voor de speciale eigenschap en een kaart om te verdedigen. Jouw aanvallende hond valt de verdedigende hond van de tegenstander aan en vice versa. Speciale krachten kunnen het verloop van een gevecht omgooien en/of bonussen opleveren. Blaffende honden bijten niet!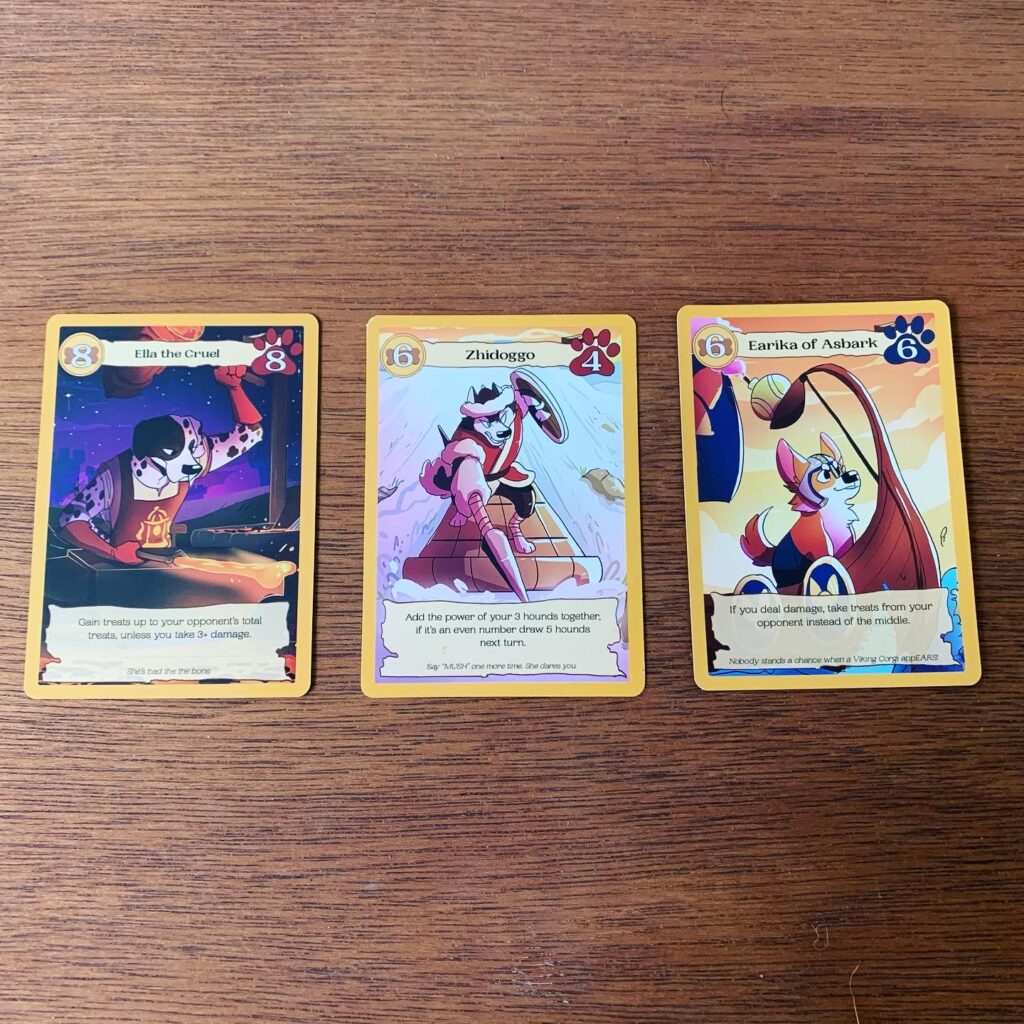 Als je een gevecht wint, verliest jouw tegenstander levenspunten. Terug in de mand, mormel! Tevens levert winst hondenbrokken op. Met de hondenbrokken kun je helden aanlijnen met geweldige namen zoals Asbark de Viking Corgi! Deze helden zijn nog sterker dan normale honden. Wie had gedacht dat de nobele viervoeters nog nobeler konden zijn!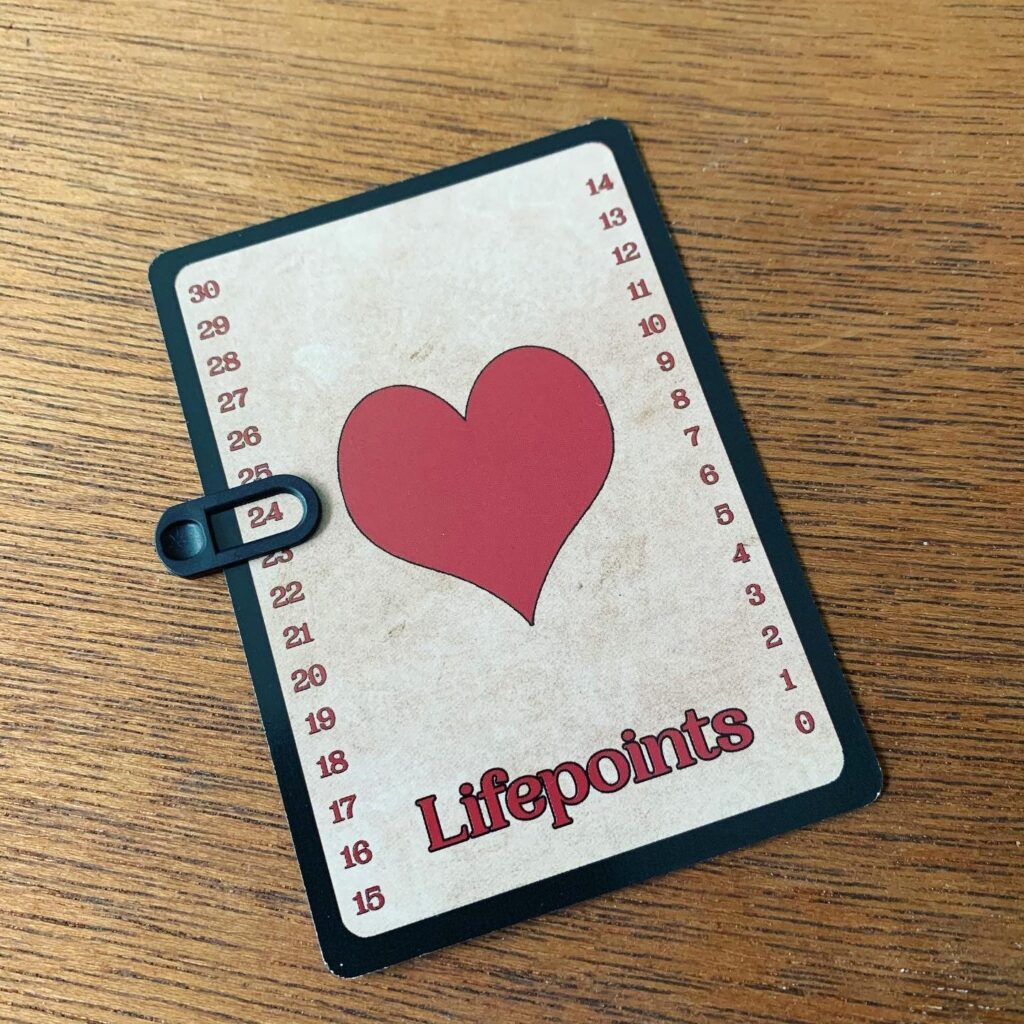 Je wint het spel als de tegenstander zijn levens verliest en met zijn staart tussen de benen terug naar zijn roedel moet. Tevens win je het spel als 5 van jouw helden een gevecht met een normale hond hebben gewonnen. Lusten de honden brood van dit spel? Het is een vlotte drafting deck builder die je snel en gemakkelijk kan uitleggen en tussendoor kan spelen. De woordgrappen op de kaarten maken het voor mij alleen al waard om vaker te spelen. Dit spel is een portie die ik liever niet aan Fikkie geef! ?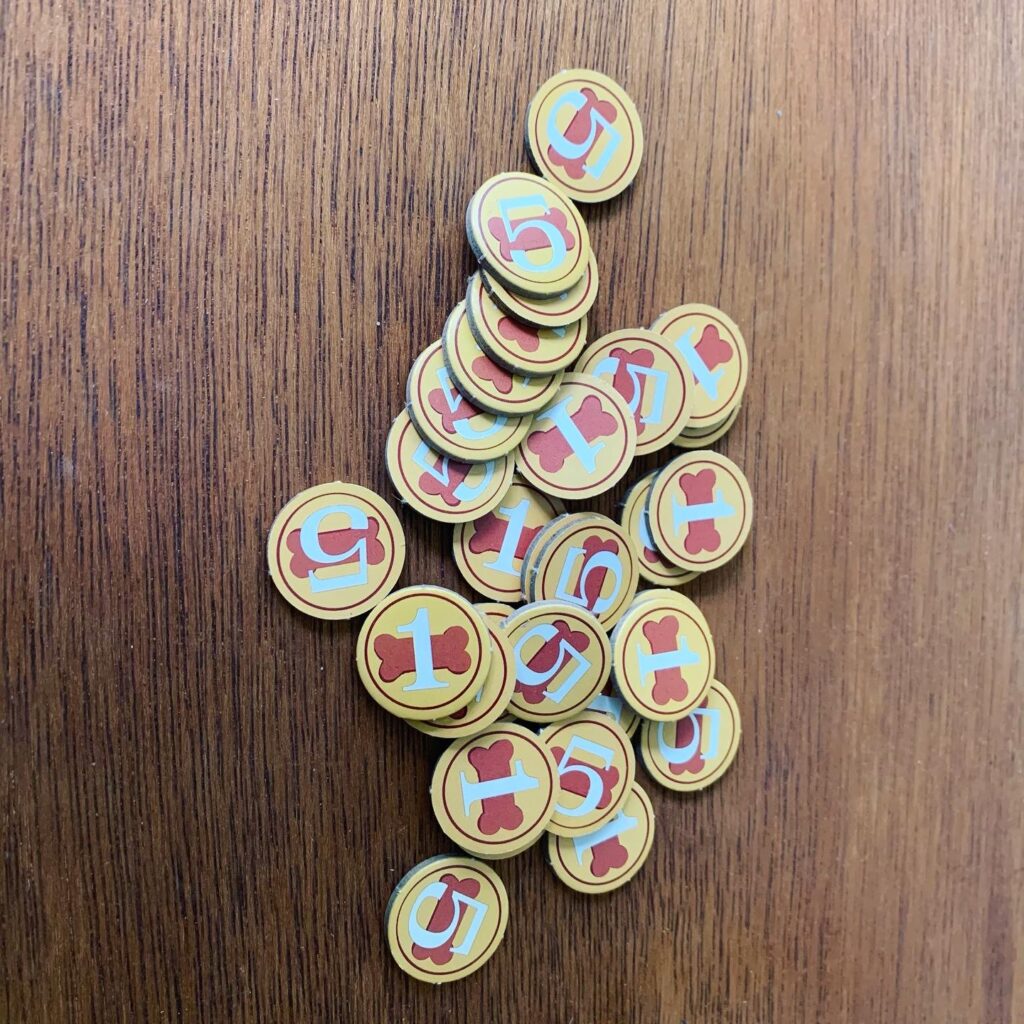 ENGLISH
Don't become a mad dog after reading all the puns about dogs and knights in this review! Even though puns are a natural extension of my paws, Knights of the Hound Table surpasses me. This fast-paced drawing, deck-builder game for two players or four feet is full of rabid puns.
At the beginning of the game, 6 cards are placed face-up in four rounds. Players take turns choosing from these cards depicting loyal four-legged friends. This way each player forms a deck with 12 cards. In this game not only dogs are "man's best friend", but also your deck of cards. With your deck you are going into battle with your opponent. Each hound card has a special ability and strength value. Woof woof! Players draw and play 3 cards every round. They play one card to attack, one card for the special ability and one card to defend. Your attacking dog attacks the opponent's defending dog and vice versa. Special forces can change the course of a fight and/or yield bonuses. Barking dogs perhaps do bite!
If you win a fight, your opponent loses life points. Back in the dog bed you mutt! Winning also results in doggo treats. With kibble you can lash on heroes with great names such as Asbark the Viking Corgi! These heroes are even stronger than normal hounds. Who would have thought that the noble four-legged friends could be even more noble!
You win the game when the opponent loses his life and has to return to his pack with his tail between his legs. You also win the game when 5 of your heroes have won a fight with a normal dog. It's a dog eat dog world. It's a smooth drafting deck builder that you can quickly and easily explain and play in between. The puns alone make this game worth playing. This game is a treat I would rather not share! ?