NEDERLANDS
Een horde goblins, orcs, wolven en ander fantastisch gespuis probeert je koninkrijk te vernielen. Houd jij je ze tegen met pijlen, soldaten, bommen en magie? In Kingdom Rush: Rift in Time van Lucky Duck Games verdedig jij de wereld tegen fantasiemonsters door torens te bouwen met verschillende krachten. Het bordspel is gebaseerd op het gelijknamige Kingdom Rush, een game die je in de App Store en Play Store kunt downloaden.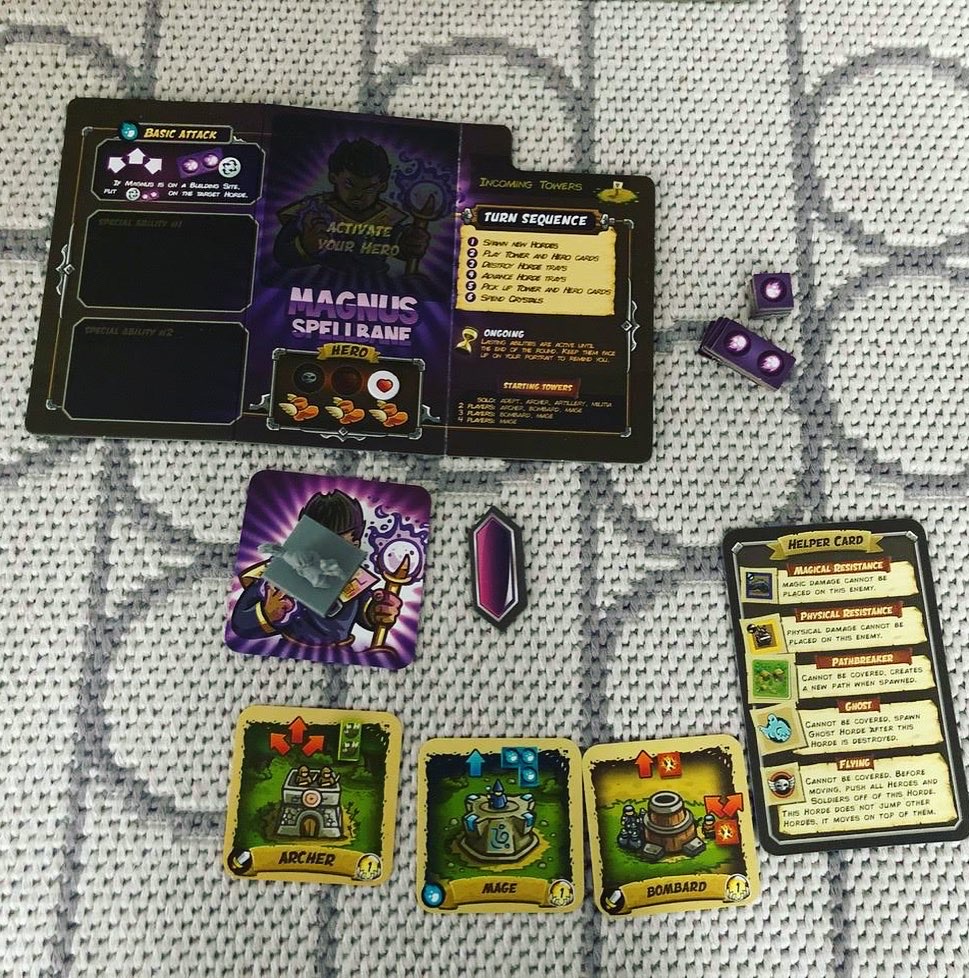 Tower Defense games gaan terug tot de jaren '80. Ik herinner mij zulke games als gemodificeerde mappen in de strategy klassieker Warcraft III die ik speelde toen ik nog een klein Rickje was. Het idee achter "TD" is dat monsters in golven door een gangpad lopen en jij torens en eenheden strategisch moet plaatsen en upgraden om te voorkomen dat de monsters bij het einde van het pad komen. Gebeurt dat, dan loop je schade op. Zo ook in de appversie van Kingdom Rush, die ik voor deze review getest heb. Het onderscheid van de app zit vooral in de artwork en karaktertrekken. De gameplay is soepel.

Kingdom Rush weet haar app en het genre goed te vertalen naar een bordspel. Hordes worden weergeven door verschillende vakjes met daarop monsters in een bepaalde setting. Die hordes verplaatsen iedere beurt een of meer stappen. Jij moet iedere rondes je torens met verschillende krachten zo langs de paden plaatsen zodat jij iedere beurt maximale schade kan aanrichten en zodanig aanbrengen dat het past in de puzzel van monsters. Dat is lastiger dan je denkt! De artwork, je helden die je als bonus inzet en de mechanics lijken erg op de TD computergames en de vertaling is dan ook erg goed. Het spel biedt ook tien scenario's aan die (net zoals The Crew) steeds meer mechanics vrijgeven, wat een welkome bijkomstigheid is. Pluspunten dus!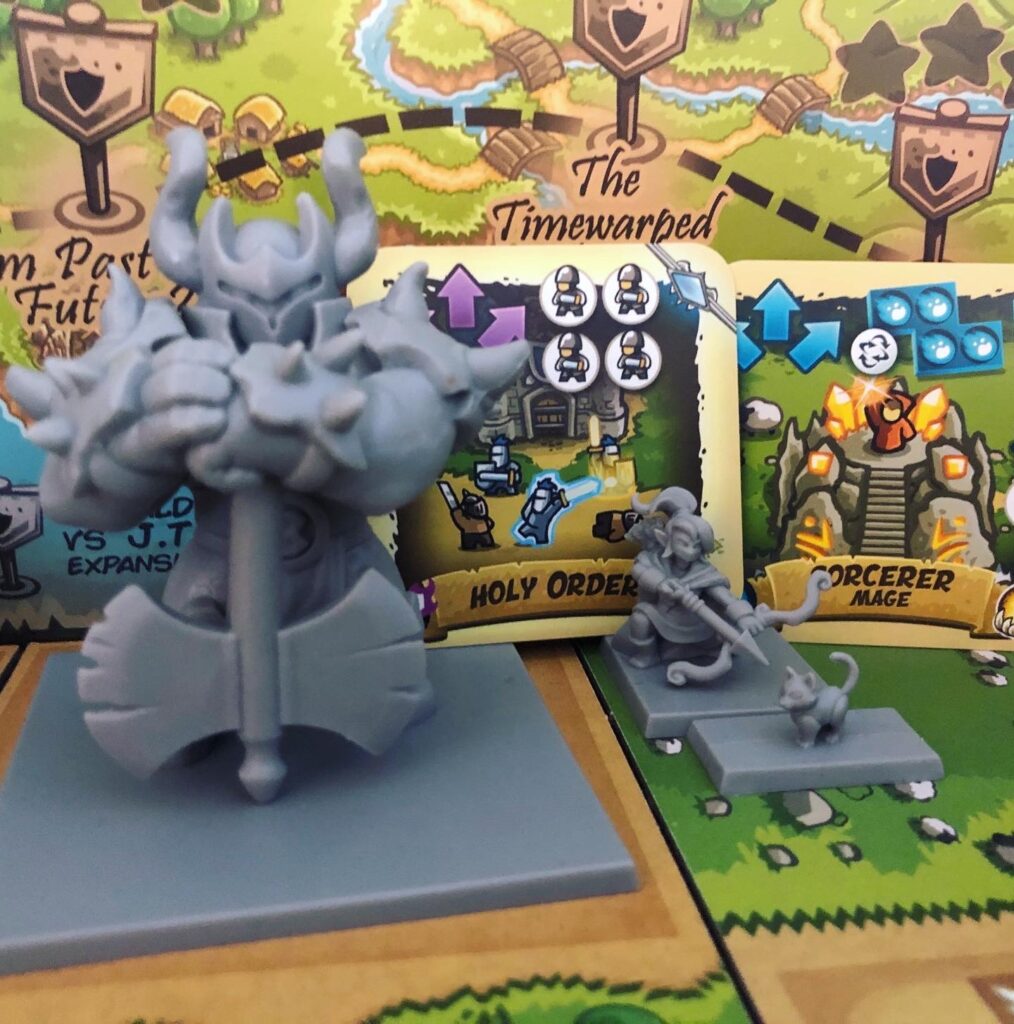 Een minpunt is helaas de uitleg van het spel. De twee handleidingen (spelregels en scenario's) lopen soms een heel klein beetje in elkaar over en zijn wollig opgeschreven. Dat maakt de speluitleg ingewikkeld (maar wel duidelijk). De onbeschilderd miniaturen zijn leuk, maar alle onderdeeltjes maken het opzetten van het spel wel lang. Zodra het spel echter is opgezet en je een oefenrondje hebt gedaan, blijkt het spel veel simpeler dan de uitleg doet vermoeden en heb je al gauw veel plezier!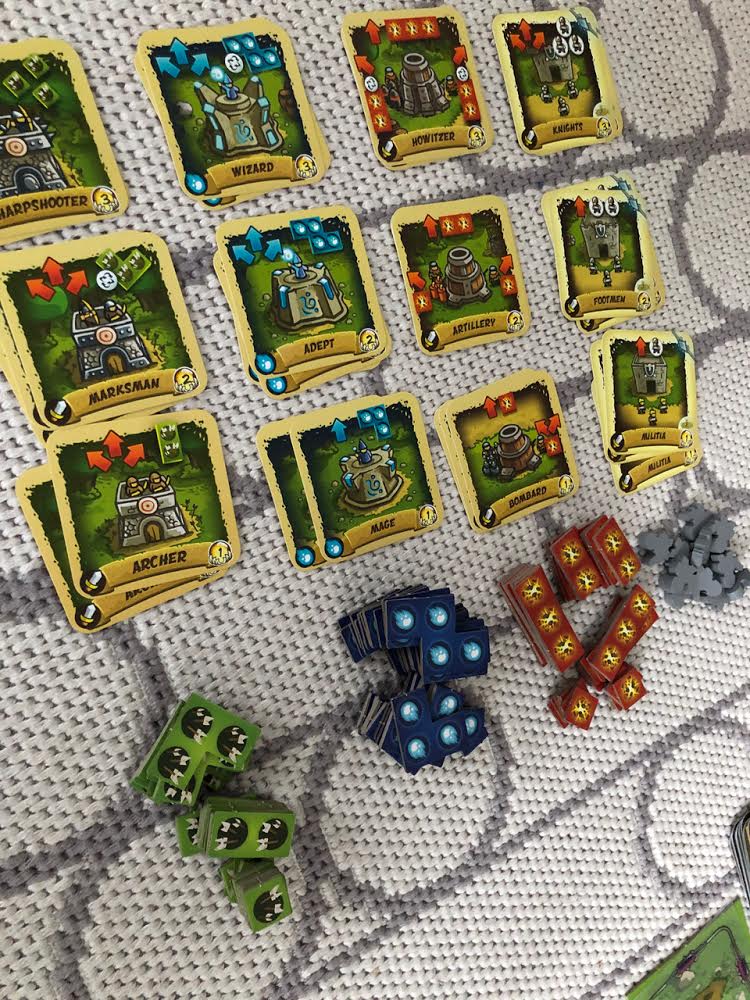 Kingdom Rush: Rift in Time, is al met al een erg tof spel en een leuke puzzelaar! Mocht je interesse hebben in andere gamevertalingen: ik ben ook benieuwd naar de bordspelversie van Darkest Dungeon, die nu op Kickstarter is.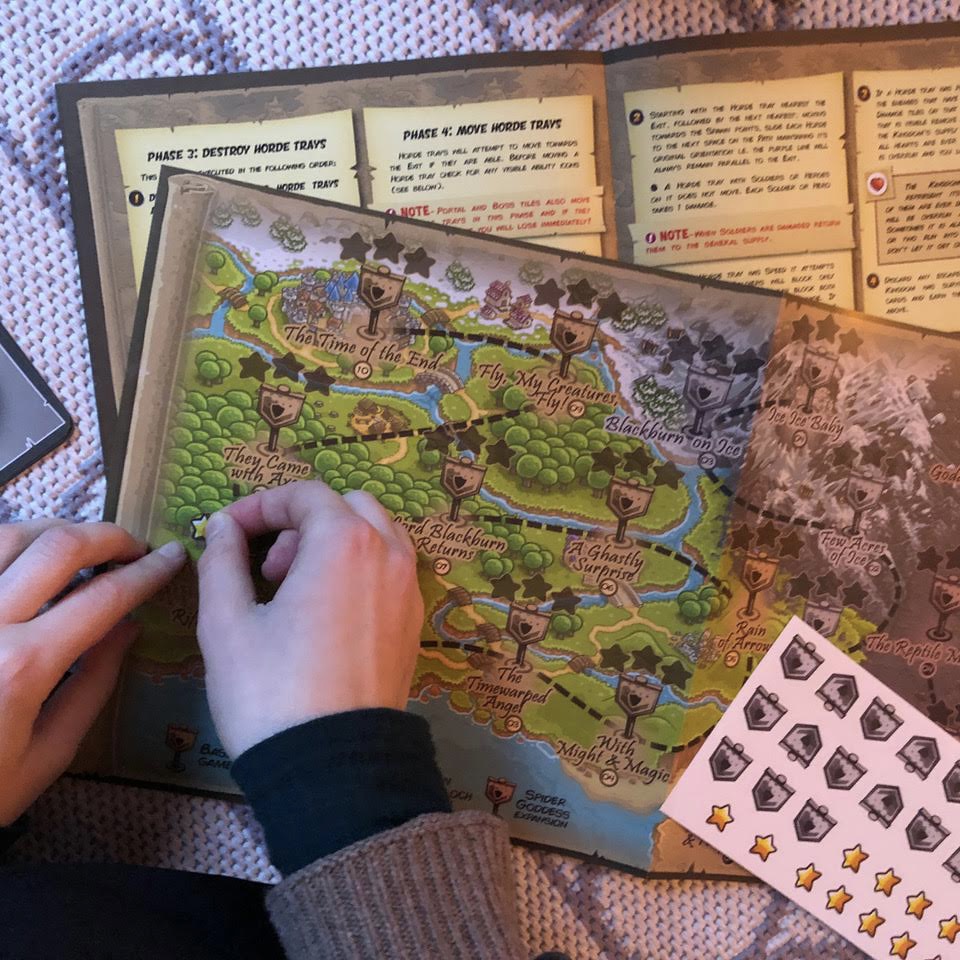 ENGLISH
Hordes of goblins, orcs, wolves and other fantastic fables are trying to destroy your kingdom. Will you stop them with arrows, soldiers, bombs and magic? In Kingdom Rush: Rift in Time from Lucky Duck Games you defend the world by building towers with different powers. The board game is based on the mobile game Kingdom Rush.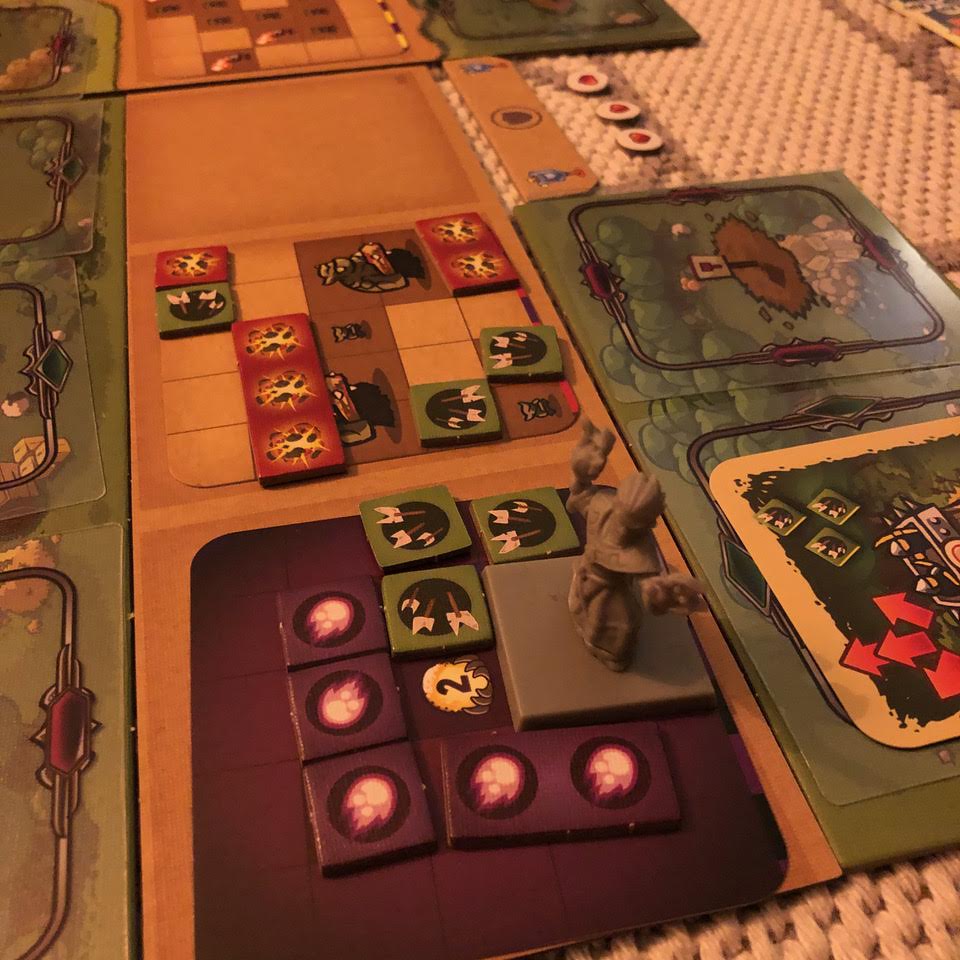 Tower Defense video games started in the 80s. I recollect such games as modded maps in the strategy classic Warcraft III which I played back when I was a wee Ricky. "TD" describes the towers (and units) you deploy to destroy monsters that move through a corridor in waves. You need to strategically place and upgrade such towers to prevent the monsters from reaching the end. If that happens, you will suffer damage. This is also the case in the Kingdom Rush app, which I played in preparation for this review. The games shines with regards to artwork and characters. The gameplay is smooth.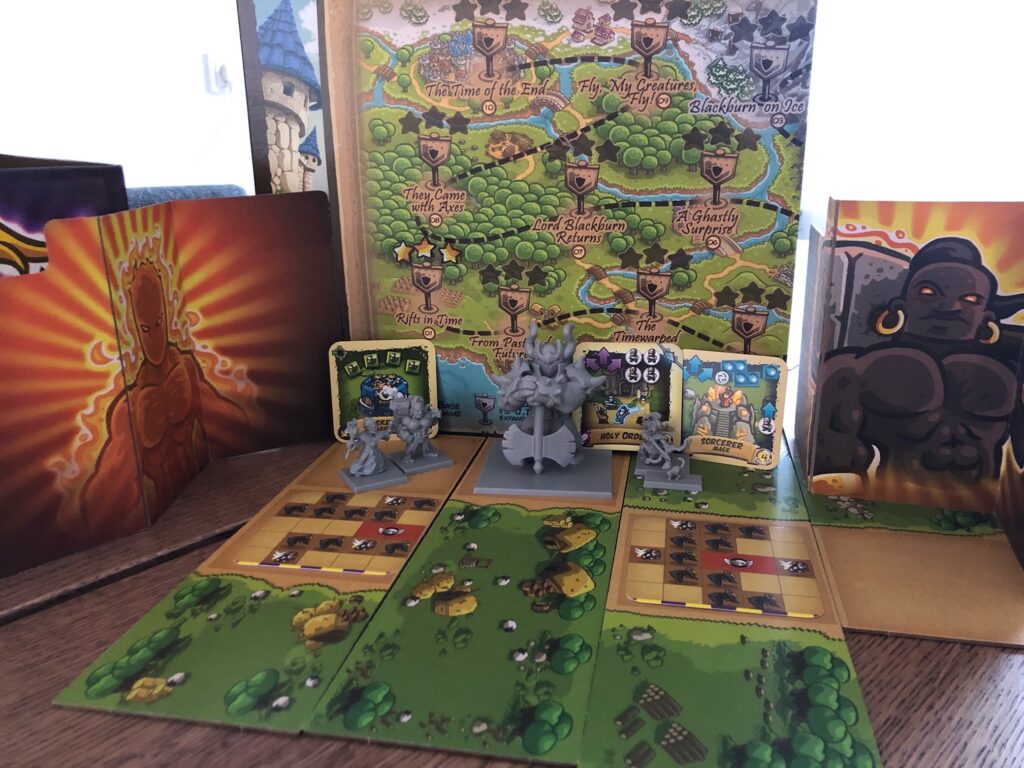 Kingdom Rush knows how to translate this app and the genre into a board game. Hordes are displayed through trays containing different setup orders. These hordes move one or more steps every turn. You will have to place your towers with different powers along the paths each round so that you can inflict maximum damage each turn. Damage placement is restricted to rules which makes it a nice puzzle. It's more difficult than you may think! The artwork, the heroes you may deploy use, and the mechanics are very similar to the TD computer games. The game also offers ten scenarios that (just like The Crew) are releasing more and more mechanics, which is very nice.
One downside is the manual of the game. The two instruction manuals (rulebook and scenarios) sometimes overlap a little bit and are sometimes too elaborate. That makes the game explanation complicated. The (still) unpainted miniatures are nice, but the game setup takes a long time due to all the small parts. However, once the game is set up and you have done a practice round, the game turns out to be much simpler than the explanation suggests and you will soon have a lot of fun!
Kingdom Rush: Rift in Time, is a very cool game and a fun puzzler! If you are interested in other "video game crossovers": I am curious about the board game version of Darkest Dungeon, which is now on Kickstarter.