'Oops!… I did it again' van Britney Spears, 'We are family' van Sister Sledge of 'Lean on' van Major Lazer, van alles komt voorbij in Hitster! Hét partyspel dat sfeer brengt in iedere huiskamer. Zet de boxen aan, download de app, koppel de app aan jouw Spotify-account en je kunt van start!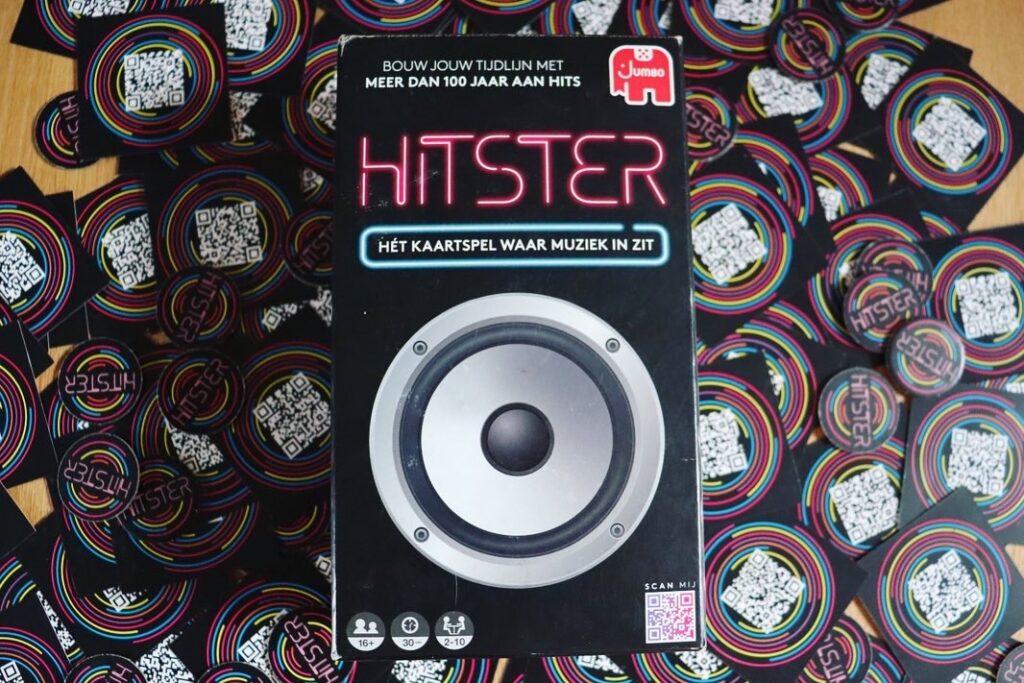 In Hitster draait alles om muziek. Op iedere kaart staat een artiest, de titel van een nummer en het jaartal waarin het nummer is uitgebracht, op de andere kant staat een QR-code die het liedje na het scannen automatisch op Spotify afspeelt. Iedere speler begint met één kaart voor zich. Het jaartal is het startpunt waar omheen gewerkt moet worden aan een eigen muziektijdlijn. Om de beurt krijgt een speler een nummer te horen waarna de speler moet bepalen op welke plek in de muziektijdlijn de kaart geplaatst moet worden. Is een andere speler het niet eens met de positie waarop de actieve speler de kaart heeft neergelegd, dan kan de andere speler een fiche inzetten en de juiste plaats aanwijzen. Klopt die plaats wel? De kaart is gekaapt.
Denk je te weinig kennis te hebben over onze muzikale geschiedenis? Wees niet getreurd, met meer dan 300 kaarten en meer dan 100 jaar aan muziek is er voor ieder wat wils. En daarnaast, het gaat niet om het exact raden van het nummer: alleen de plaats op jouw eigen muziektijdlijn is van belang. Maar… het kan wel van pas komen. Weet je namelijk de artiest én het nummer te raden dan krijg je hier een extra fiche voor, dat je vervolgens weer kunt inzetten om kaarten van anderen te kapen. Daarnaast kunnen drie fiches ingeleverd worden voor één juiste kaart. De eerste speler met een muziektijdlijn van tien kaarten is de winnaar.
Enkele cijfers, ervaren gedurende (en na) het spelen van Hitster in drie verschillende gezelschappen van ten minste vier spelers:
4 spelers kochten het spel voor zichzelf
3 spelers kochten het spel voor anderen
1 speler kreeg het spel cadeau nadat het bovenaan zijn verlanglijst werd gezet
100% lachende gezichten (op enkele procenten na van de fanatieke spelers (of beter: verliezers)
100% sfeer
Mocht er een buitengewone muziekkenner onder de spelers schuilen, dan kan de speler op een ander niveau spelen (Pro of Expert). Deze moeilijkheidsgraden hebben iets andere regels en kunnen het eventueel wat eerlijker maken. Maar zeg nou zelf, gaat het in Hitster écht om winnen?
Hitster is een verademing onder de partyspellen, waarbij ik nu al uitkijk naar de uitbreiding met nieuwe (oude) nummers. Waar de jongere generatie misschien wat meer op de hoogte is van de Justin Biebers op deze wereld, kan de oudere generatie flaneren met zijn kennis over Johnny Cash, David Bowie en The Beatles. Dus, wil jij ook fantastische flashbacks naar die goeie ouwe tijd bij het horen van dat ene liedje? Hup, luisteren maar!