'Oops!… I did it again' by Britney Spears, 'We are family' by Sister Sledge or 'Lean on' by Major Lazer, Everything passes in Hitster! The party game that brings atmosphere to every living room. Turn on the speakers, download the app, link it to your Spotify account and off you go!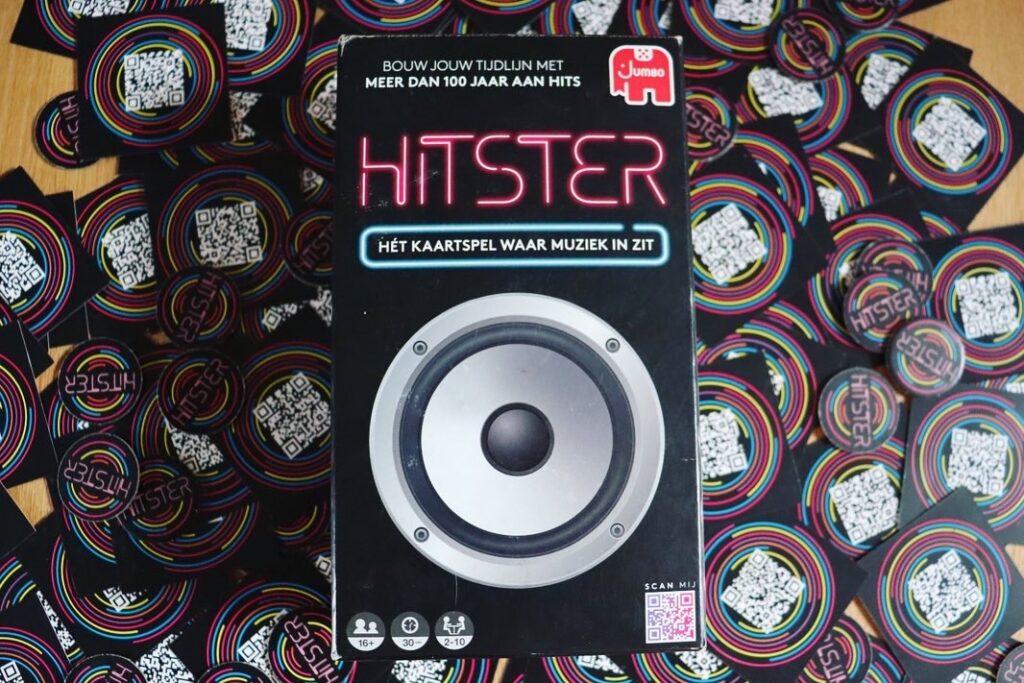 In Hitster, everything revolves around music. Each card features an artist, the title of a song and the year the song was released; on the other side is a QR code that, when scanned, automatically plays the song on Spotify. Each player starts with one card in front of them. The year is the starting point around which players must work to create their own music timeline. In turn, a player gets to hear a song after which the player must decide where in the music timeline the card should be placed. If another player disagrees with the position where the active player has placed the card, the other player can place a chip and indicate the correct position. Is this position correct? The card has been stolen.
Think you know too little about our musical history? Don't worry, with over 300 cards and more than 100 years of music, there is something for everyone. And besides, it's not about guessing the exact song: only the position on your own music timeline is important. But… it can come in handy. If you can guess the artist and the song, you get an extra chip that you can use to steal cards from others. In addition, three chips can be exchanged for one correct card. The first player with a music timeline of ten cards is the winner.
Some figures, experienced during (and after) playing Hitster in three different groups of at least four players:
4 players bought the game for themselves
3 players bought the game for others
1 player got the game as a present after it was put on the top of his wish list
100% smiling faces (except for a few percent of fanatic players (or better: losers))
100% atmosphere
If there is an exceptional music expert among the players, they can play at a different level (Pro or Expert). These difficulty levels have slightly different rules and may make things a little fairer. But let's face it, is Hitster really about winning?
Hitster is a breath of fresh air among party games, I already look forward to the expansion with new (old) songs. While the younger generation may be more aware of the Justin Biebers of this world, the older generation can flash their knowledge of Johnny Cash, David Bowie and The Beatles. So, do you want to have fantastic flashbacks to the good old days when you hear that one song? Go ahead, listen!