"Op een onbewoond eiland, loopt niemand voor je neus. Ja je voelt je d'r blij want lekker leven is de leus." Aan de inhoud van dit klassiekertje van Kinderen van Kinderen heb ik sterke twijfels na het spelen van Hellapogas van @999games. In dit coöperatieve en competitieve hybride spel dat zich afspeelt op een onbewoond eiland waar jij en de medespelers na een schipbreuk zijn gestrand, loop je elkaar namelijk constant voor de neus en is lekker leven echt geen leus, want je moet constant honger, dorst en de gevaren van de jungle en je medespelers trotseren.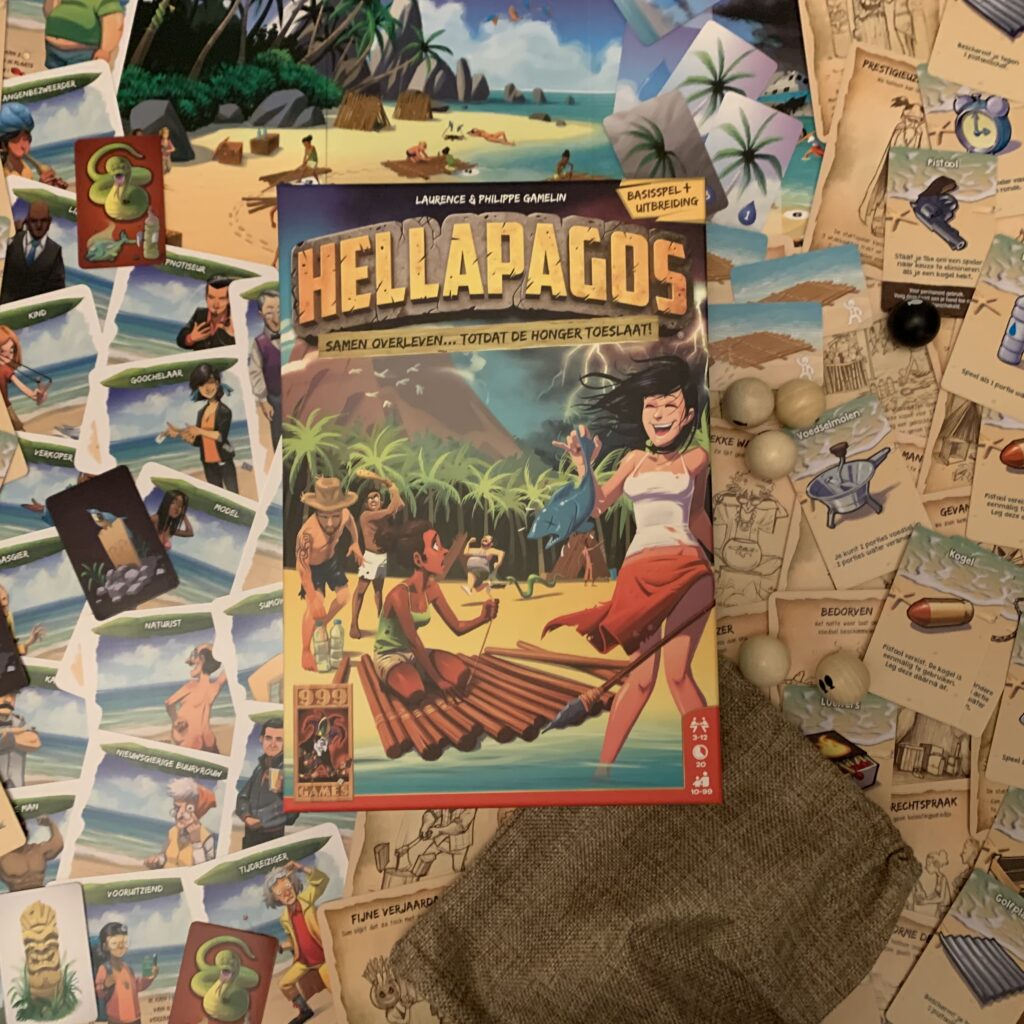 Dat aanspoelen en overleven op een eiland niet altijd even makkelijk is, bewees het fictieve personage Robinson Crusoe al een lange tijd geleden. De beste man vocht tegen kannibalen en muiters van de Britse zeevaardij. Robinson had echter hulp in de vorm van het personage Vrijdag (toevallig ook een spel van @999games) en ook in Hellapagos moet je samenwerken om te overleven. Tijdens een beurt kan een speler water, voedsel of hout verzamelen. De hoeveelheid water die gehaald kan worden hangt af van het weer. Voor de hoeveelheid voedsel of hout ben je voor een deel afhankelijk van het geluk. In deze beide gevallen moeten er houten ballen uit een zak getrokken worden. Voedsel en water is nodig om een nacht te overleven en hout is nodig om vlotten te bouwen om het eiland te ontsnappen. Is er aan het einde van een ronde genoeg voedsel, water en hout zodat alle overlevende kunnen ontsnappen? Dan is het spel gewonnen. Tevens kunnen spelers tijdens hun beurt ook het scheepswrak bezoeken om nieuwe handkaarten te krijgen voor hun eigen gewin. Tijdens een beurt kan een speler maar 1 actie ondernemen. De dagen zijn te kort op dit eiland…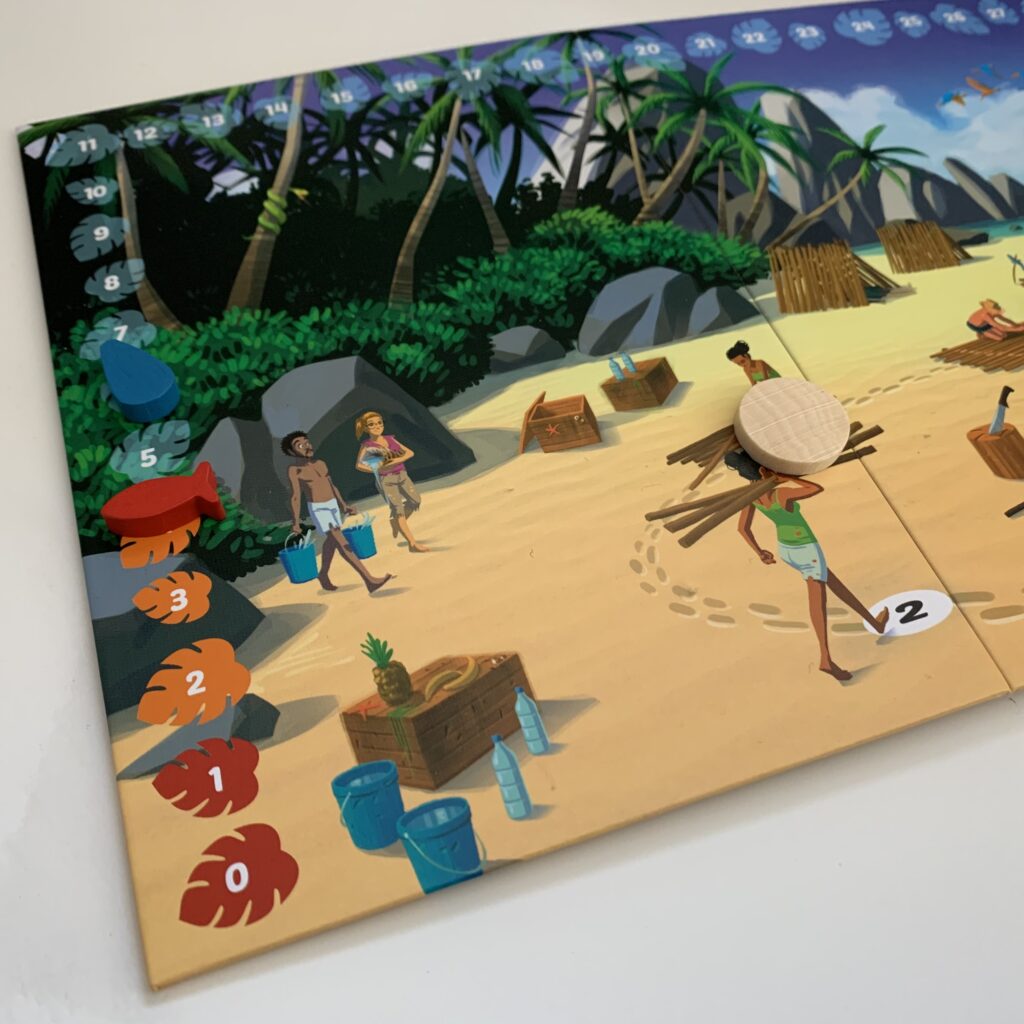 Voorraden op het eiland zijn beperkt en niet elke speler kan overleven. Soms wordt een speler ziek of is er onvoldoende voedsel en water aanwezig na een spelronde. Spelers moeten in dat geval stemmen wie wordt verbannen uit de groep. Net een aflevering Expeditie Robinson. Gelukkig kan een spelers soms dit lot tarten door een van zijn of haar handkaarten te spelen om voedsel voor zichzelf te houden of zelfs om andere spelers vroegtijdig uit te schakelen. Uiteindelijk geldt ook op dit eiland de recht van de sterkste. Of eigenlijk sluwste…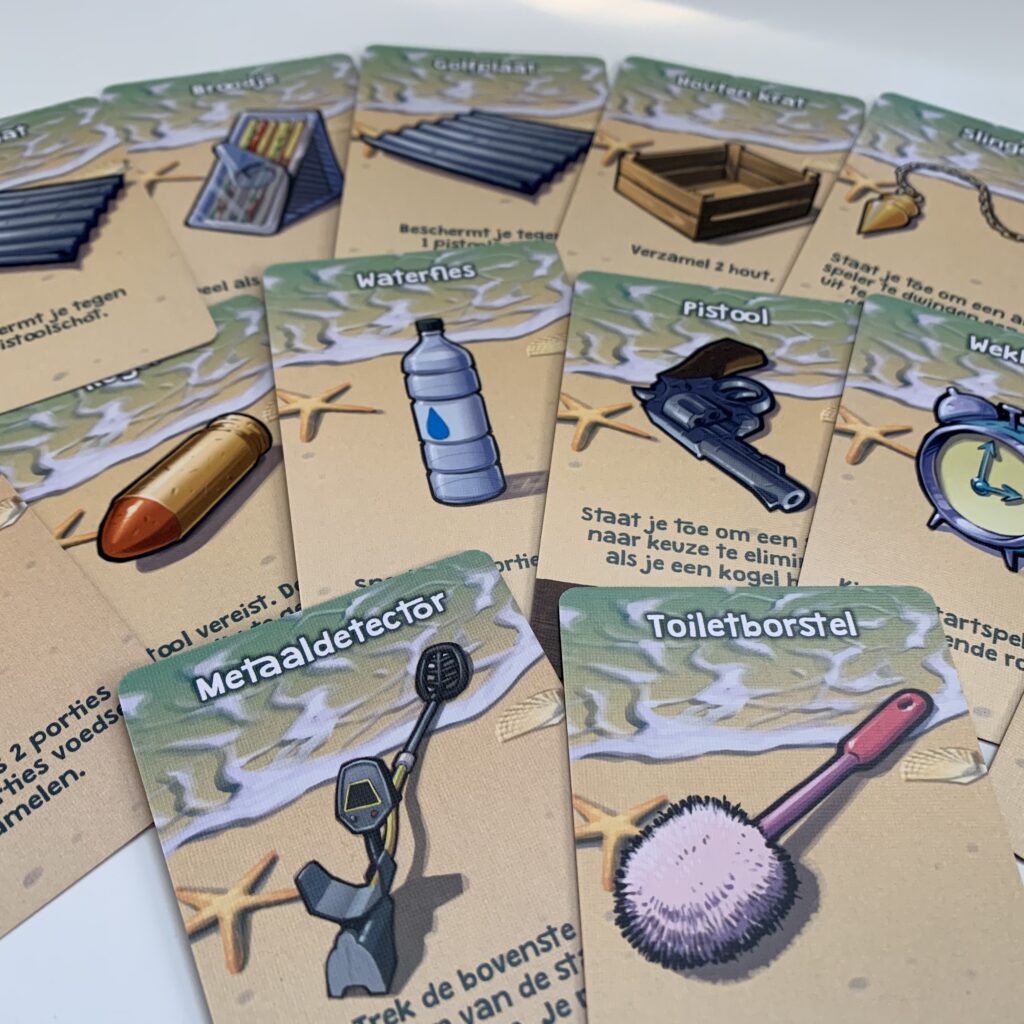 Hellapagos is een grappig partyspel, maar voor de beste spelervaring moet wel met een grote groep gespeeld worden. Met kleine groepjes komt dit spel niet tot z'n recht. Het spel zelf is dan ook alles behalve een onbewoond eiland. In Hellapagos kun je eerst braaf samenwerken, maar na verloop van tijd ontstaat altijd wel Cabin Fever en wantrouw jij je medespelers. Dat wantrouwen is de absolute charme van dit spel. Weet jij te overleven?