Haven't had enough of adventure 'on the road' (or at least the milky way) and are you not yet tired of the space food served at the space refuelling stations? Then it's likely time to go on another space adventure, as there are countless space parcels for you space truckers to deliver. Fortunately, there are new ways to upgrade the galactic trucks to make the long journey a little better (or at least different). Keep on Trucking, Galaxy Truckers!
In Galaxy Trucker, players first build their truck and then go on a space journey without testing the truck extensively first. During the construction phase, players will simultaneously build their space truck by collectively grabbing from a stack of tiles. These tiles contain parts that players can attach to their truck and hopefully ensure that they crawl through (as much as possible) unharmed unfortunately. The player who is the first to "finish" his or her truck is the first to enter space and is therefore also the furthest along the space track. The other players then have limited time to build. As players enter space, they are exposed to various dangers that will possibly – or rather probably – destroy their trucks.
Once all dangers have been cleared, points are awarded. The player who got the furthest (and whose truck did not break down en route due to lack of engines or crew or otherwise) gets the most credits (points). The prettiest ship (fewest open exits) also gets credits and players also get credits for the cargo they managed to transport safely. The player who manages to accumulate the most credits after three rounds wins!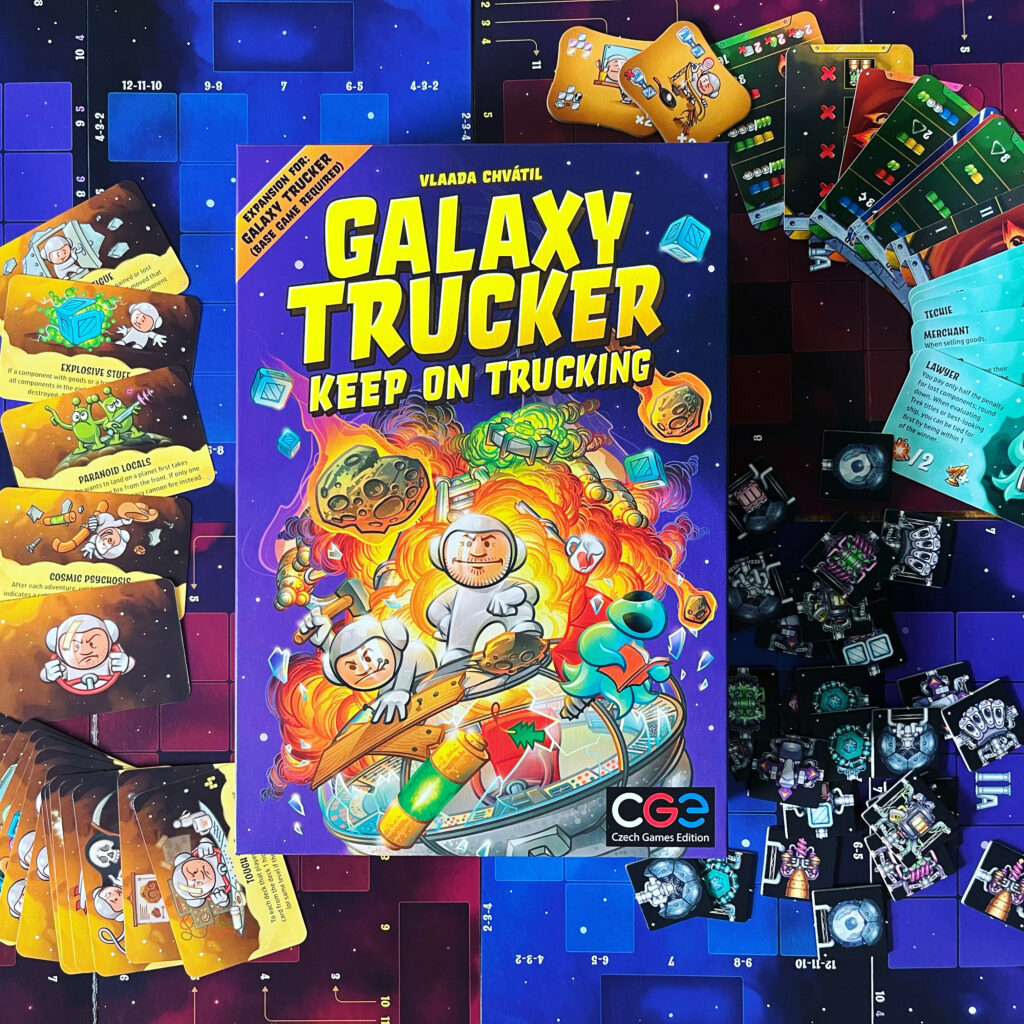 In 2021, Galaxy Trucker was re-released in a beautiful new and convenient format. The game included several fan favourite elements from the base game and its expansions. Keep on Trucking is therefore an expansion for the renewed release of Galaxy Trucker and includes new spaceship blueprints (player boards) and parts (tiles) that allow players to build whole new ships and try out new tactics. Keep on Trucking also includes new hazards and other new adventures that will test players and their ships.
The various game components and game elements of Keep on Trucking can easily be combined with each other and the base game. This allows players to create a version of Galaxy Trucker entirely according to their own preferences. Also, the new game elements mix so easily with the base game that you can easily choose to have the expansion be part of the game at all times. This makes the already varied game even more varied and even richer in experience and is therefore a must have for every Galaxy Trucker owner.