Heb je nog niet genoeg gehad van het avontuur 'on the road' (of althans de melkweg) en ben je het ruimtevoedsel van de talloze ruimtetankstations nog niet zat? Dan is het tijd om wederom op ruimteavontuur te gaan, want er zijn ontelbare ruimtepakketjes die de ruimtetruckers moeten bezorgen. Gelukkig zijn er nieuwe manieren om de galactische vrachtwagens te upgraden om de lange reis wat beter (of in ieder geval anders) te laten verlopen. Keep on Trucking, Galaxy Truckers!
In Galaxy Trucker bouwen spelers eerst aan hun truck en gaan dan vervolgens zonder de truck eerst uitvoerig te testen op ruimtereis. Tijdens de bouwfase gaan spelers tegelijkertijd bouwen aan hun ruimtetruck door gezamenlijk uit een stapels tegeltjes te graaien. Deze tegeltjes bevatten onderdelen die spelers aan hun truck kunnen maken en hopelijk ervoor zorgen dat zij (zoveel als mogelijk) ongeschonden het helaas door laten kruipen. De speler die als eerste zijn of haar vrachtwagentje "af" heeft, mag als eerste de ruimte in en wordt daarom ook als verste op het ruimtespoor geplaatst. De andere spelers hebben dan nog maar beperkt te tijd om te bouwen. Als spelers de ruimte ingaan worden ze blootgesteld aan verschillende gevaren die mogelijk – of eigenlijk eerder waarschijnlijk – hun trucks zullen vernietigen.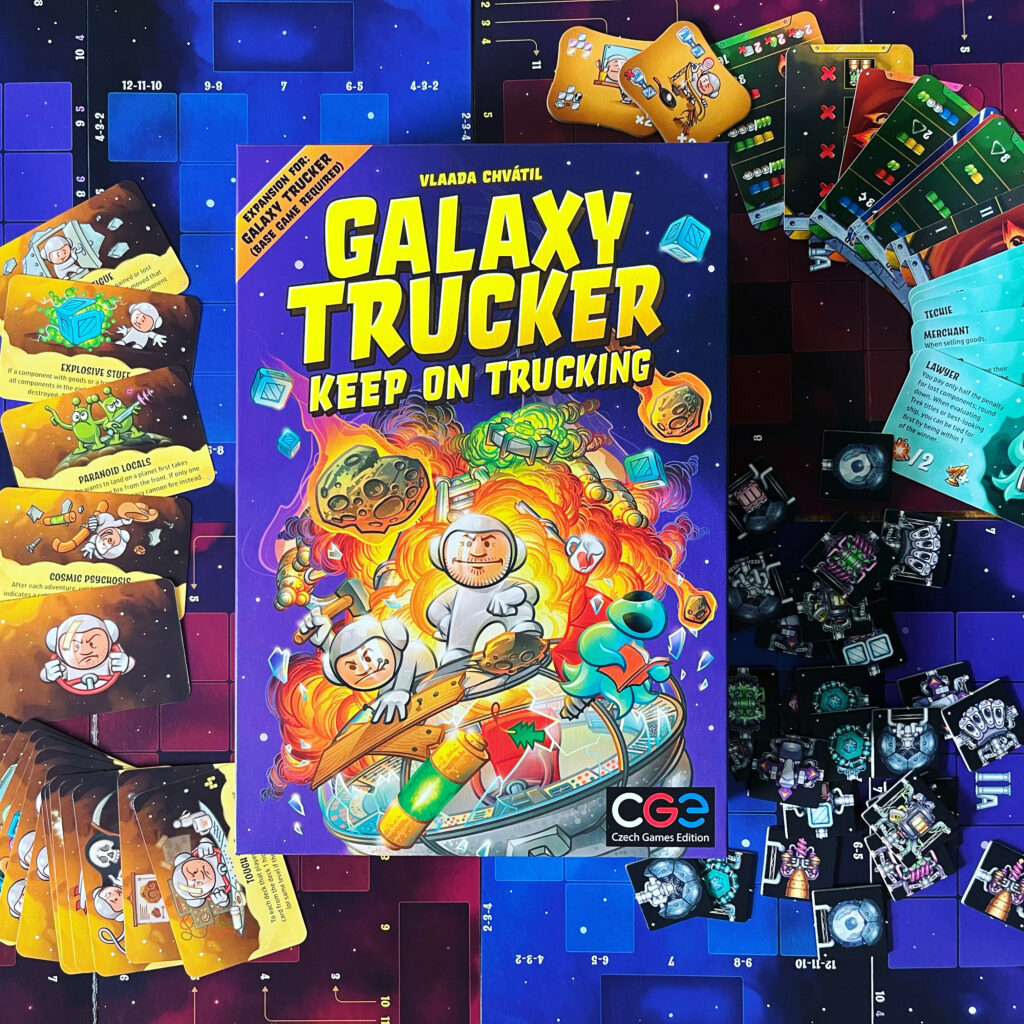 Als alle gevaren geweken zijn worden punten toegekend. De speler die het verste is gekomen (en waarvan de truck niet onderweg is uitgevallen door een gebrek aan motoren of crew of anderszins) krijgt de meeste credits (punten). Het mooiste schip (minste open uitgangen) krijgt ook credits en spelers krijgen ook credits voor de lading die zij veilig hebben weten te vervoeren. De speler die na drie rondes de meeste credits heeft weten te verzamelen, heeft gewonnen!

Vorig jaar werd Galaxy Trucker opnieuw uitgebracht in een prachtig nieuw en handig jasje. Het spel bevatte verschillende fan favourite elementen van het basisspel en de uitbreidingen. Keep on Trucking is dan ook een uitbreiding voor de hernieuwde uitgave van Galaxy Trucker en bevat nieuwe ruimteschipblauwdrukken (spelersbordjes) en onderdelen (tegeltjes) waarmee spelers nieuwe schepen kunnen bouwen en nieuwe tactieken kunnen uitproberen. Keep on Trucking bevat tevens nieuwe kaarten met gevaren en andere nieuwe avonturen die spelers en hun schepen op de proef zullen stellen.
De verschillende spelonderdelen en spelelementen van Keep on Trucking kunnen eenvoudig met elkaar en het basisspel worden gecombineerd. Hierdoor kunnen spelers een versie van Galaxy Trucker samenstellen geheel naar hun eigen voorkeuren. Tevens mengen de nieuwe spelonderdelen zo eenvoudig samen met het basisspel dat je er eenvoudig voor kunt kiezen om de uitbreiding ten alle tijde onderdeel te laten zijn van het spel. Hierdoor wordt het al gevarieerde spel nog gevarieerder en zelfs rijker in ervaring en is daarom een must have voor iedere eigenaar van Galaxy Trucker.