Het jaar is 2182. Neonlichten branden fel, maar het landschap is grijs, bruin en dor en op de achtergrond rifft een scherpe gitaar. In deze neo-futuristische versie van de jaren '80 hebben kwaadaardige aliens, de Zilla, het heelal weten te veroveren. Geheel in stijl moeten 6 geschikte individuen deelnemen aan een een race om de dood. Bewapend met de bruutste auto's, stoere zonnebrillen, ratelende geweren en radicale zonnebrillen proberen deze coureurs de Zilla en hun leider Twisted foOk terug het verre heelal in te schieten. Weet jij als een Mad Max, Frankenstein of Machine Gun Joe de race levend te ontsnappen? Pedal to the (heavy) metal, baby! In Escape Deathrace 2182 "Micro"!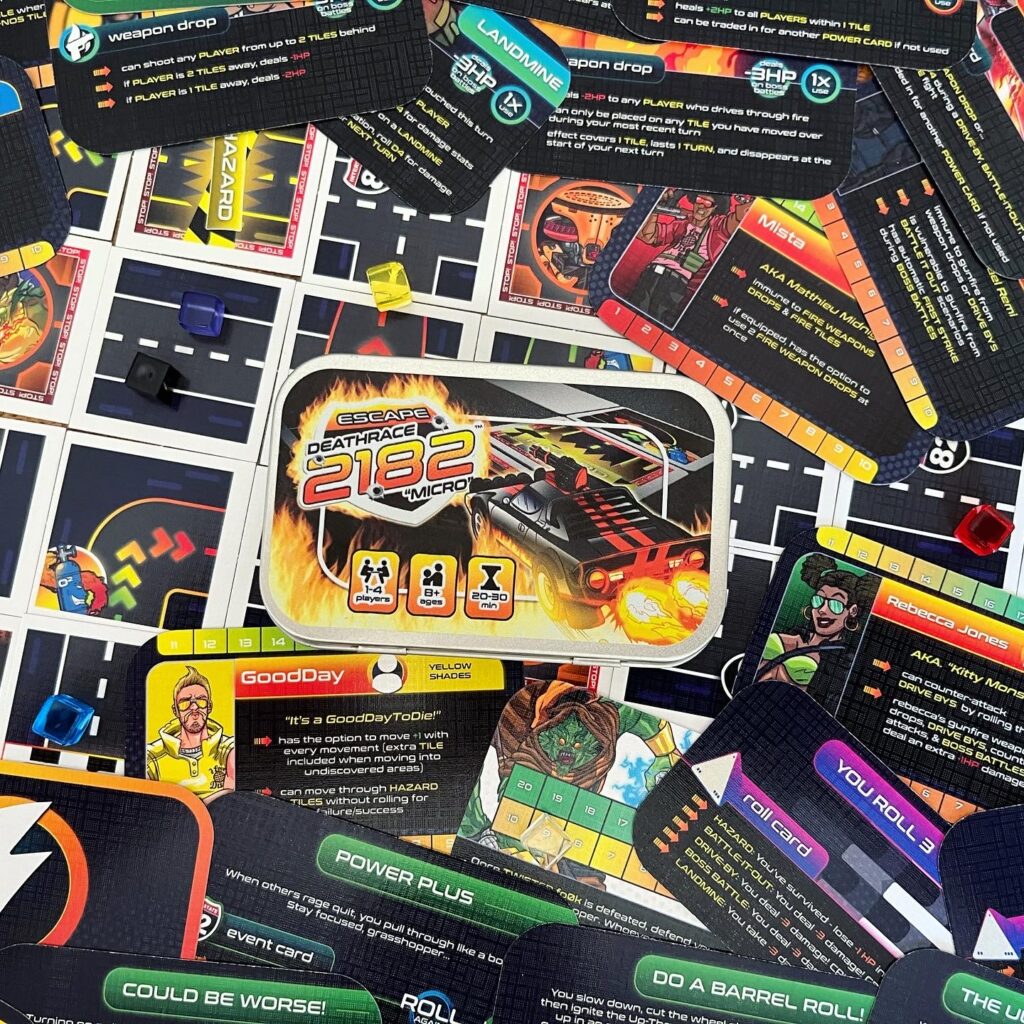 In dit kleine blikje zit een hoop spelmateriaal. Spelers treffen een hoop kaarten, tegeltjes, blokjes en trackers aan om de Deathrace op te zetten. Spelers sorteren de verschillende kaarten en tegels, krijgen ieder een willekeurig personage toegekend en de race kan beginnen. In dit semi coöperatieve spel moeten spelers gezamenlijk de Zilla verslaan, maar slechts een persoon kan levend ontsnappen. Gebruik je wapens daarom ook om je "vrienden" te stoppen in de vele drive-by's die Escape Deathrace 2182 rijk is.
Spelers zullen om de beurt het parcours ontdekken door tegels (stukjes snelweg) te plaatsen en hun auto's te verplaatsen. Aan het begin van de beurt trekt een speler 1 van de D4 kaarten om te bepalen hoeveel tegels getrokken moeten worden en hoeveel tegels een speler mag verplaatsen. Tegels moeten logischerwijs aan elkaar worden geplaatst om weg te verlengen. Op deze wijze ontstaat ieder spel een andere route. Zo zijn speciale wegdelen met speciale effecten. Als een speler op een route 82 tegel belandt, wordt een evenementkaart getrokken met bijzondere gebeurtenissen als gevolg. Bij een gevarentegel moet een speler een D4 kaart trekken met alle gevolgen van dien. Ook kunnen er monsters verschijnen die spelers dienen te verslaan om het spel vorderen.
Spelers die langs een andere speler rijden kunnen een "drive-by" aanval verrichten. Als spelers bij elkaar op een wegtegel eindigen vindt er een "battle-it-out" plaats. Ook voor aanvallen en eventuele verdedigingsacties worden de D4 kaarten gebruikt. De naam D4 gaf het al aan: maar deze kaarten nemen de plaats in van D4-dobbelstenen. Hierdoor past het spel in een klein doosje, maar spelers kunnen uiteraard ook met dobbelstenen spelen. De D4 kaarten bevatten echter wel alle info die een speler nodig heeft! Met speciale wapens en krachten kunnen spelers andere spelers en de aliens schade toedienen. Last one standing, wins!
Escape Deathrace 2182 Micro is een dungeon crawler met een eigenzinnig thema in een handzaam formaat. Net als in dungeon crawlers moeten spelers eerst de dungeon (in dit geval snelweg) ontdekken en verrichten zij om beurten acties om hun vijanden uit te schakelen. Deathrace is daarom ook een aanrader voor liefhebbers van dungeon crawlers, grote spellen in kleine doosjes en radicale racers!