Disney bestaat 100 jaar en het hele jaar staat daarom in het teken van "the House of Mouse". Om het honderdjarige bestaan te vieren, liggen er al verschillende verzamelproducten en speciale en limited editions van allerlei producten en merchandise en ook Disney kon uiteraard niet ontbreken. Zo is er ook Dobble Disney 100 Years of Wonder (hierna: Disney Dobble).
Dobble (ook wel Spot It!) is een immens populair spel waarvan al meerdere edities zijn verschijnen en verschillende spelvariaties. Hoewel Dobble lijkt op dobbel zijn er geen dobbelstenen te bekennen, maar de naam Dobble geeft wel aan wat spelers tijdens dit spel dienen te doen: dobble zien. In Dobble heeft elke kaart verschillende symbolen en spelers mogen (afhankelijk van de spelvariant) kaarten pakken of wegleggen als ze symbolen weten te matchen.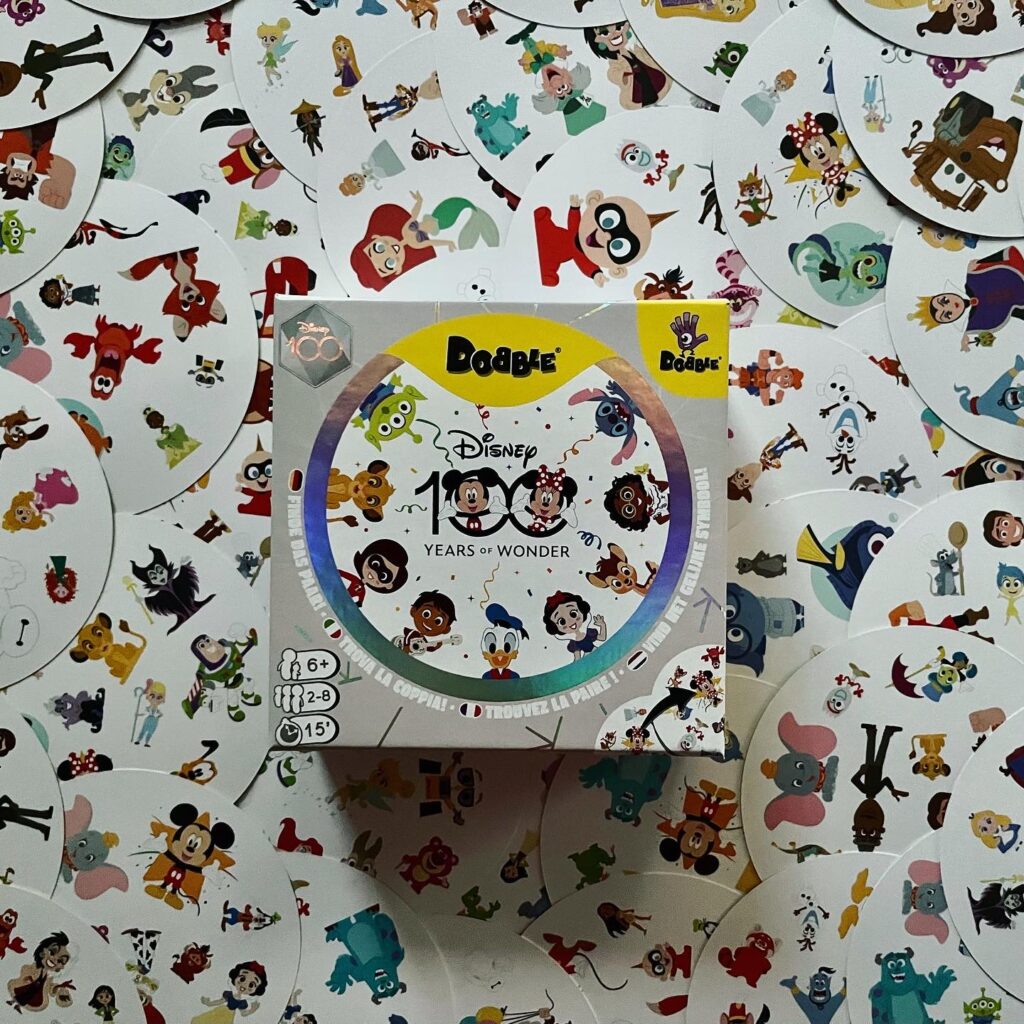 Disney Dobble bevat een flinke stapel kaarten. Elke kaart bevat 9 Disney en/of Pixar-figuren en elke kaart bevat een verschillende samenstelling met verschillende figuren, waarbij de figuren die op de kaart staan afgebeeld ook per kaart weer in grootte verschillen. Twee kaarten hebben altijd precies één figuur gemeen. Voor iemand die slecht is met rekenen of Excel een rekenwondertje.
Disney Dobble bevat verschillende spelvarianten die allemaal net iets anders worden gespeeld en zelfs een uniek spelvariant waarbij Minnie en Mickey een bijzondere rol innemen. In de basis verloop elke variant van Dobble hetzelfde. Er worden kaarten omgedraaid (vaak hebben spelers al een kaart in hun hand) en zij dienen de figuren op twee kaarten te matchen. In bepaalde spelvarianten proberen spelers als eerste hun kaarten af te leggen door deze te matchen met kaarten op tafel en in andere spelvarianten proberen spelers juist de meeste kaarten te verzamelen. In totaal bevat de handleiding van Disney Dobble 5 varianten (minigames.)
Dobble is een grappig en snel partyspelletje waarbij spelers al snel dubbelzien, maar lang niet altijd Dobble. Dit soort snelheidsspelletjes doen het altijd goed bij groepjes feestbeesten, families en kinderen. Deze editie van Dobble is perfect voor de Disney-fans, maar de leken kunnen al snel de namen van de personages onthouden door de handige bijlage waarbij alle verschillende personages staan vermeld. Wil je een ander spelconcept leren kennen met hetzelfde Dobble-mechanisme? Probeer dan ook eens Dobble Connect!