Vier op een rij, maar dan vermakelijk chaotisch? Het lijkt wel alsof ik Dobble zie!
Zie ik inderdaad Dobble?
De kans is vrij groot dat je bekend bent met het kaartspel Dobble (Spot It! in Amerika), met de kenmerkende ronde kaarten en het kenmerkende blikje waar dit spel in wordt verkocht. In het originele Dobble heeft elke kaart een een aantal verschillende symbolen, waarvan de samenstelling van de symbolen en ook de grootte van symbolen per kaart verschilt. Twee kaarten hebben altijd precies één symbool gemeen. Er zijn verschillende spelmechnismes, maar in de meest gespeelde varianten moeten of spelers hun handkaarten als snelste uitspelen door symbolen te matchen op tafel of spelers moet als snelste de overeenkomsten tussen opgedraaide kaarten vinden. Spelers spelen dit partyspel tegelijkertijd wat natuurlijk voor chaos, hysterie en hilariteit zorgt.

Pasgeleden is ook Dobble Connect verschenen. Dobble Connect combineert het vertrouwde Dobble met het vertrouwde vier op een rij. Geen ronde kaarten die spelers op tafel gaan smijten, maar zeshoekige kaarten die spelers zo snel mogelijk gaan aanleggen? Wat heeft dit met Dobble te maken? Nou alles want het gaat er nog steeds om zo snel mogelijk een overeenkomsten tussen plaatjes te herkennen.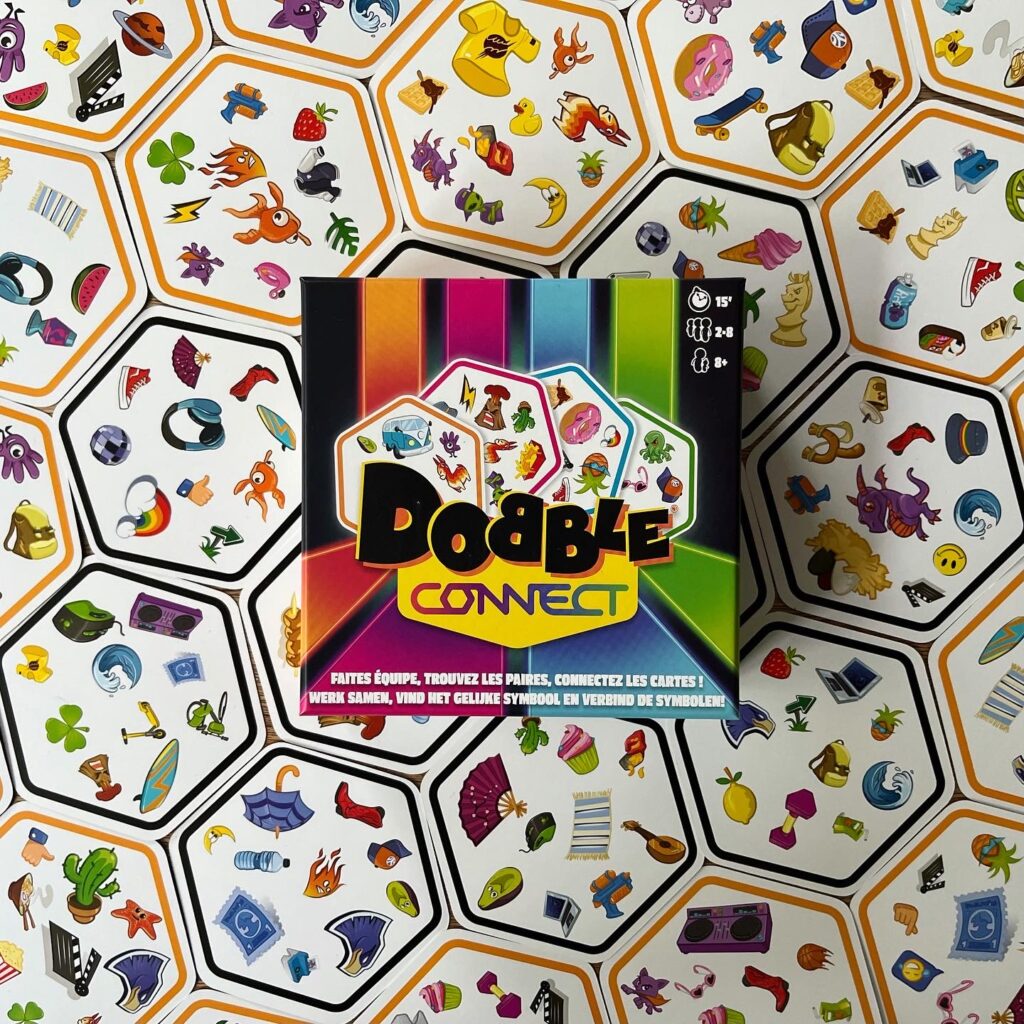 Spelopzet en spelverloop
Het doosje van Dobble Connect bevat 5 stapels met kaarten. Een klein stapeltjes startkaarten met een zwarte rond en vier stapels met ieder ene kleurrijke rand. Elke speler of team krijgt een stapel in de overeenkomstige kleur. In het geval van teams worden de kaarten verdeeld over de teamgenoten. Er wordt een startkaart open of tafel geplaatst en spelers zijn klaar om de eerste ronde te spelen.
Spelers draaien tegelijkertijd een kaart open en proberen een match te vinden met een van de symbolen tussen hun kaart en een van de kaarten die in het midden van de tafel ligt. Aan het begin van een ronde ligt uiteraard nog enkel de startkaart van die ronde open. Als een speler een match heeft, geeft deze speler dat aan en plaats vervolgens diens kaart aan een lege zijde van de kaart waar de match hebben gevonden. Deze speler draait een nieuwe kaart open en spelers spelen verder.
Er verschijnen op deze manier steeds meer kaarten op tafel en ook steeds meer mogelijkheden om te matchen. Zodra een speler of team vier van hun kaarten op een rij weten te plaatsen, heeft die speler of dat team de ronde gewonnen. De winnaar krijgt de startkaart als punt en spelers nemen de kaarten in hun kleur terug op hun stapel, maar de winnaar van een ronde krijgt kaarten van andere spelerskleuren afhankelijk van hoeveel punten ze tot dan toe hebben gewonnen. Op deze manier krijgt een speler of team ook kleuren van andere spelers en helpen ze andere spelers mogelijk met rijen te maken. Spelers zijn verplicht om een kaart te spelen.
Speleinde en oordeel
Zodra een speler of team voldoende punten heeft, heeft deze speler of dit team gewonnen. Dobble Connect combineert een beproefd partyspel met een vertrouwd spelmechanisme. De combinatie is een zeer leuke variatie op Dobble en een vermakelijk partyspel. Het zal goed in de smaak zal vallen bij families met jonge spelers en studentenhuizen.