NL: Wie had verwacht dat een gevaarlijke T-rex razende uitbarstingen had, heeft nog nooit een oeroude vulkaan gezien. In Dino Race proberen de dino's weg te rennen van een uitbarstende vulkaan. Ontspring jij de lavadans of wordt de lava je te heet onder de poten?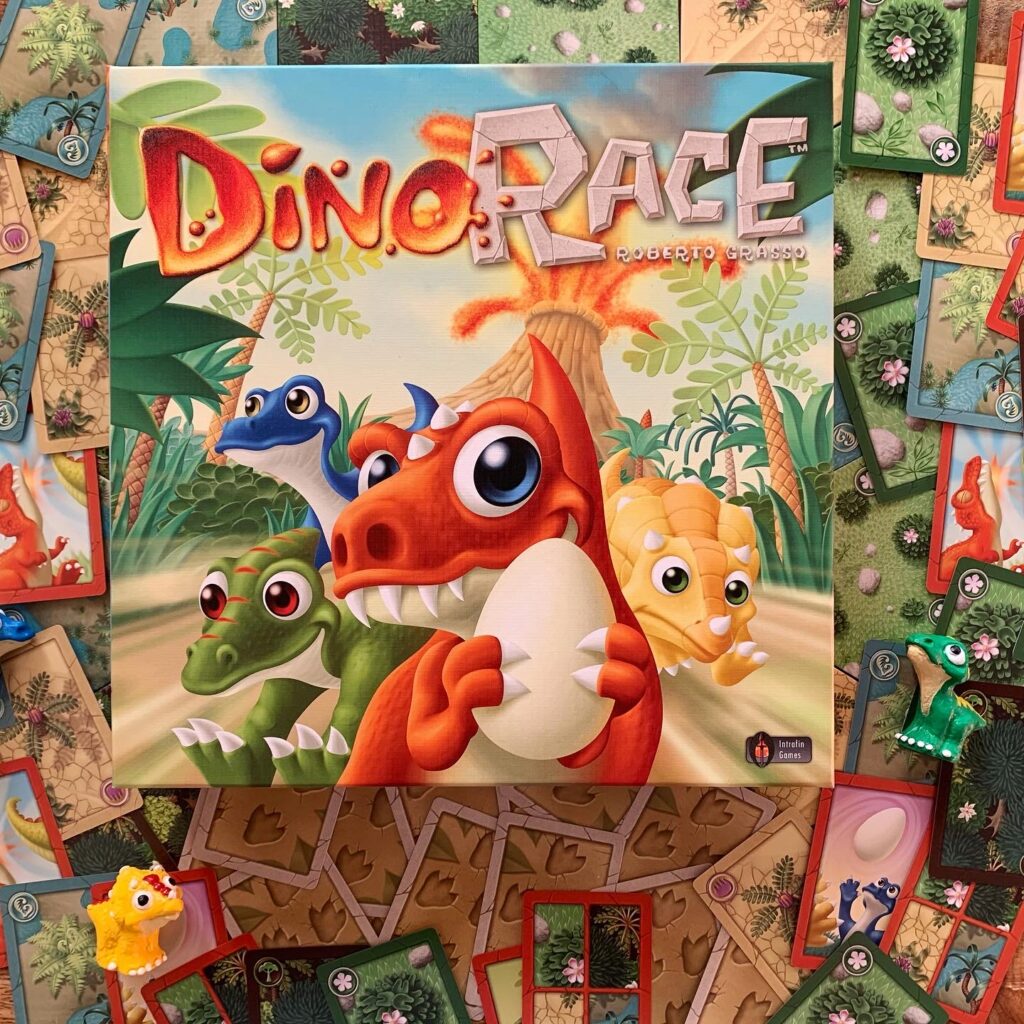 In Dino Race racen de spelers over verschillende typen terrein. Door kaarten af te leggen proberen ze snel vooruit te gaan en hun tegenstanders te blokkeren. Door een handkaart van het volgende terreintype af te leggen, mag je een van je twee dino's verplaatsen. Bereik je het einde van het parcours met een je van dino, dan ontvang je een prijs (punten). Als je het ei vast hebt als je over de finishlijn schiet, ontvang je extra punten en is het spel voorbij. Naast verplaatsen heb je ook kaarten om van je tegenstander te stelen, het ei als een hete aardappel over te gooien en om andere dino's een mep te geven met je staart. Tijdens een beurt mag een speler zoveel kaarten spelen als hij of zij kan, maar daarna moet de dobbelsteen worden geworpen. De dobbelsteen kan extra kaarten opleveren, maar ook de vulkaan laten uitbarsten. Tijdens de uitbarsting moet de speler met het ei kaarten afleggen en een lava fiche pakken. Als de vulkaan uitbarst stroomt de lava steeds verder door het parcours. Belandt jouw dino op lava, dan ontvang je een lavafiche. Lavafiches leveren aan het einde van het spel minpunten op. De speler met de meeste punten wint! De rest eindigt zoals de dino's…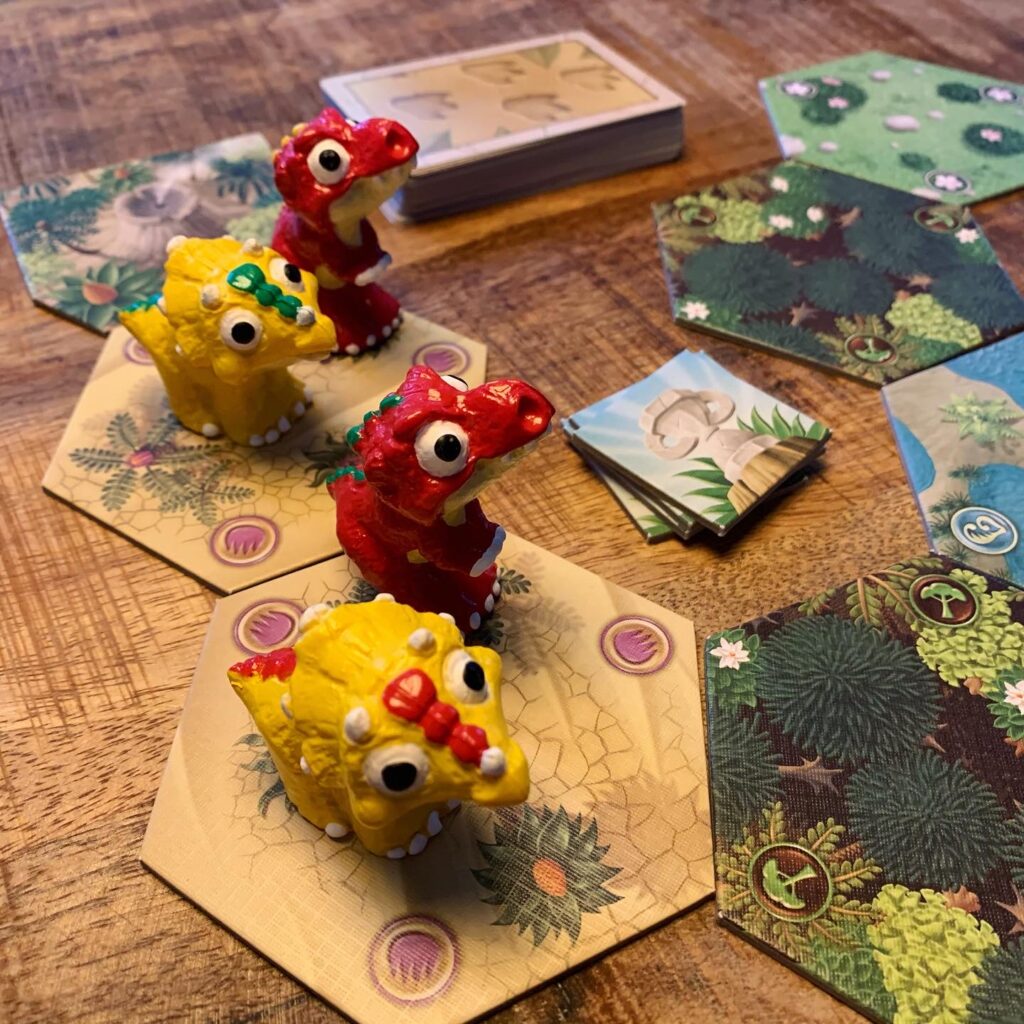 Dino Race is en erg eenvoudig spel gericht op de jongere speler. Door de hoge geluksfactor en het simpele spelmechanisme is het minder geschikt voor ervaren borgspelers. De allerkleinsten onder ons zullen zich amuseren met het verplaatsen van de figuren over het speelveld en de spanning van de vulkaan.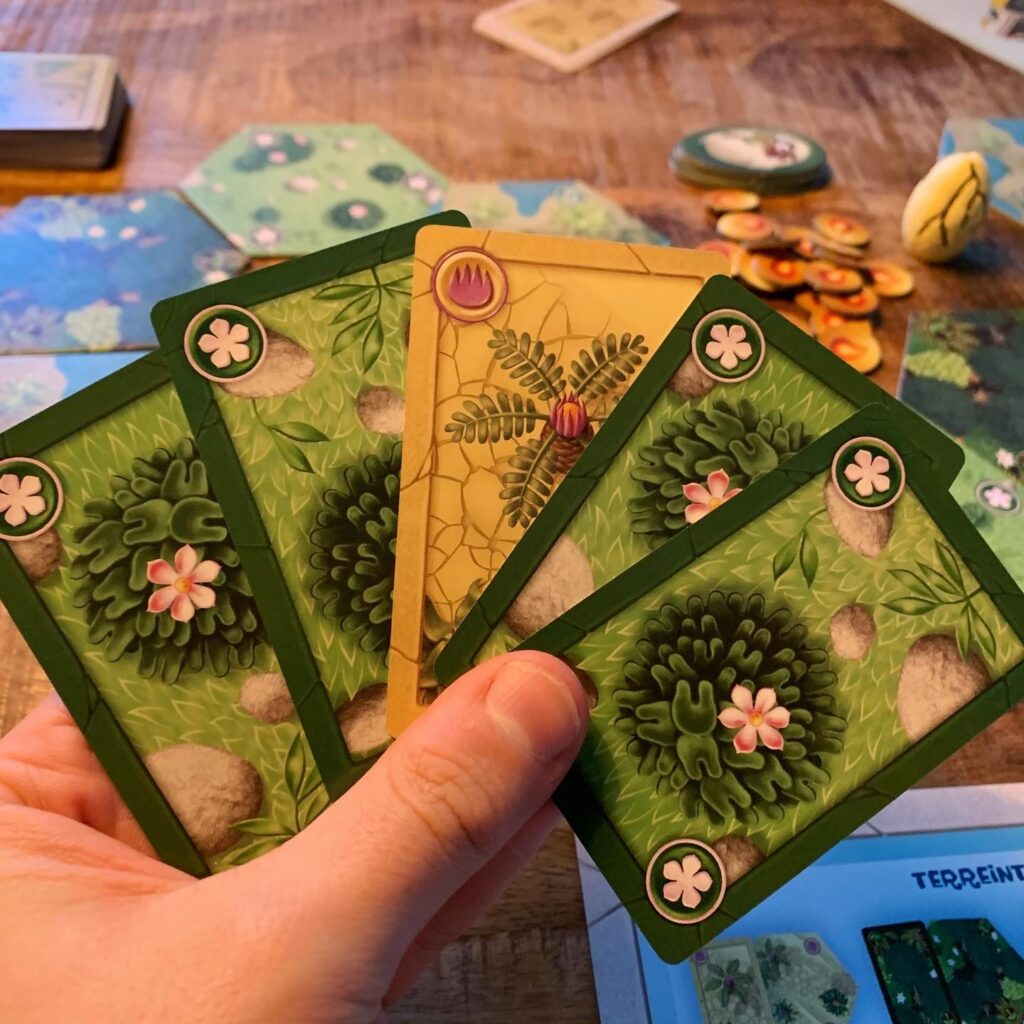 EN: Whoever expected a dangerous T-rex to have raging eruptions has never seen an ancient volcano. In Dino Race, the dinosaurs try to run away from an erupting volcano. Can you escape the lava dance or is the lava too hot for you?
In Dino Race, players race over different types of terrain. By playing cards, they try to move forward quickly and block their opponents. By playing a card of the next terrain type, you can move one of your two dinos. If you reach the end of the track with one of your dino's, you will receive a prize (points). If you are holding the egg when you cross the finish line, you receive extra points and the game is over. Besides moving, you also have cards to steal from your opponent, to throw over the egg like a hot potato and to hit other dino's with your tail. During a turn, a player may play as many cards as he or she can, but then the die must be rolled. The die can bring extra cards, but it can also make the volcano erupt. During the eruption, the player with the egg must discard cards and take a lava tile. When the volcano erupts, the lava flows further and further along the track. If your dino lands on lava, you receive a lava tile. Lava tiles earn you minus points at the end of the game. The player with the most points goes to victory! The others the way of the dinosaurs…
Dino Race is a very simple game aimed at the younger player. The high luck factor and simple game mechanics make it less suitable for experienced borg players. The youngest among us will enjoy moving the figures around and the excitement of the erupting volcano.