ATTENTION! MARCH FORWARD! In Dice Command van Ejected Planet voer jij de bevelen uit en gebruik je dobbelstenen als werkers en soldaten de strijd om het slagveld. Weet jij de oorlog te winnen of is jouw overwinning AWOL?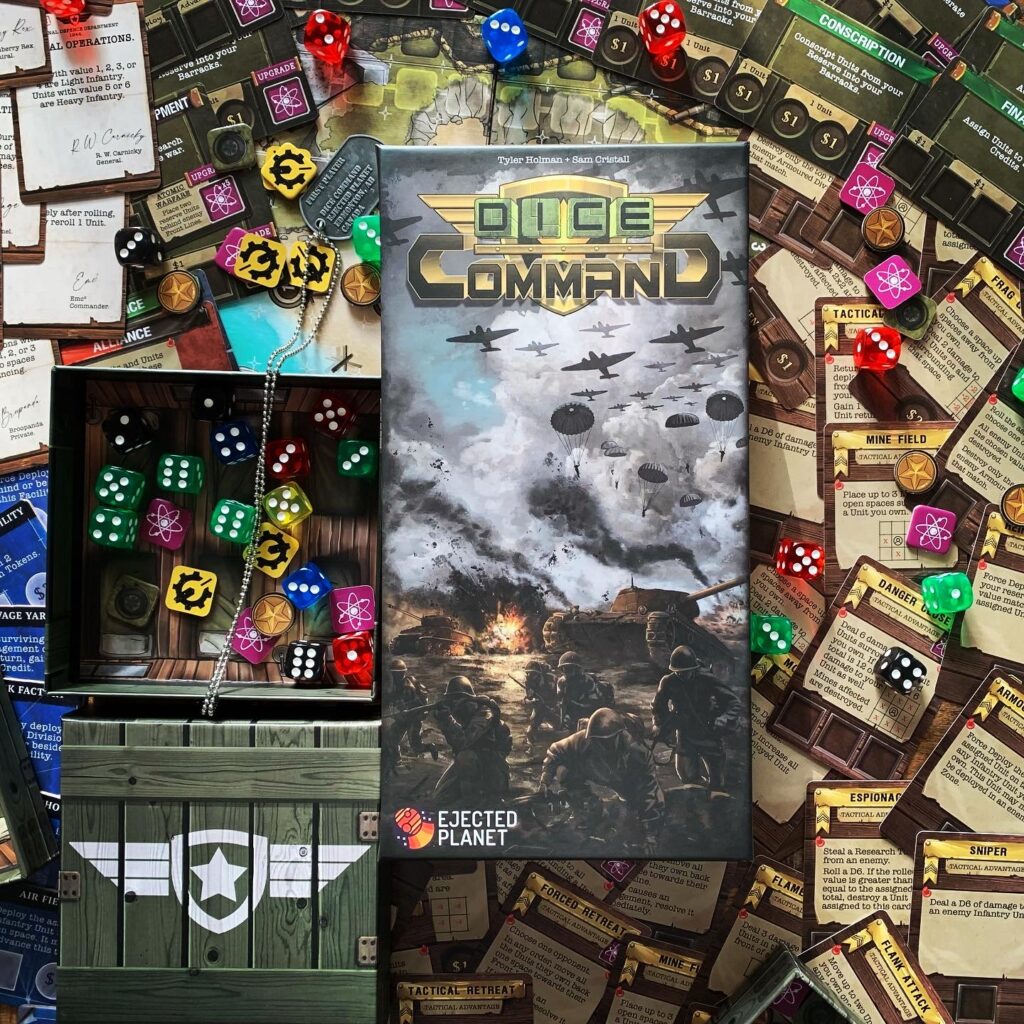 In Dice Command rollen spelers om de beurt hun beschikbare dobbelstenen en voeren met deze dobbelstenen en andere grondstoffen (mag je soldaten grondstoffen noemen?) acties uit door ze op verschillende kaarten te plaatsen. Zo kun je geld verdienen om andere acties te financieren, soldaten naar de frontlinies van het slagveld sturen, soldaten rekruteren en nog vele andere acties. Er zijn aties beschikbaar op je eigen command kaarten, maar er is ook een gedeelde stapel kaarten waarvan drie acties open liggen en telkens de acties worden ververst als deze gebruikt worden of indien een beurt is afgelopen.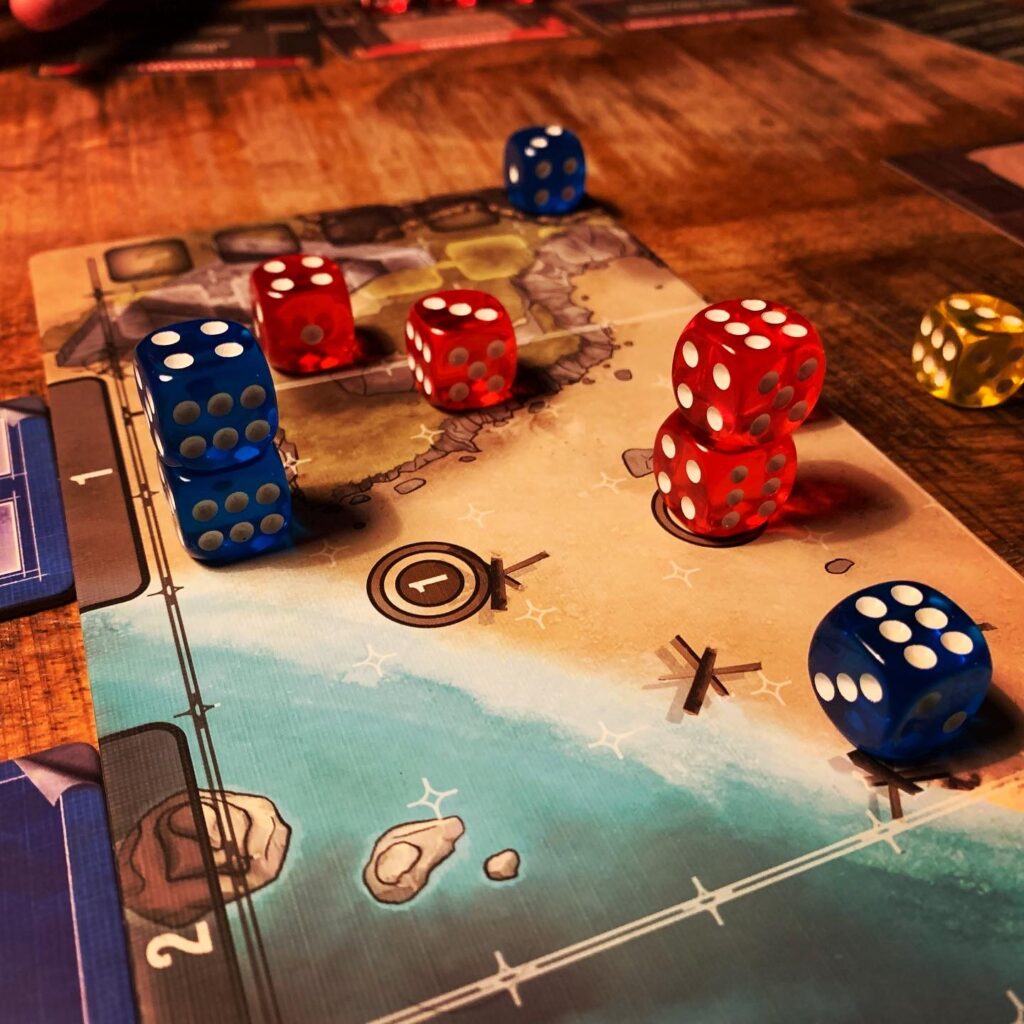 Spelers kunnen hun eigen actiekaarten verbeteren door onderzoek te doen en met onderzoek kunnen ze zelfs een atoombom ontwikkelen om tij van de slag te keren!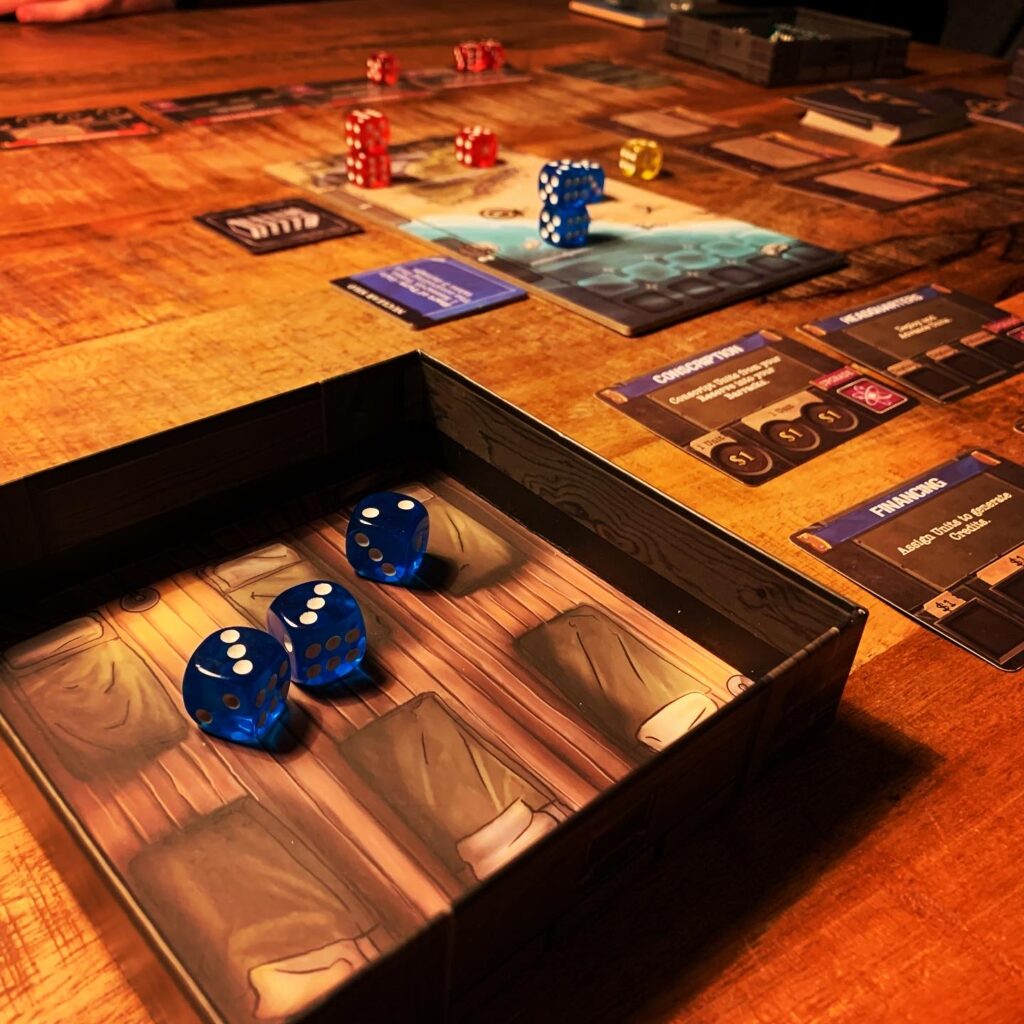 Uiteindelijk zullen spelers door acties soldaten op het slagveld plaatsen. De waarde van de geplaatste dobbelsteen geeft de rang aan en tevens de sterkte. Zware infanterie of bepantserde soldaten (twee gestapelde dobbelstenen) zijn sterker, maar minder wendbaar dan de lichte infanterie. Indien je een andere soldaat treft zullen de waardes van de dobbelstenen met elkaar worden verrekend (afgerekend?). Zo kan het nog weleens zinvol zijn om je dubbelkrachten op te offeren om naderend sterker kwaad af te zwakken. Slechts collateral damage… Deze dobbelstenen zijn gelukkig makkelijke te vervangen.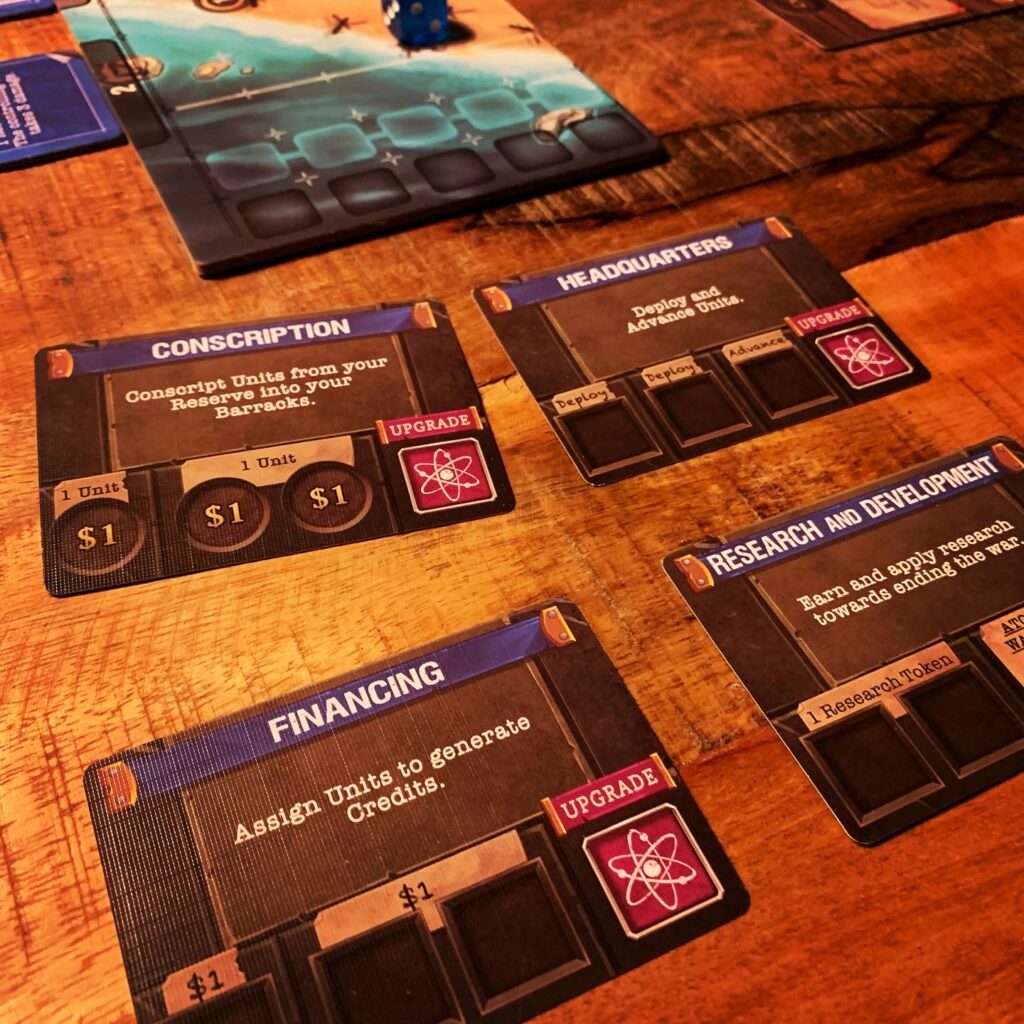 Spelers verplaatsen hun dobbelstenen al vechtend over het slagveld en hopen "behind enemy lines" te komen. Lukt het jou om genoeg soldaten daar te krijgen: dan win je het spel! Dice Command is een luchtig spel met een zware thematische saus eroverheen gegoten. De juiste acties op de juiste momenten nemen is erg leuk, maar de geluk van de dobbelstenen en de verschillende kaartes zorgt ervoor dat het niet enkel planning is en beide spelers een kans maken. De vele kaartjes zorgen er soms ook voor dat het spel wat minder gebalanceerd aanvoelt, omdat sommige acties (zoals het plaatsen van mijnen of saboteren van acties) niet altijd beschikbaar zullen zijn in ieder potje. Daarnaast voelt het gebruik van onderzoek als de winnende strategie en zal de race naar het ontwikkelen van een atoombom vaak een regelrechte wapenwedloop zijn. Al met al een leuk spel voor liefhebbers van worker placement, strategische war games en een beetje geluk!