Laat de innerlijke pyromaan in je los en steek alles wat je maar kan vinden in de fik om je hart wat warmer te krijgen. Overleef jij de Coldest Night van Indie Boards & Cards? Is het spel een kille bedoening of staat het in vuur en vlam?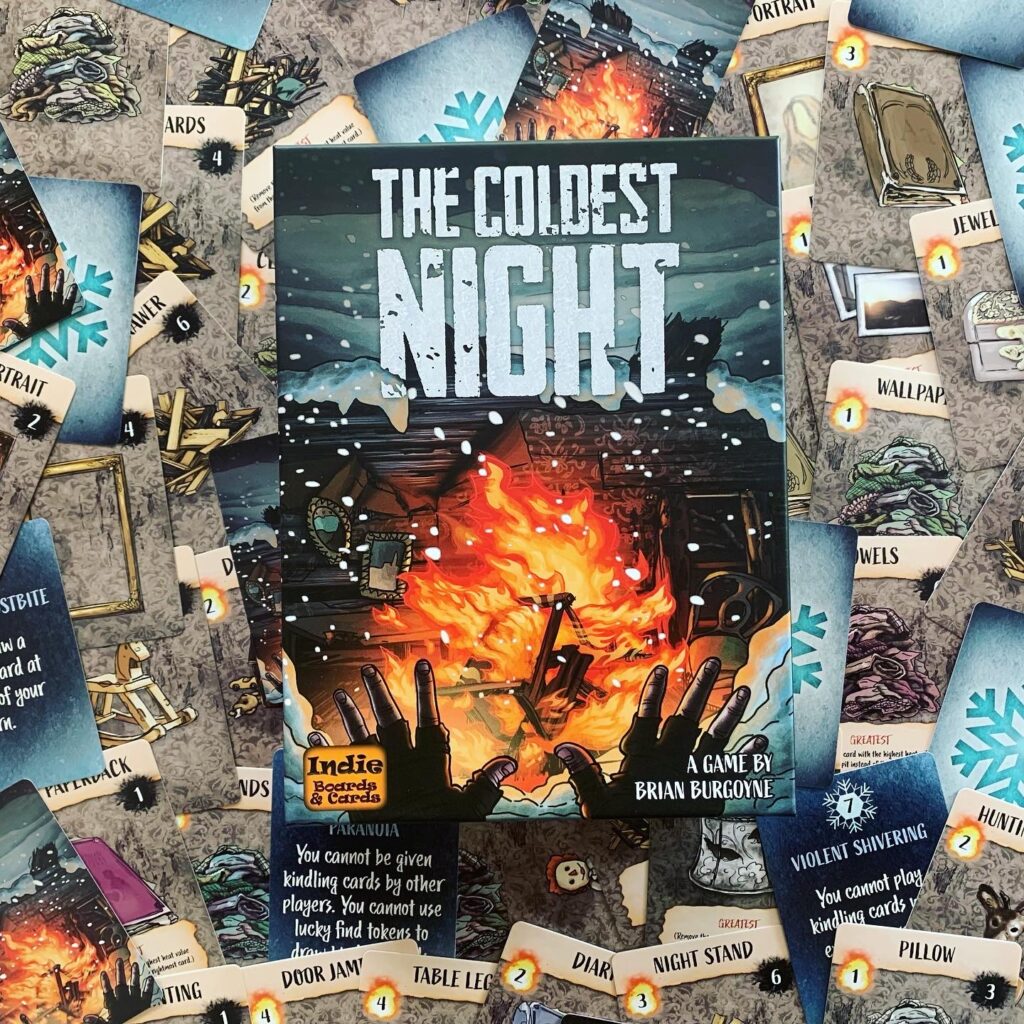 Het is de koudste nacht aller tijden. Jullie zijn ingesneeuwd, de beschutting is deels ingestort en de verwarming en andere voorzieningen hebben het begeven. Om de nacht te overleven, moeten jullie je warm zien te houden. Pak alles wat brandbaar is en probeer het vuurtje gaande te houden. Oude dagboeken, antieke meubels, speelgoed met herinneringen? Geen brandende kwestie! Gooi maar op de stapel, want alles gaat in de fik! Alles in de fik zetten, zorgt er niet voor dat jullie uit de spreekwoordelijke brand zijn, want het vuur dooft zich in een razend tempo en jullie kunnen niet klakkeloos voorwerpen op het vuur gooien. Daarnaast krijgt ook de kou mogelijk een vat op jullie…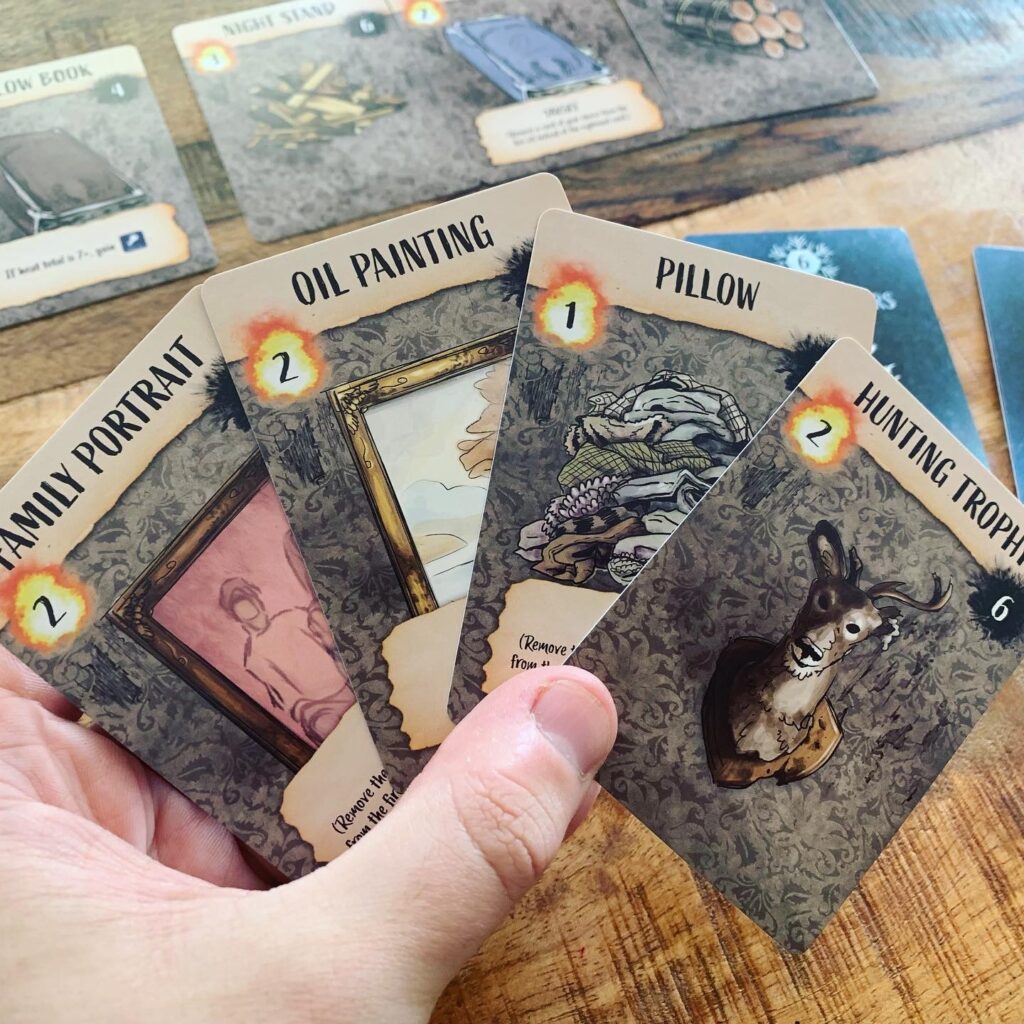 In Coldest Night, een coöperatief spel dat ook solo kan worden gespeeld, kun je in een beurt voorwerpen (kaarten) sprokkelen of voorwerpen (kaarten) op het vuur gooien. Het vuur moet sterk genoeg zijn, wil je voorwerpen kunnen toevoegen. Je kan namelijk pas een kast op het vuur gooien als het vuurtje al groot genoeg is. Er kunnen maar maximaal vier kaarten in het vuur liggen en na een beurt verdwijnt de rechter kaart weer uit het vuur. Grote voorwerpen maken het vuur wellicht tijdelijk groter, maar het vuurt dooft zich net zo hard. Sommige kaarten hebben positieve of negatieve effecten op het spelverloop. Speel je kaarten dus slim uit.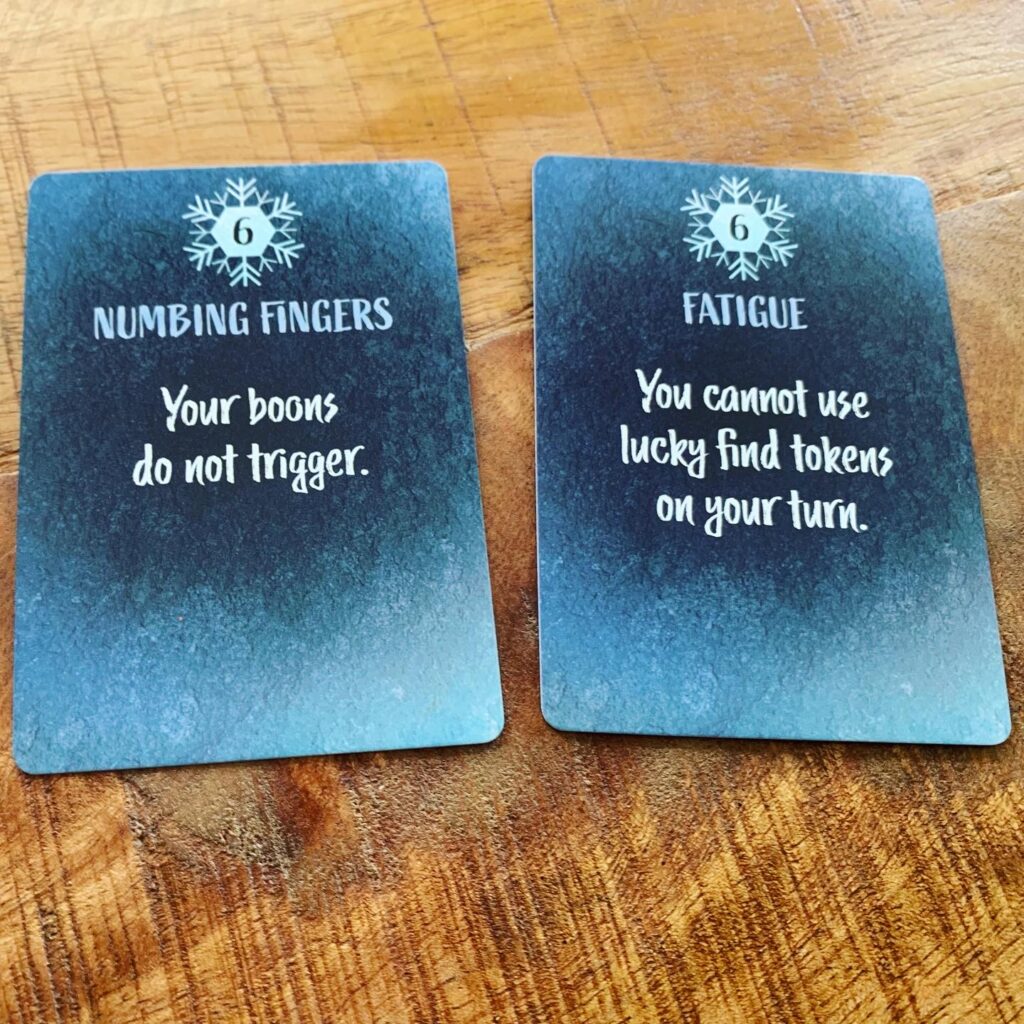 Liggen er te weinig kaarten in het vuur? Dan krijgt de actieve speler last van bevriezing. Dit zijn negatieve effecten die voortduren terwijl de speler het te koud heeft. Wakker het vuur dus snel weer aan.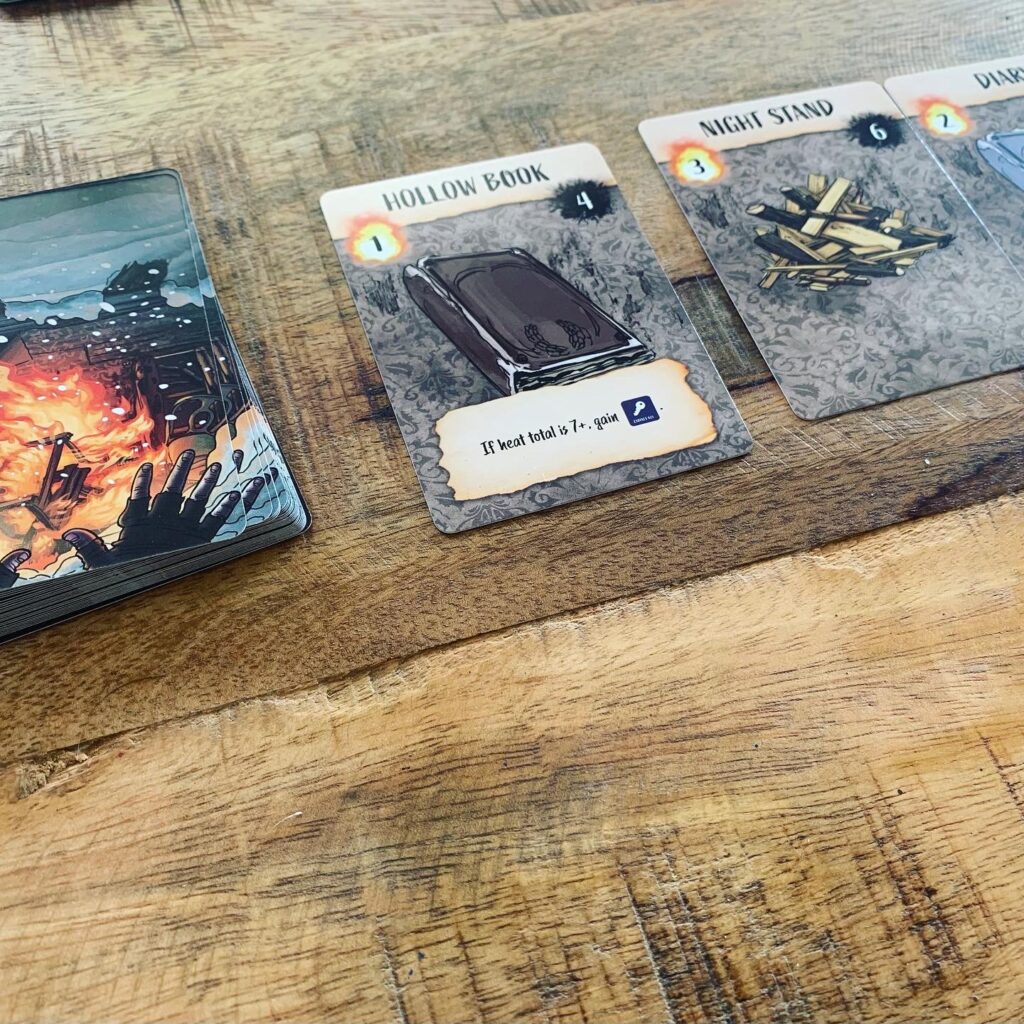 Coldest Night doet mij wat denken aan spellen zoals Tranquility, The Game of The Mind. Kaarten moeten slim worden uitgespeeld en het spel wordt gewonnen als er voldoende kaarten zijn uitgespeeld. Het is dus een race tegen de klok om de nacht te overleven. Het thema van het spel vind ik erg leuk en het spel is grappig om af en toe als solo-uitdaging erbij te pakken, maar er ontbreekt variatie. Het thema vlamt, maar het spel loopt op termijn mogelijk met een sisser af.