Nederlands
Claim jij de meeste volgelingen en facties om zo jezelf als koning te kunnen benoemen in Claim van @whitegoblingames? Claim is een slagenspel voor twee spelers dat in twee fases wordt gespeeld. In de eerste fase proberen spelers slagen te winnen om zo volgelingen (kaarten) te bemachtigen om in de tweede fase in te zetten. In de tweede fase spelen de spelers vervolgens voor de winst. Wederom levert elke slag kaarten op. In Claim heeft elke factie speciale eigenschappen. De speler die aan het einde van het spel de meeste facties voor zich heeft geclaimd, wint het spel!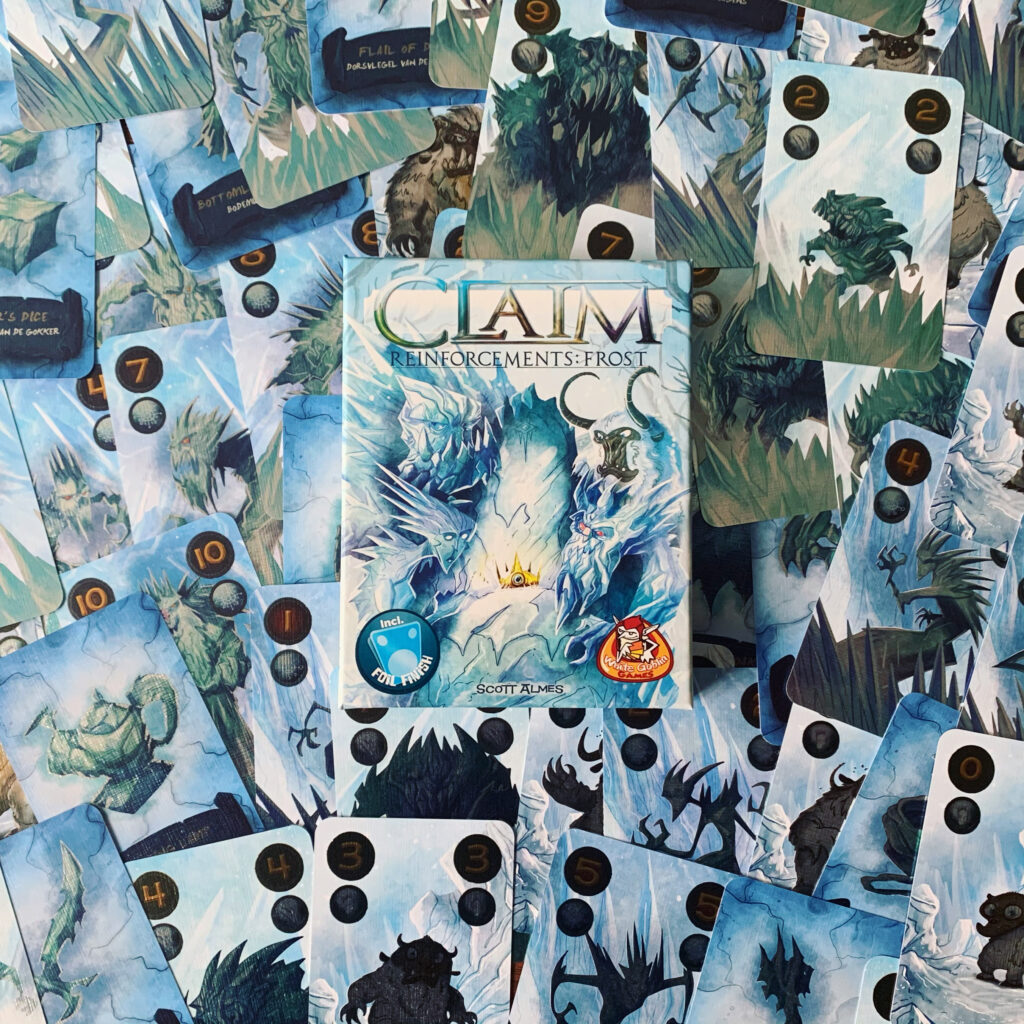 In de uitbreiding Claim Reinforcements: Frost proberen spelers bibberend de facties van de ijslanden te claimen: de ijskoningen en koninginnen, de vorstmonsters en de Yeti's. Indien spelers de ijskoningen en ijskoningen voor zich winnen, moeten ze oppassen dat gewonnen kaarten met dezelfde waardes elkaar opheffen: de vorst vorsten treden namelijk in het huwelijksbootje en rennen met elkaar weg! Vorstmonsters zijn zo sterk dat ze in Fase 2 een van de gewonnen kaarten vernietigen. Yeti's zijn barmhartig en als je een Yeti speelt, moet de andere speler de volgende beurt beginnen.
Frost bevat ook nieuwe artefacten: speciale kaarten die jij tijdens het spel kan inzetten om je tegenstander koud te maken.
Frost is een leuke uitbreiding op een van mijn favoriete slagenspellen. De uitbreiding laat je niet in de kou staan en brengt meer variatie aan dit al gevarieerde spel. Alle kaarten zijn shiny en alhoewel deze glimmende kaarten erg cool zijn, moet je hierdoor wel met juiste verlichting spelen. Wellicht het noorderlicht?
Vriendelijk ter beschikking gesteld door de uitgever.
ENGLISH
Do you claim most followers and factions in order to be named king in Claim of @whitegoblingames? Claim is a two-player, two-phase trick taking game. In the first phase players try to win tricks in order to get followers (cards) to use in the second phase. In the second phase the players then play to win. Again, each trick yields cards. In Claim every faction has special characteristics. The player who has claimed the most factions at the end of the game, wins the game!
In the expansion Claim Reinforcements: Frost players shiveringly try to claim the factions of the ice lands: the ice kings and queens, the frost monsters and the Yetis. If players win the Ice Kings and Ice Kings in front of them, they have to be careful that won cards with the same values cancel each other out: the monsterly monarchs get married and elope! Frost monsters are so strong that they destroy one of the won cards in Phase 2. Yetis are merciful and if you play an Yeti, the other player must start the next turn.
Frost also contains new artifacts: special cards that you can use during the game to cool your opponent.
Frost is a nice addition to one of my favorite trick taking games. The expansion does not leave you out in the cold and brings more variety to this already varied game. All the cards are shiny and although these shiny cards are very cool, you have to play with proper lighting. Maybe the northern lights?
Review copy kindly provided by the publisher!