NL: Chronicles of Crime, van @luckyduckgames en in het Nederlands uitgegeven voor @999games, is een van mijn favoriete serie aan solo en coöperatieve spellen. In deze spellen kruip je in de huid van een onderzoeker (in dit geval van een misdaadjournalist) en probeer je moorden, diefstallen en andere misdrijven en mysteries op te lossen. Net als Chronicles of Crime: 1400 gaan we in Chronicles of Crime: 1900 gaan we een paar jaar terug in de tijd. Niet zover als het jaar 1400, maar toch al meer dan 100 jaar geleden. Net als in 1400 gaan we wel wederom een bezoekje brengen aan Parijs en er zijn nog steeds meer dan voldoende misdrijven om op te lossen en gelukkig minder papierwerk dan bij modern detectivewerk (alhoewel een journalist nog wel een stukje moet schrijven…) Aan de slag, speurneuzen!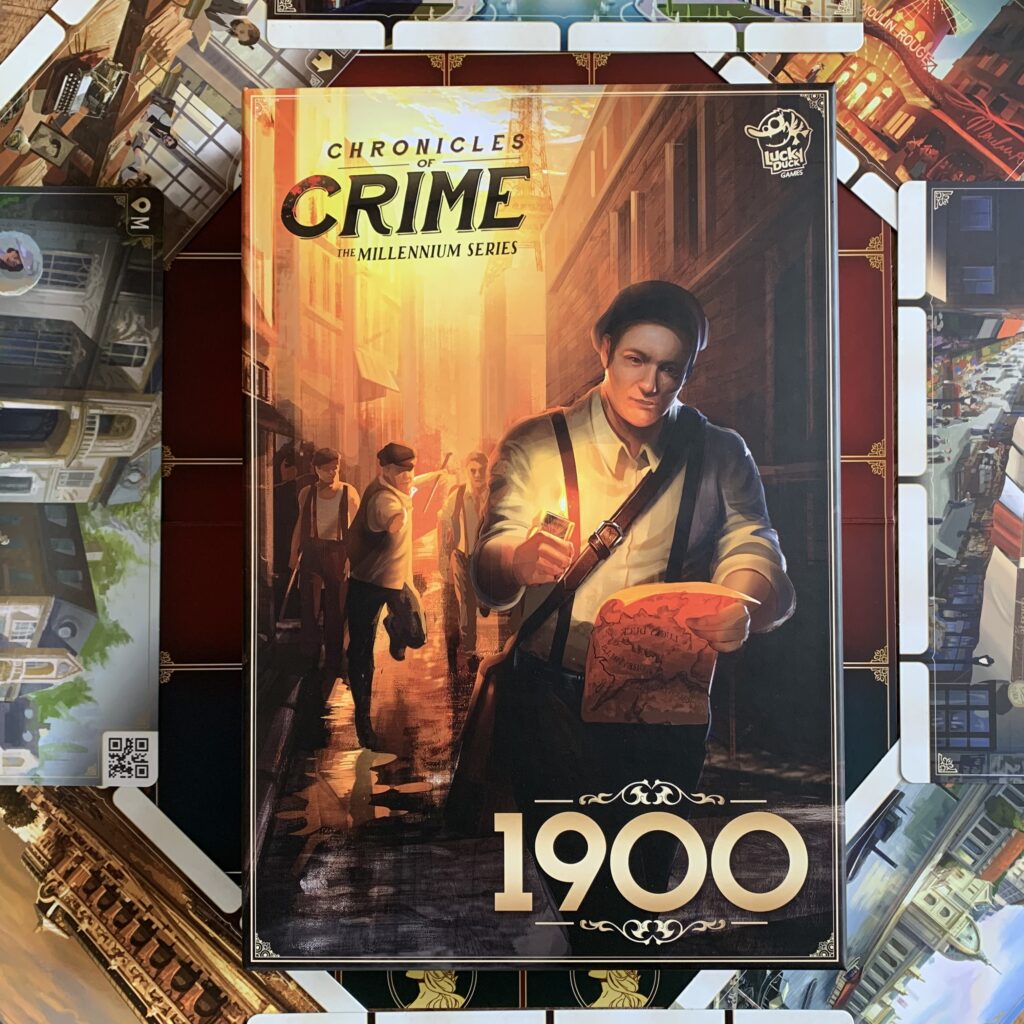 Jullie nemen gezamenlijk de rol aan van een misdaadjournalist. Ook nu zijn jullie uitgerust met een spelbord, een stel kaarten en locaties die je met een app op je telefoon of tablet moet scannen. Samen met deze middelen en wat gezond verstand gaan jullie het verhaal te lijf. Verken in de app de plaats-delict. Ontdek bewijs door bewijskaarten te scannen en praat met verdachtes, experts of getuigen. Denk jij genoeg informatie te hebben om het raadsel op te lossen? Keer dan huiswaarts en deel je bevindingen om erachter te komen of je het bij het rechte eind had. 
1900 is net als de voorgangers erg thematisch. De verhalen zijn vaak meeslepend soms ijzersterk en veelal verrassend genoeg om te blijven boeien. Plotwendingen alom dat je bijna zou denken dat mensen in Parijs er duizelig van zouden worden!
Ik schreef al eens dat de Chronicles of Crime mij persoonlijk doen denken aan verhalende videospellen/point-and-clicks/visual novels, waar spelers informatie verkrijgen en moeten inzetten om in het verhaal te vorderen. Door in de juiste volgorde met personages te praten het juiste bewijs te laten zien, kom je verder in het spel. Door het integrale gebruik van een telefoon of tablet is Chronicles of Crime in mijn ogen meer een hybride tussen een bordspel en een videospel. Het gebruik van de app is ook in 1900 noodzakelijk waardoor een analoge speelsessie niet mogelijk is. Dat is overigens geen nadel, maar meer een besef dat je moet hebben als je dit spel wilt spelen.
Ook 1900 is een erg leuk spel en wederom doordrenkt van thema en verhaal. Case closed!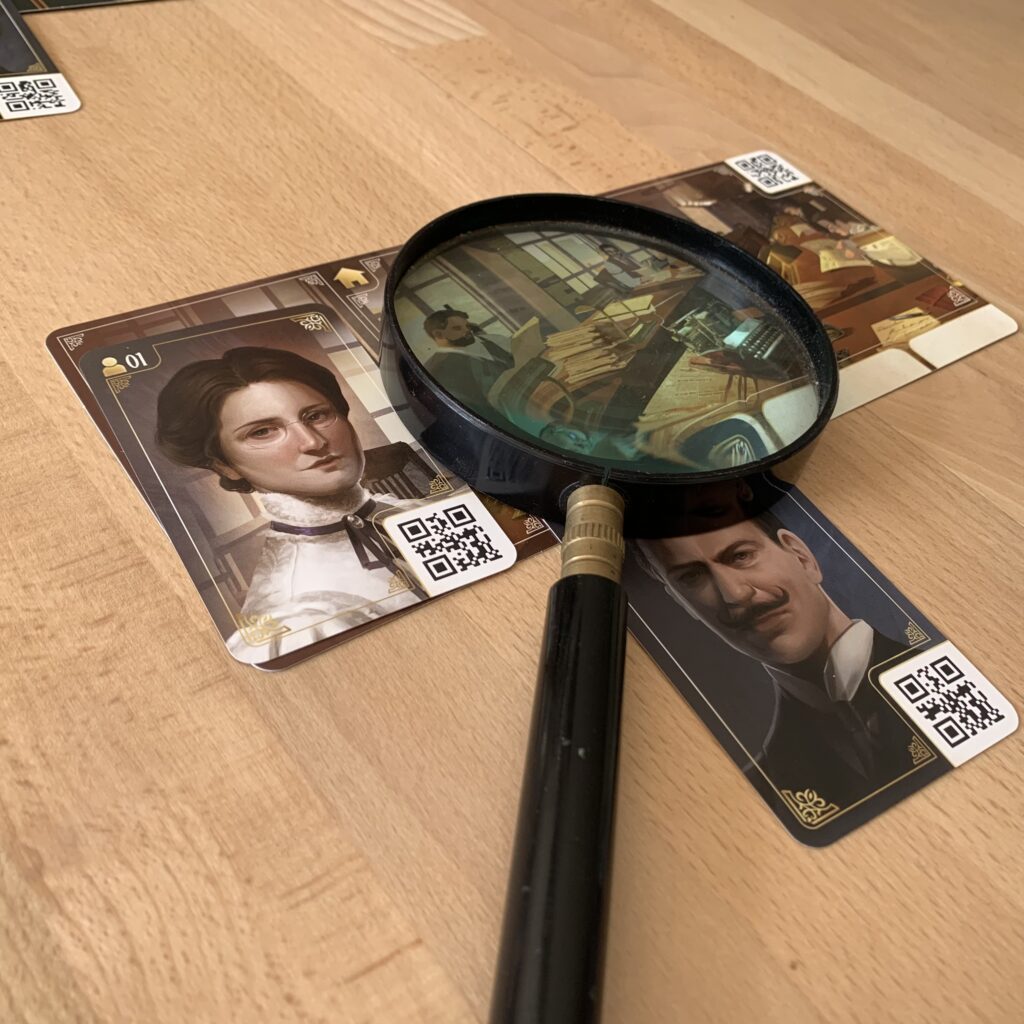 EN: Chronicles of Crime, published by @luckyduckgames, is one of my favourite series of solo and cooperative games. In these games, you step into the shoes of an investigator (in this case an investigative journalist) and try to solve murders, thefts and other crimes and mysteries. Just like Chronicles of Crime: 1400, in Chronicles of Crime: 1900 we go back in time a few years. Not as far back as 1400, but still more than 100 years. Just like in 1400, we'll be visiting Paris again and there are still plenty of crimes to solve and, luckily, less paperwork than in modern detective work (although as a journalist you probably still need to write some article…)! Get to work, gumshoes!
Again, you are equipped with a game board, a set of maps and locations that you have to scan with an app on your phone or tablet. Together with these tools and some common sense, you will tackle the story. Explore the crime scene in the app. Discover evidence by scanning evidence cards and talk to suspects, experts or witnesses. Think you have enough information to solve the mystery? Then return home and share your findings to find out if you were right.
1900, like its predecessors, is very thematic. The stories are often compelling, sometimes powerful, and often surprising enough to keep you interested. Plot twists and turns galore that you'd almost think people in Paris would end up dizzy!
I have written before that the Chronicles of Crime remind me personally of narrative video games/point-and-clicks/visual novels, where players obtain information and must use it to progress in the story. By talking to characters in the right order and showing the right evidence, you progress through the game. The integral use of a phone or tablet makes Chronicles of Crime, in my opinion, more of a hybrid between a board game and a video game. The use of the app is also necessary in 1900, which makes an analogue play session impossible. This is not a disadvantage by the way, but more of a realisation that you have to have if you want to play this game.
Chronicles of Crime:1900 is another wonderful entry into this great series and again dripping with theme and story. Case closed!