Drink jij weleens bubble tea (of boba zoals het ook genoemd wordt)? De Aziatische lekkernij waarbij intense tea gecombineerd wordt met onder andere melk, siroop, allerlei kruiden, toppings en uiteraard tapiocaballetjes of gelei? Dan weet je dat de smaakcombinaties vaak oneindig zijn. In Boba Mahjong ga je verschillende smaken en toppings combineren om tijdens iedere ronde de meeste punten te pakken. Weet jij als eerste jouw hete thee achterover te gieten?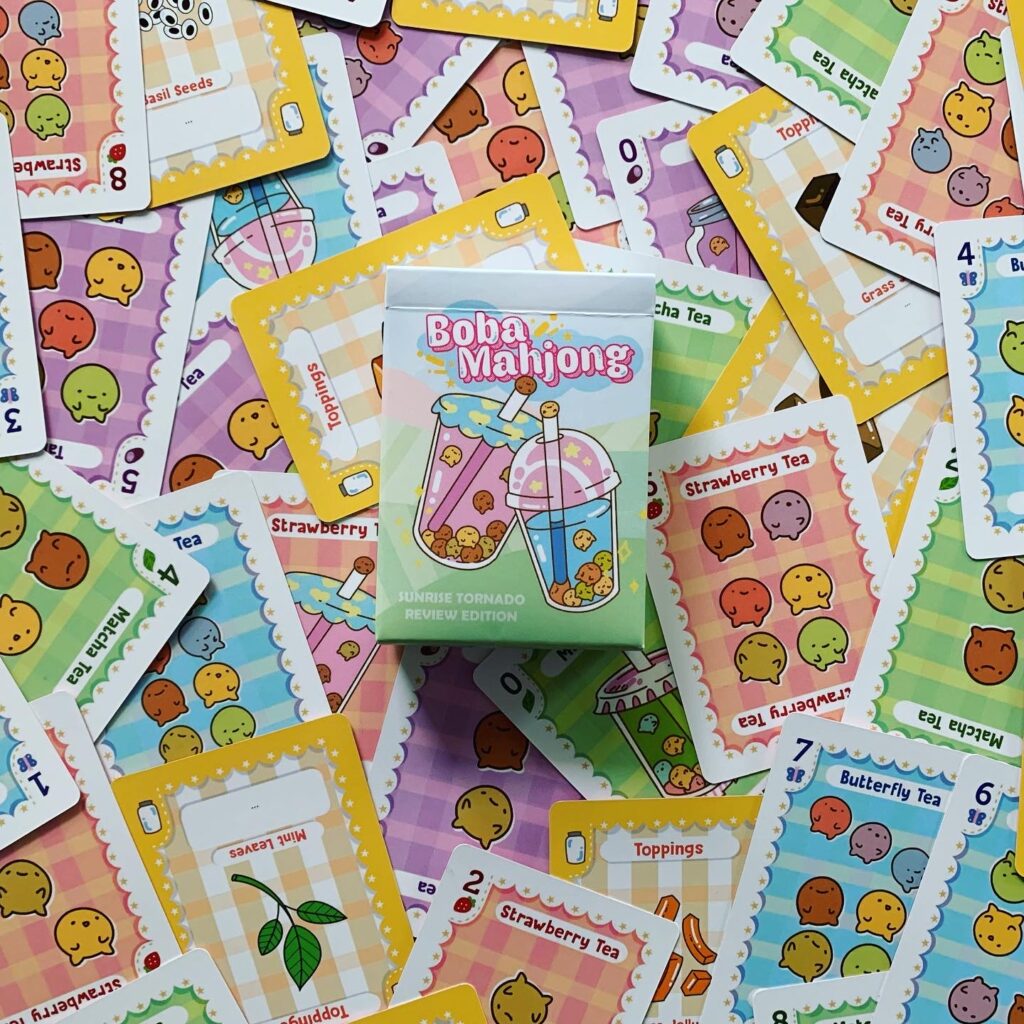 Boba Mahjong is, zoals de naam al doet vermoeden geïnspireerd op het klassieke mahjongspel, waarbij spelers setjes proberen te maken van stevige tegels. In dit vlotte kaartspel gaan 2 spelers ook setjes maken. Elke beurt mag je kaarten trekken en/of tot maximaal 3 setjes spelen. Elk setje bestaat uit 3 kaarten van opvolgende waarde, dezelfde waarde of allemaal toppings. Van een gespeeld setje mag je een kaart houden om aan het einde van de ronde mogelijk punten mee te scoren. De andere kaarten gaan op de open mix stapels. De kaarten in mix stapels kunnen jij en jouw tegenstander vervolgens trekken of gebruiken in setjes. Let dus goed op wat je aflegt.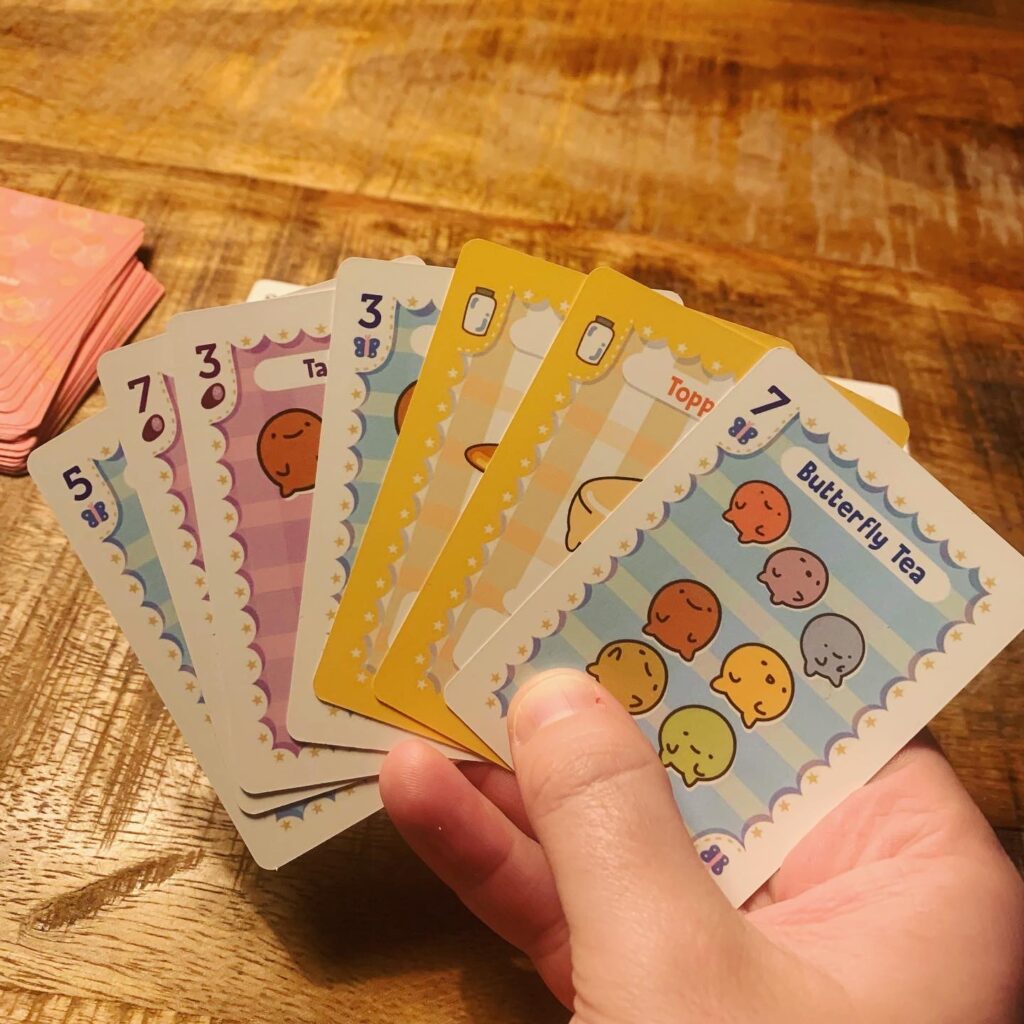 Aan het einde van de ronde kies je maximaal 6 kaarten die je hebt gehouden om mee te scoren. Je scoort punten voor gelijke of verschillende kleuren, waardes, opvolgende waardes en toppings. Het is nog best een dilemma en gepuzzel om te kiezen welke kaarten je hiervoor wilt gebruiken. Voor elke 5 punten die je verdient krijg je een blokje. Deze blokjes bepalen uiteindelijk de overwinning en zorgen voor een zeer leuke twist. Indien je tijdens een ronde 14 punten verdient, krijg je maar twee blokjes. Je zult dus echt je best moeten doen om niet slachtoffer te worden van een gemene afronding van de ronde!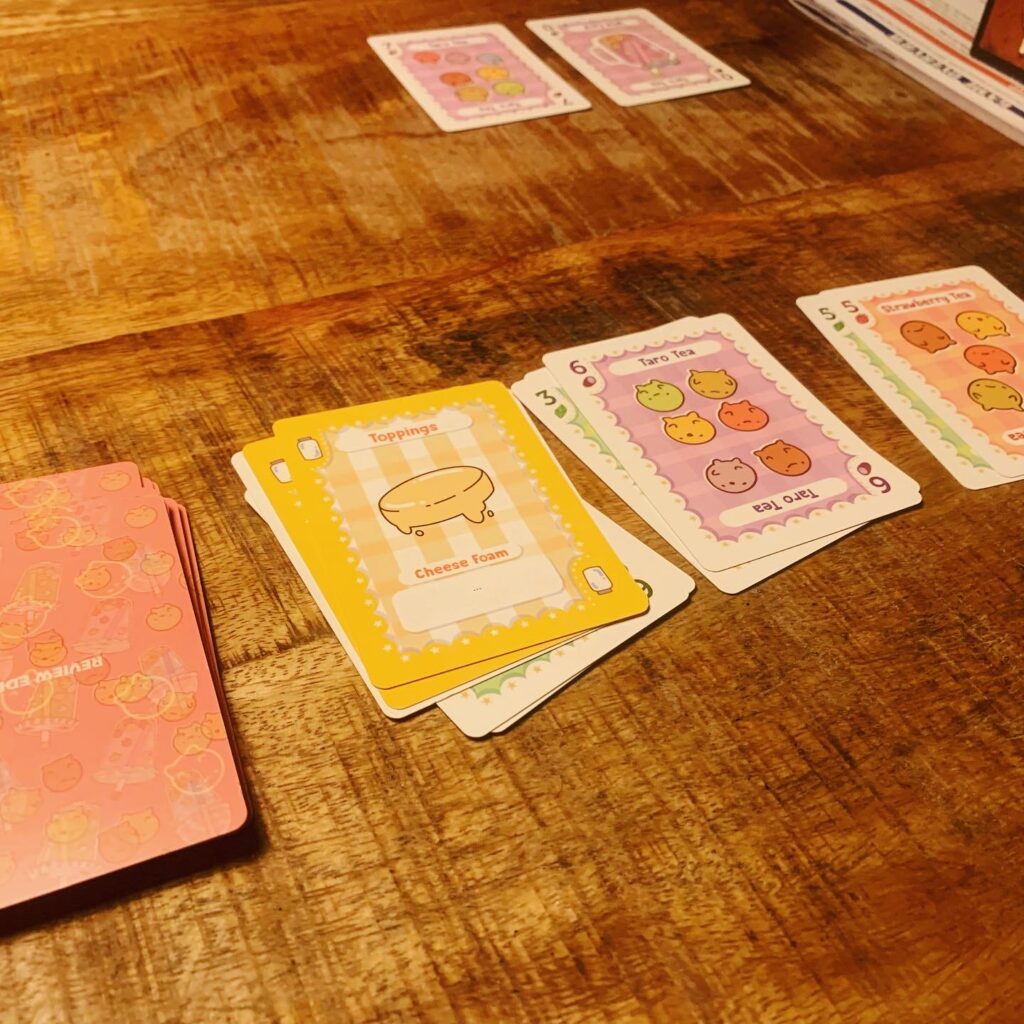 Boba Mahjong is een vlot kaartspel voor 2 spelers met een leuke twist qua score door de verschillende rondes en de puntenblokjes. Daarnaast is het spel schattig vormgegeven en makkelijk uit te leggen en dus laagdrempelig, maar de interactie tussen spelers is groot en de kaarten zijn beperkt, waardoor dit schattige spelletje venijnig kan zijn! Proost!