Een charmante dief en een bende avonturiers wagen zich aan een spectaculaire overval om een verloren relikwie te stelen. Maar als ze de verkeerde mensen tegen zich in het harnas jagen, loopt alles gigantisch uit de hand. Dungeons & Dragons: Honor Among Thieves brengt de veelzijdige wereld en de speelsheid van de legendarische roleplaying game naar het witte doek in een spannend avontuur vol actie en humor.
Chris Pine, Michelle Rodriguez, Regé-Jean Page, Justice Smith, Sophia Lillis, Chloe Coleman, Daisy Head en Hugh Grant maken onderdeel uit van de ensemble cast van dit spel gebaseerd op de gelijknamige RPG en Dice Daniel heeft de mogelijkheid om fans naar de film te sturen met deze winactie.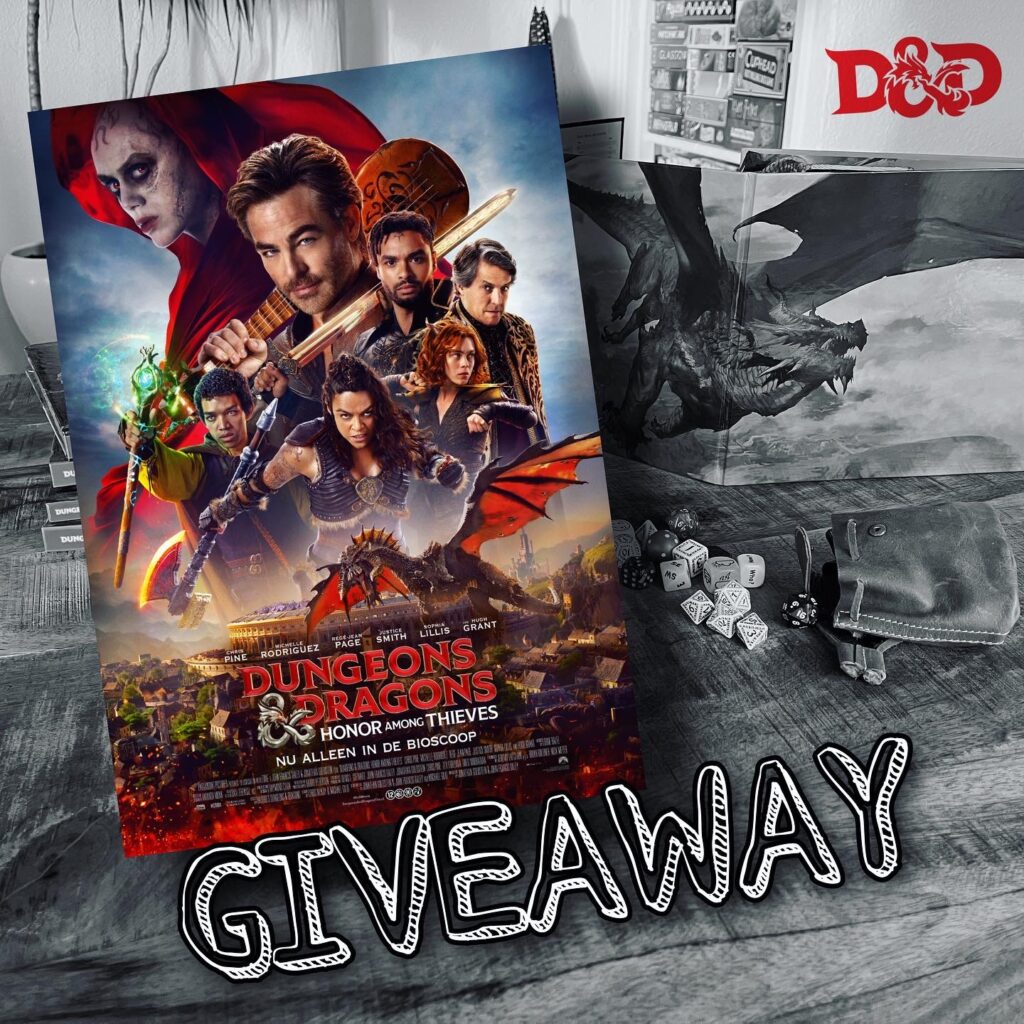 Dice Daniel mag 2 volgers op Instagram verblijden met wel 2 D&D filmpaketten. Beide winnaars krijgen maar liefst 2 kaartjes, een beanie (muts) en een thematische mok. Hoe kun je winnen (op Instagram)
Like het bericht;
Volg @dice_daniel op instagram;
Tag een vriend met wie je deze film moet zien en vertel ons met welke klasse jij speelt in D&D; &
Deel dit bericht (in je verhalen) om extra punten te verdienen!
Deze giveaway loopt tot en met 2 april 2023 23:59 (CET). Op 3 april nemen we persoonlijk contact op met de winnaar via dit account (@dice_daniel) en niet via een andere weg. Wees voorzichtig, want Instagram giveaways worden overspoeld door scammers die misbruik maken van goedgelovigheid. De naam van de gelukkige winnaar wordt op geen enkele andere manier gepubliceerd en we zullen ook niet corresponderen over de uitslag. 
Deze wedstrijd wordt op geen enkele manier gesponsord, beheerd of geassocieerd door/met Instagram. Dice Daniel kan niet verantwoordelijk worden gehouden voor schade of verlies van het product tijdens de verzending. Deelname staat enkel open voor inwoners van Nederland. De bioscoopticket is in te wisselen bij de meeste grotere bioscoopketens.