Godtear is een fantastisch strategisch en tactisch spel voor twee spelers. In deze gevarieerde fantasiewereld nemen uiteenlopende kampioenen het tegen elkaar op. Combineer kampioenen en hun volgelingen en stel het beste leger zijn. Hieronder tref een kleine greep uit de beschikbare kampioenen.
Skullbreaker the Dragon Slayer & Tooth Bearers
Skullbreaker noemt men ook wel de drakendoder. Skullbreaker is een ork die zo sterk is dat hij het kaakbeen (inclusief vlijmscherpe drakentandem) van een gedode draak als wapen hanteert. Zijn volgelingen worden de Tooth Bearers genoemd: acolieten die waardig zijn om een enkele tand van zijn drakenkaak te krijgen als trofee van Skullbreaker's vele jachtpartijen.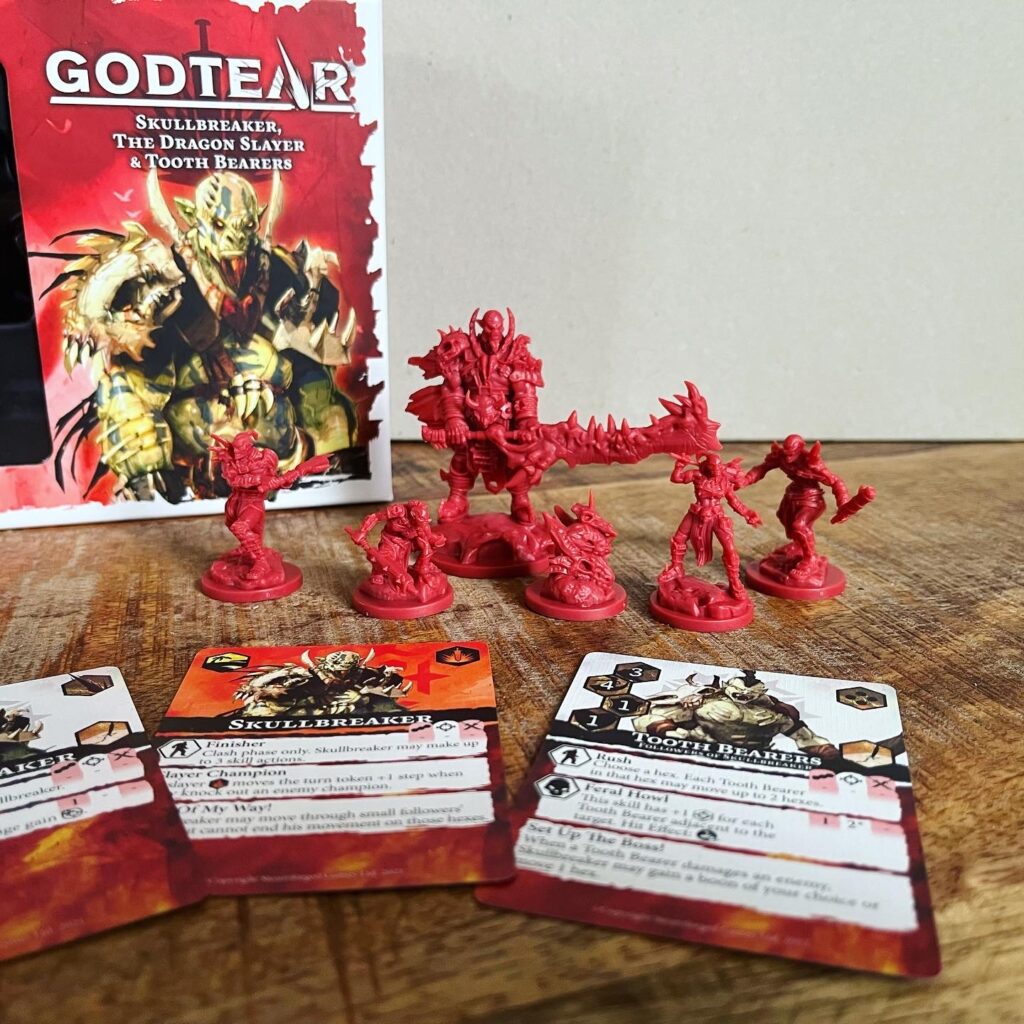 Skullbreaker is een rode slayer klasse, dus met zijn zware aanvallen is hij perfect om kampionnen van de tegenstander uit te schakelen. Als Skullbreaker dicht bij de vijand weet te komen, kun je zo goed als dag zeggen tegen je kampioen. Skullbreaker acht aanvallen de beste vorm van verdediging, maar door zijn gebrek aan armour is hij soms een makkelijk doelwit.
Kailinn the Fury of the Forest & Virtues
Kailinn is een machtige centaur en beschermer van het woud Zij vertrapt haar vijanden met ongebreidelde wreedheid. Weinigen kampionnen of volgelingen zijn bestand tegen een aanval van Kailinn en haar trouwe Virtues, de druïdische centauren die haar vergezellen in haar zoektocht naar goddelijkheid.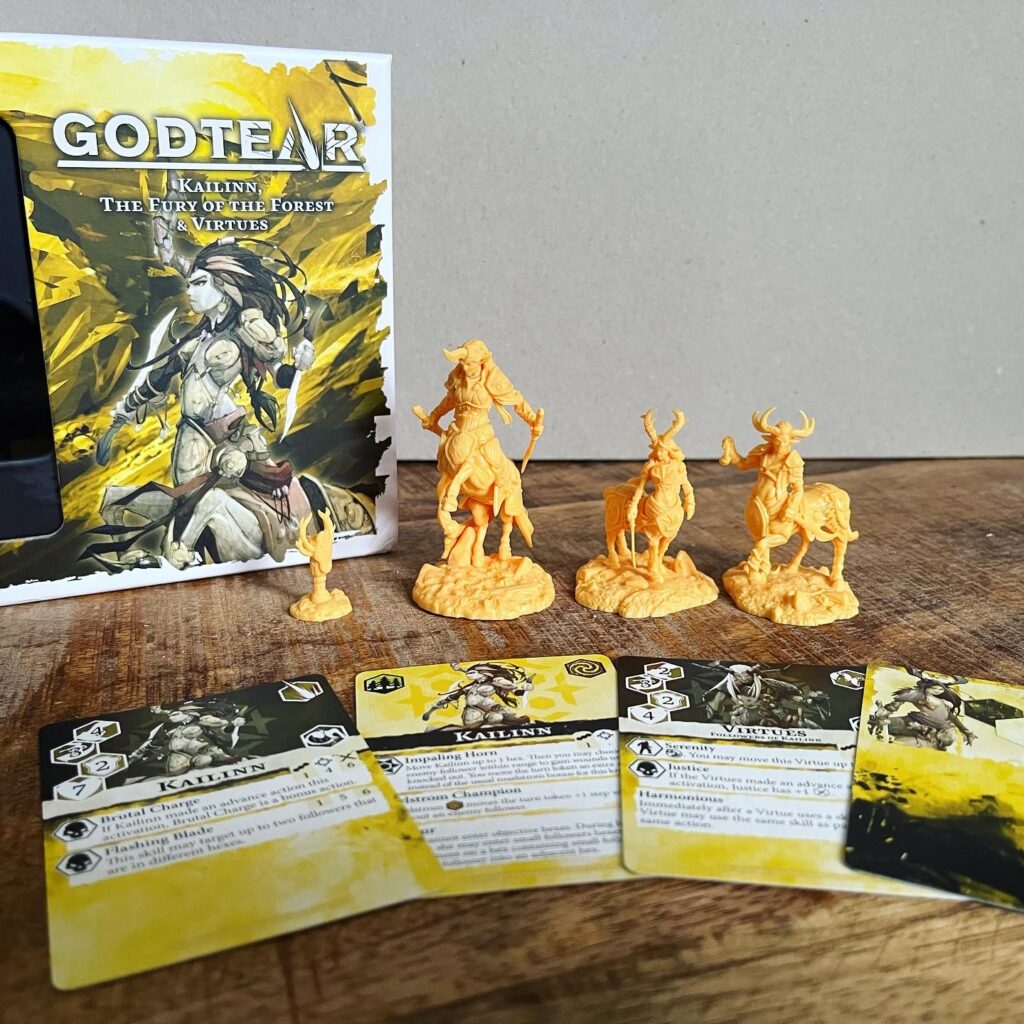 Kaillinn en haar Virtues zijn grote wezens die allemaal snel kunnen verplaatsen en rake klappen kunnen uitdelen. De Virtues kunnen niet gezamenlijk als leger optrekken, maar door slim hun speciale eigenschappen te gebruiken, kun je beide Virtues inzetten om afzonderlijk meerdere acties te verrichten.
Mournblade the Soulless & Knightshades
Wederom werpt deze gevallen kampioen een donkere schaduw over het land der levenden. De dood is maar een klein ongemak als je een eindeloos verlangen naar goddelijkheid hebt. Met een vlaag van ijzige wind, strekt deze wrede wreker zijn koude klauwen uit en lokt nietsvermoedende vijanden in zijn kwaadaardige greep.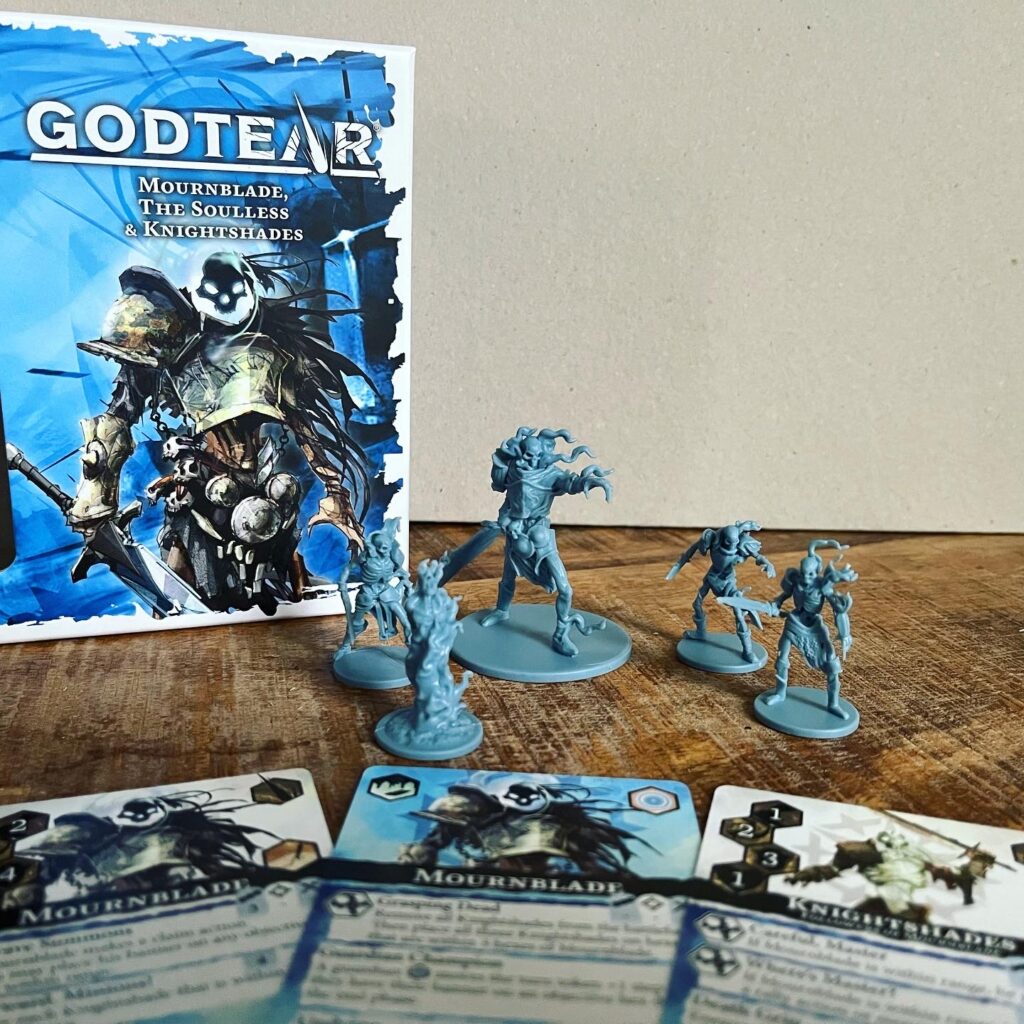 Met een leger van skeletten kan Mournblade veel controle over het speelbord uitoefenen. Zijn volgelingen zijn gezamenlijk sterk en afzonderlijk een irritant obstakel. What is dead may never die, dus de skeletten zijn makkelijk te verslaan, maar komen net zo gemakkelijk weer tot leven.
Blackjaw the Sweeping Flame & Unburnt Reavers
Blackjaw stormt het slagveld op een met een allesvernietigende kracht. Blackjaw zijn vurige woede dreigt om alles te vernietigen in een uiterst ontvlambare inferno. Unburnt Reavers, orks die de hete vlammen van hun leider kunnen weerstaan, gaan als een lopend vuurtje richting hun vijanden.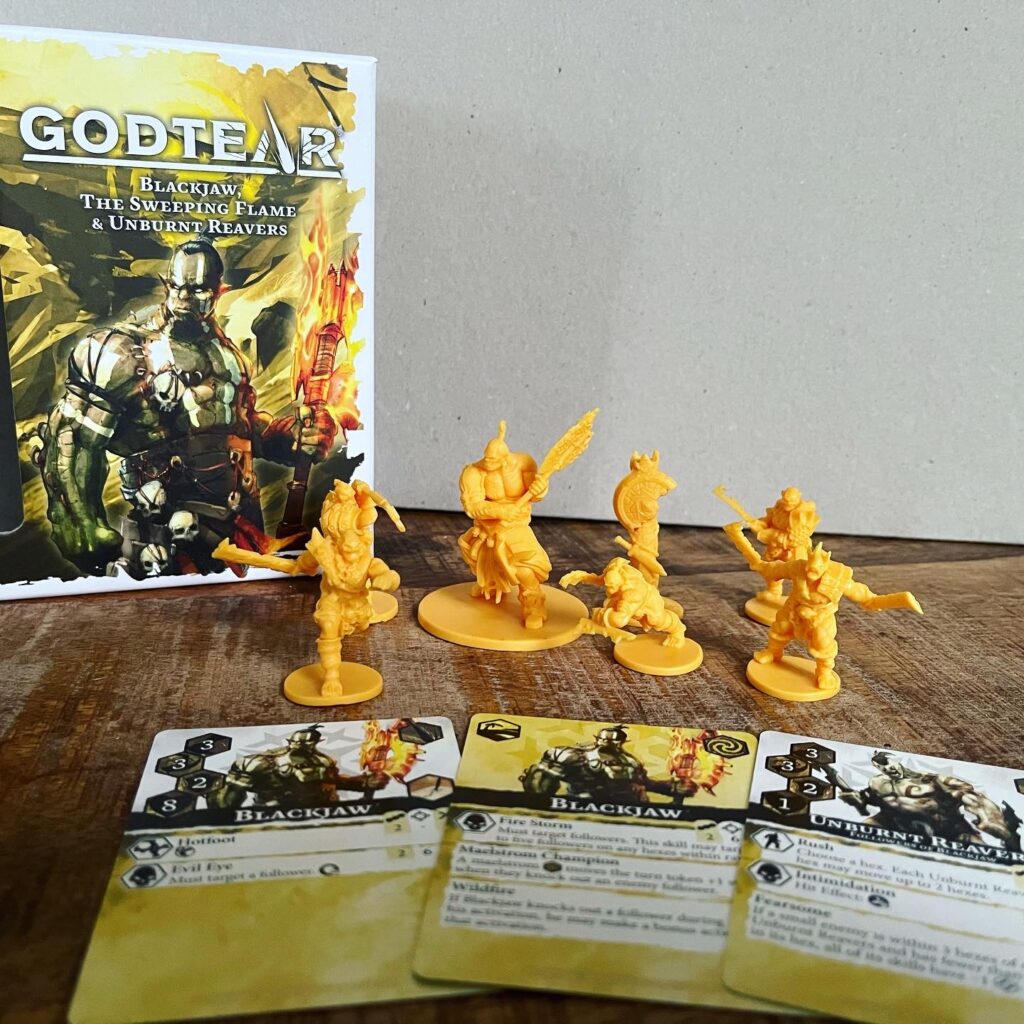 Blackjaw is geschikt om veel en snel volgelingen van de tegenstander om te leggen. Zijn aanvallen en uitbarstingen komen met de nodige collateral damage en kunnen grote groepen vijanden verslaan. Snel en flexibel bewegen Blackjaw en zijn volgelingen over het slagveld.
Helena Inspiration of Hope & Rallied Peasants
Puur van hart trekt de door de massa geliefde Helena ten strijde met een boodschap niet van verovering, maar van vrede en samenzijn. Waar deze heilige zoektocht haar ook brengt, volgen opstandige boeren haar in de hoop op een betere wereld.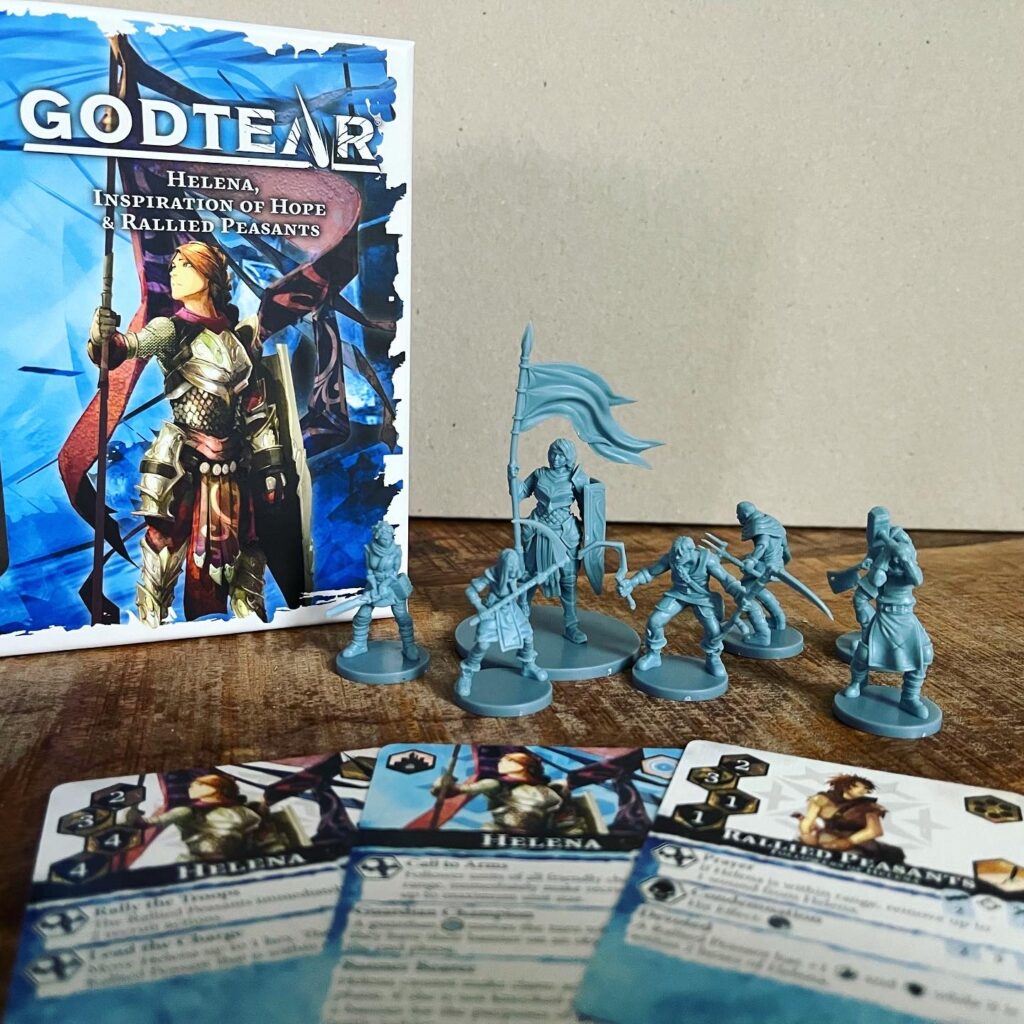 Deze ware Jeanne D'Arc is een blauwe Guardian klasse en zal met name punten verdienen met de vaandel. Helena en haar leger heeft echter geen losse vaandel, en dus scharen zij zich rondom Helena als vaandeldrager.