Sommige spellen hebben bijzonder veel onderdelen. Vaak zijn de vele onderdelen essentieel voor de spelbeleving, maar ook absoluut overweldigend. Overweldigend voor nieuwe spelers, maar tevens voor de veelspelers. Mogelijk kies je tijdens de spelletjesavond toch sneller voor een georganiseerd spel, met ietsjes minder onderdelen. Het opzetten en opbergen van sommige spellen duurt soms zo lang, dat het speelplezier kan bederven. Het maakt daarbij dan niet uit of je al deze onderdelen netjes in alle bijgeleverde zakjes hebt verdeeld. Sterker nog: mogelijk ben je dan nog langer bezig met opruimen en opzetten van je spel aangezien je ook alle zakjes los moet trekken.
Zakjes of sausbakjes als oplossing voor het opbergen van het spel zijn niet altijd even praktisch of mooi. Ze zorgen er ook niet altijd voor dat je spel snel is opgezet. Blackform biedt een lichtgewicht oplossing voor het opbergen en opzetten van spellen.
Blackform maakt vacuümgevormde inserts, trays en bakjes van duurzame kunststoffen, waardoor deze inserts, dun, stevig en extra licht zijn. Doordat het vaccuümgevormde zwarte trays betreft, lijkt het alsof het systeem altijd al aanwezig had moeten zijn in de oorspronkelijke speldoos (vergelijkbaar met de systemen van GameTrayz die je vaak in Deluxe edities van sommige spellen aantreft). Je vraagt je dan ook af waarom niet meer uitgevers samenwerken met partijen zoals Blackform.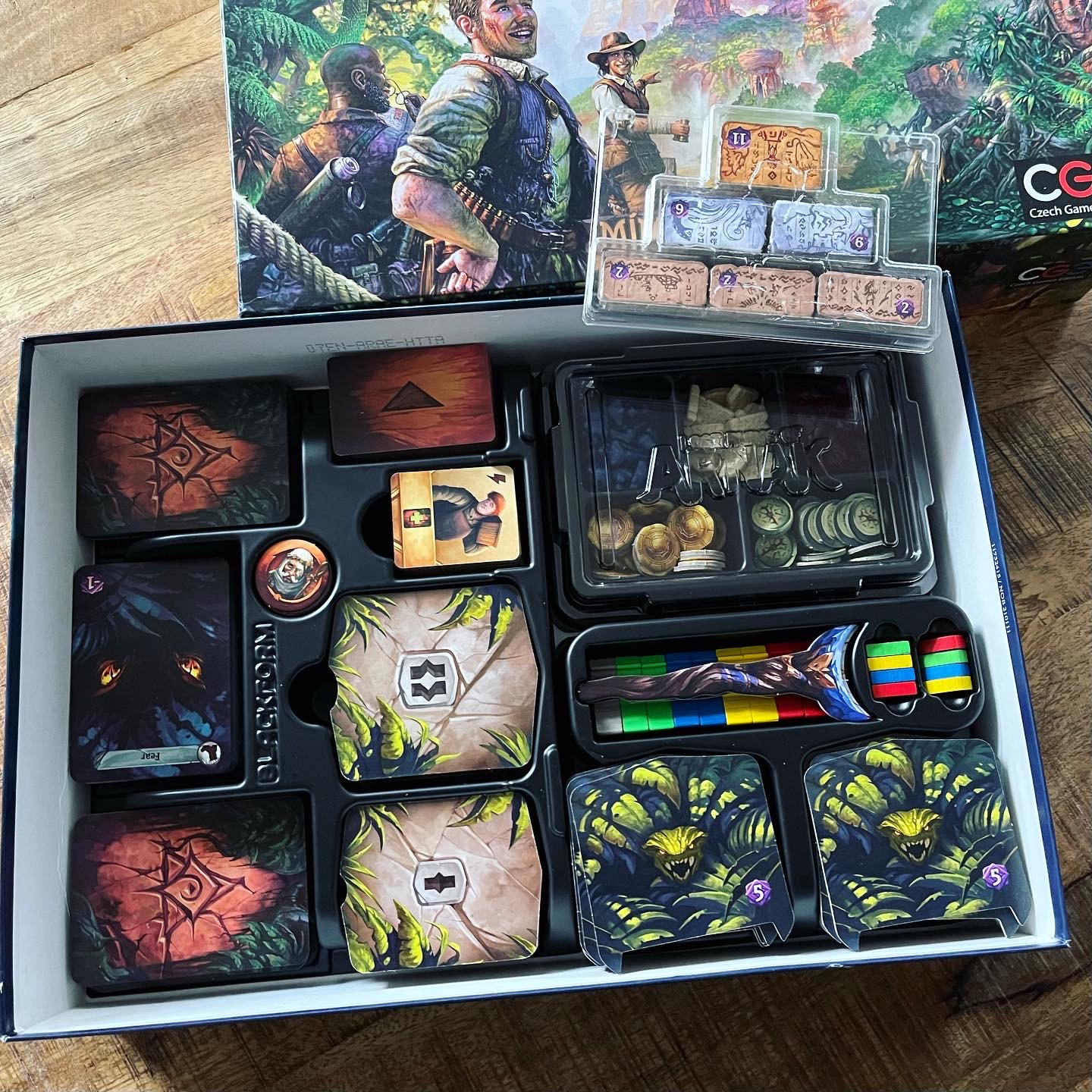 De spellen van Czech Games Edition zijn van die spellen met veel onderdelen die hoognodig zijn voor het spelplezier. CGE biedt heel bewust zelf geen organizer oplossing aan behalve de zakjes, zodat spelers zelf kunnen kiezen voor hun favoriete oplossing. Blackform heeft voor Arnak en Starship Captains een zeer goede oplossing.
De insert voor Arnak van Blackform is vrijwel perfect te noemen. Er is ruimte voor zowel het basisspel en de uitbreiding. Daarnaast is er ruimte zodat jij jouw kaarten kan sleeven. Alle spelonderdelen hebben een eigen plekje, waardoor tijdens een tripje naar de spellenavond alles op de juiste plaats blijft zitten en waardoor je gemakkelijk een potje Arnak op kunt zetten, zonder dat je een hele expeditie moet ondergaan naar het juiste spelonderdeel.
De Blackform insert voor Starship Captains heeft ruimte voor elk onderdeel (al moeten enkele verschillende crewleden als verstekelingen op een ruimteschip samen een bakje delen). Geen man overboord.
Voor Starship Captains maakt Blackform naast een speciaal ontworpen tray voor de kaarten, schepen en borden ook gebruik van hun 'modulaire' opruimoplossing: de Blackbox Hydra.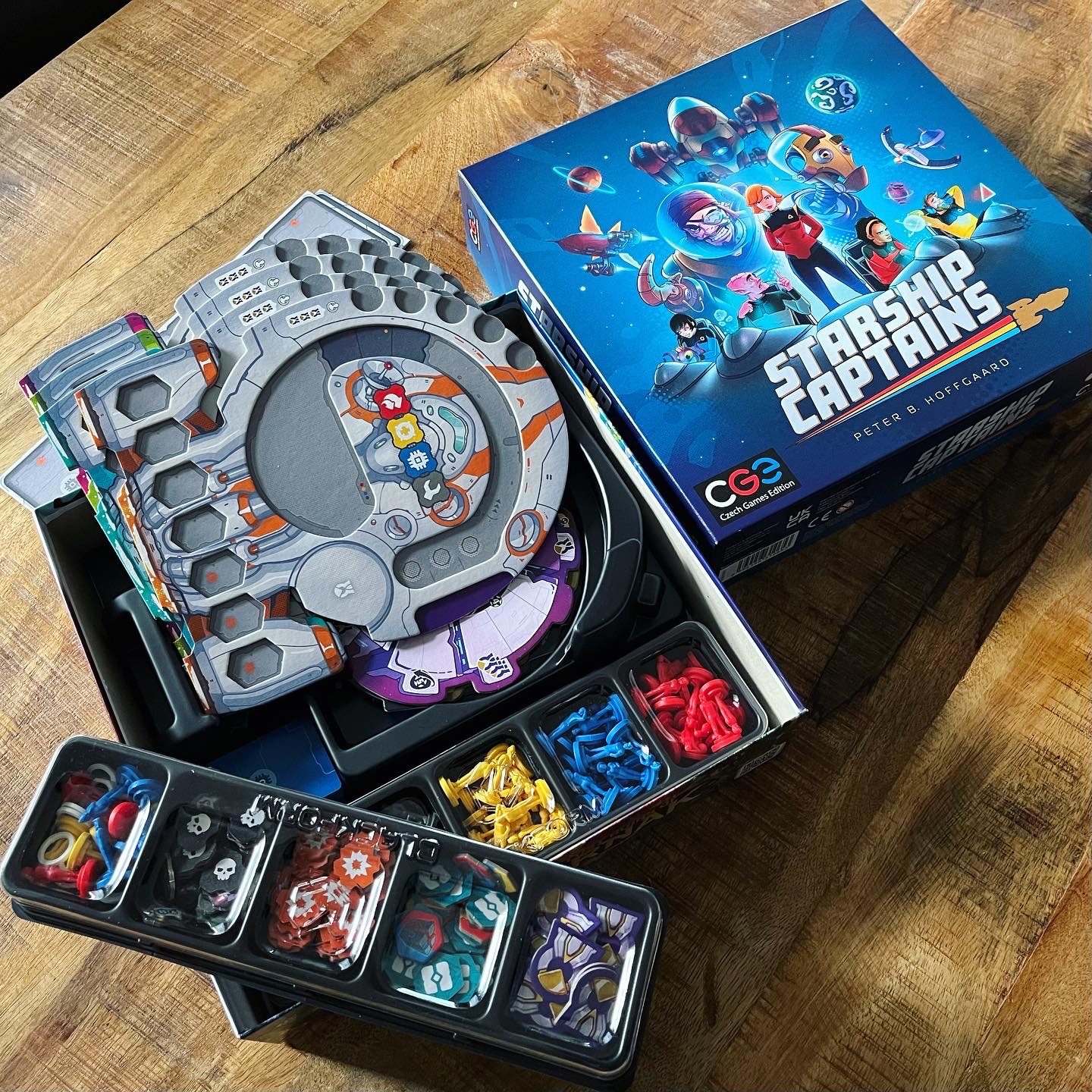 Naast de inserts biedt Blackform ook de Blackbox One en de Blackbox Hydra aan. Dit zijn 'algemene' bakjes die je voor de gangbare formaten speldozen kan gebruiken. De Blackbox Hydra is een tray die bestaat uit 5 bakjes en een deksel. De Hydra past prima in de standaard speldozen van circa 30 x 30 cm of groter. Zowel de One als de Hydra kun je ook prima gebruiken tijdens het spel om onderdelen te sorteren.
Blackform inserts (ook de One en de Hydra) zijn een fantastisch, licht, stevig, eenvoudig en relatief goedkoop product. De trays passen perfect in de oorspronkelijke speldozen en zien er uit alsof ze altijd al een onlosmakend onderdeel vormde van de doos.