De bodem van de oceaan huisvest ontelbare schatten. Denk aan de vele scheepswrakken die stammen uit de piraterij, maar ook de prachtigste zeewezens. Voor wie een beetje watervrees heeft, valt er op het strand ook voldoende te beleven. Een beetje strandjutter weet namelijk de mooiste schelpen te vinden. Genoeg spulletjes om een mooi museum mee samen te stellen in Wreck Raiders van Happy Meeple Games! Loopt jouw tentoonstelling met zeebenen vooraan of is de expositie landrot?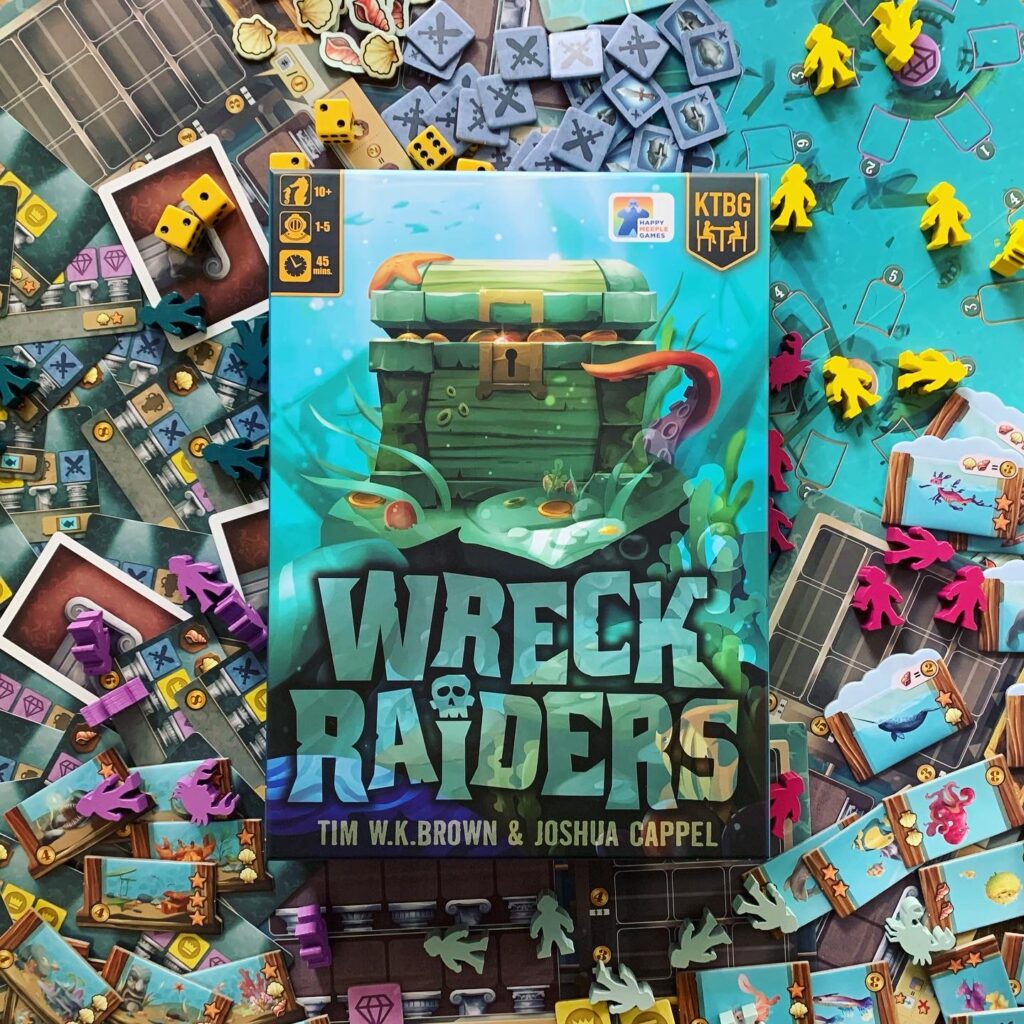 Wreck Raiders is een worker placement en set collection spel waarbij spelers voor ontelbare keuzes staan. Iedere beurt kiest een speler een dobbelsteen. Op basis van de waarde van deze steen, mag hij/zij kiezen om duiker verplaatsen naar het strand of een van de wrakken in het water. Op het strand tref je de mooiste schelpen en in de wrakken kun je schatten vinden. Soms sta je wel voor een dilemma, want soms staan er al duikers op of naast jou plekje. Een duiker van een andere speler uit een wrak verplaatsen, levert een voordeel op voor deze speler, want die duiker mag gratis naar het strand verplaatst worden. Als jouw duiker gaat schatzoeken, vinden mogelijk ook andere duikers bij hetzelfde wrak bepaalde rijkdommen.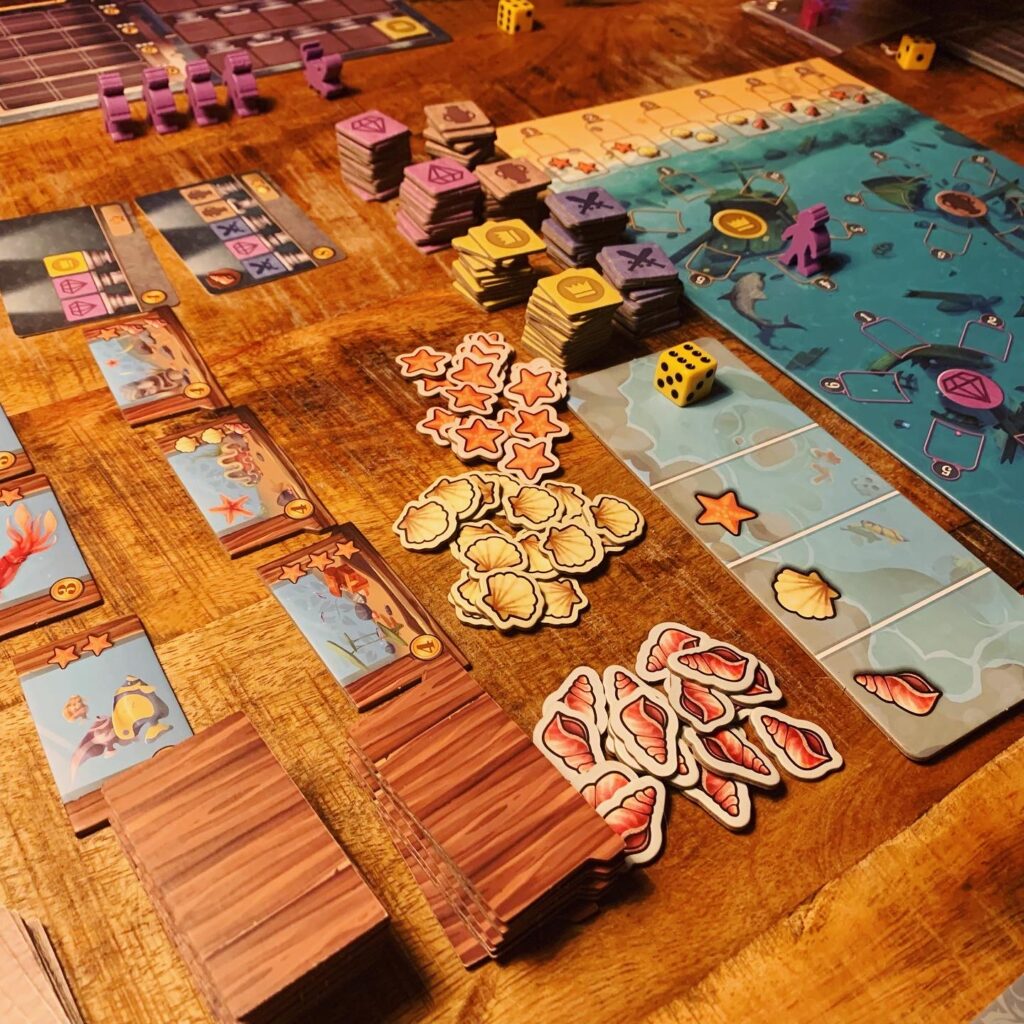 Schelpen kun je gebruiken om jouw aquaria te vullen met de mooiste zeewezens en schatten kun je tentoonstellen of bewaren in de kluis in de hoop dat deze later meer waar zullen worden. Door schatten in jouw display te tentoonstellen, kun je tentoonstellingskaarten verzamelen. Het spel eindigt zodra een speler een bepaalde hoeveelheid tentoonstellingen heeft verzameld.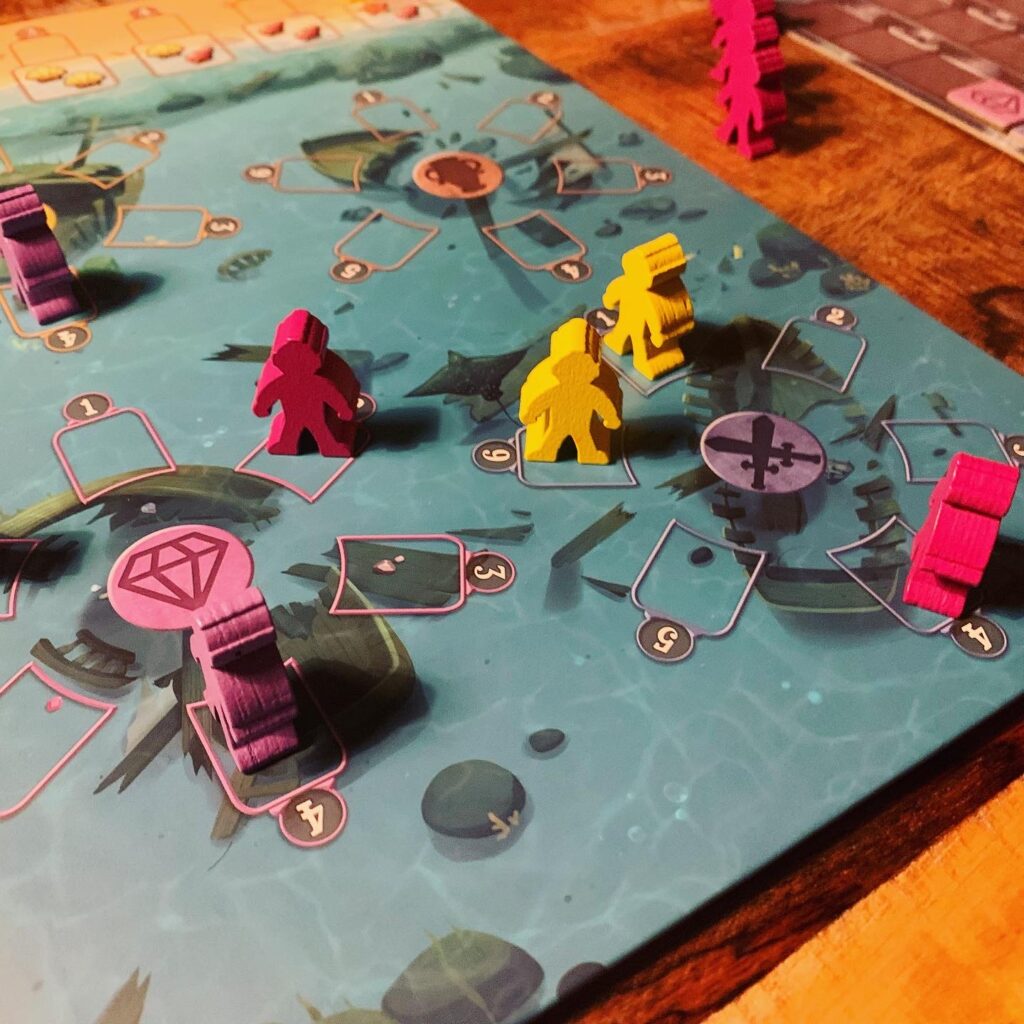 Een leuk element is dat als alle dobbelstenen zijn gekozen, deze opnieuw moeten worden gegooid in de deksel van de speldoos die als dobbelbak wordt gebruikt. Afhankelijk van hun positie in de deksel leveren deze dobbelstenen mogelijk naast hun waarde ook bonusschelpen op. Naast betalen voor aquaria kun je schelpen ook nog eens gebruiken om tentoonstellingen te verfraaien of om speciale effecten toe te passen. De zee is oneindig en de keuzes ook!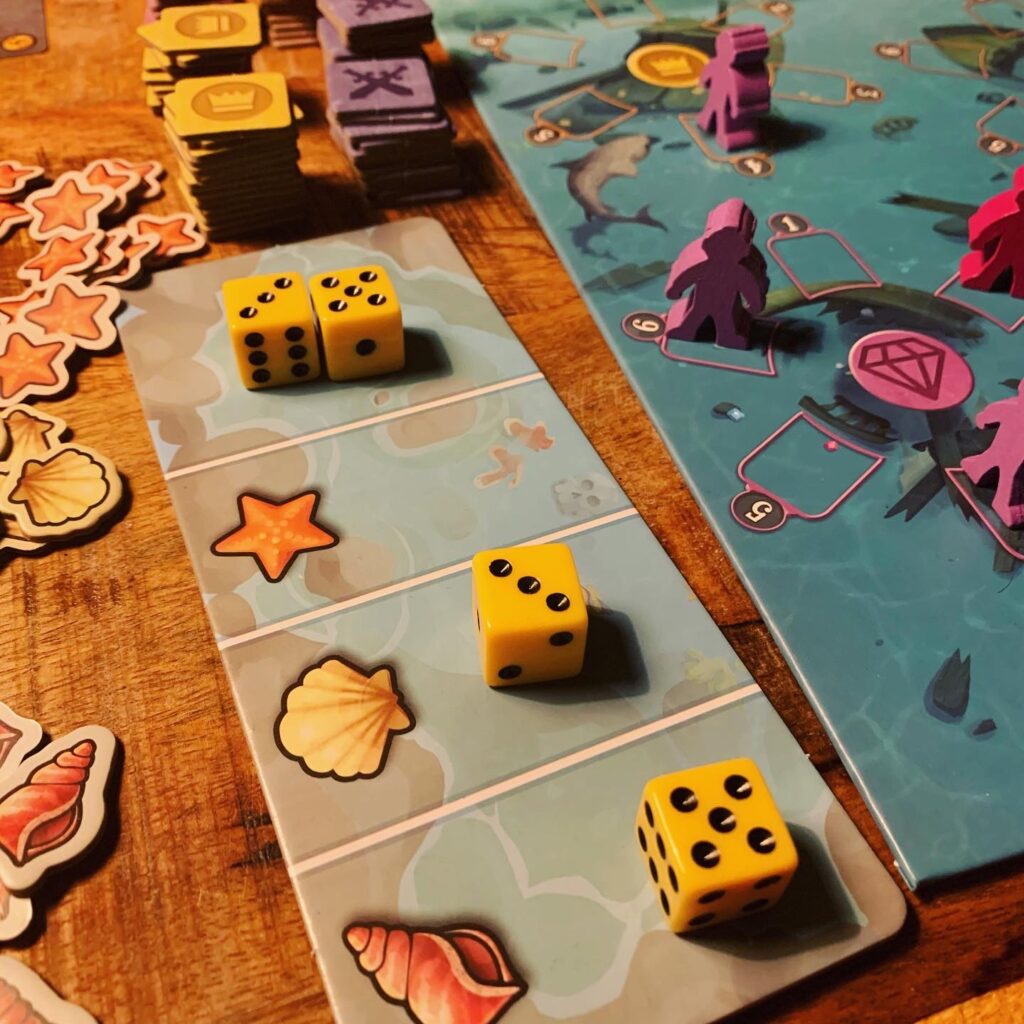 Wreck Raiders is qua gameplay geen complex spel, maar tegelijkertijd wel een heel uitdagend en tactisch spel, waarbij spelers voor veel keuzes staan en elkaar veel kunnen dwarsbomen. Welke dobbelsteen kies je en laat je liggen voor je tegenstanders? Waar zet je jouw duikers neer? Neem de bonus voor een tegenstander voor lief of ga je toch voor een andere keuze? Welke aquariumstukken en tentoonstellingen probeer je te verzamelen en bemachtig jij deze voor jouw tegenstanders? Dit spel is absoluut geen wrak, maar juist een waardevolle schat voor in de spellenkast! 
Dit prachtige spel van Happy Meeple Games is nu verkrijgbaar in de winkels en bevat een Nederlandstalige en Franstalige versie van de handleiding!