Crossed Words is een op snelheid geijkte hersenkraker. Niet alleen moet je op de meest ingenieuze woorden komen, je doet er ook goed aan om dit met de nodige vlugheid te doen. Wat krijg jij als je woorden kruist met spelletjes? Kruiswoordpuzzels uiteraard! Of Crossed Words?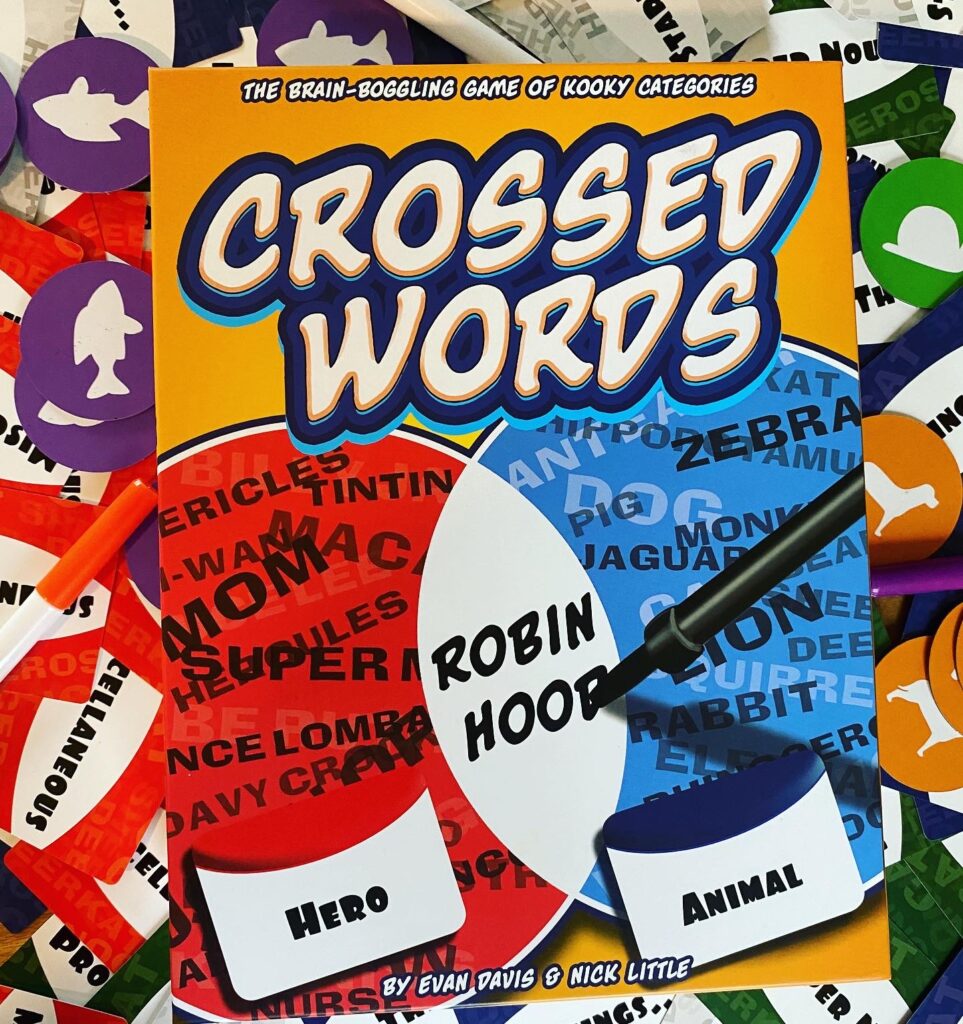 Het spel is uitgegeven door Indie Boards and Cards en is daarmee van Amerikaanse komaf. Dat is op de eerste plaats te merken omdat de kaartjes (en spelregels) volledig Engelstalig zijn, maar ook omdat de spelregels met de nodige Amerikaanse extravagantie en bevlogenheid zijn geschreven.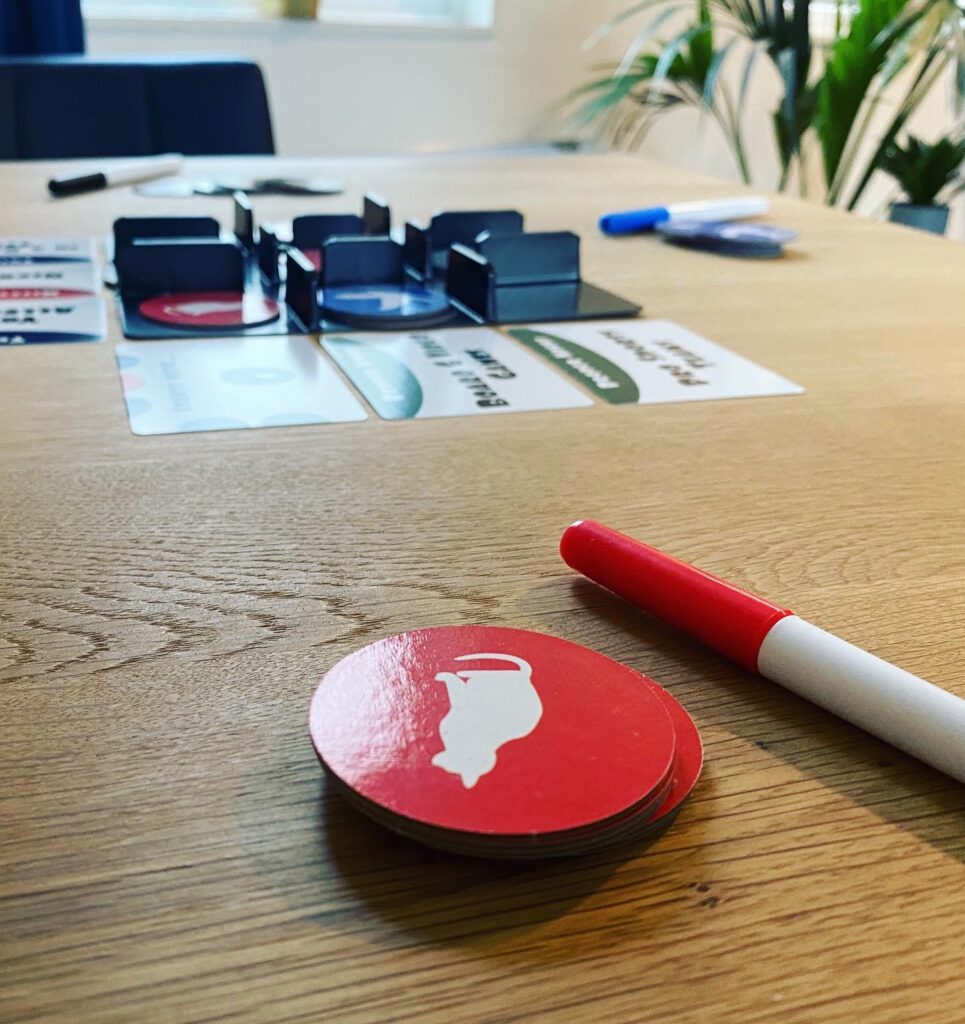 Iedere speler krijgt negen discs van dezelfde kleur en de bij die kleur behorende marker. Geloof me, het is niet aan te raden om een andere kleur marker te gebruiken. Er ontstaan scheve gezichten en rare trekjes (mensen lijken er niet tegen te kunnen?). In het midden van de tafel wordt er een inlegveld neergelegd waarop negen even grote vakken te zien zijn. Aan de bovenzijde en de linkerzijde van dit inlegveld worden in totaal zes kaartjes neergelegd waardoor er negen antwoordmogelijkheden ontstaan, aangezien twee kaartjes samen één antwoord opleveren.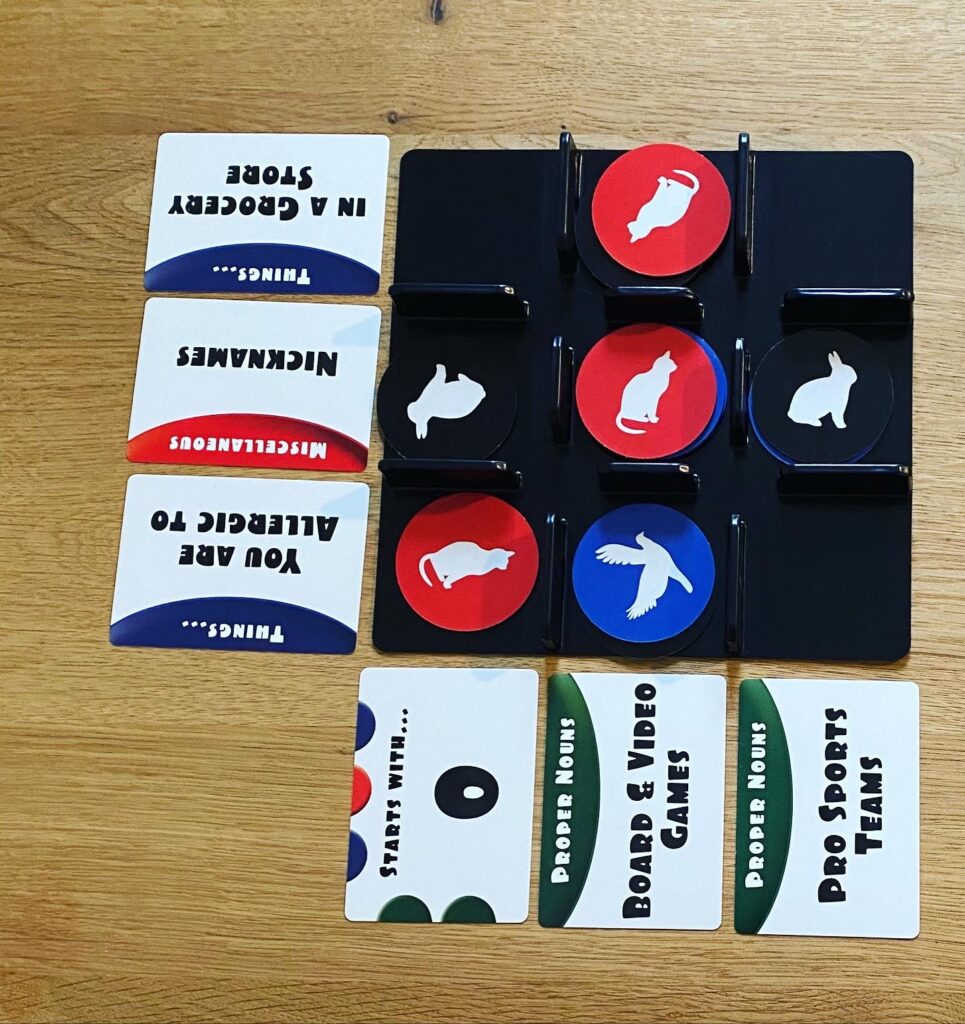 Linksboven ligt altijd een kaart met, hoe kan het ook anders, 'starts with' op de achterkant. Dit is natuurlijk niet zonder reden, want deze kaart geeft met halve rondjes aan welke andere kaarten er neergelegd moeten worden. Heb je vervolgens de andere vijf kaarten neergelegd uit de drie mogelijke categorieën ('proper nouns', 'things…' en 'miscellaneous'), dan ben je good to go.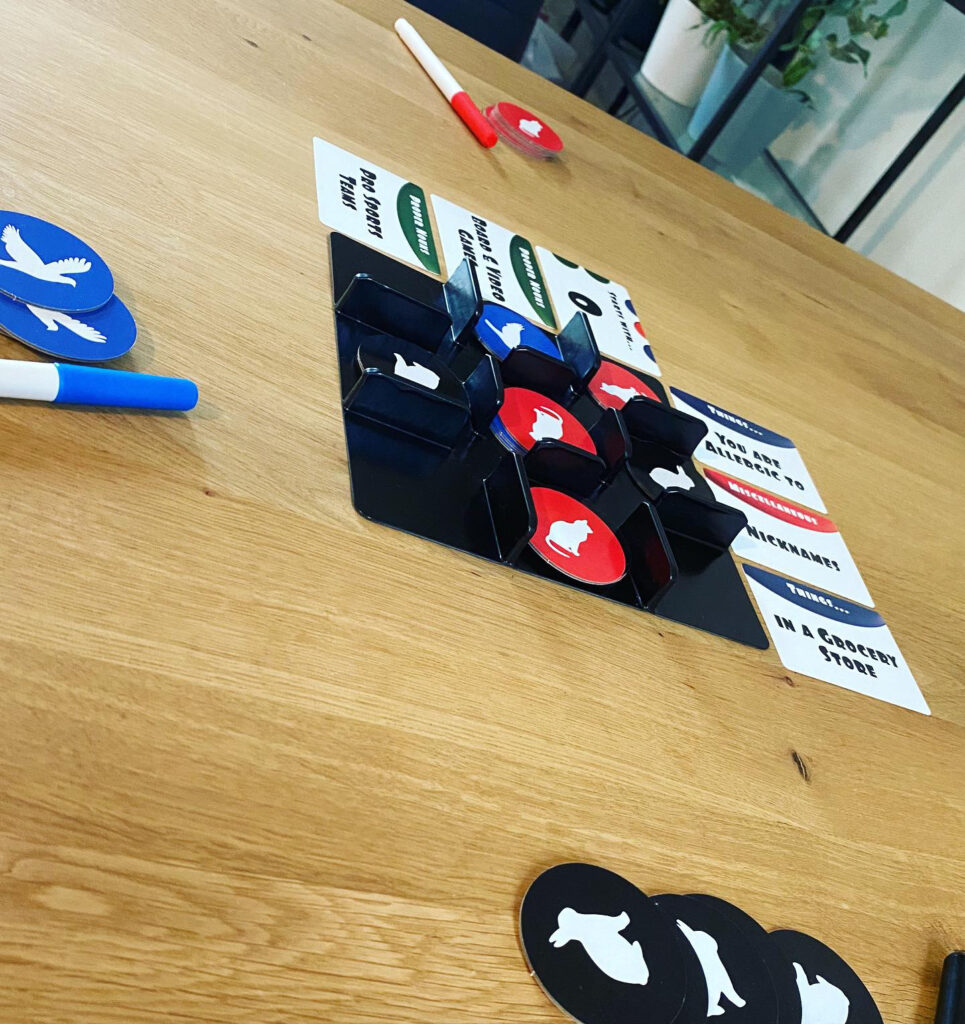 Het is de bedoeling dat je in elk vak een disc neer weet te leggen die de twee corresponderende kaartjes combineert. Bijvoorbeeld: ligt er 'colors' en 'bands', dan is 'pink' een goed antwoord. Maar ook 'pink floyd' zou hier mogelijk zijn. Zelfs 'fred' zou geoorloofd zijn wanneer de kaartjes 'colors' en 'boy's first names' gecombineerd moeten worden, omdat 'red' in het woord 'fred' zit. Mogelijkheden alom dus.
Het is daarnaast heel goed mogelijk om het spel in het Nederlands te spelen, maar je merkt dat er hier en daar een kaartje tussen zit dat wat America-based is, zoals 'places in the USA'. Tegen minimaal twee anderen (met een max. van in totaal zes spelers) probeer je én de snelste én de slimste te zijn. Wakker die hersenpan aan en ga van start! Oh, en voor ik het vergeet: dubbele antwoorden worden tegen elkaar weggestreept (weggekruist?), dus wees uniek (zowel in het leven als in dit spel)!
Legt een speler zijn laatste disc in het inlegveld, dan zijn er nog vijf seconden te spelen. Of eigenlijk: one Crossed Words, two Crossed Words, three Crossed Words, four Crossed Words, five Crossed Words. Oftewel: vijf seconden. Crossed Words is een goede optie wanneer je zin hebt om eens taalkundig uitgedaagd te worden, terwijl je de vaart erin probeert te houden.
Deze recensie is geschreven door Stefan.