Wolfwalkers is een Ierse animatiefilm uit 2020 vol fantasie en avontuur. Wolfwalkers is geregisseerd door Tomm Moore en is het derde en laatste deel in Moore's "Irish Folklore Trilogy" waar ook zijn eerdere films The Secret of Kells (2009) en Song of the Sea (2014) onderdeel van uitmaken. Deze Oscar-genomineerde films staan bekend om de Ierse en Keltische invloeden en prachtige art- en animatie stijl die is geïnspireerd door klassieke blokdrukkunst. Value Add Games uit Slovenië heeft een tweetal Wolfwalkers spellen uitgegeven. In Wolfwalkers: My Story gaan een tweetal spelers een verhaal "schrijven" met kaarten om de meeste punten te verzamelen. Leef jij nog lang en gelukkig of heeft jouw verhaal een tragische afloop?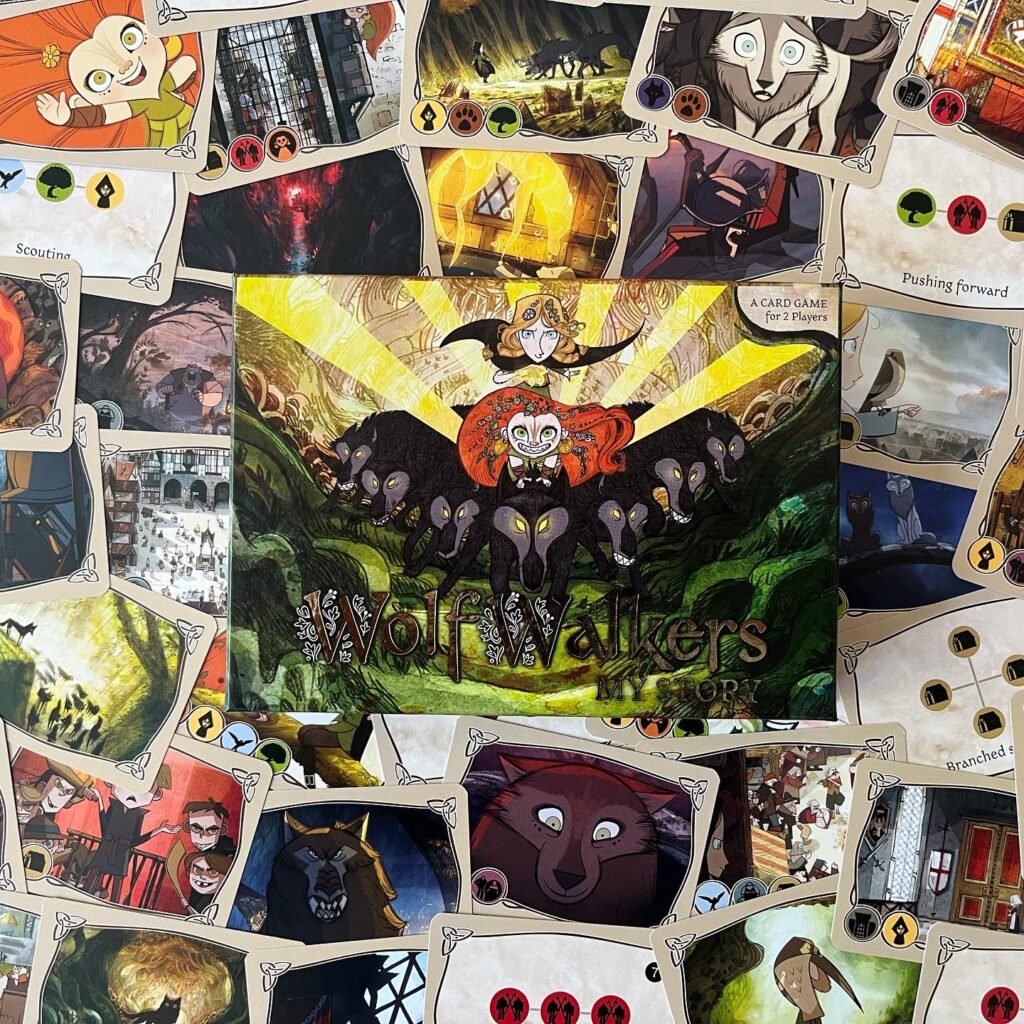 Wolfwalkers: My Story is een spel voor twee spelers waarbij beide spelers een grid aan kaarten gaan verzamelen om een verhaal te maken. De kaarten zijn dubbelzijdig. Aan de ene kant staat een x-aantal symbolen en een afbeelding (hiervoor wordt gebruik gemaakt van het prachtige artwork van de film). Op de achterzijde van iedere kaart staat doel – en dus een manier om punten te verzamelen – afgebeeld. Op tafel worden vier kaarten met de afbeeldingszijde naar boven geplaatst en twee kaarten met de doelzijde. Om de beurt pakt iedere speler telkens één kaart om aan zijn of haar grid toe te voegen en daarna worden de kaarten weer aangevuld. Een afbeelding wordt weer aangevuld met een nieuwe kaart met een afbeeldingszijde naar boven en voor doelkaarten geldt hetzelfde.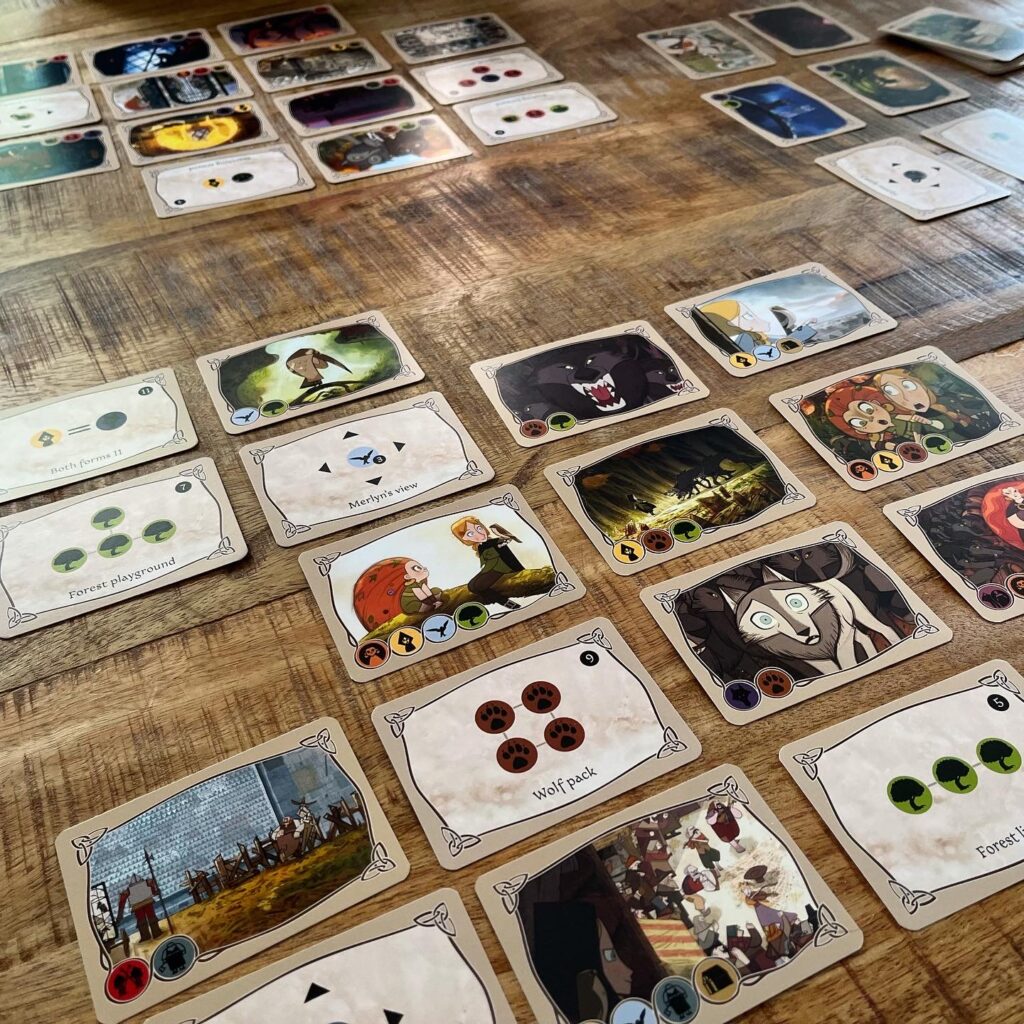 Nadat een speler een kaart heeft gepakt, moet deze speler de kaart toevoegen aan het grid van deze speler. Als je een afbeelding pakt, moet deze zijde naar boven worden geplaatst en als je een doel pakt, moet uiteraard de doelzijde naar boven worden geplaatst op het grid. Spelers hebben een grid van maximaal 5 bij 5 kaarten. Zodra beide spelers het grid hebben volgebouwd, is het spel afgelopen. De eerste kaart van het grid mag eender welke plek worden geplaatst, maar opvolgende kaarten moeten aangrenzend aan eerder geplaatste kaarten worden aangelegd. 

Spelers verdienen punten met hun doelkaarten, maar hebben daarvoor wel symbolen van afbeeldingen nodig. Op deze doelkaarten staan bijvoorbeeld patronen met verschillende symbolen die ook op de afbeeldingen staan. Door deze patronen te plaatsen op jouw grid, verdien je punten. Je kan bijvoorbeeld ook punten verdienen door bepaalde symbolen in dezelfde rij of kolom als de specifieke doelkaart te plaatsen of door juist bepaalde symbolen niet te laten voorkomen. Zo bouwt iedere speler een eigen verhaal en verdient iedere speler op eigen manier punten.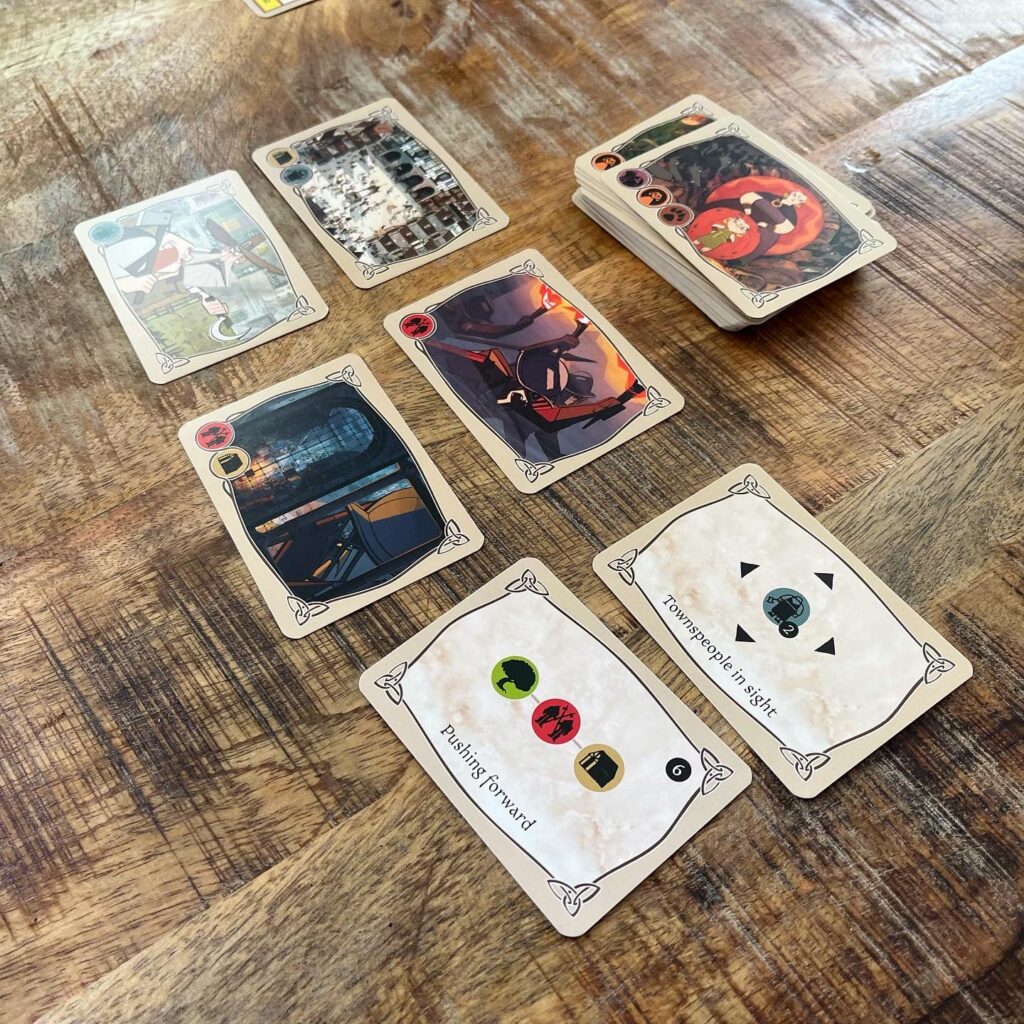 Wolfwalkers is een enorm rustgevende, maar toch uitdagende puzzel. De handeling tijdens een beurt (het pakken van een kaart) is simpel, maar het is een lastige keuze welke kaart je pakt. Ga je voor afbeeldingen om zo symbolen te verzamelen of stel je al bepaalde doelkaarten veilig in de hoop op meerdere manieren punten te verzamelen? Spelers zijn op een positieve manier beperkt door hun grid en moeten daarom goed plannen. Deze uitdaging geeft genoeg voldoening als het puntenmechanisme door jouw puzzeldrang in gang is gezet en ook daadwerkelijk genoeg punten oplevert. In het doosje zitten ook onderdelen voor gevorderde varianten van het spel waardoor het prachtige Wolfwalkers: My Story voldoende en langdurig puzzel- en speelplezier biedt.