Memes: íedereen kent ze wel. Zelfs je moeder heeft er waarschijnlijk wel een aantal op haar telefoon staan om met haar Facebook-vriendinnen te delen. Memes zijn perfect om je aandacht even af te leiden van de dagelijkse sleur, met hilarische reactie op (alledaagse) situaties.
En dat is precies wat What Do You Meme is: je eigen meme reactie kiezen als reactie op diverse situaties, à la Cards Against Humanity. De situaties zijn vaak grof of schunnig, zodat een meme van een starre Angela Merkel of een rennende kip de perfecte reactie kan worden op vragen als: "Wanneer je klaar bent om uit te gaan, maar je mobiel nog maar 6% batterij heeft" of "Wanneer de vergadering bijna afgelopen is en iemand een vraag stelt waarop het antwoord 20 minuten duurt". Net als Cards Against Humanity, is het spel beter naarmate je het met meer spelers speelt.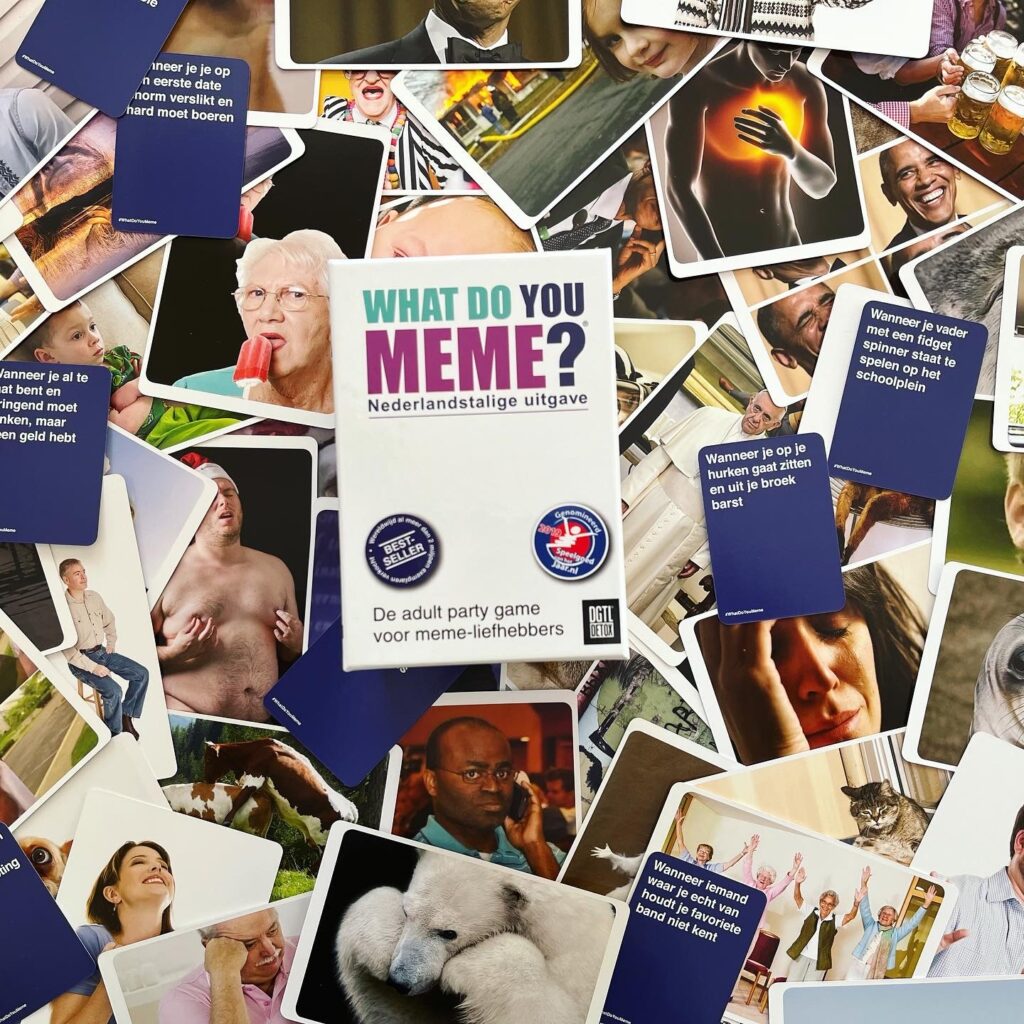 Het spel behoeft ook eigenlijk geen uitleg: één speler (de jury) kiest één meme plaatje waar de andere spelers gesloten een situatie op moeten spelen, die volgens hen de meest hilarische combinatie oplevert. De jury kiest vervolgens de beste kaart uit, om zo de winnaar van die ronde te bepalen. Feitelijk kan je het spel blijven spelen zolang je zelf leuk vindt, zodat je het voor tien minuten uit de kast kan pakken, of anderhalf uur.
Het allermooiste is het natuurlijk om kaarten als reactie de echte klassiekers te kunnen spelen, zoals Bad Luck Brian, of het glimlachende meisje terwijl op de achtergrond het huis in lichterlaaie staat. Daar hadden er van mij nog wel wat meer van in mogen zitten.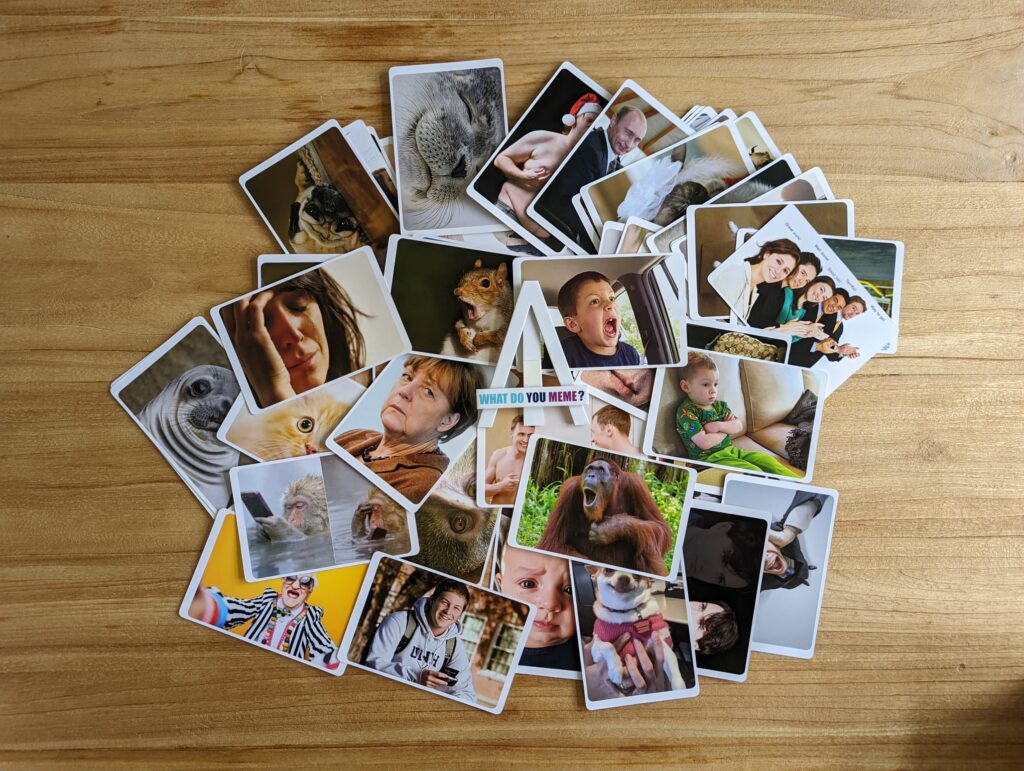 Het grootste manco aan het spel voor mij is dat ik de Nederlandstalige uitgave heb gespeeld. Voor mij voelt een meme in het Nederlands gewoon niet juist. Memes zijn vrijwel altijd Engels, dus om ze te gebruiken als reactie op Nederlandstalige teksten klopt voor mij eigenlijk net niet. Daarnaast laat de beeldkwaliteit van sommige afbeeldingen soms te wensen over (beetje JPEG), wat toch jammer is.
All these flavours, and I chose to be salty? Niet geheel. Er bestaat namelijk ook een Engelstalige uitgave, en op basis van mijn ervaringen zou ik je dus ten zeerste aanraden om deze te kopen in plaats van de Nederlandstalige als jij net als ik ook een Engelstalige meme-queen bent. Heb jij minder problemen met de Nederlandse taal, dan valt dit probleem uiteraard weg. Het spel zelf is ook echt leuk als je van Cards Against Humanity houdt en daar een meme-variatie op wilt spelen. 'Harold' geeft daarom desalniettemin een 'thumbs up'!
Wat vinden de anderen:
Spendeer jij uren met het kijken naar memes op social media? Met What Do You Meme kun jij gezellig samen met vrienden jullie gezamenlijke gevoel voor humor testen zonder op de telefoon te kijken.

Daniel