De Doge van Venetië was de hoogste magistraat en en leider van de republiek van Venetië. Door het vele water dat door deze grachtenstad vloeit, maakte menig leider nog weleens letterlijk en figuurlijk een slippertje met natte (en soms bloederige) gevolgen. De Doge is dood, lang leve de Doge, maar eerst moet er een nieuwe worden gekozen. De perfecte setting hiervoor is natuurlijk een gemaskeerd bal tijdens Carnaval! Zet jullie maskertjes op en zet je schrap voor een vlot en abstract steekspel dat voorbij is voordat je er erg in hebt met Volto!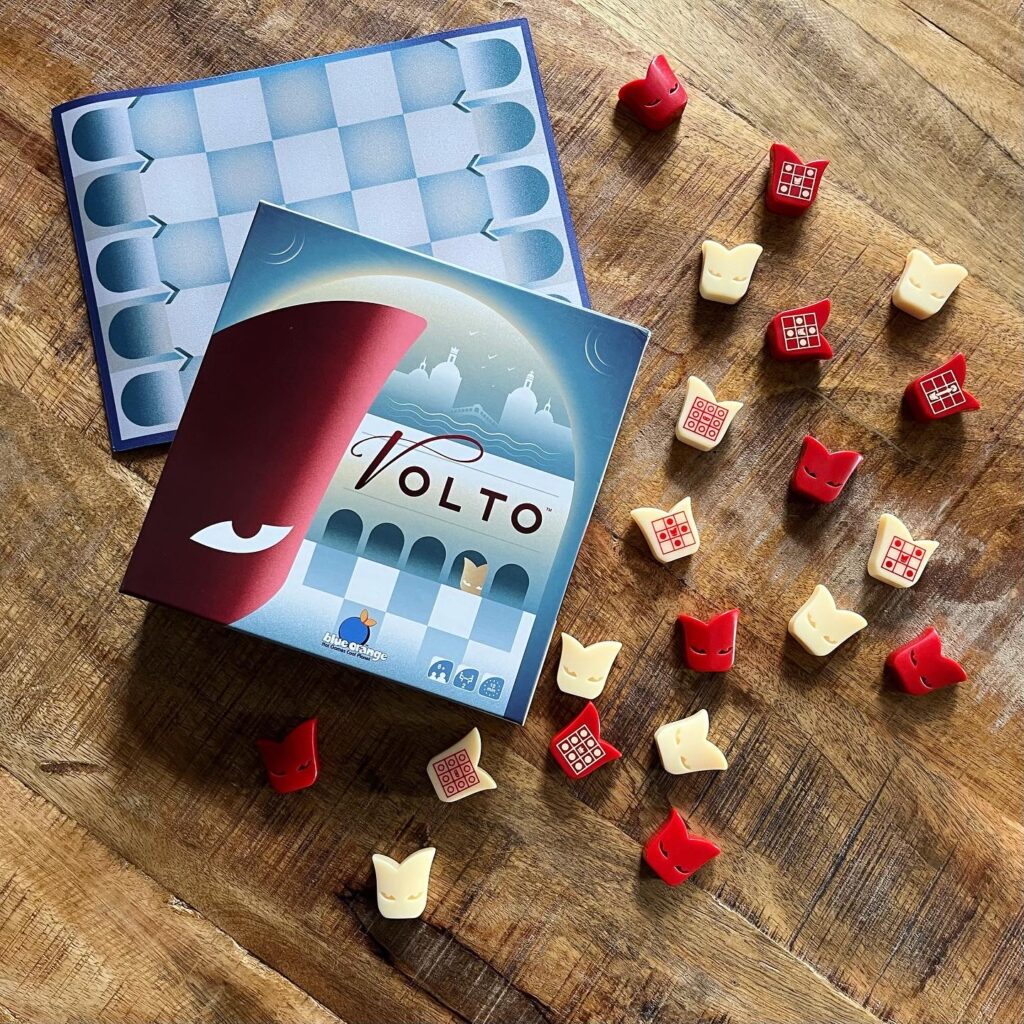 In Volto (het bekende Venetiaanse masker) nemen de spelers de rol aan van Venetiaanse nobele families die ieder een kandidaat hebben gesteld voor opvolger van de Doge. Tijd om de nominatie te forceren en de andere familie een kopje kleiner te maken. Volto is een abstract strategiespel dat wordt gespeeld met prachtige kunststof maskertjes die fungeren als de speelstukken. Op de achterkant van een maskertje staat afgebeeld om welk speelstuk het gaat, maar er staat tevens afgebeeld hoe dit speelstuk over het speelveld (een oprolbaar speelmaatje) kan verplaatsen. Iedere speler heeft een identieke set aan verschillende speelstukken. Een nobele kan enkel orthogonaal een stapje verplaatsen, een adviseur enkel diagonaal, de soldaat kan zich onafgebroken rechtdoor verplaatsen en de dames en de kandidaat kunnen een stapje in alle richtingen dansen tijdens het bal.
Op de dames na kunnen speelstukken ook een speelstuk van een andere speler slaan. Als een dame wordt geslagen, gaan beide speelstukken van het veld. Met de dames kunnen spelers elkaar flink overbluffen. Een speler heeft gewonnen zodra hij of met zijn of haar kandidaat de overkant van het speelveld heeft bereikt, de kandidaat van de andere speler heeft geslagen of van de andere speler beide dames zijn verslagen.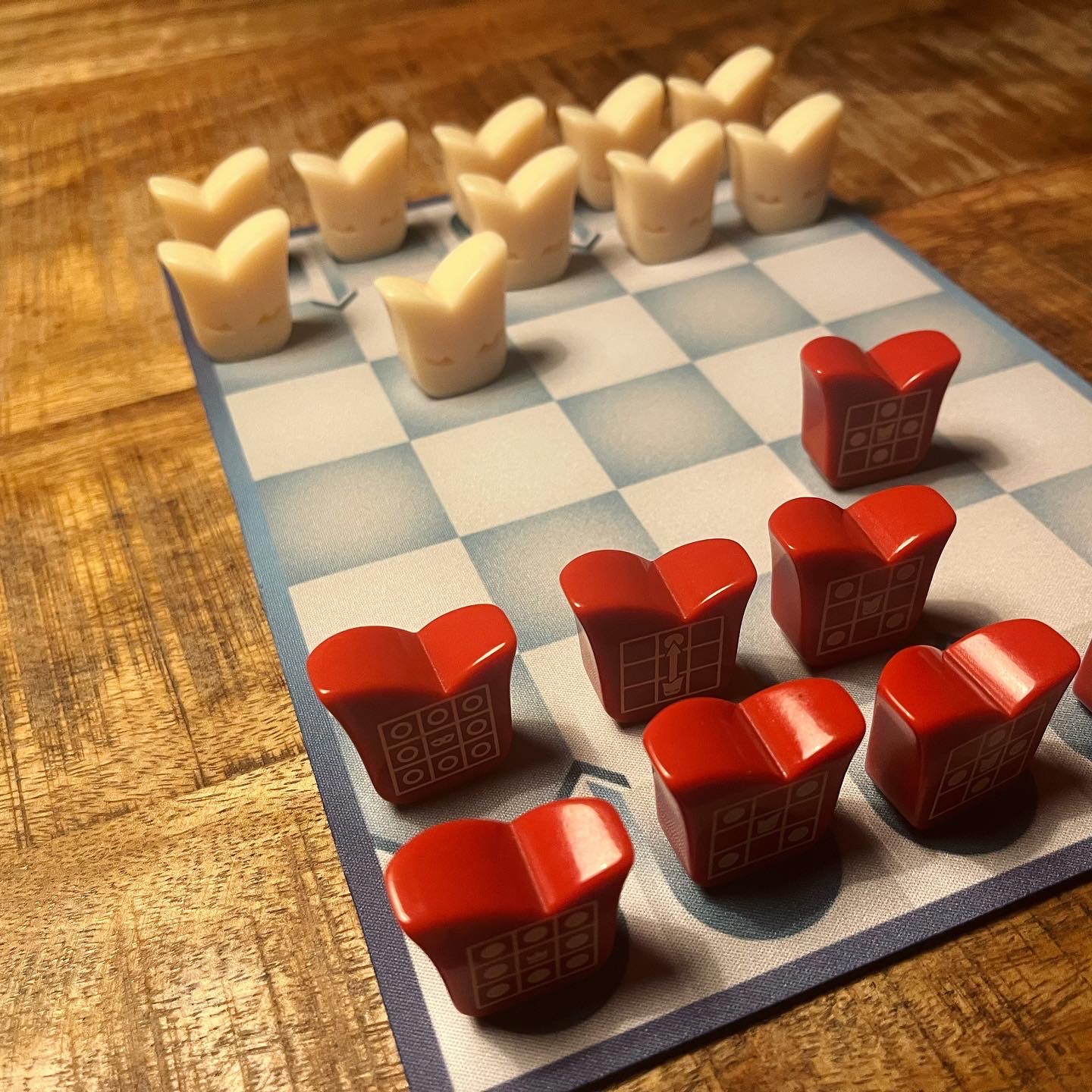 Volto is een simpel en intuïtief abstract spelletje dat meestal in slechts 10 – 15 minuten wordt gespeeld. Door de geheime informatie heeft het wat weg van een combinatie tussen dammen en stratego. De manier van bewegen en de kwaliteit van de spelonderdelen doet me ook wat denken aan Onitama. Doordat het spelletje makkelijk is uit te leggen en snel speelt, pak je het er dan ook makkelijk bij. Ik kan het simpele karakter en de hoge kwaliteit van de spelonderdelen enorm waarderen. Ik vind het ook erg fijn dat op de spelonderdelen precies staat aangegeven hoe dit speelstuk werkt. De combinatie van abstracte strategie en bluf in een compact format voelt enorm verfrissend.