Met een standaard stapeltje speelkaarten (of wellicht noem je het wel een stok als je stokoud bent. Hihi.) kun je een breed arrangement aan verschillende spellen spelen. Veel populaire (commerciële) kaartspellen die je in de winkels kan kopen, zijn gebaseerd op 'public domain' of klassieke kaartspellen. Denk aan de vele slagenspellen, ladderspellen, pestspellen en ga zo maar door. Ken jij bijvoorbeeld het Koreaanse spelletje Hool (of Hoola) al?
Een van mijn favoriete spelletjes om te spelen met een standaard pakje kaarten is Gin Rummy. In dit spel voor 2 spelers proberen spelers als eerste verschillende setjes kaarten op hand te krijgen door iedere beurt een kaart te pakken (blind van de trekstapel of open van de aflegstapel) en een kaart af te leggen. Zodra een speler voldoende setjes heeft gemaakt (de hele hand bestaat uit setjes of een speler heeft minder dan een bepaalde hoeveelheid 'punten' op hand) kan een speler de ronde beëindigen. Spelers krijgen strafpunten voor de kaarten die zij nog op hand hebben die geen onderdeel (kunnen) uitmaken van een setje. Net als andere klassieke kaartspelletjes zijn er voldoende verschillende (huis)regels en interpretaties.
Spelers zijn wellicht ook bekend met het gewone Rummy of Rummikub waarbij spelers met kaarten of kunststof steentjes open setjes op tafel plaatsen. Spelers proberen hun stenen in verschillende setjes weg te spelen of nieuwe setjes te maken om als eerste geen kaarten of stenen meer op hand te hebben. Hool! (of Hoola) is een Koreaans kaartspel en een variant op hetzelfde (Gin) Rummy principe. Koreaanse uitgever heeft dit Koreaanse rummy spelletje samen met een variant van het klassieke Gin Rummy in een fraai vormgegeven pakketje gestopt.
In Hool! proberen spelers net als Gin Rummy zo snel mogelijk hun handen leeg te spelen door setjes te maken of zo min mogelijk kaarten/punten over te houden. Tijdens een beurt moet de actieve speler net als bij Gin Rummy de bovenste kaart van de stapel of de aflegstapel trekken, maar hij kan deze laatste alleen trekken als die kaart deel uitmaakt van een nieuw 'leg' voor op tafel. Na het trekken kan de actieve speler een set of reeks van drie kaarten uitleggen. Als deze speler een 'leg' voor zich heeft liggen, van deze beurt of een eerdere, kan hij elke 'leg' die al op tafel ligt aanvullen volgens de aanlegregels.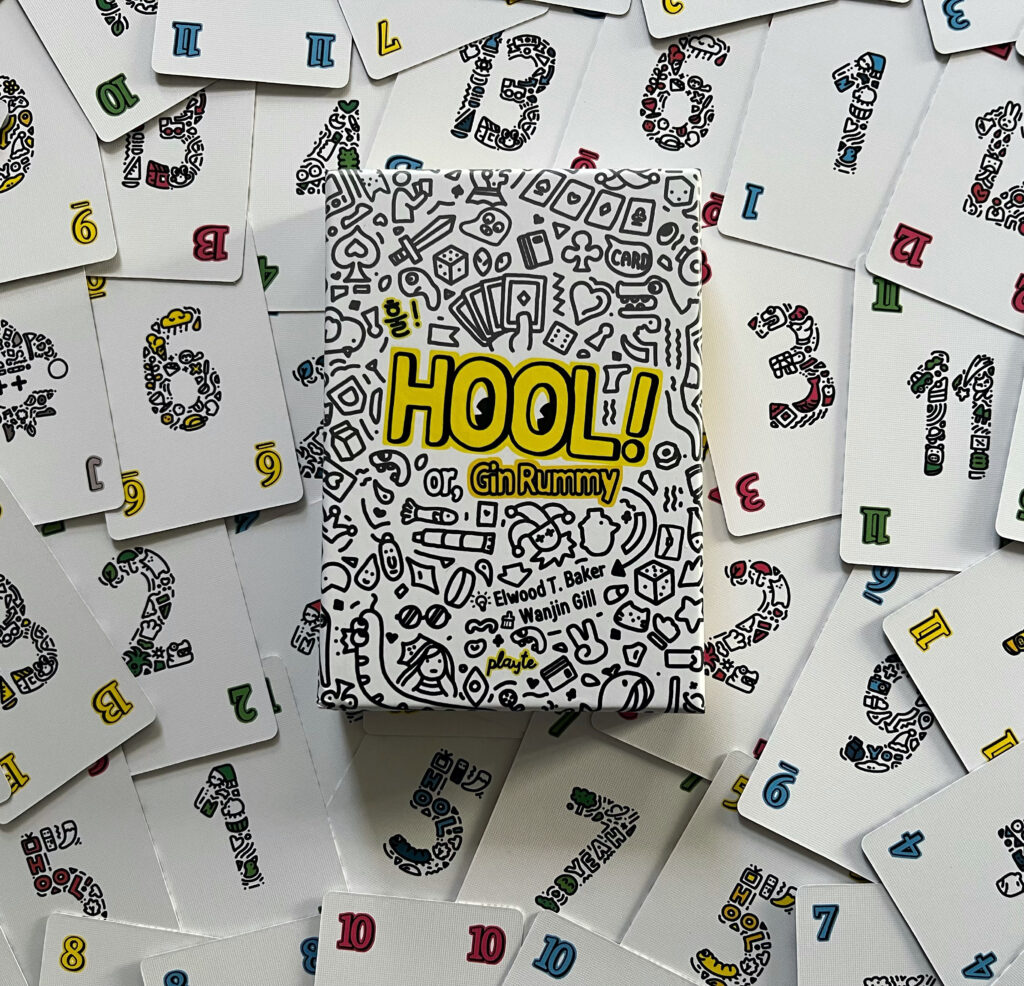 Als een speler aan het einde van een beurt (waar deze speler kaarten aan setjes heeft uitgelegd) nog kaarten op hand heeft, legt deze speler een kaart af. Zodra een speler geen kaarten meer heeft, is de ronde afgelopen. Een speler kan ook, vergelijkbaar met Gin Rummy, een ronde beëindigen als deze speler minder dan een bepaalde hoeveelheid strafpunten op hand heeft. Spelers krijgen aan het eind van een ronde strafpunten voor overgebleven handkaarten en de speler die wist 'uit te spelen' krijgt punten toegewezen.
Naast Hool! krijg je in dit doosje ook de regels voor klassiek Gin Rummy als welkome bonus. In principe is dit spel vooral een fraaie opnieuw verpakte versie van klassieke kaartspelletjes, maar dan met een mooie vormgeving en een duidelijkere opbouw aan beschikbare kaarten. Een grappige introductie aan een Koreaanse klassieker en een andere oude vertrouwde.