Yarrr, landrotten! Vijandelijk schip drie knopen verwijderd op bakboord! Ik bedoel stuurboord! Maakt niet uit, schiet die kanonnen nou maar gewoon! In Turning Tides, een spel van kersverse uitgever Never Be Boardgames, proberen twee piratenkapiteins het tij te keren en elkaars schepen aan gort te schieten om er met de buit vandoor te gaan! Blijkt jouw schip en bemanning zeewaardig of blijkt piraterij toch echt een mis-drijf? Turning Tides verschijnt op binnenkort Kickstarter en ik mocht al een testbootje proberen – speciaal voor jullie!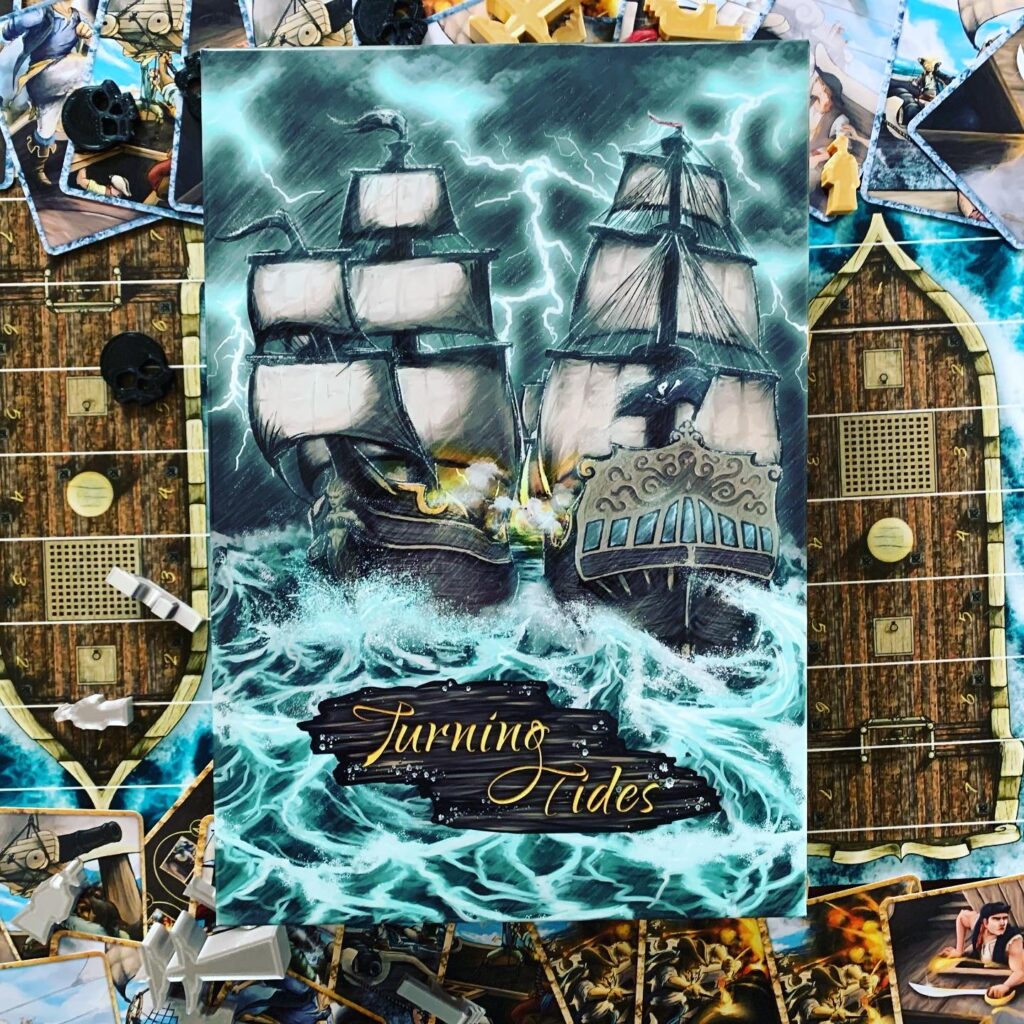 In Turning Tides nemen twee spelers het roer. Twee schepen worden parallel aan elkaar geplaatst om langzaam langs elkaar te reilen en te zeilen. Terwijl dit alles gebeurd kunnen spelers tij het afwachten of hun bemanning en kanonnen inzetten om de vijandelijke bemanning en diens mast een kopje kleiner te maken. Elke ronde gaan spelers acties ondernemen door gesloten een kaart te spelen. Ze kunnen afwachten, de schepen sneller of langzamer laten varen, hun bemanning over hun boot verplaatsen of zelfs naar het andere schip sturen om te vechten of kanonnen plaatsen en afvuren.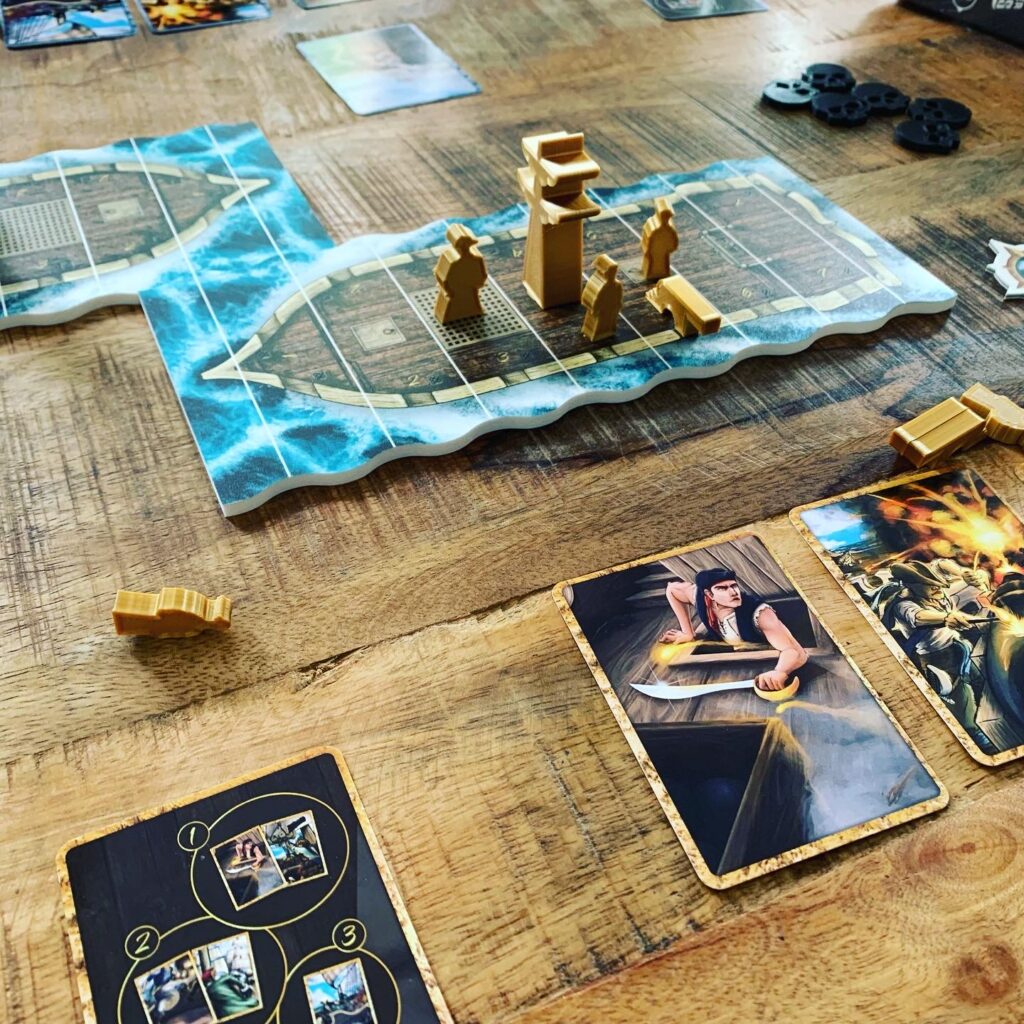 Ieder schip bestaat uit verschillende zones waar kapitein, bemanning en kanonnen geplaatst kunnen worden. Een speler heeft een kapitein nodig om acties uit te voeren en je hebt bemanning nodig om kanonnen af te vuren. Door kanonnen af te vuren kun je schade toedienen aan de andere speler. Indien je een lege zone van het andere schip weet te raken (een zone waar geen mast, bemanning, een kapitein of kanonnen aanwezig zijn) dan is dit deel van het schip vernietigd. Indien een speler geen bemanningsleden op het dek heeft of indien er drie zones van zijn/haar schip zijn vernietigd, dan heeft deze speler verloren en mag deze gaan landrotten op de bodem van de oceaan.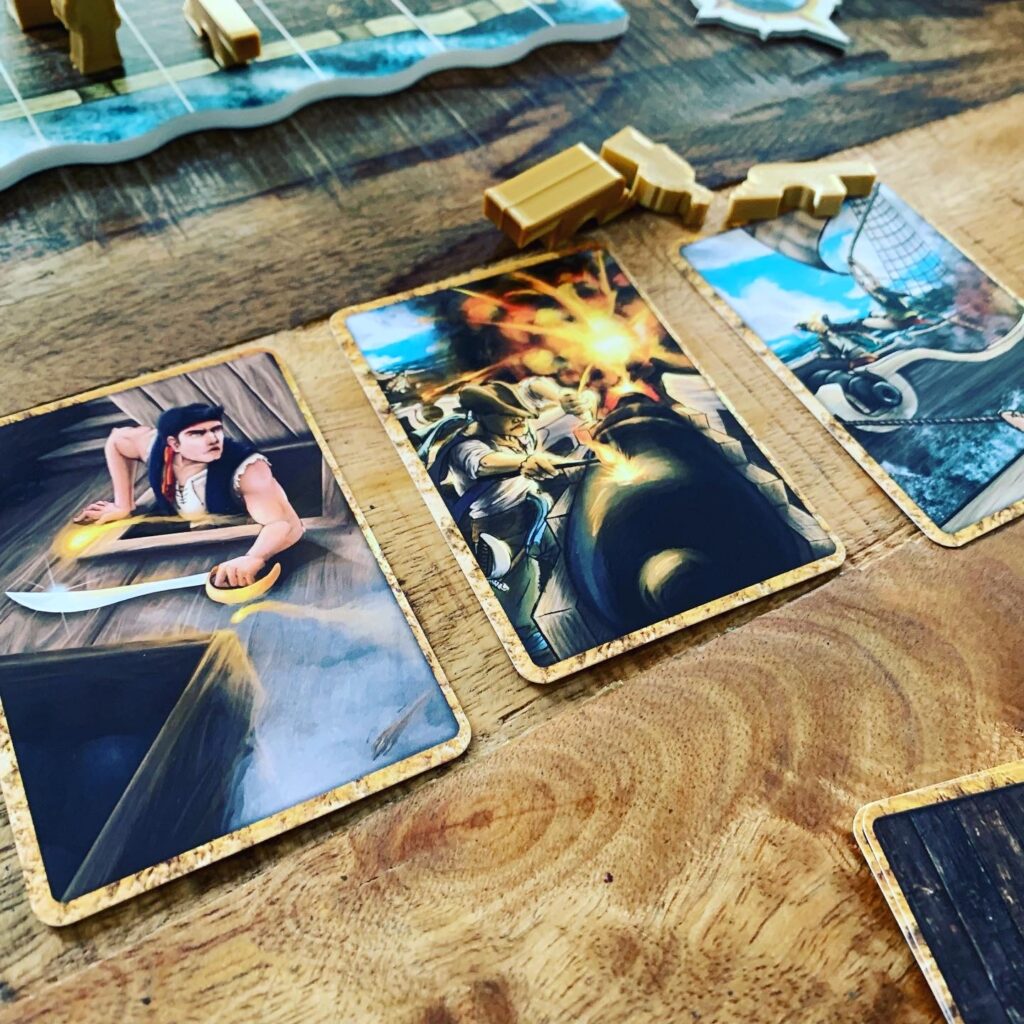 Turning Tides is een grappig spel vol bluf en intrige voor twee spelers dat vlot wegspeelt. Geloof jij niet dat de beste stuurlui aan wal staan en wil jij ook de zeven zeeën op? Check dan de Kickstarter voor meer informatie!