Weet jij samen met jouw zeer diverse groep aan vrienden (een merman, een orc, een elf en velen anderen) het rijk van Augmoore te beschermen tegen velen soorten kwaad en verderf? Zijn jullie echte Tiny Epic Defenders of eerder Tiny Epic Lafaards?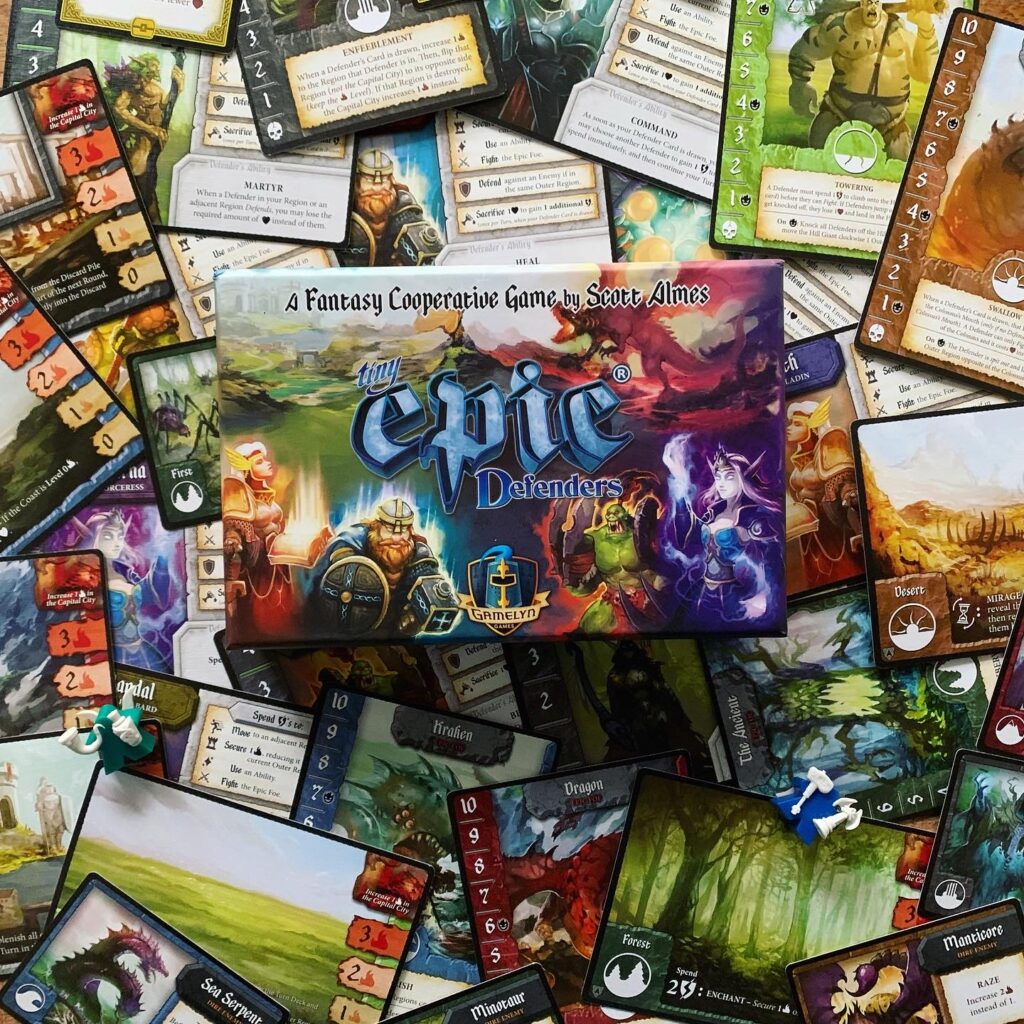 Tiny Epic Defenders is een coöperatief spel in de Tiny Epic reeks van Scott Almes uitgegeven door Gamelyn games. In Tiny Epic Defenders wordt de hoofdstad aangevallen door verschillende monsters en een groot kwaadaardig kwaad. Veel slechteriken hebben het op Augmoore gemunt, want er zijn veel slechteriken beschikbaar. Des te meer in de uitbreiding. Alleen samen (of solo in de solomodus) kunnen de monsters worden verslagen! 
Spelers zetten het rijk op dat bestaat een vijftal grote dubbelzijdige kaarten met verschillende locaties. Iedere ronde wordt een stapel (een beurt) kaarten doorgewerkt door de spelers. Op deze kaarten staan gebeurtenissen zoals monsteraanvallen of spelersbeurten. Als een normaal monster aanvalt verliezen locaties kracht. Zodra een locatie geen kracht meer heeft, wordt deze locatie vernietigd waardoor monsters ook de hoofdstad mogelijk kunnen aanvallen. Dire monsters zijn net ietsjes sterker en naast een aanval, vind er vaak ook een speciale negatieve gebeurtenis plaats.
Als een kaart met een spelersbeurt wordt getrokken, mogen 1 of meer spelers acties nemen zoals verplaatsen, speciale acties van locaties of locaties herstellen. Als een speler op een locatie staat die wordt aangevallen, dan kan een speler in ruil voor eigen levenspunten het monster te lijf gaan.

Als alle kaarten zijn getrokken, wordt er een kaart uit de horde stapel toegevoegd en vindt het riedeltje opnieuw plaats. Als de horde stapel leeg is, komt het grote kwaad. Als spelers het grote kwaad weten te verslaan winnen ze. Ze verliezen als de hoofdstad wordt vernietigd.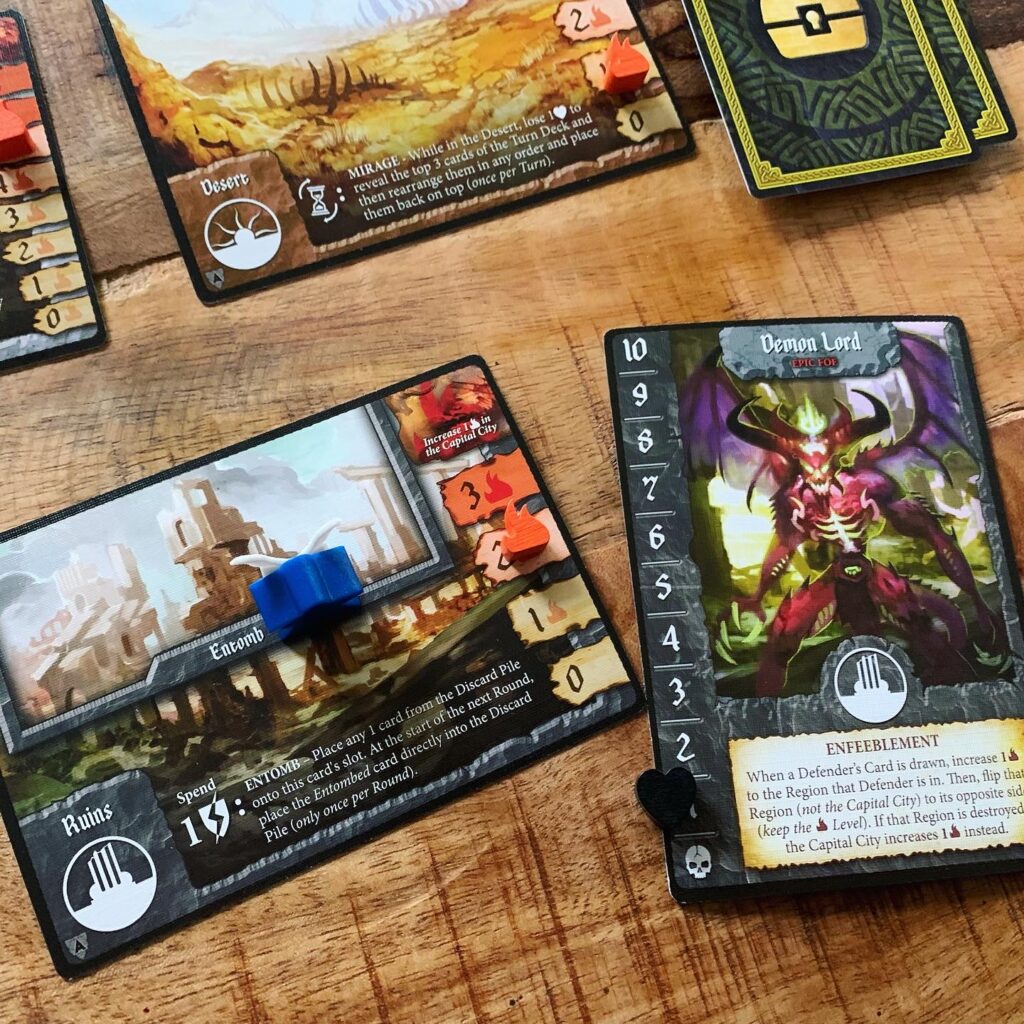 Defenders is een coöperatief spel dat wat doen denken aan Pandemic. Spelers ondernemen acties en er worden kaarten getrokken waardoor dingen gebeuren in Augmoore. Echter zitten de acties van spelers door dezelfde stapel kaarten als de acties van het kwaad. Deze stapel groeit en wordt geschud. Je weet wat er komen zal, maar niet exact wanneer en de tijd begint echt te dringen, want het kwaad zal steeds vaker acties gaan ondernemen en jij steeds minder. Door dit mechanisme vind ik het een leuke puzzel en leuke afwisseling op het coöperatieve mechanisme wat je wellicht al kent. Een ander leuk element is dat als je tegen dire monsters verdedigd je artefacten ontvangt die je kunnen helpen in de strijd. Het is hierdoor altijd een verrassing op welke wijze je de strijd aangaat. Een simpel spel vol dilemma's dat ik graag op mijn schild hijs!