Wanneer de iguana het felbegeerde vuur steelt, is het aan de possum om het vuur terug te stelen! Echter draait net als bij Fast & Furious allemaal om familie, dus dan houd je de warmtebron ook liever binnen die kring. Als een lopend vuurtje spreidt de overwinning zodra de pyromanische possums elkaar eruit bluffen. Is er voor jou sprake van een vreugdevuur of een stel smeulende kolen?
In Tails on Fire proberen spelers de meeste vuurtjes te verzamelen. Dat doen ze door iedere beurt te bieden en te bluffen op de vuurkaart die op dat moment open op tafel ligt. Spelers krijgen allemaal een set met possums in oplopende nummers (en ook een bijzondere possum die altijd een puntje meer waard is dan elke andere possum), een eigen vreugdevuurtje om mee te starten en een kaart met een schuilplaats.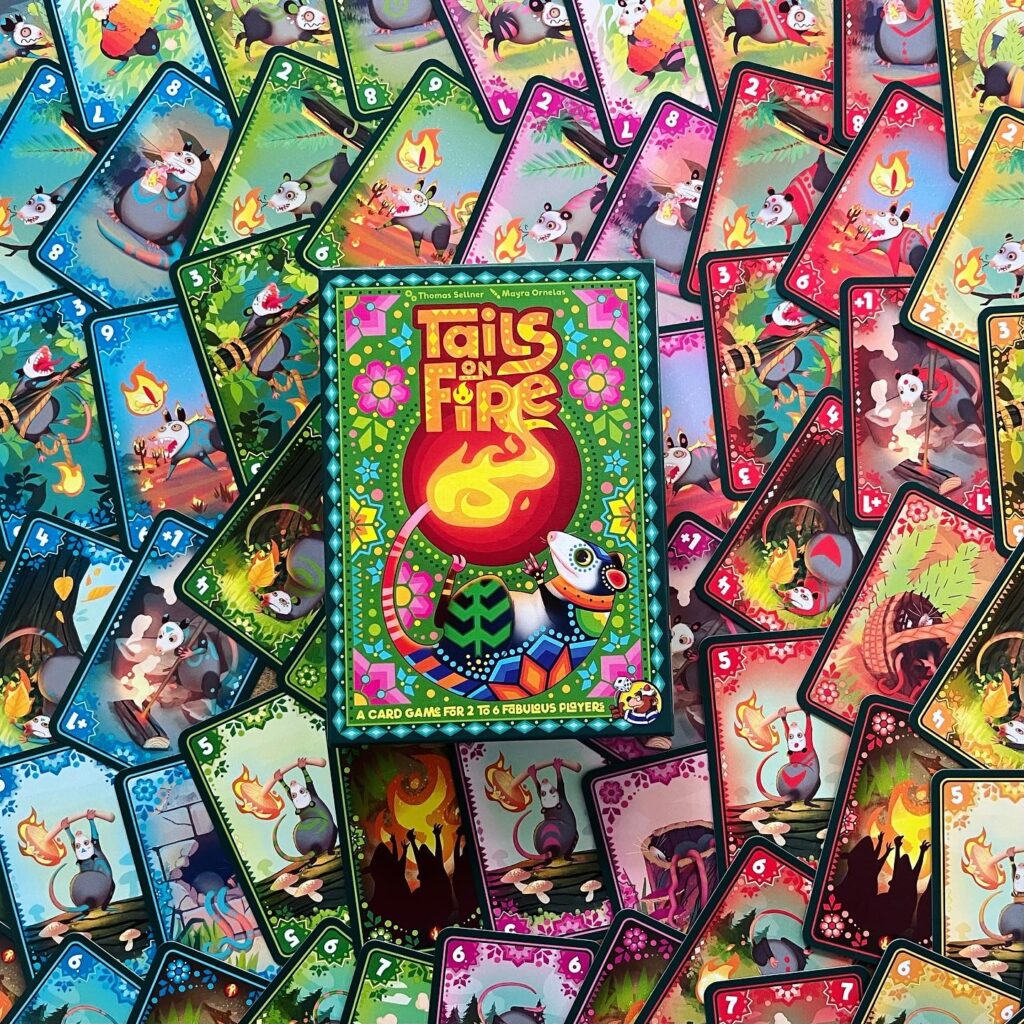 Aan het begin van het spel plaats iedere speler diens vreugdevuur voor zich en plaatst daar en willekeurige possum op. Dit is de eerste vuurstapel van deze speler. Iedere verschillende possum kan een vuurstapel bezitten met meerdere vuurtjes. Deze stapels gaan spelers ook tijdens het spel van elkaar stelen.
Iedere beurt kiest elke speler drie beschikbare possums uit hun hand om die ronde mee te spelen. De andere possums worden in de schuilplaats geplaatst en zijn niet beschikbaar. Te beginnen met de speler die de vorige ronde heeft gewonnen (of de oudste speler tijdens de eerste ronde) gaan spelers nu 'bieden' op de vuurkaart.
De eerste speler kan een kaart spelen die qua waarde gelijk of precies 1 punt hoger is dan de vuurkaart (of in het geval van een 9 ook een 1). Deze speler mag ook passen. De volgende speler kan nu een possum spelen die precies 1 hoger is of deze speler kan passen. Er is dus een possum die altijd eentje hoger is dan de andere, maar deze mogen niet direct na elkaar worden gespeeld.
Als een speler aan de beurt is en diens possum ligt al boven op de stapel, dan wint deze speler het vuur. Die speler plaatst de vuurkaart voor zich en plaatst daar de laatst gespeelde possum bovenop. Deze speler steelt ook alle vuurkaarten van stapels van andere spelers met een possum van dezelfde waarde. Let er dus goed op welke stapels van jou gevaar lopen.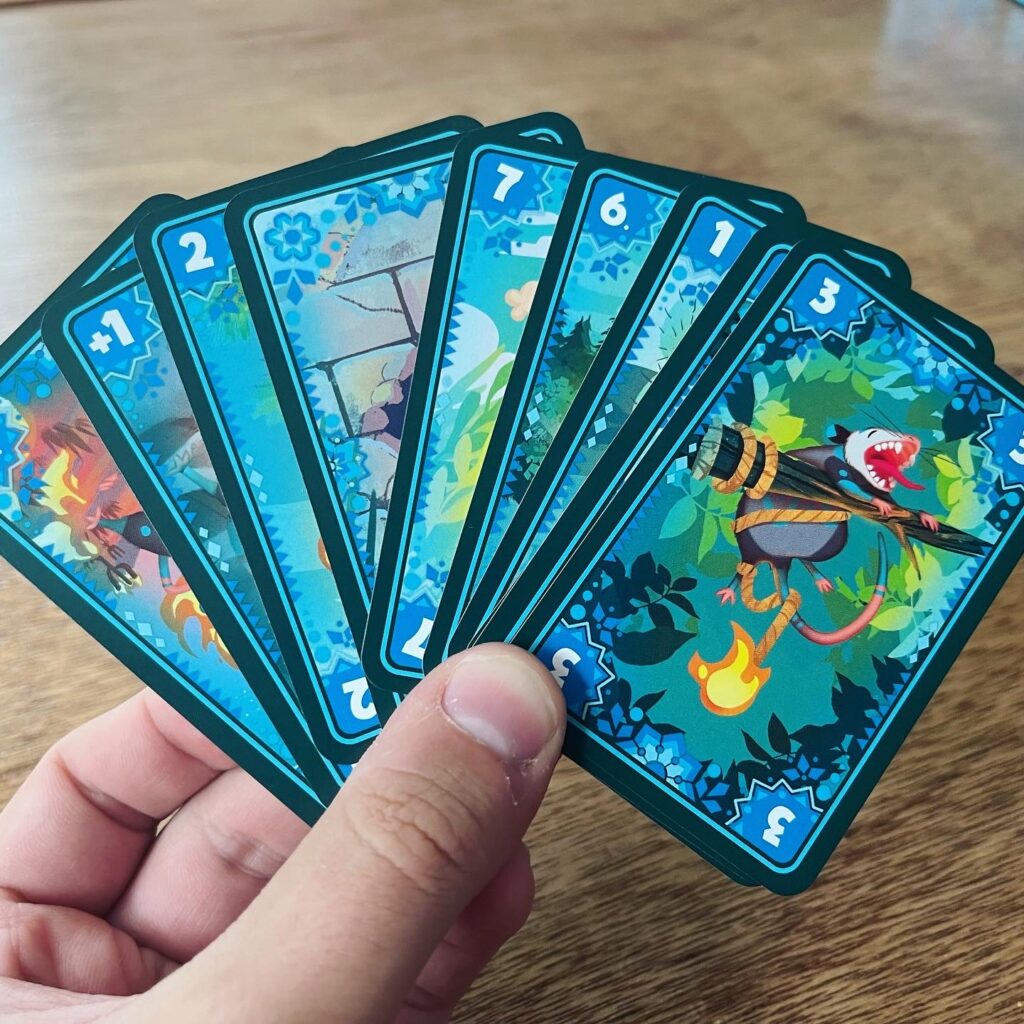 Spelers nemen alle kaarten voor zich terug en alle possums die deze rond zijn gebruikt om te bieden zijn uitgeput en zullen even een rondje slapen. De volgende ronde zijn ze weer fris genoeg om vuur te kunnen stelen. Als alle vuurkaarten zijn verdeeld, is het spel afgelopen. De speler met de meeste vuursymbolen op diens gestolen vuurkaarten wint!
Tails on Fire heeft een interessant spelconcept en spelverloop. Na verloop van tijd hebben spelers minder kaarten en minder mogelijk om mee te bieden. Spelers moeten daarom goed plannen en slim inspelen op de bluf en mogelijkheden van andere spelers. Door goed te plannen kun je makkelijk stelen, maar let op dat je ook makkelijk bestolen kan worden. Tails on Fire is hierdoor een grappig en vlug spel met een dynamisch spelelement dat ons wist te verrassen. Het spel heeft ondanks de beperkte hoeveelheid kaarten per speler toch interessante tactieken en spelers kunnen elkaar goed weten te bespelen.